Chelsea Wickersham and Ambur Lenard met in cosmetology school 16 years ago. They quickly bonded over their shared quirky sense of humor and a love of all things fashion and beauty and have been best friends ever since.
This dynamic duo has not only become wives and moms together; they also launched the social media brand @coolmoms.club in 2020. Their funny, real, and raw representation of motherhood quickly grew their following.
Now they host local events for moms and create local collaborations such as their Cool Moms Club Bubbly with Blake's Hard Cider. They also recently launched their own e-commerce site and clothing brand.
Here they share some of their style inspiration, Cool Moms Club merchandise, and favorite local places and brands in metro Detroit.
Q&A was edited for clarity. 
Tell us a little about each of your backgrounds:  
Chelsea: I'm wife of 9 years to my husband, Bryan and mom to two boys, Tommy (5) and Charlie (3) and am expecting my third baby in June. 
I was born and raised in Michigan and my favorite part of living here is our summers - I love spending time outside by our pool with my family and going up north to Ambur's cottage for beaching, boating, bbq'ing and bonfires in the evening.
I'v had a passion for the beauty and fashion industry for as long as I can remember so I went to cosmetology school right out of high school.  I've been a hairdresser ever since, alongside my best friend and business partner, Ambur.  
Ambur: I am a wife of 9 years to my husband Jake, and mom of two boys, Slater (6) and Otto (3). I was also born and raised in Michigan. I grew up going to my family cottage in Port Austin almost every weekend in the summer, which is where I met my husband. His families cottage was down the street from mine.
We continue the tradition and take our own kids up there every weekend in the summer. We have friends and family visit and it makes for the best experiences and memories for my kids. It truly is a second home for us.
Like Chelsea, I've always love the fashion and beauty industry and I decided to go to Cosmetology school. That's where Chelsea and I met and instantly clicked with our extremely goofy personalities. After 16 years of friendship and working together as hairdressers, we decided to go into business together.
Describe Cool Moms Club for our readers – what is it, who is it for and what is your big vision?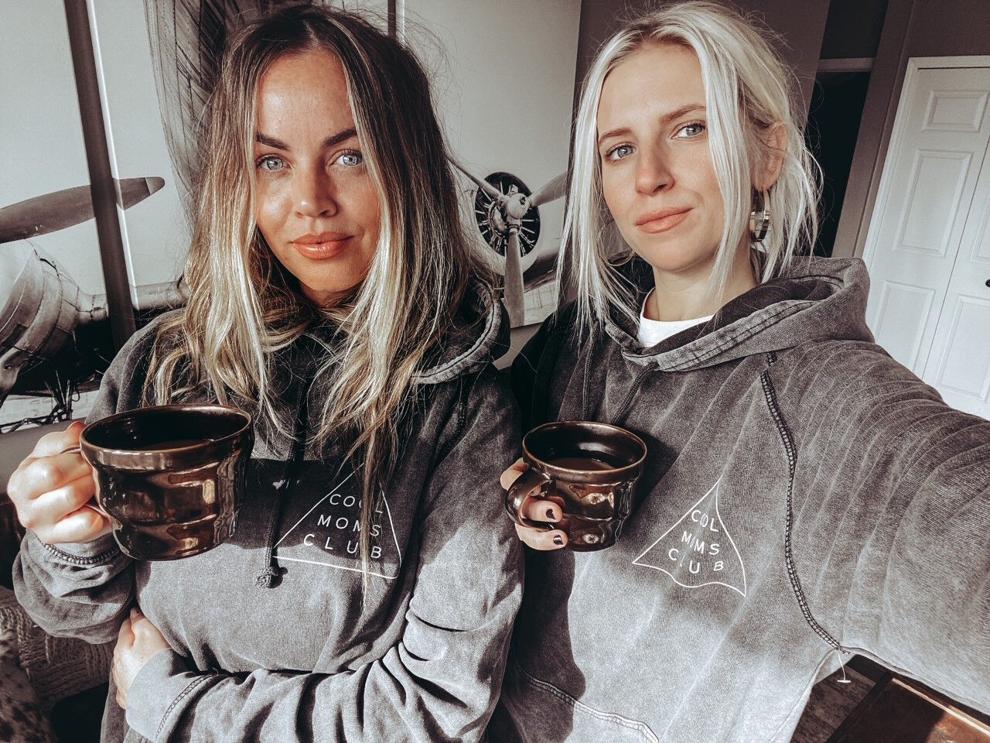 Chelsea: Our social media brand is for every mom! We created this brand to speak to moms to show the raw and unfiltered side of motherhood. We poke fun at what the every day mom goes through. We have created this community where we want moms to feel like we're all in this thing together. All in all its just a fun place for moms to go to and relate to. 
Ambur: Our vision is to continue to build our brand and have fun while doing it! We love to connect and collaborate with local brands and network with other like minded individuals. One day we would love have Cool Moms Club in Target. 
What initially inspired you to build this together?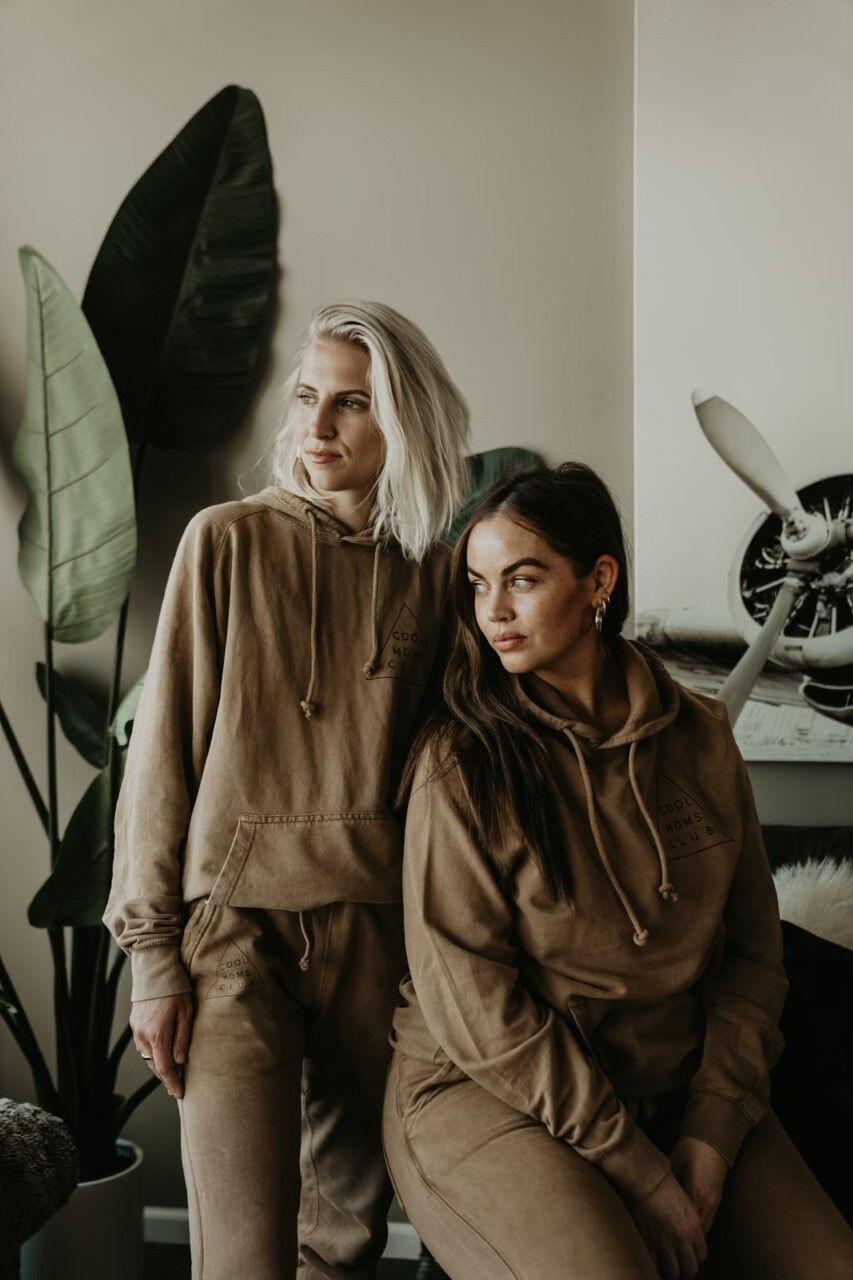 Chelsea: We have worked together for the last 16 years in the hair industry which has grown our love for fashion. We've also been through every phase of our adult life together, including having our kids at the same time.  
Ambur: We always knew that we wanted to do something together that we were passionate about. It was having kids that led to the idea and we created @coolmoms.club on Instagram in 2020.
We created unfiltered motherhood content mixed with our love for fashion, so it made sense to have a branded hoodie. We worked with a local company called Ink Detroit to launch the Cool Moms Club OG mineral wash hoodie. Since so many people wanted them, we've been adding to the line and building it ever since.
We decided to officially take over our brand with our own e-commerce website this January.
Tell us about your clothing line(s). What has been most challenging in launching a clothing line and getting into e-commerce? 
Chelsea: We have what we like to call our "OG Cool Moms Club" styles that are our original logo staple items we're known for. They are our best sellers and we always have in stock. Then we have our newer Cool Moms Club Limited Editions that are seasonal drops available for a limited time or until we sell out.
Lastly, we have Basics By CMC collection that consists of unbranded clothing hand picked by us. These are also limited edition and will change with the seasons. The inspiration behind this was to create a collection that was easy for moms find good quality and easy every day looks. 
Ambur: Our biggest challenge so far would be creating the website from scratch. Neither of us are the very tech savvy so we have learned so much along the way. That was a big accomplishment for us once we finally got it all figured out.
Now that our site is up and running, the biggest challenge is just keeping up with stock, and keeping backend stuff organized. From keeping up with our website, fulfilling orders, re-ordering stock, and keeping things fresh and fun on our social media, its a lot!  We are working moms so a lot of the time we are getting things done in-between our crazy mom life schedules. But we absolutely love it and it does not feel like work to us. 
How do you juggle your many day-to-day demands at work and home, while building this community and business?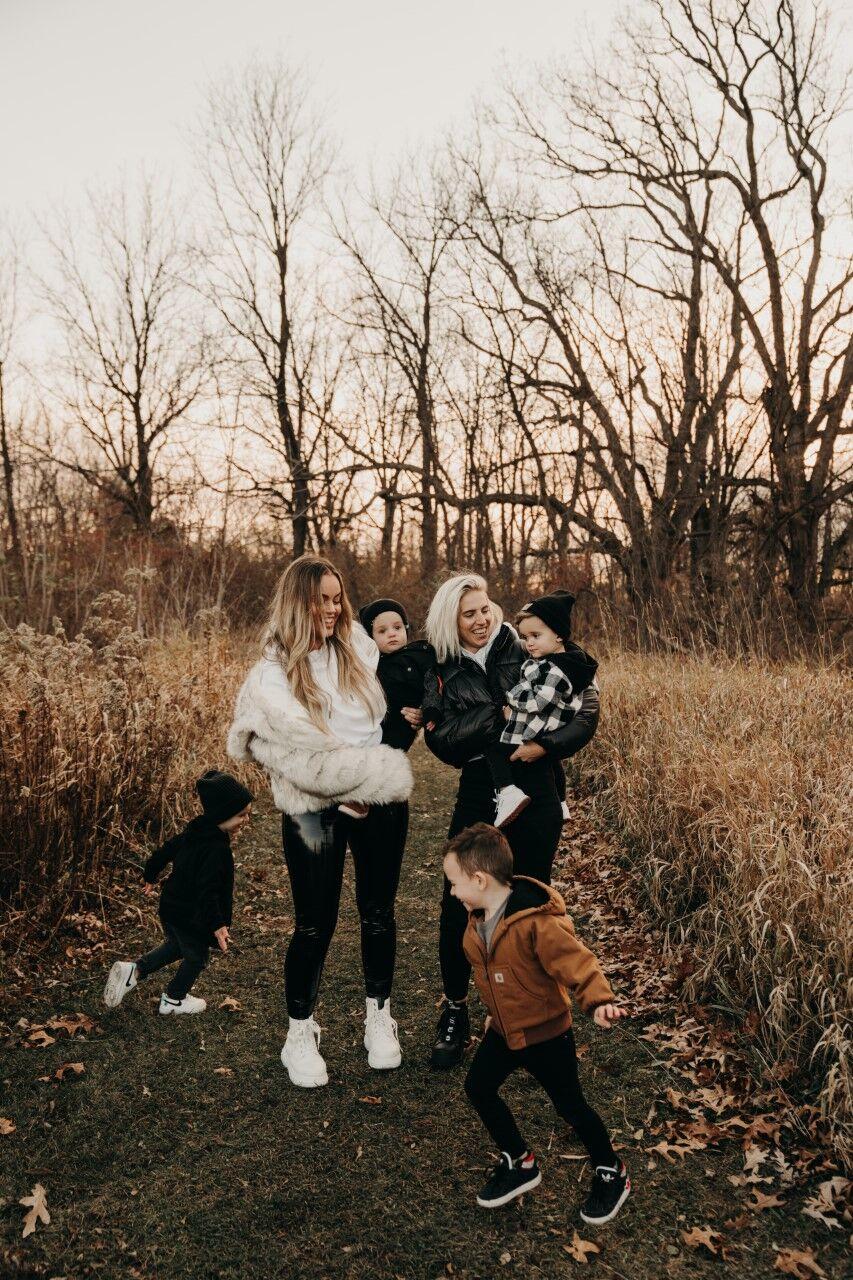 We aren't going to lie, it's SUPER HARD! Luckily we do this together so it softens the blow a little. We have a list of a million things to do at all times and we try to stay organized but it's really just organized chaos;)
Our google calendars are always sending us alerts and we have alarm clocks for everything (including picking up our kids from school, LOL)! 
We're in the midst of hiring a team to manage the marketing side of Instagram and e-commerce, so that's going to help a ton. And as a business and brand, we hope to keep hiring people to help us be able to grow more. There is only so much the two of us can do and would love to have more help along the way.
You have done some really cool collaborations, including one that included doing donuts in a minivan! Do you have any other fun things coming up? 
Last year we partnered with our local friends at Blake's Hard Cider to create a champagne called "Cool Moms Club Bubbly" and a Rosé. We hosted Moms Night Out events at their farm and it was right up our alley - we both love to sit back and enjoy some adult bevvy's.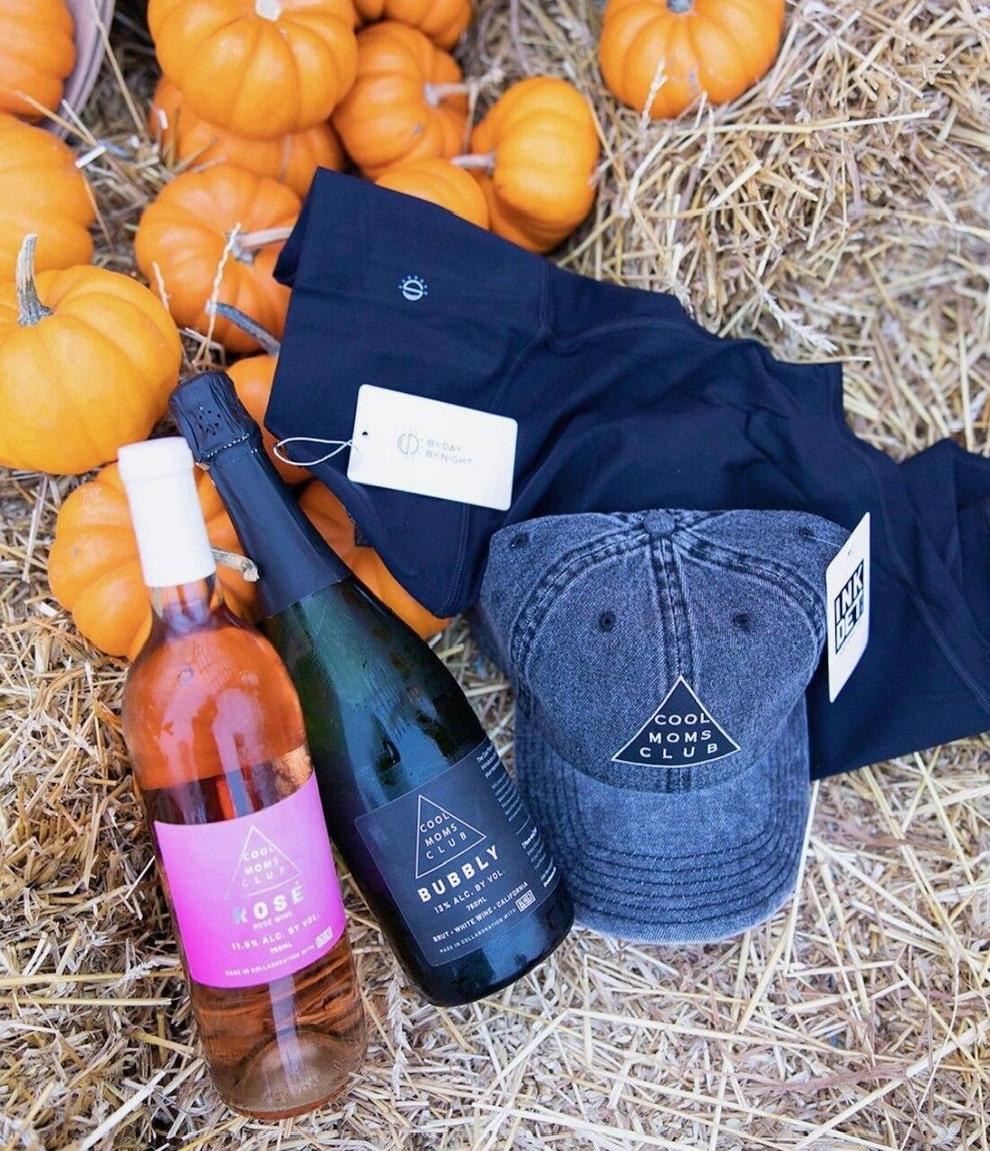 We do have some super exciting things coming up. This summer/fall we will be collaborating with local craft beer company, Brew Detroit. More details to come once everything is finalized. 
We will also expand the clothing brand by adding a much anticipated "Cool Aunts Club" and "Cool Wives Club".
We are always up for supporting and collaborating with like-minded local businesses. We have met some incredible people in this journey while networking and look forward to continuing on doing so!
Now onto some fashion! Where did your love of fashion and style come from?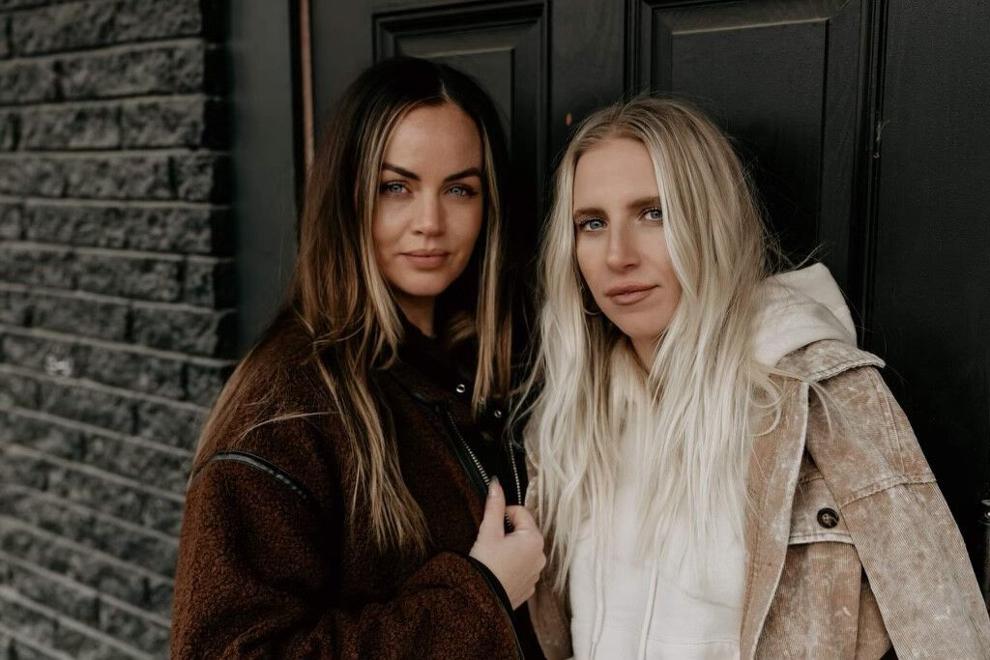 Ambur: Being in the Beauty industry since we were 18 we have both just naturally loved all things fashion, hair and beauty.
I was actually a major tom boy growing up until I was in junior high. I found that dressing myself in things that I liked just made me feel great. I literally wore stilettos to high school almost everyday my sophomore and junior year. Now I can barely walk in them!
Chelsea: I've always been into the latest fashion trends, since I was a 90's kid. I remember the Spice Girls being my style icons. I just find the fashion industry fun and love to see what looks celebrity stylists come up with. 
What are three words to describe your personal style? 
Ambur: grunge chic, monochromatic, minimalistic
Chelsea: simple, comfy, streetwear
Who are your style icons?
Ambur and Chelsea: Hailey Bieber, Megan Fox, Miley Cyrus and Pam Anderson in the 90's
You're never fully dressed without … 
Ambur: Earrings
Chelsea: Sweet sneakers
What are your top three wardrobe must-haves and why? 
Ambur: My platform converse, my chain earring, and an oversized coat. I feel like I can always just throw these on and look put together.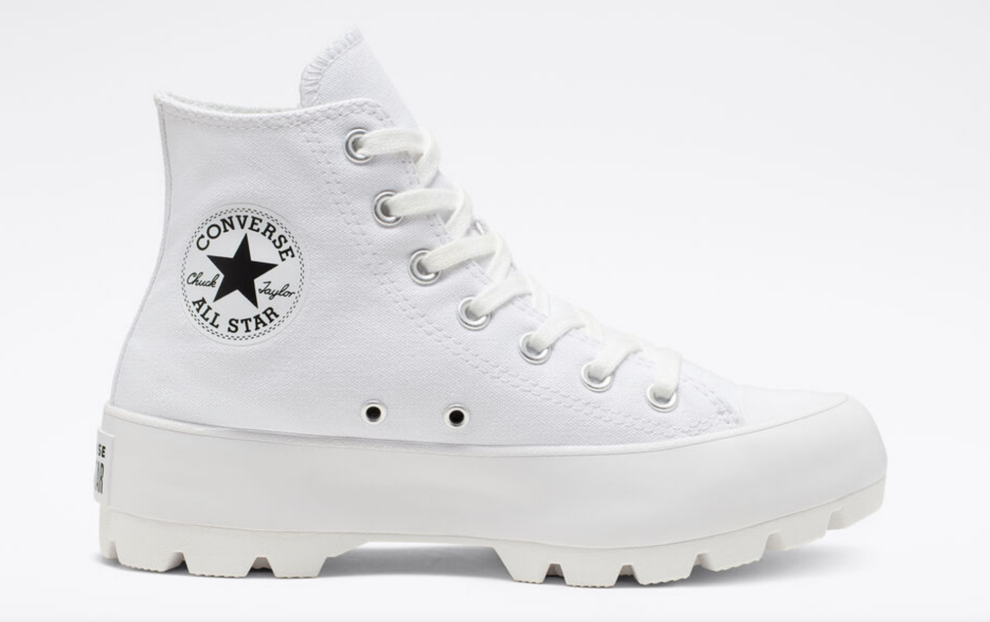 Chelsea: Sneakers, jeans and oversized shirts. Chances are I am wearing one of these items on the daily.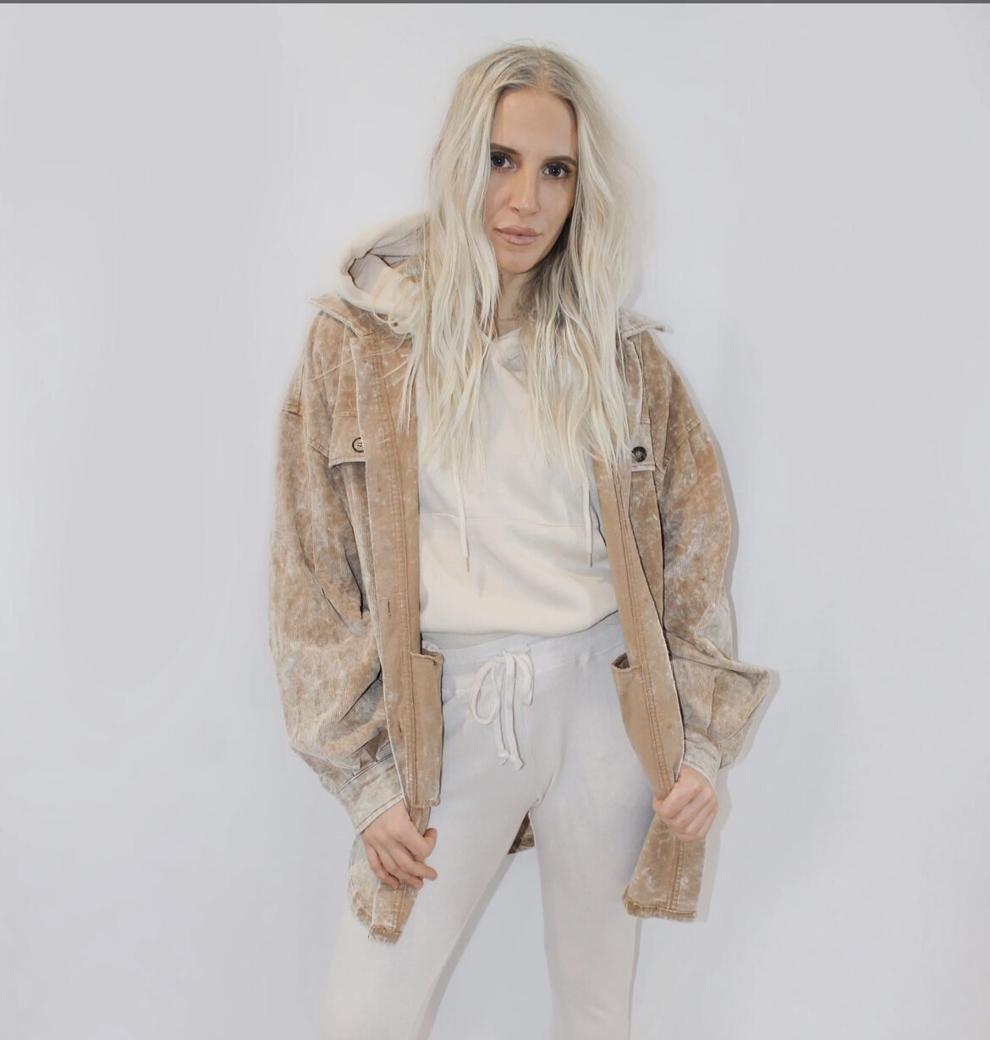 What is your most cherished item in your wardrobe/closet? 
Ambur: My dad passed away 5 years ago and my husband made me a personalized necklace with a picture of my dad and me. Lucidos Jewelry did such a great job with it – they took our picture and put it onto a small dog tag and engraved the back of it.
Chelsea: I have a charm necklace a friend gave me after my sons were born with their initials on it. I wear it almost every day. I also have a gold diamond ring from my grandmother who passed away. I love to wear it and think of her. 
Where are your favorite places to shop in metro Detroit?  
We shop online a lot because our kids are so little and honestly are hard to bring to the store. But we do love to walk around the outdoor mall Partridge Creek and shop their stores.
We usually wear our Cool Moms Club staples almost on a daily. Whether its our comfy loungewear OG's, cmc basics, or moms night out collection.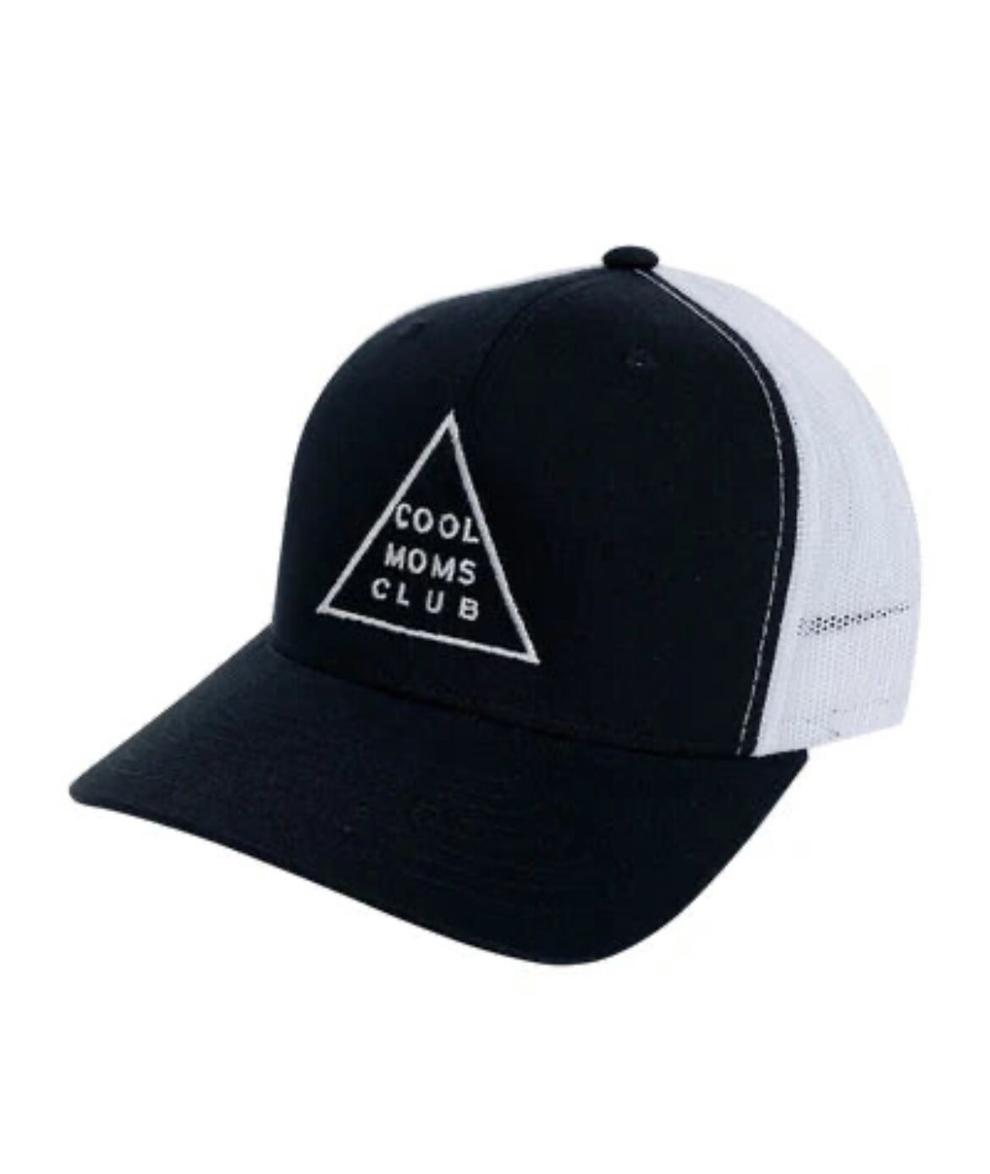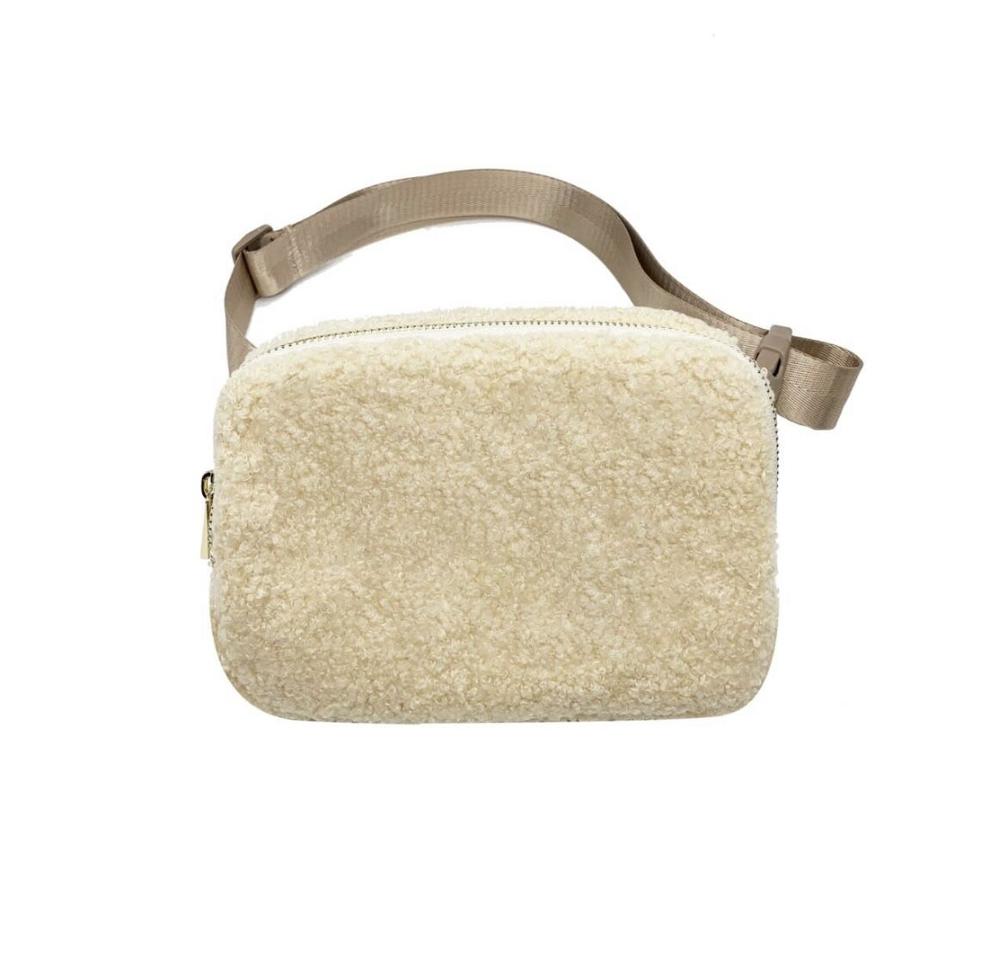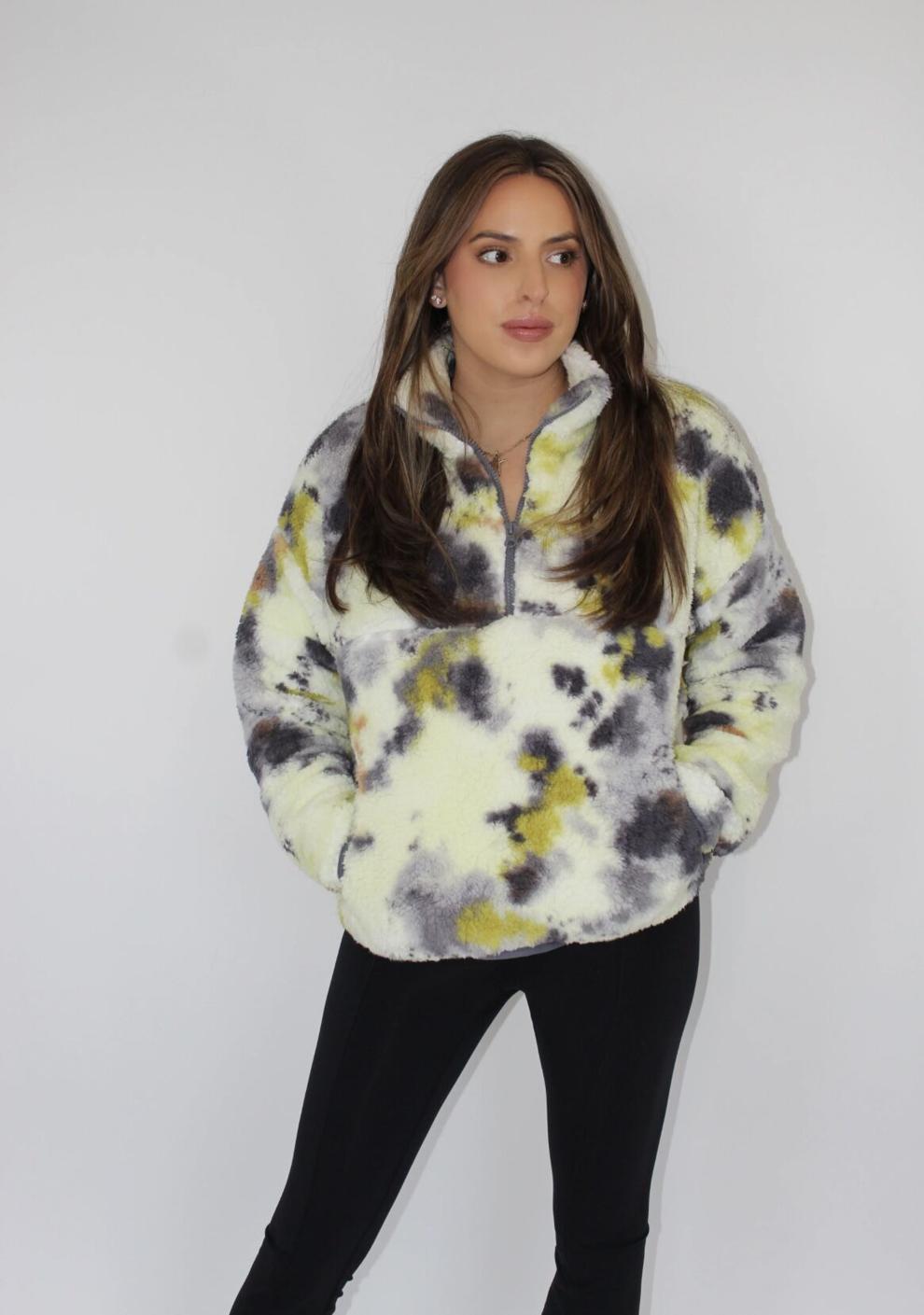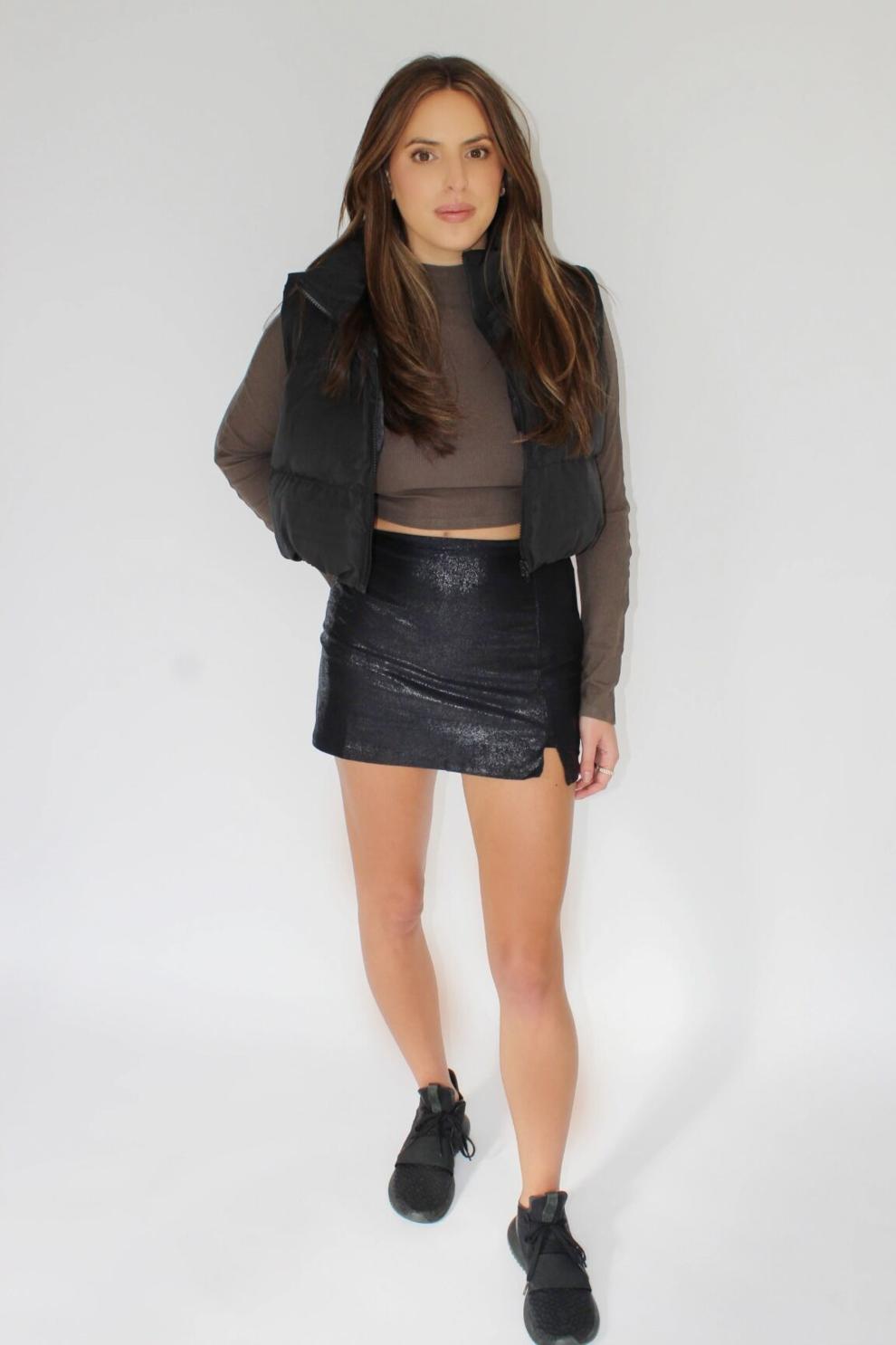 Who are some of your favorite local brands or designers?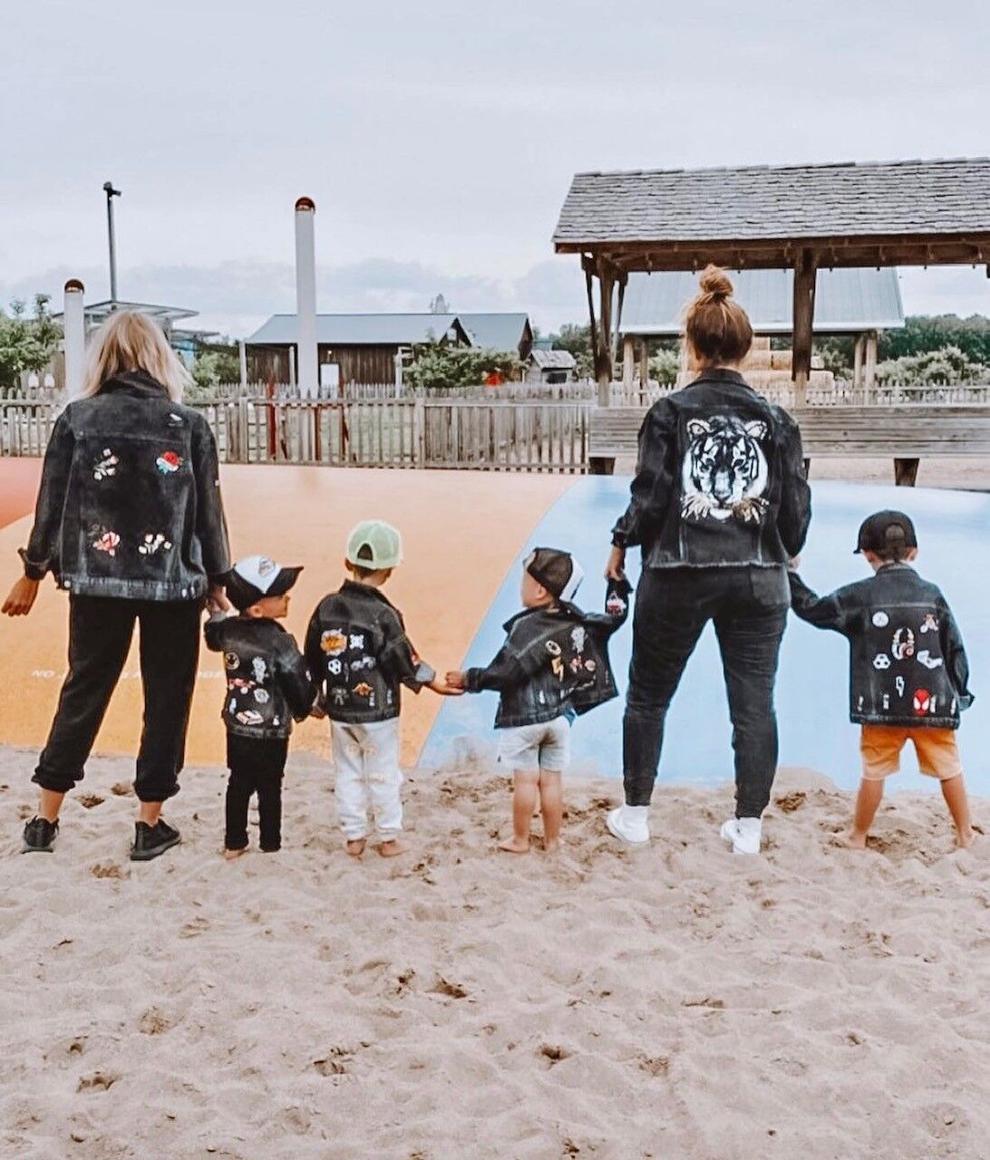 One of our favorite local designers is Allison Kaulfuss from JEAN JCKT. She makes custom jean jackets to fit your personality and style. 
She has a super fun way of asking you questions to understand your style and then will draw several mock ups for you to choose from. She can do anything from distressing, painting, add patches, and more! We had the best time coming up with ours for ourselves and our kids. 
We also love the By Day By Night OG leggings from our girls over at Fit Sisterhood. Their buttery soft high waisted leggings are seriously better then any high end brand we have tried before and they are so affordable.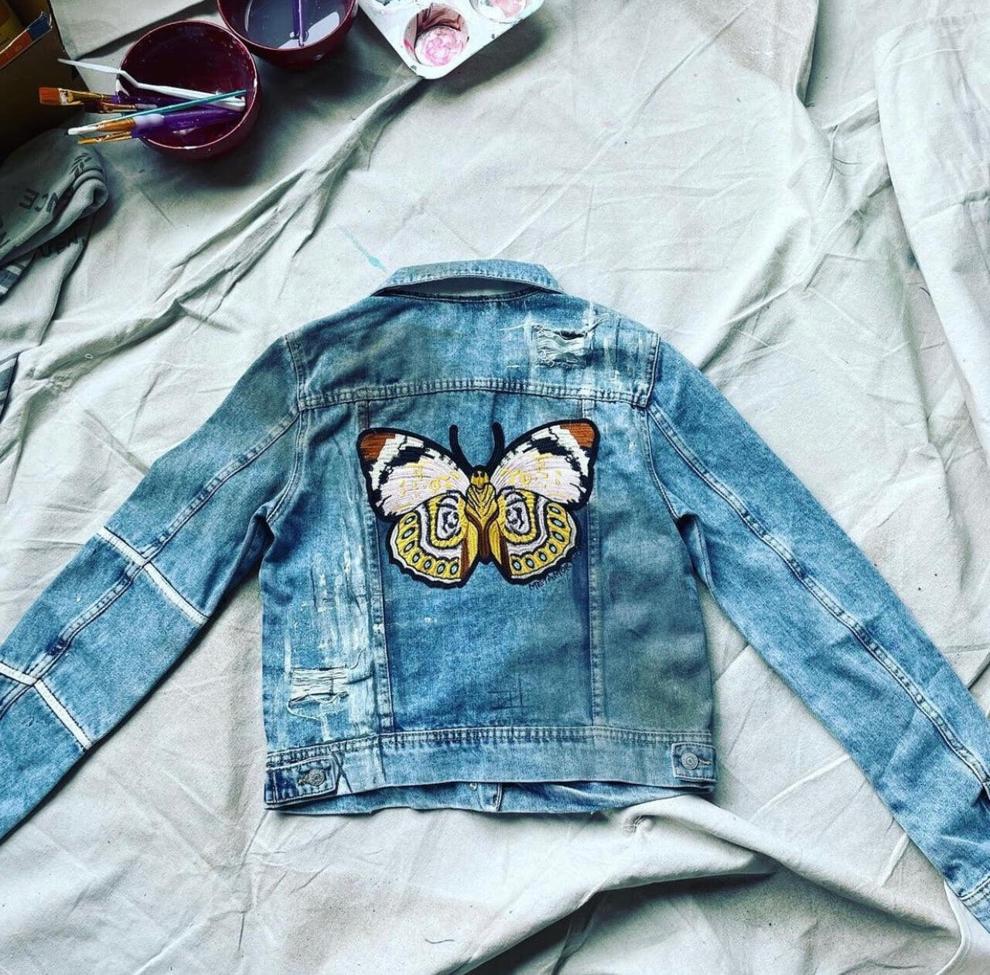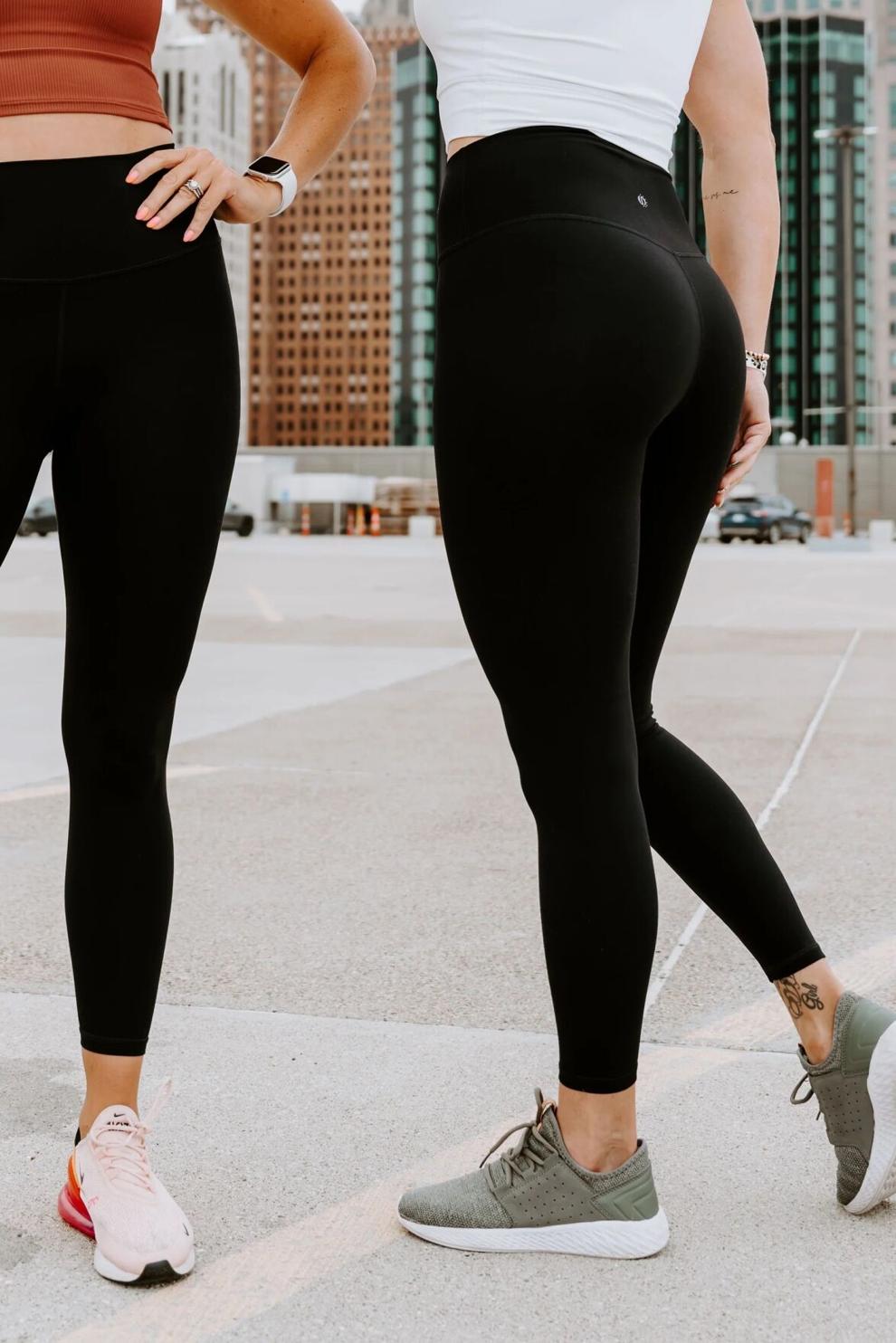 What is your favorite local coffee/tea shop? What is your drink of choice?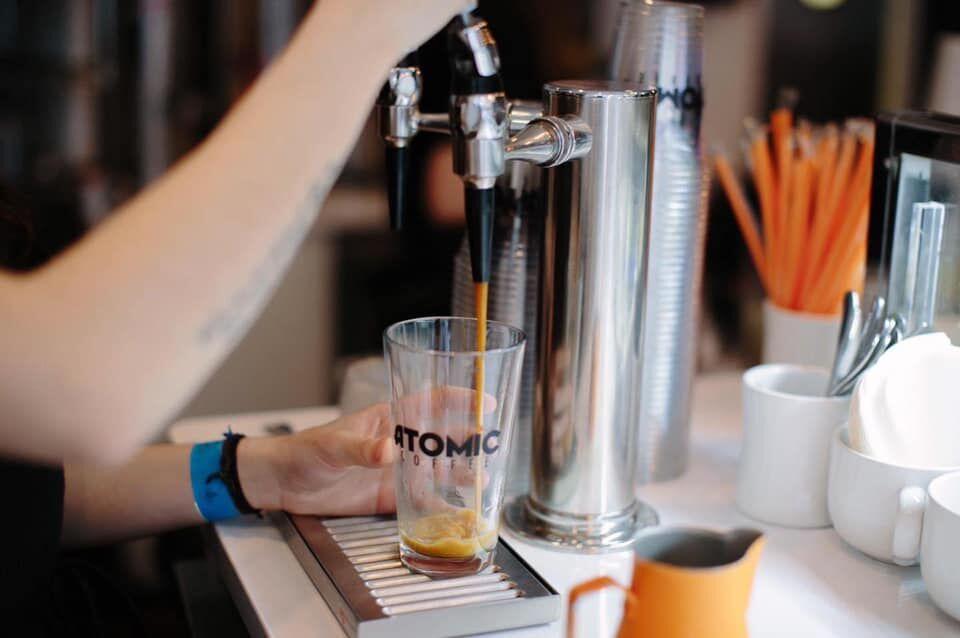 Typically we're Starbucks girls. Our go to right now is a cold shaken espresso with a splash of oat milk and one Splenda. We also do love ourselves some Atomic Coffee in downtown Royal Oak. We love their Caprese sandwiches and nitro cold brews.
What are your favorite metro Detroit restaurants?
Ambur: Our favorite food truck is Bart's Pizza. He makes the best ever stone fired pizza. You can hire him for special events his delicious homemade pizza for special events. And he also collaborates with local breweries and businesses as well.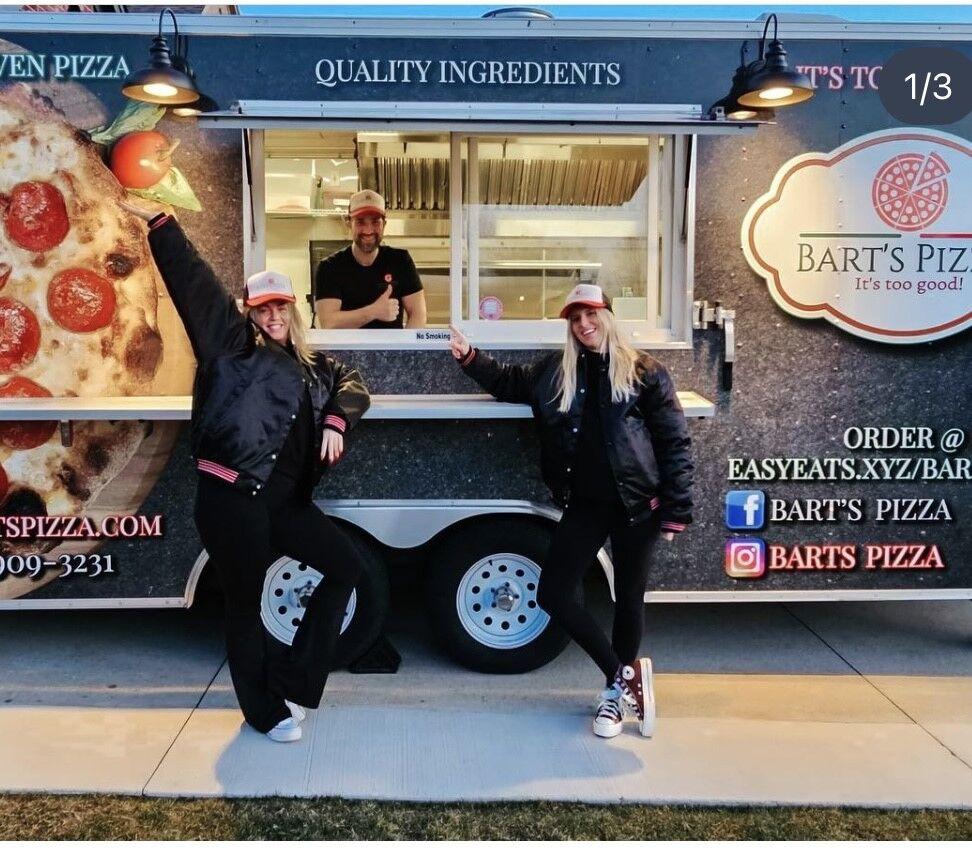 Chelsea: We don't typically venture out too far these days after having kids. But when we do our go-to's are Bar Verona, Testa Barra, J. Baldwins, Art and Jakes and Buddy's pizza.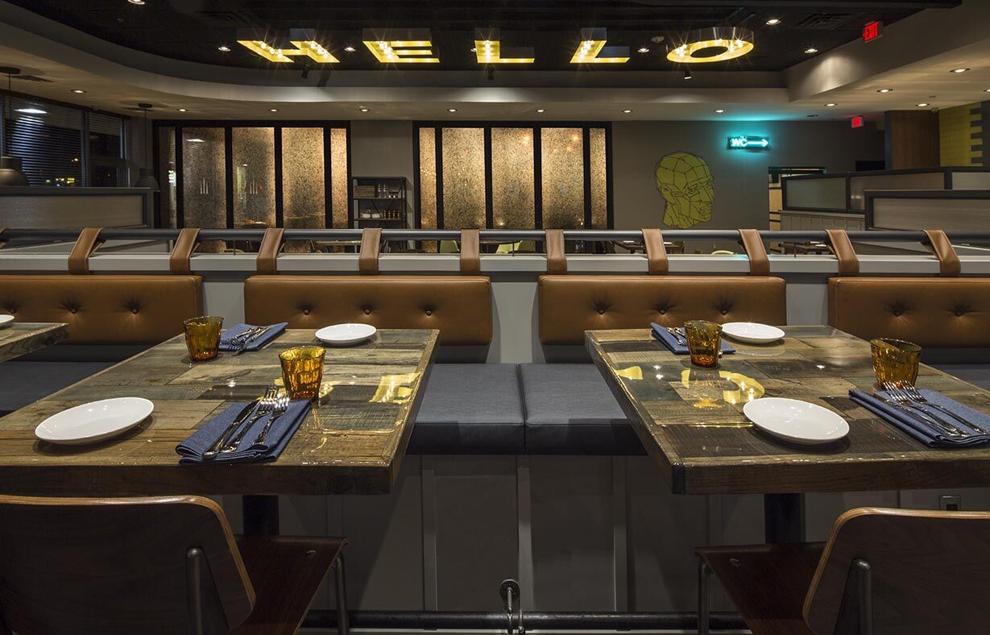 Is there a hidden gem in metro Detroit that you swear by?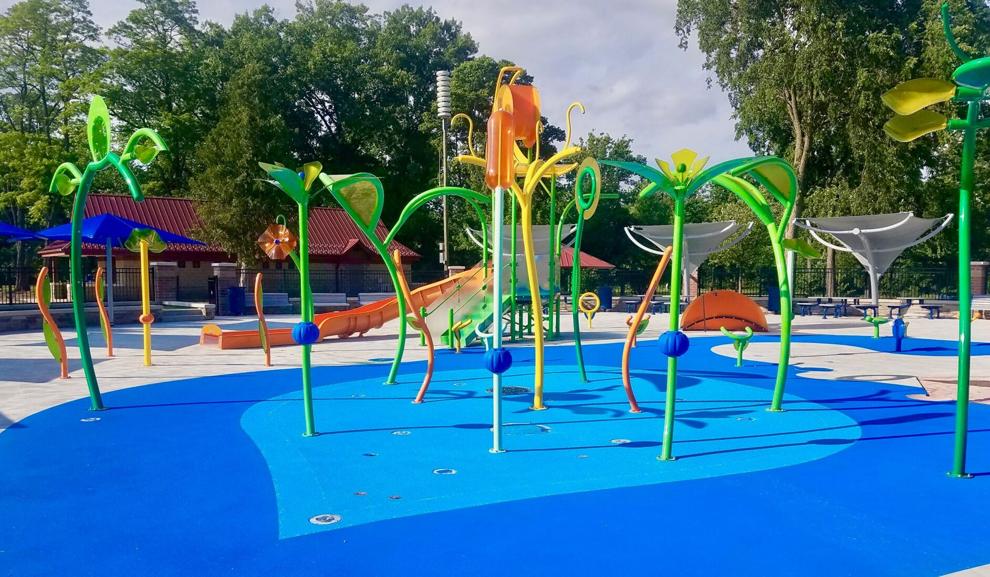 Dodge Park in Sterling Heights! It is honestly so fun there and they always have events going on for both kids and adults. Their splash pad is great for summer and they have ice skating in the winter.
Shop Cool Moms Club at coolmomsclub.store and follow them on Instagram @coolmoms.club for funny content, product launches, upcoming collaborations and events.