Sustainable Fashion blogger Natalia Gomez explains how to declutter your closet and build a wardrobe you'll love to wear everyday
By Natalia Gomez
Do you ever say to yourself I have nothing to wear, even though your closet may be full of clothes? Believe me, I've been there and it's stressful to have an overwhelming closet filled with things that maybe we don't love to wear. Can you honestly agree that you wear 100% of the items that are in your wardrobe? If the answer is no then keep on reading to discover how to start decluttering your closet in an effective way and build a wardrobe that you will love to wear everyday.
But first, what is a capsule wardrobe anyway?
A capsule wardrobe is  a collection of selected essential items that are timeless and don't go out of fashion.(You already have a capsule wardrobe in your closet). A capsule wardrobe has the items that you LOVE to wear everyday. Many minimalists claim that a capsule wardrobe should have a determined amount of items going from 30 to 50 for all year long, but I do not agree with this. A capsule wardrobe should be built around your lifestyle with things that make you feel happy and that you love to wear on repeat. 
Did you know that the average American woman has over 100 items in her wardrobe, and only likes about 10%? (Reference from a study made by ClosetMaid ) I found these numbers very interesting because it all narrows down to having more than enough clothes, but in general women are frustrated about: "having nothing to wear". 
Stop blaming the "I have nothing to wear excuse" and start practicing rewearing techniques to build your own capsule wardrobe.
The goal behind building a capsule wardrobe is to create an effortless style for ourselves so that dressing up everyday becomes easy and stress free! Are you ready to start yours this year? Here are some easy steps to follow.
How to start a capsule wardrobe
Step 1: Analyze your style and lifestyle
The most important step to build a wardrobe that you will love is to know our style. You cantake this style quiz to get a broad sense of what style predominates in your life.
Ask yourself these questions:
What is my primary activity?

What do I like to do in my free time?

What staples predominate in my closet? Are you wearing them or do they just take up space in your closet and remain unworn for several months? For example: too many heels and sneakers, but you really like to wear loafers and only have one pair.
These basic questions will get you started so that you can become aware of everything that you have and better understand how to strategically shop from now on. 
Step 2: Track what you like to wear for 30 days
There are many ways to do this, either by manually tracking down what you wore every day in a notebook, or you can also look into this app called Cladwell that lets you do this very easily via their subscription service.
Step 3: The closet clean-out!
After documenting what you effortlessly wore during 30 days you will have a better understanding of your current capsule wardrobe that already exists in your closet. There is no magic number, a capsule is about selecting the things you love to wear and of course you will have cute formal dresses that you wear once a year to a wedding, or your sportswear and sleepwear. These items are not part of your capsule. 
Think of your capsule as your "go to" rack of things you love to wear everyday based on your lifestyle.
So, with this said the closet cleanout is very simple:
Make a pile of everything you like to wear and makes you feel happy and stylish (this pile will become your starting point for completing your capsule wardrobe)

Make a pile of everything you make excuses to wear (including everything you didn't wear in the past 30 days)
The big work comes with the second pile, now it's time to organize everything else into categories. Before you sort into categories take a look at each item and make sure that the thought of wearing it someday makes you feel happy. If it just gives you a sensation of guilt, or that you have to wear it because "x reason" I would just get rid of it. Organize your clothes in all of these categories:
All year basics

Spring and summer

Fall and Winter

Donate/sell pile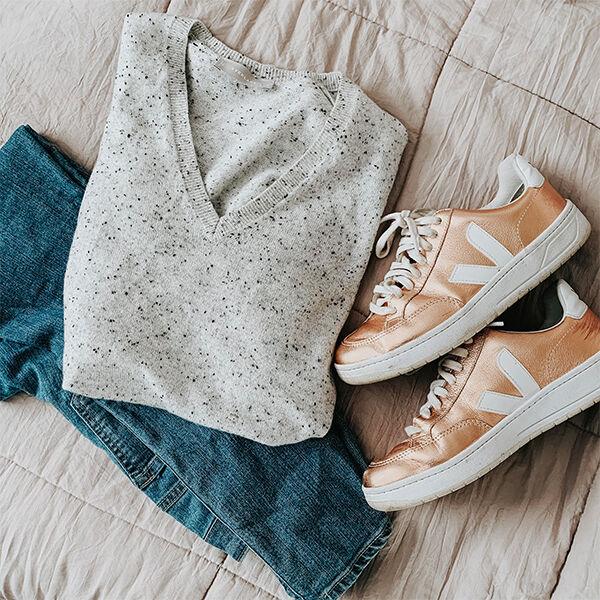 Document how many items you have in each category and decide to build a capsule for all year long, or seasonal capsules. We all have different lifestyles, the important thing is to keep the items that we like to wear.
I personally love doing seasonal capsules because by storing away the clothes I won't be wearing, my closet is less cluttered and I get to see everything I have for this season and find new ways to rewear and create new outfits with the same clothes. When it's time to switch seasons your old clothes become your "new capsule" without having to shop, so I find it very refreshing and fun!
Step 4: Define your colors / create a color palette to guide your future shopping
A color palette is something optional but very useful when building a capsule wardrobe because it is a reference guide for future shopping. After the experiment of wearing 30 items for 30 days you will find out what colors you like to rewear more often, so these can become part of your color palette reference guide and the next time you shop for something you can have a guideline for looking for colors that blend in with what you love to wear and already have. 
Step 5: Map out your capsule and create a wishlist for missing items
Now that you selected your essentials and donated what you don't love, it's time to create a visual or mental map of your capsule or capsules to help you shop less.
Let's say that when you divided your clothes into categories you found out that many of your "all year basics" can be used during fall and winter, so now you don't have an excuse to buy a new sweater, try to find new ways of layering and challenge yourself to rewear your sweaters in every season.
 You might also have found in your closet cleanout that you don't have enough fresh and breathable tops for spring, so you can make a wishlist of how many extra tops you think you might need to complete your spring capsule.
Step 6: Rewear before you have the urge to buy again
I think this is my favorite step because it's when you learn to be more creative. Every time I have an urge to shop I look at my closet and try to force myself to rewear something I haven't worn in a while. If you find that you try to rewear something and you don't feel confident or beautiful when you are wearing it…it's OK to just get rid of it and donate it to someone who might appreciate and rewear it more than you. Our closets are never perfect, and sometimes we keep holding on to things because we are not used to letting go.
Let go of everything that doesn't boost your confidence or doesn't make you feel good, even if it was something you did like to use in the past, our bodies evolve and change, and so do we so it's OK to let go.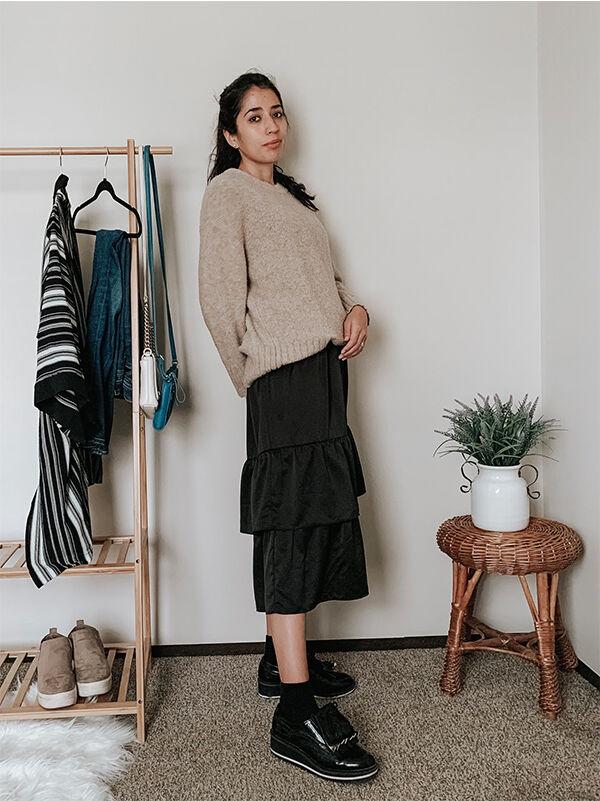 Step 7: Invest in quality over quantity,  your clothes shouldn't cost as much as your cup of coffee, and here's why
If you want to become a more intentional shopper it's important to educate yourself about the quality of fabrics on the clothes you buy as well as the effects of throwing away clothes. Did you know that in the USA 85% of textile waste goes to landfills?  
You can reduce your fashion footprint by primarily rewearing. If you must buy something new you can shop secondhand or support ethical and sustainable brands that are making clothes from recycled materials as well as natural and organic fabrics. 
Sustainable fashion sometimes may be more expensive than traditional fashion, but this is only because sustainable brands commit to paying a fair wage to their workers and they source premium, natural or recycled materials. 
Your clothes shouldn't cost as much as your cup of coffee. We have to learn to pay the fair prices of things.
Become an intentional shopper
Don't let the sales get to you, the next time you see something on sale ask yourself: "Do I really need this? Do I love the color and does it go with what is already in my closet?" If the answer is no then pass on that impulse. 
Trends will come and go but the clothes that make you feel good are already in your closet, and if they are not make a plan to purchase them, save up for quality garments, have a strategic idea of exactly what you are looking for. The next time you walk into a store look for what is in your wishlist, don't let the stores define your style and what you should wear. You have the power to make the decision to take something home or not!
If you follow all of these basic steps I am sure you will find more happiness in getting dressed up every day. Life's too short for stressing about what we have in our closets, let's invest more on other things, challenge ourselves to rewear more often and become intentional beings.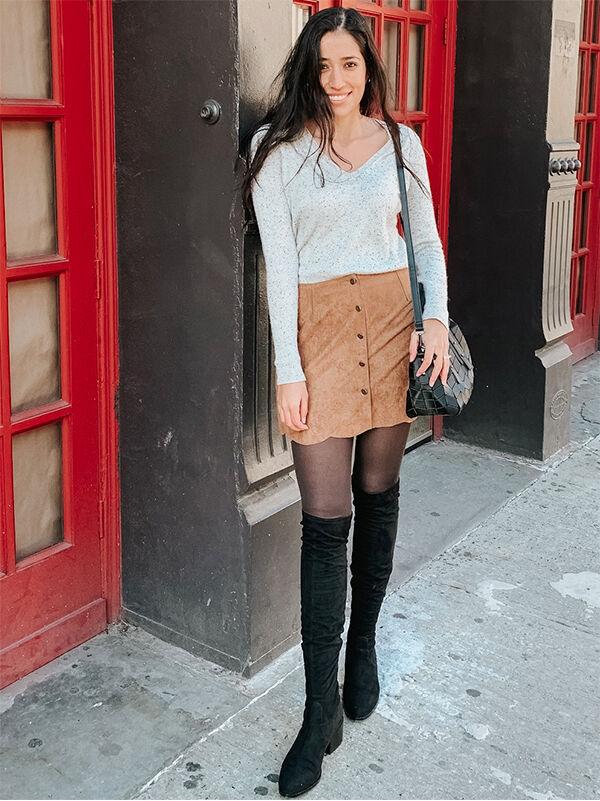 Natalia is a fashion activist and founder of Marmag Creation, a sustainable fashion blog where she likes to help women find their style in order to build a sustainable wardrobe. At her blog you will find lots of resources and ethical brands she likes to support. She also shares minimalist lifestyle and conscious consumerism tips. Follow her on Instagram at @marmag.creation for inspiring quotes and ethical OOTD posts.