Eleven-year-old
Vince Weishaus 

from Bloomfield Hills is making waves as he cuts, colors and styles more than two dozen of his own clients.

By Amanda Rahn

Photography by Derrick Martinez

Are you a better hairstylist than a sixth-grader? Chances are slim if 11-year old Vince Weishaus is your competition.

Vince is the rare child who has already started planning for the future and has already picked out his profession. He watches YouTube tutorials every day before school and spends his evenings in his full-blown basement salon, either dyeing and chopping the hair on the heads of the dozens of dolls he uses for practice or styling his own clients.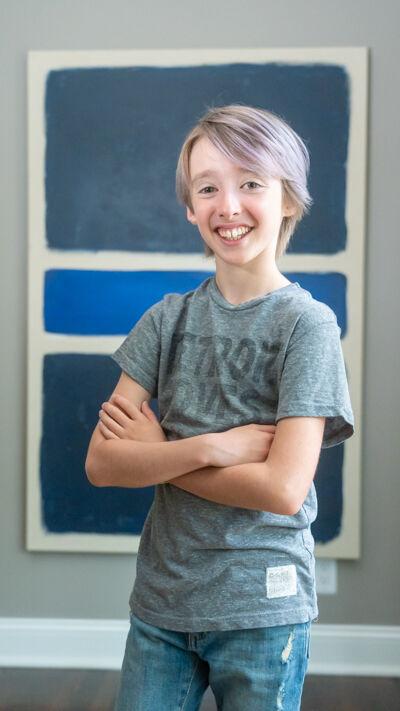 "I like doing hair because it makes people happy," Vince says. "I like how it feels. I like the different textures, from thick hair to thin hair, and it's satisfying."
His mom, Emily Weishaus, says she first noticed his interest in hair at about 2 or 3 years old.
"He would flip the hair of the dolls his older sister had back and forth, and he would take them wherever he went and brush their hair," she says.
In between running his hands through one mannequin head's bright blue shaggy hair and another with dark red curls, he shows off a few of his dance moves. He loves both yoga and ballet, and often creates intricate braids for his dancer friends before recitals.
"He was never taught to tie his shoes or to braid hair," Emily says. "He can just watch someone do something and immediately pick it up."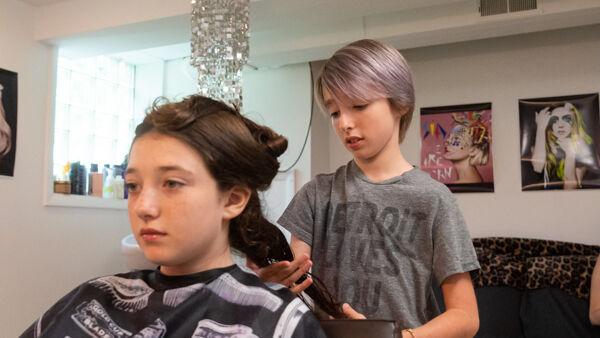 Vince was 5 when he gave his first haircut to his grandmother. Now, he sees 25 clients: aunts, cousins, neighbors, classmates, friends and even his schoolteacher. His basement salon, Vincent's Hair Art, features a full-length mirror, hair sink, hooded hair dryer and a salon chair (though he's still too short to reach the top of a client's head, so he stands on a step stool).
Framed photos of his celebrity hair idols hang next to the painted name of the salon. The last two years for Halloween, he dressed up as Lady Gaga and Sia, styling wigs and putting on makeup to resemble the singers. He did such a good job with the Lady Gaga costume that some people couldn't tell him apart from the real singer.
"One of my sister's friends, she was looking at side-by-side pictures of me as Lady Gaga and asked which one I was," he says.
His storage shelves are overflowing with bright hair dyes, styling products and hot tools. He's amassed a collection by asking for them every birthday and holiday. Plus, friends of his mom will donate unused bottles under their sinks, and the hairstylists he visits will sometimes gift him products.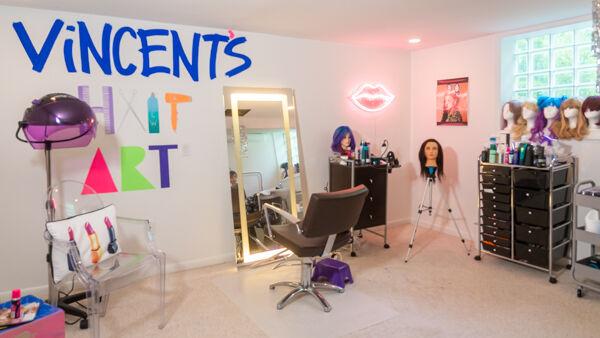 While his hair is at the moment, according to him, "purple-y silver," it probably won't be for long. Vince's hairstylist, Chelsea Perez, 29, from Luigi Bruni Salon in Birmingham, will bleach and cut his hair, allowing him to experiment with different colors at home without the tricky process of bleaching it himself first.
"He's a VIP here — everyone knows who he is," Perez says. "The whole salon talks about him. We're all blown away by him."
Perez says what makes Vince so special is the level of understanding he has at such a young age.
 "His questions are always surprising me," she says. "Once we were talking about thinning shears, and he asked if there needed to be a certain amount of teeth on it. I was like, 'Yes, but how do you know to ask that?' That was one of those mind-blowing things."
"I wasn't even asking those questions as an assistant out of beauty school," she adds.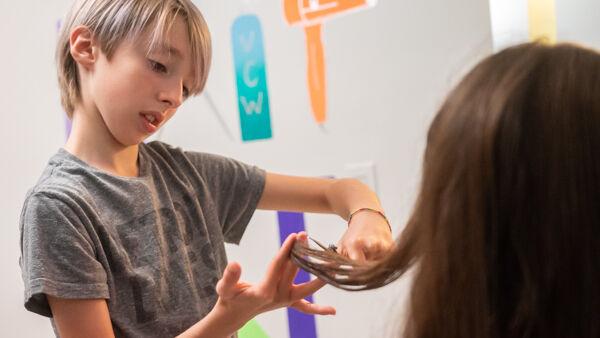 He says he's learned tips on cutting and coloring hair by watching YouTube hair tutorials, mostly from popular celebrity hairstylists Rita Hazan, Guy Tang and Kevin Murphy. His dream is to become a celebrity hair stylist and own a salon like Rita Hazan's in New York City, where he recently went on a tour.
"He asked me, 'Do you really think I'll do celebrity hair one day?' and I said, 'Yes, absolutely. There's no doubt in my mind,' " his mom says.
"The only thing I don't know," Vince says, "is whether I'll go to LA or New York."