By shining a light on bad online-dating behavior, Sarey Ruden unites women worldwide
By Nicole Frehsee Mazur
Photography by Erin Kirkland
For Sarey Ruden, online dating is more than a way to meet a potential mate — it's a vehicle for creating art. The Birmingham resident has racked up fans worldwide for her thought-provoking (and often provocative) pieces under the name SareyTales, a nod to her not-so-romantic dating experiences. "They're like fairy tales but messed up," she laughs.
By day, Ruden, 39, works as a graphic designer at Taubman in Bloomfield Hills. By night, she holes up in her basement, transforming messages she receives from men on dating apps into designs that expose the darker side of male-female relationships. She's made art out of everything from jabs about her age and appearance to sexual innuendos to rants against abortion rights. "Dating apps are just a lens through which I'm viewing this misogyny," she says. 
SareyTales was born in 2016 after Ruden told a man she'd gone on one date with that she wasn't interested in continuing the relationship. He sent her a message that read, in part, "You're a mean, single, angry, drunk loser who will not have children." Ruden laughed, then took a screenshot. "I just knew, I'm going to turn this into a design," she says. "It evolved from there." Now, Ruden has created more than 250 unique pieces, which she's shown at boutiques, pop-up shows and art fairs from San Francisco to London.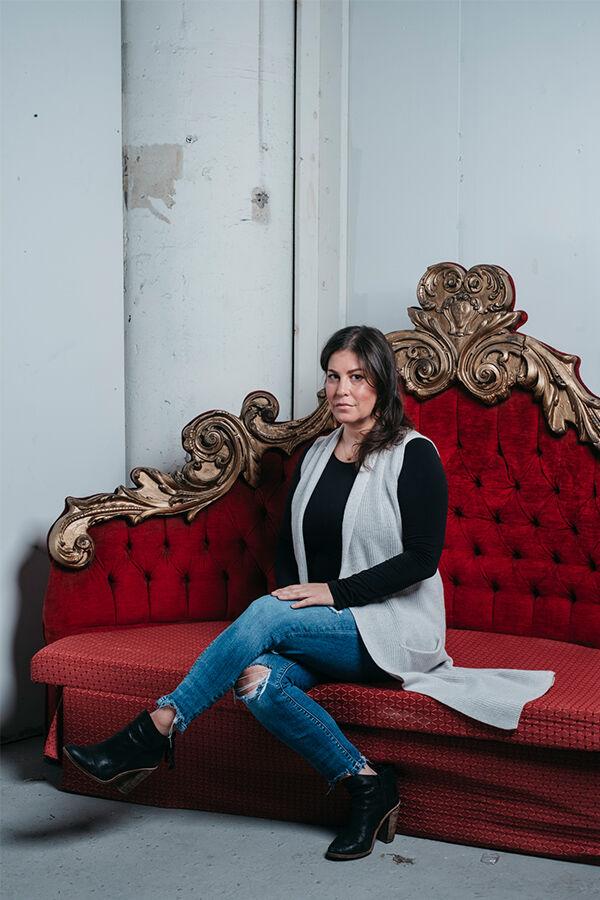 Ruden is meticulous in her process: She screenshots any messages that seem "weird or off," then organizes them by category. (She has a stockpile of about 4,000 texts, culled from sites like Tinder, OkCupid and Plenty of Fish.) When a particular correspondence sparks an idea, she'll comb through the archives on that subject — be it toxic masculinity, generic insults or anti-Semitism (Ruden is Jewish) — to find other messages that help "drive the point home," she says. "I try to explore ideas in series because it makes it more impactful." Graphic design is her preferred medium, but she also works with sculpture, painting and photography. 
Her bestselling piece is "Survival of the Feminist," which depicts a woman's lips bleeding on the message "Feminists have ruined the world." "It was based on this idiot saying 'feminists have ruined the world, and that's why there's so many single women,'" recalls Ruden. "It was so cliche, and when I was reading [his message] I was biting my lip, like, 'ahh!' I try to make art that's both conceptual and symbolic." 
The response to her art has been "overwhelmingly ecstatic," she says — at least from women, who've reached out from as far as Australia and India to offer support. "It makes me feel really good when people message me and say they feel less alone," she says.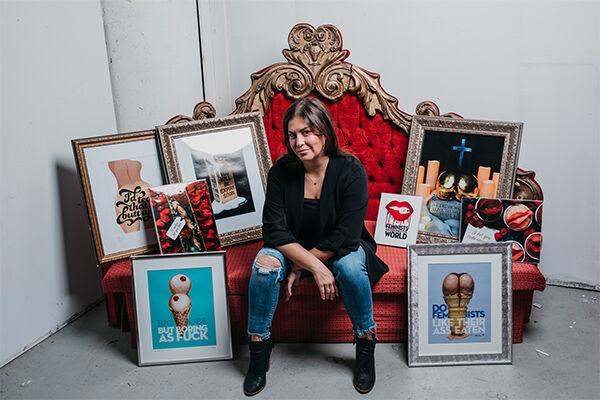 Despite the accolades, Ruden admits SareyTales can be exhausting. First, it takes up most of her time outside of work. And it doesn't make finding a partner any easier. When her art came up with a recent date, "He said, 'So you date guys on apps and embarrass them?'" Ruden recalls. "It's tough." Still, "I'd rather keep SareyTales and distill my options to [someone] who truly gets me than not have it and be unfulfilled creatively. It's become the support, outlet, inspiration and love I used to seek out in a partner. Now I have that within myself."
Plus, the venture has been key to what Ruden calls her "self-discovery." For instance, on her dating profile, she used to say that she wanted a partner who uses "proper grammar." After getting some pushback on Instagram — where she shares her profile and the messages she receives — she realized the request came off as "elitist and classist," she says. (She now says she wants someone who can "communicate effectively.") "The things that surprise me most are the things I'm realizing about myself."
Ruden's next big project is AWOL, which stands for All Women Online. From May 9-16, she's calling for her 11,000-plus Instagram followers to disconnect from their dating apps to protest what she calls the "digital abuse of women." (She says she's been banned from several apps for violating ambiguous guidelines, while men who send her, say, unsolicited nude photos are allowed to remain active.) "If all the women leave, [it will] make the point that there's injustice on these dating apps," she says.
For someone so passionate, it's perhaps a surprise that prior to starting SareyTales, Ruden "wasn't particularly political or a feminist," she says. "But it's like the Matrix: Once you see it, you can't unsee."
Check out Ruden's art at sareytales.com
Read more: