When Covid-19 kept Nia Batts and Patrick Linder from having a formal wedding, they opted for a romantic elopement in the Utah desert
By Sarene Leeds
Photography by Mark Phillip
It's hard not to think of Nia Batts and Patrick Linder as an unstoppable force. After all, Covid-19 couldn't keep the couple, who live in Midtown, from getting engaged — or staging a romantic elopement in the Utah desert. 
After dating Batts for about two years, Linder, 32, a managing partner at his own build-design firm, popped the question a week into lockdown. Since it was only March, neither could've predicted the coronavirus was about to cause global devastation. So the pair, who met at the Movement Electronic Music Festival in 2018 ("I like to joke that we fell in love on the dance floor," says Linder), went ahead with preliminary wedding planning.
But once Batts and Linder realized that getting married on their chosen date of Oct. 10, 2020 (an auspicious day based in numerology and astrology), with their friends and family in attendance, wasn't a safe option, they started thinking of alternative ways to honor their love.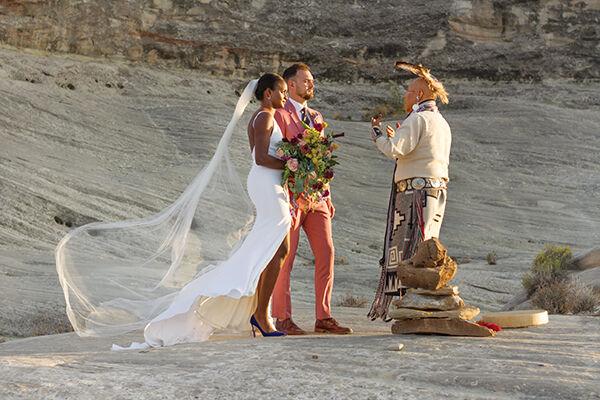 Initially, they arranged a getaway to the Amangiri Resort in southern Utah — a place that Batts had always wanted to visit — so they could be somewhere special on their intended wedding date. But, "the closer we got to it," says Batts, 36, a co-founder of beauty salon Detroit Blows and a founding partner at EQUALSIGN, a diversity and equity management consultancy, "we started flirting with the idea of, 'What would happen if we just eloped?'"
One of the factors behind their decision was Batts' wedding gown. The investor- entrepreneur worked with the owners of Beloved Bridal in Ann Arbor and designer Alyssa Kristin, who was able to make Batts' dream gown in four weeks — right in time for the Utah trip. As soon as Batts found out her dress was a go, "We were like, 'We're gonna elope!'" she says.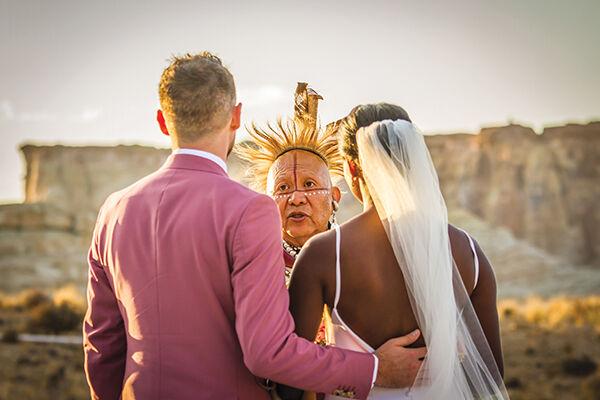 But there was something much more substantial driving the bride and groom toward marriage in 2020. The year wasn't only tarnished by a worldwide pandemic — it was also marked by a national reckoning over racism. It was crucial for Batts and Linder, an interracial couple, to end the year not with sadness, but with joy. "Our love is worth celebrating," says Batts, through tears. "And it was important for us to do that this year."
With the blessing of their families, Batts and Linder were married in a sunset ceremony on Oct. 10 by Elder Uqualla of the Havasupai tribe. (The couple wanted their ceremony to be performed by an Indigenous elder connected to their chosen wedding space; they found Uqualla with the help of Amangiri staffers.) "Uqualla's joyful nature and spirit made him the perfect choice," says Batts. "He became more than an officiant to us — we follow him on Instagram! Every time we see his smile, it makes us smile."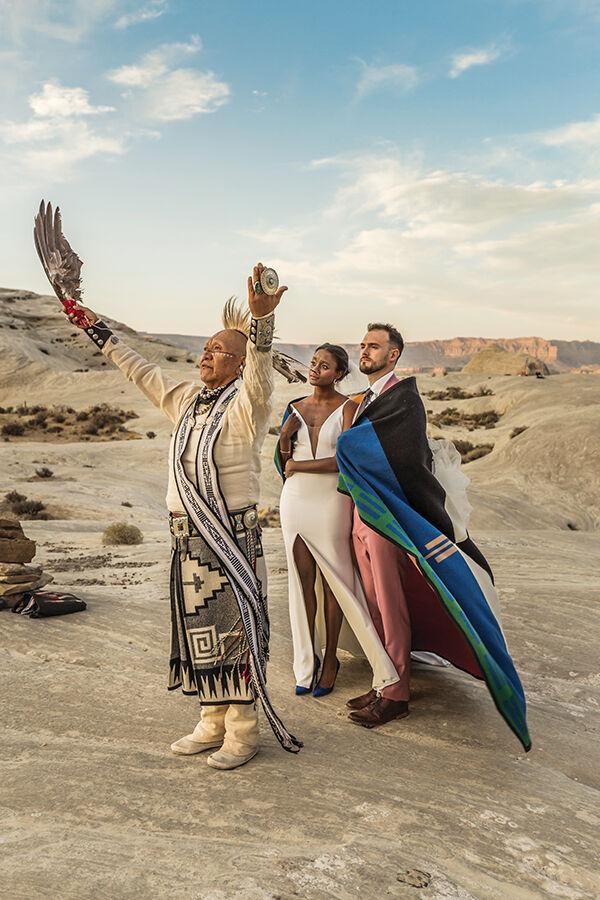 Batts explains that where they tied the knot was as significant as when: "It was important that we recognized the people who are Indigenous to this land," she says, adding that she and Linder wanted their wedding to be "reflective of generations of marriages that have been performed on that land." The ceremony also incorporated acknowledgment of not only relatives who have passed away — including Linder's father — but all of their family and friends who couldn't be physically present. "We felt their energy," says Batts. "It felt like everybody was there even though it was just the two of us." 
The bride and groom recited personalized vows to each other, while Uqualla integrated a number of Havasupai traditions into the nuptials. Batts and Linder joined him in prayers to the north, east, west and south, as well as a greeting to the wind. The latter was especially significant for the pair, because "it was particularly windy that day," says Batts. "[Uqualla] said it means the spirits are with us; they're excited about this love and this union." Uqualla also lit sage, performed a blessing over the couple's rings, and presided over a traditional offering to the ancestors: a blanket that was wrapped around Batts and Linder as part of the prayers.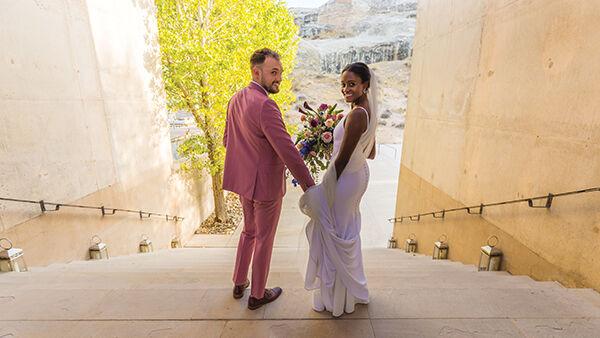 Batts and Linder have no regrets about eloping, but they're also looking ahead, specifically to October 2021, when they can safely host a one-year anniversary party in Detroit with their loved ones.
As they reflect on their wedding, their mutual happiness remains paramount. "One of the reasons why we eloped," says Linder, "is at the end of the day, it is just going to be the two of us." He describes a moment during their private reception at Amangiri that defined the day for him: "We were dancing alone, and we were back to the whole reason why we had come here, which was to celebrate our love. This is where 'I' finally became 'we.'"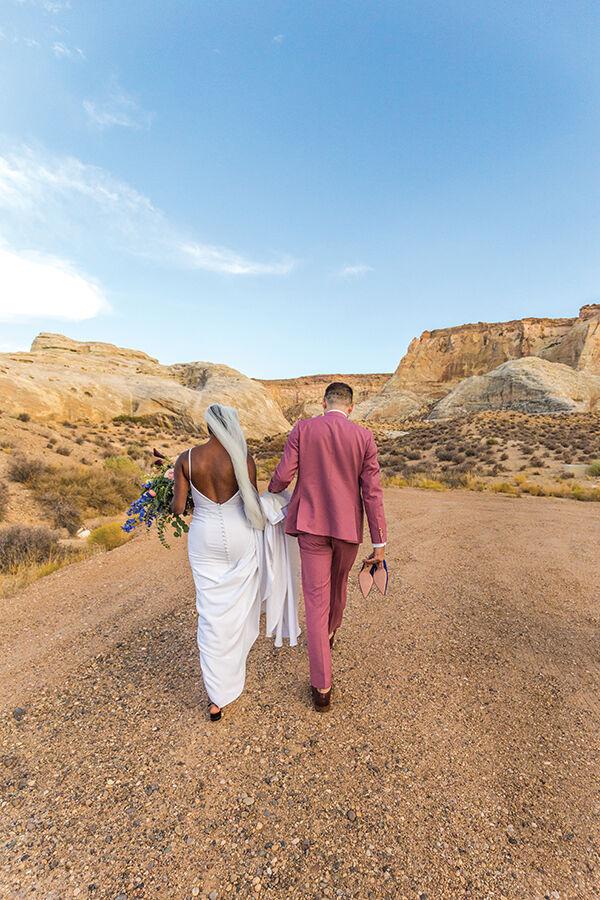 Batts experienced a similar epiphany shortly after their ceremony: "We were dancing and Patrick was twirling me — and there's this one beautiful photo where he's holding my hand and I'm looking back at him. It made me think, 'That's truly a moment I always want to remember.'"
"It's absolutely on-brand for the two of us just dancing," adds Linder. "Because that's how we met and that's how we celebrated."