Photography by Brett Mountain
When Scott DiParvine decided to move back to his Detroit roots after spending eight years in Chicago and four years in Lake Geneva, Wisconsin, one of the first houses he looked at was one of the sustainable, eco-friendly units he ended up buying — but not after passing it by at first.
DiParvine didn't initially get that "the one" feeling when he walked through the Eco Homes development in Midtown; it wasn't until he found out that he could customize it to his taste and liking that he really considered it. He explored a few more houses in different areas but eventually came back to the Midtown units. There was one of the 14 left, and when he bought it, it was a blank canvas. He wanted to make his visions come to life but knew he needed some help. That is when he sought out Concetti, a Detroit-based interior design and strategy firm, and began working with Rachel Nelson, Concetti CEO and founder, and Taylor Morgan, Concetti lead designer and head of marketing.
"For us, interior design strategy is really going from left-to-right brain thinking," Nelson says. "So, we're going to dream big, we're going to create a beautiful space, but it's going to be tailored to and completely made for you."
DiParvine's 1,450-square-foot, two-story home and the other 13 modern single-family residences in the Midtown Eco Homes development contain many sustainable and green features, including solar panels atop sloped roofs to maximize sun exposure, rain barrels and rain gardens, thermal envelope buildings, low-E insulating glazing, drought-tolerant landscaping, energy-efficient windows and doors, multi-zone HVAC systems, tankless water heaters, and LED lighting. Furthermore, the sinks, countertops, and backsplashes in DiParvine's home are constructed from concrete, another sustainable feature and mutual design choice between DiParvine and Concetti. 
Nelson says that many of the home's interior elements were designed to meet DiParvine's unique lifestyle. "He's a bachelor, and he has a dog," she says, adding that "entertaining, his friends, and family" were all important factors influencing the design. "It wasn't just about picking paint color and which countertops to use," she says. "That's the last step. It gets so much deeper than that."
The design project, which began in summer 2020, started from scratch, giving Nelson and Morgan a lot of flexibility when making creative choices. One of the more personal elements of the home is that many of the materials were sourced locally from Detroit or from states that DiParvine had previously lived in. For example, the flooring was reclaimed and sourced from Wisconsin, which ties back to DiParvine's days living in Lake Geneva.
Morgan says DiParvine really wanted an industrial aesthetic as his family has many industrial ties to Detroit and several of his relatives worked at Ford Motor Co. DiParvine also hoped he would not have to sacrifice any of his ideal features, like a wet bar, big kitchen, and lounge, despite the space being small. In order to integrate these features into the design, Nelson and Morgan ended up flipping the kitchen over to the other side of the first floor and essentially recreating the entire floor plan.
"It was a literal 180 design choice, but what this allowed us to do was really minimize the walls," Morgan says. "Everything was really closed and compartmentalized before, but by moving the kitchen, we were able to open up the staircase where you first walk in so that when you walk in the front, you have a full view through the back. That was imperative because it makes this small space feel so much larger."
One of DiParvine's favorite features of his home is the three-story map of Detroit that begins in the basement and spans the wall all the way up to the second floor. Although he has moved around quite a bit throughout his life, DiParvine says this map is a reminder of his Detroit roots, as he grew up on the east side. His family and many of his friends live in the Detroit area, which makes it so special to him.
"I actually had a visceral feeling of being home when crossing the Michigan border while I was driving back to Michigan (from my previous Lake Geneva home) with my trailer and belongings," DiParvine says.
Another favorite feature in the home is a wallpaper replica of Diego Rivera's 1932-1933 Detroit Industry Murals at the Detroit Institute of Arts. DiParvine says this depiction of industry at the Ford Motor Co. is a warm reminder of the many generations of his family who worked at the auto company.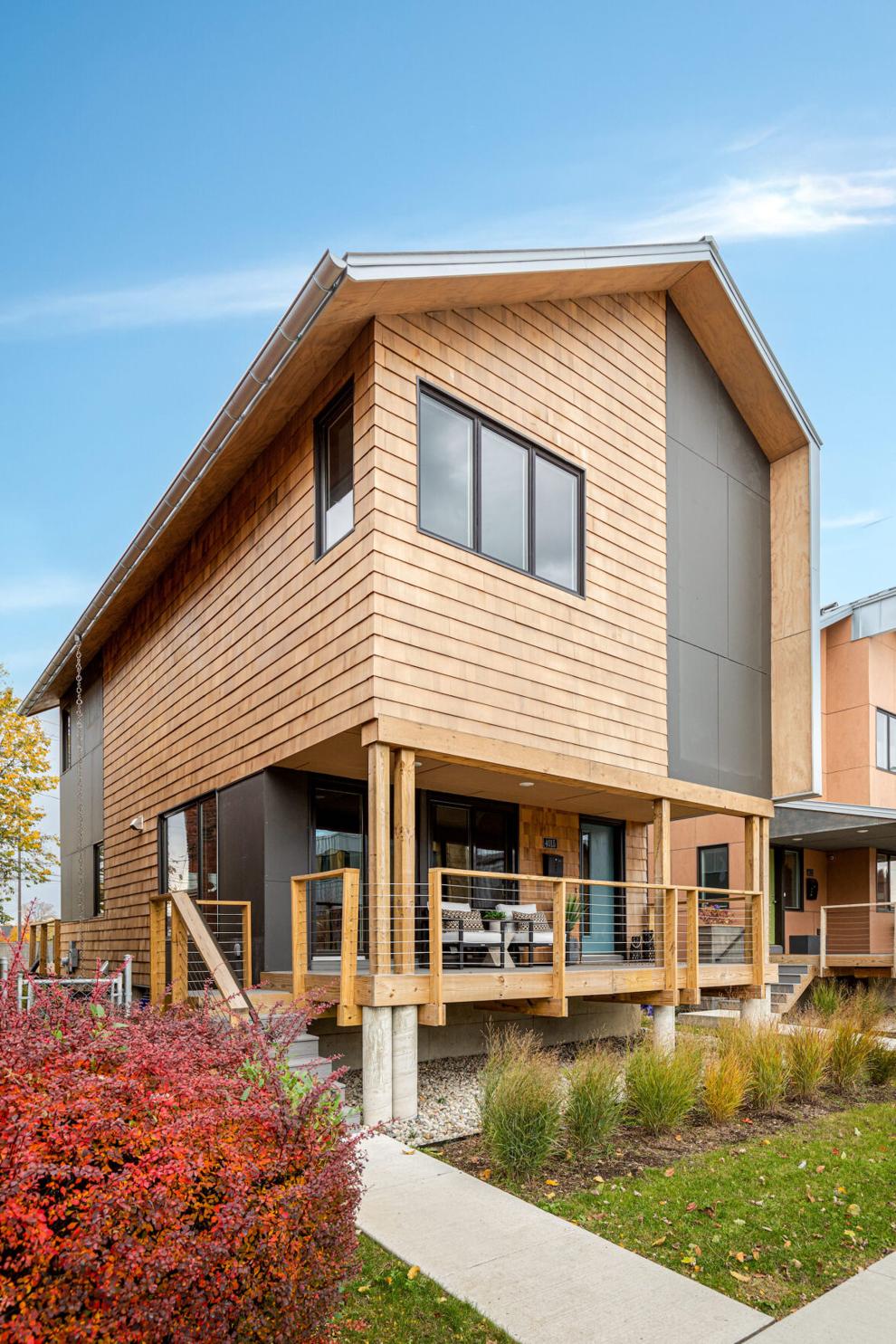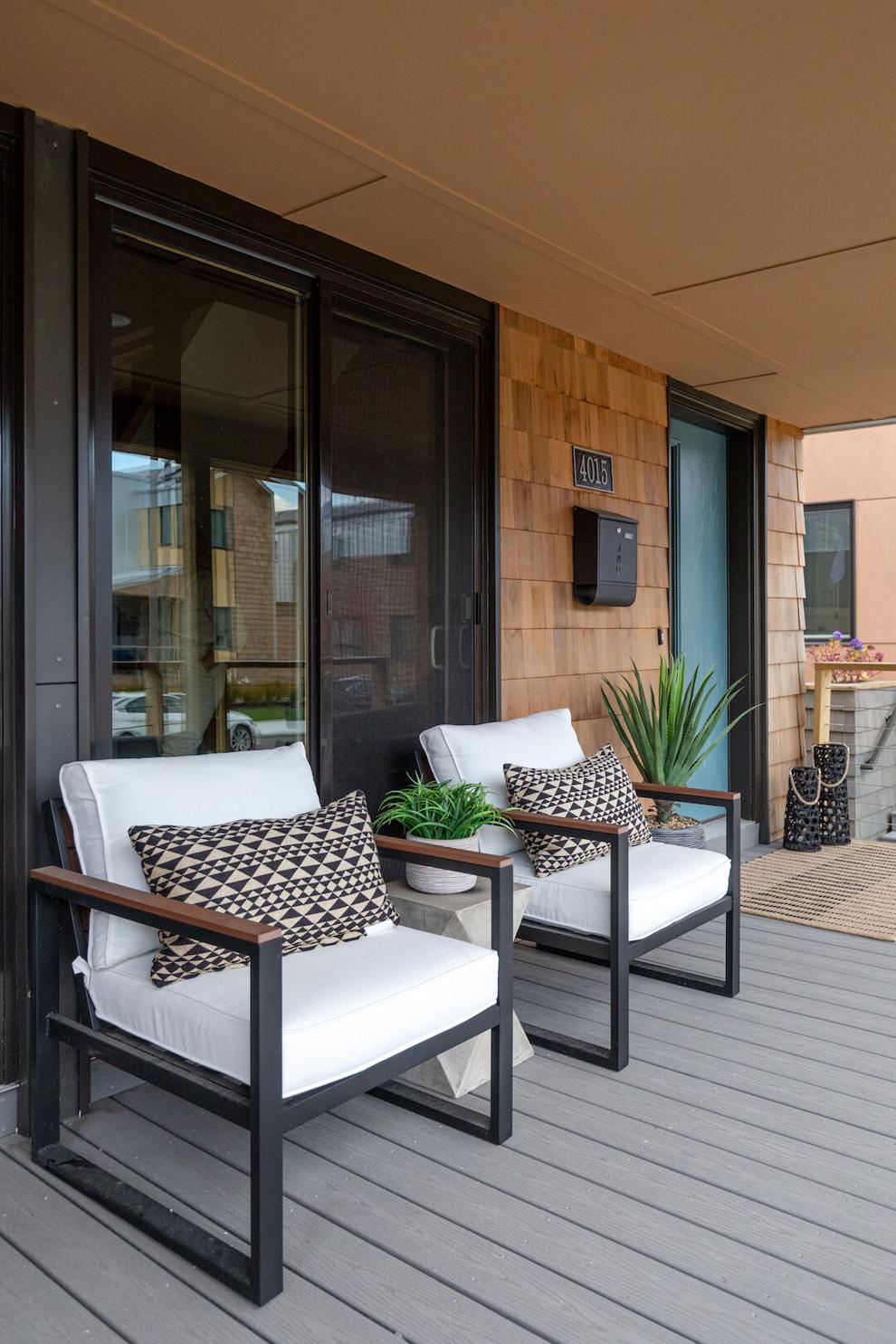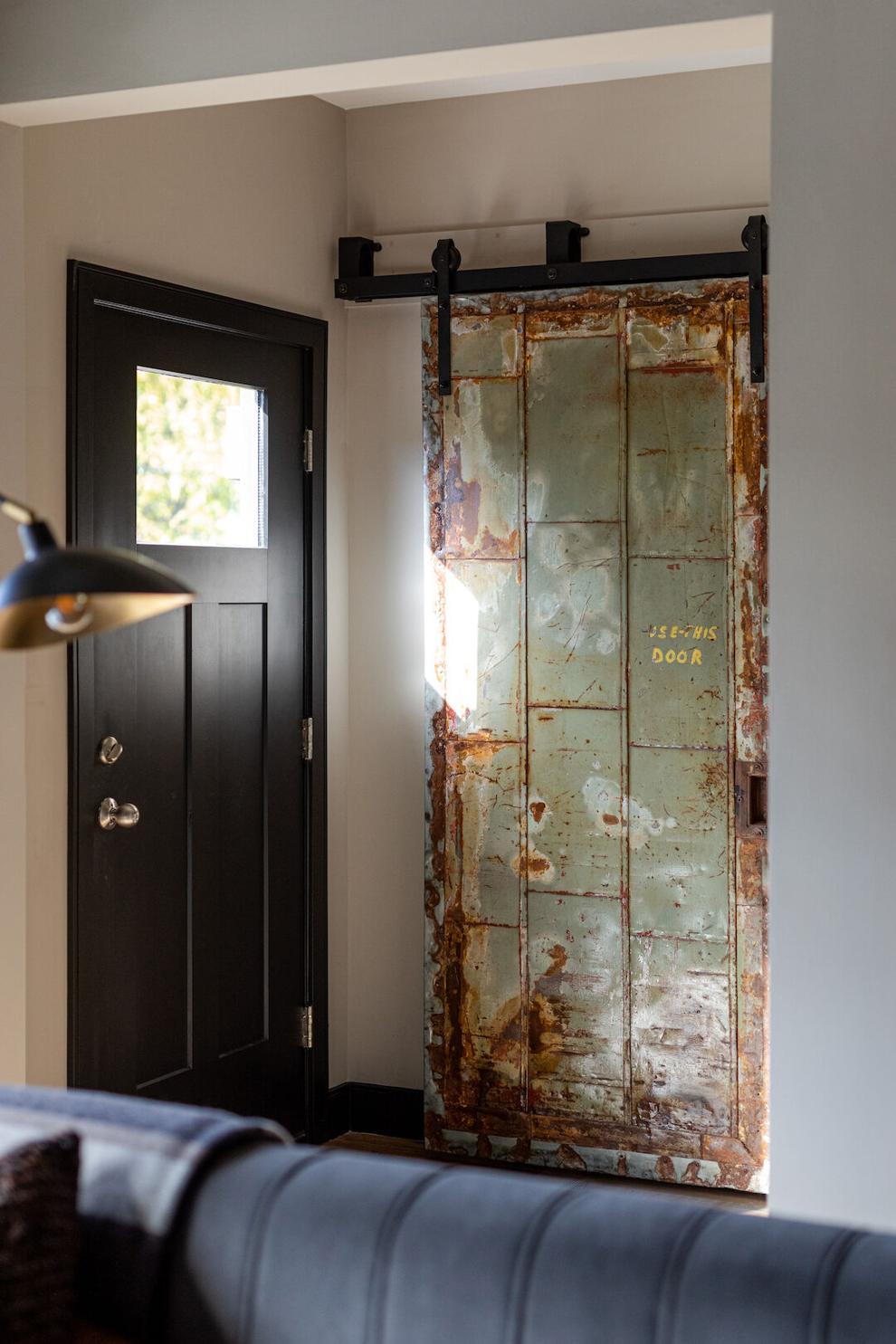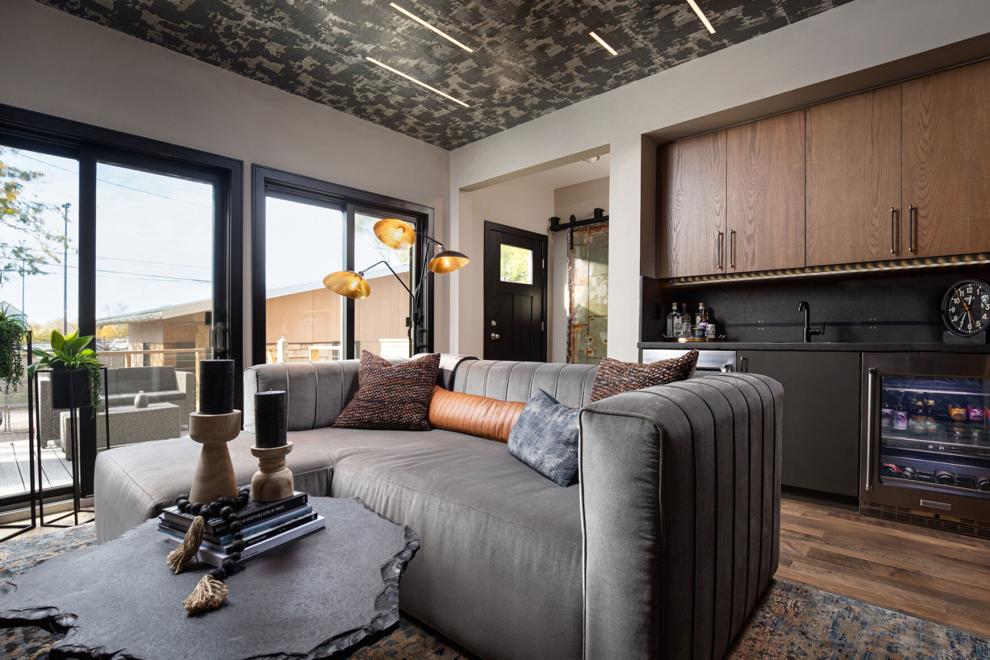 SMALL FOOTPRINT, BIG VIEWS Rachel Nelson and Taylor Morgan from Concetti ended up flipping the kitchen over to the other side of the first floor and essentially recreating the entire floor plan in order to open up the staircase and create a full view through the back of the home.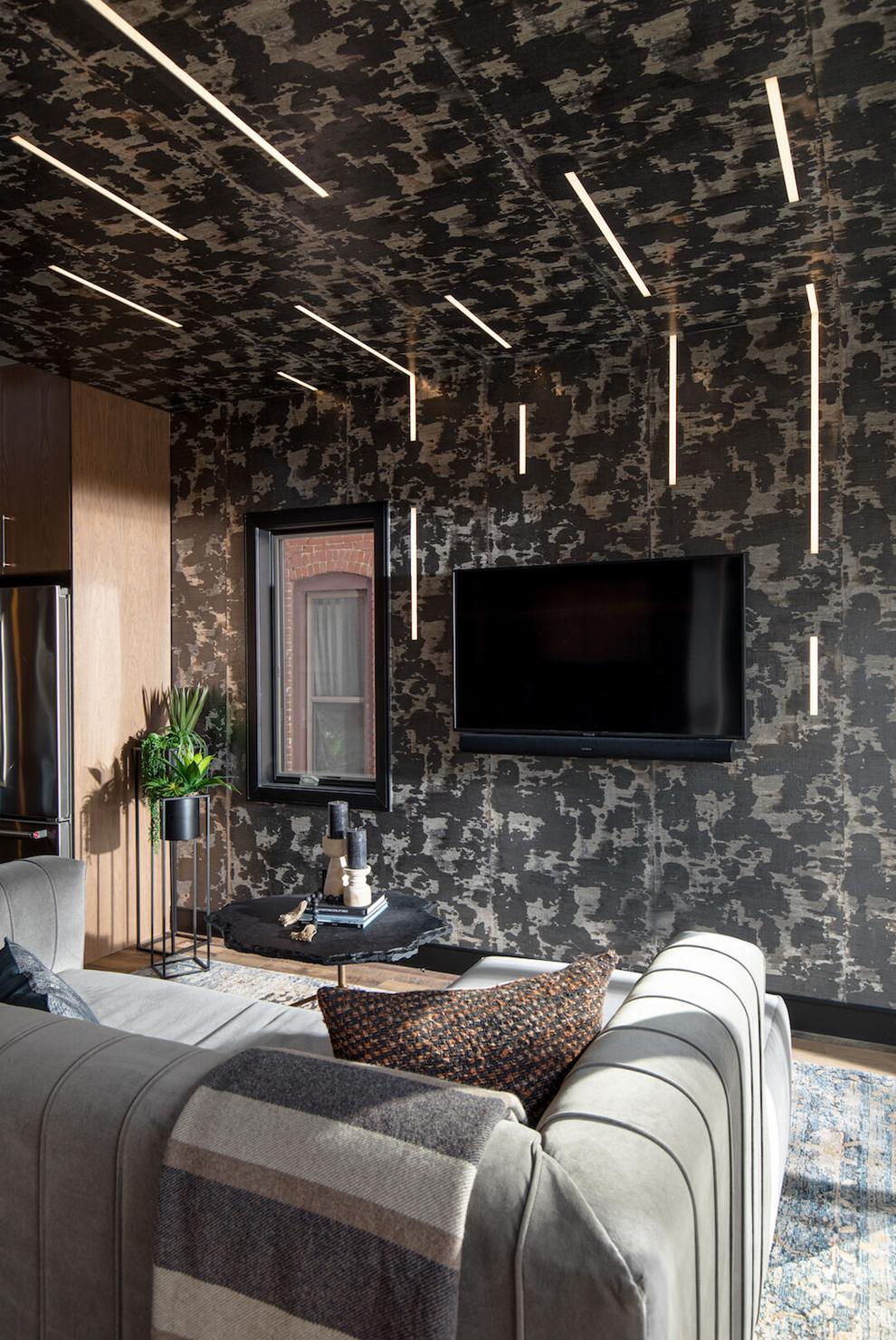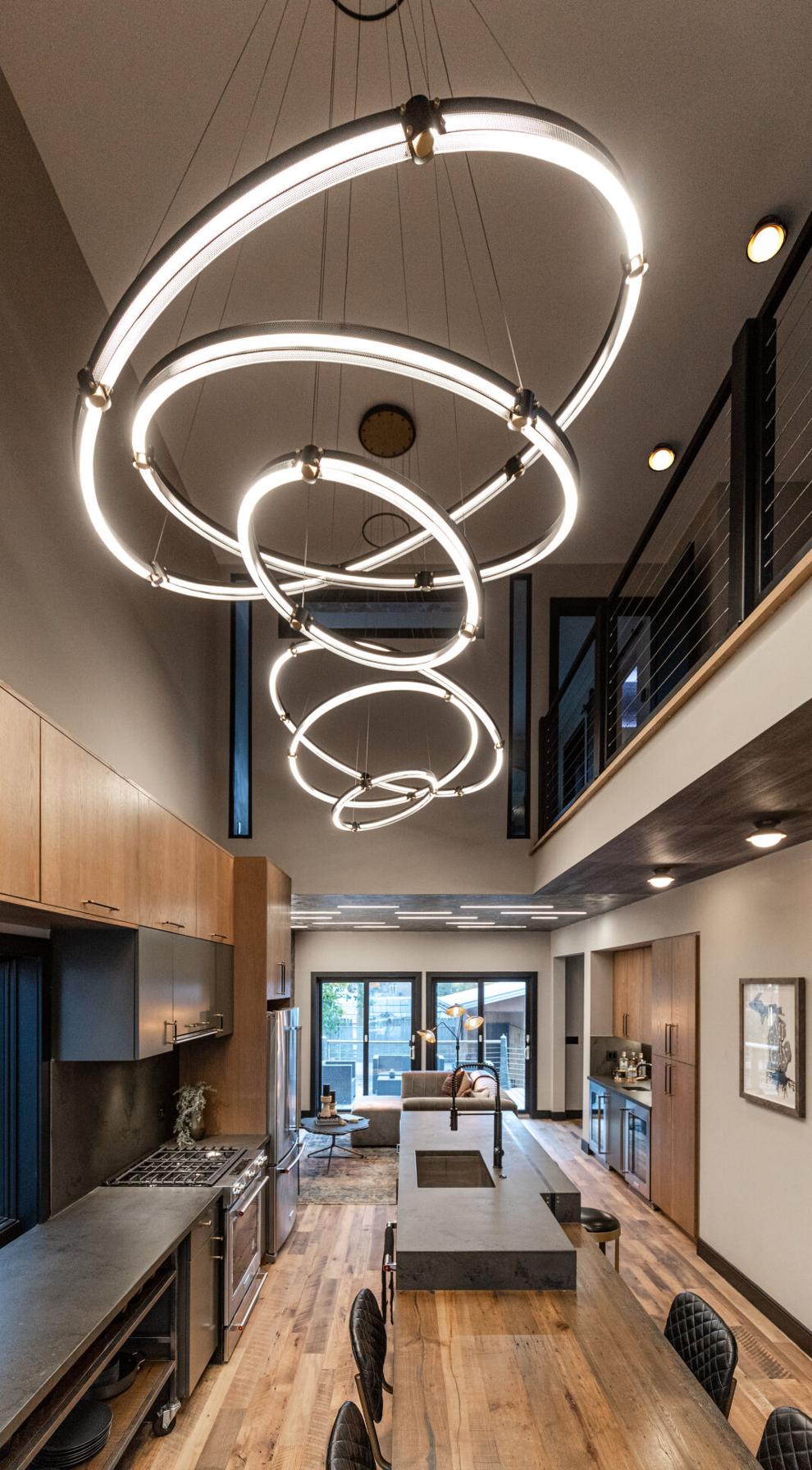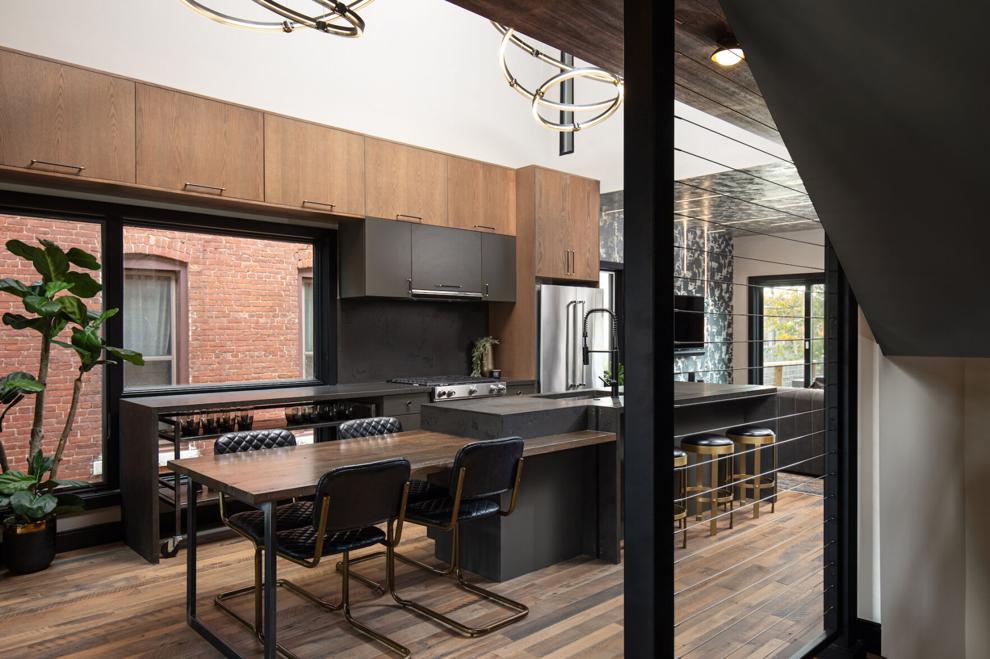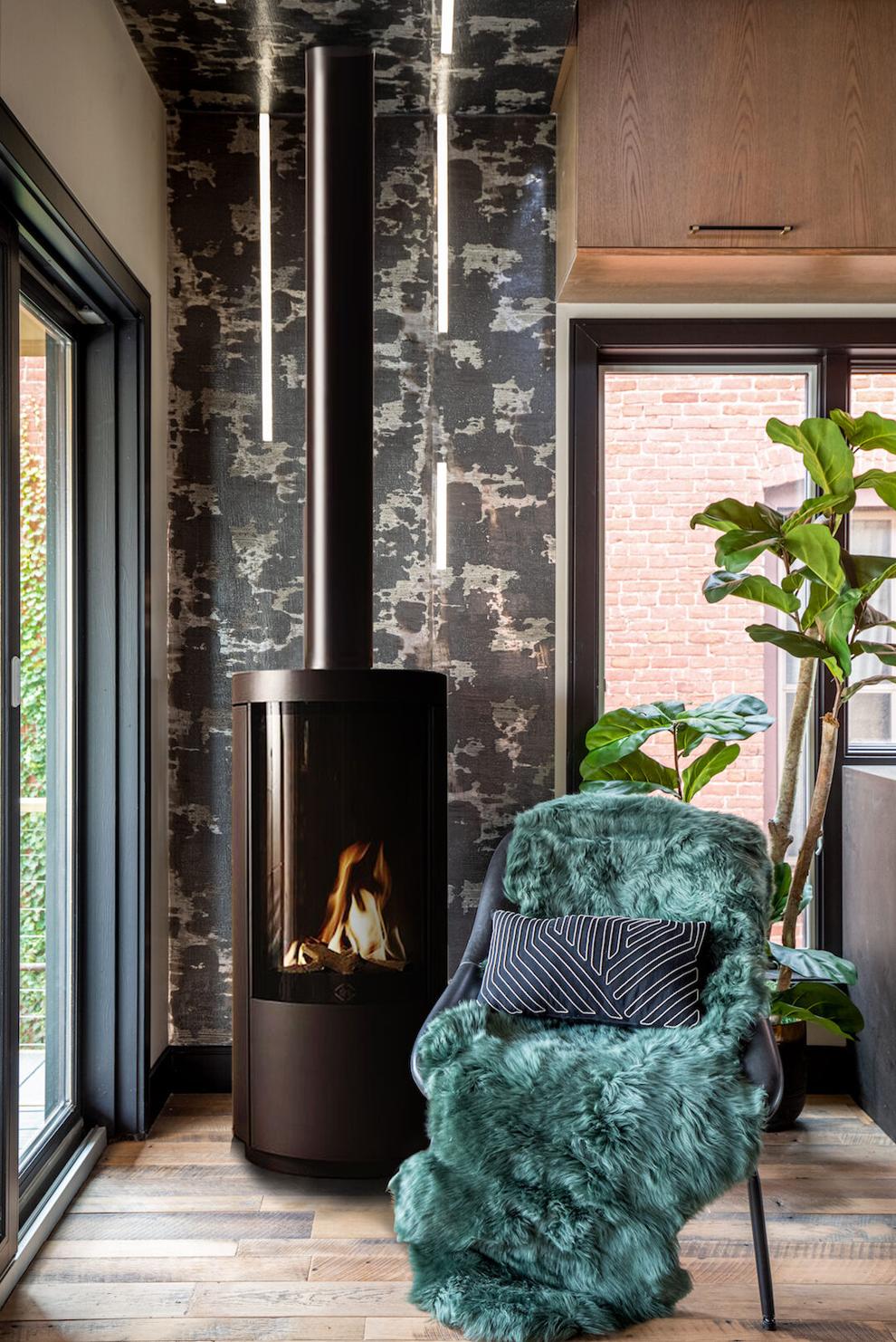 ECO-CONSCIOUS CHOICES In addition to the home's many green features, it contains custom sinks, countertops, and backsplashes constructed from concrete, which has excellent sustainability qualities.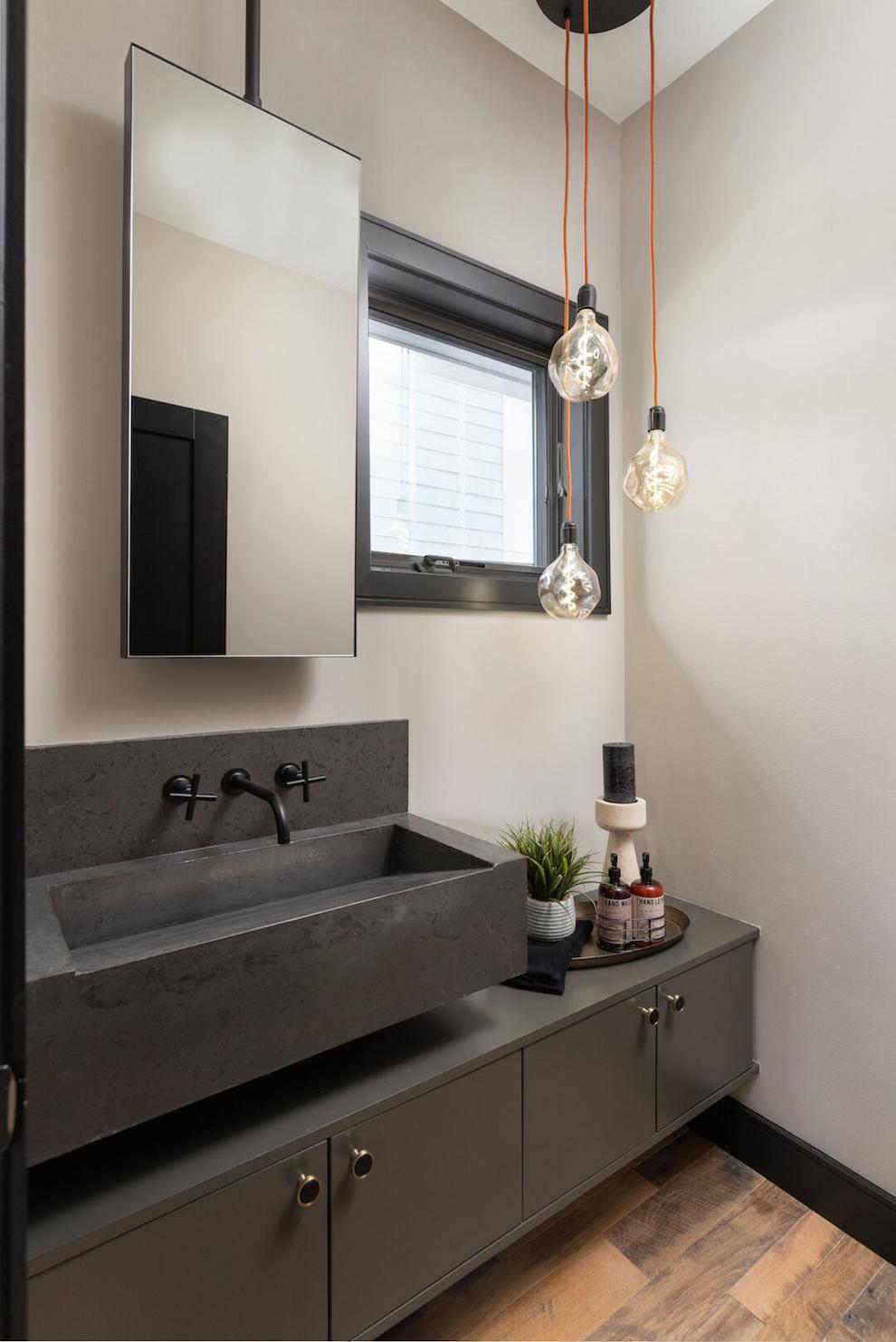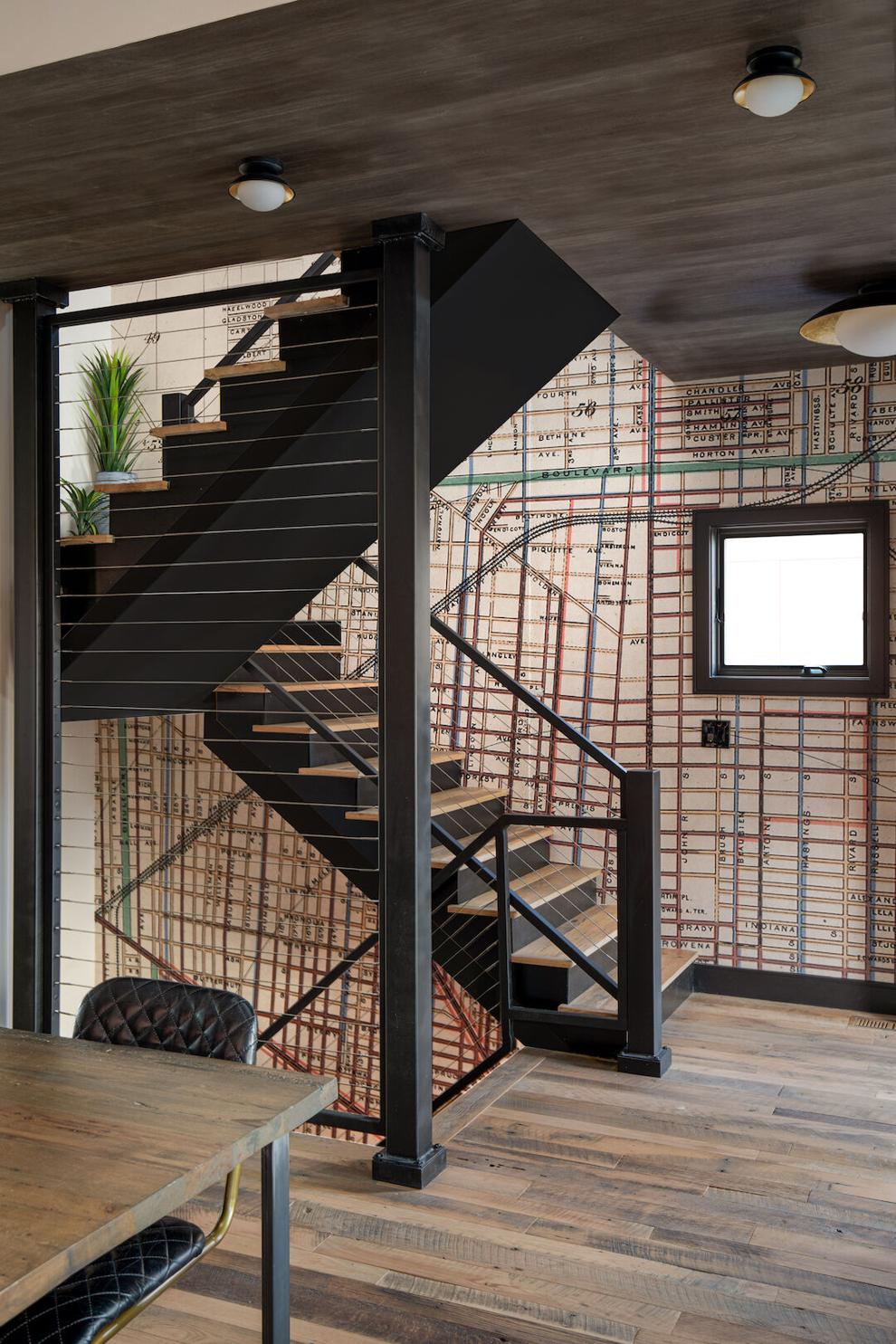 MOTOR CITY MEMORIES Scott DiParvine says the three-story map of Detroit reminds him of his childhood roots to the City.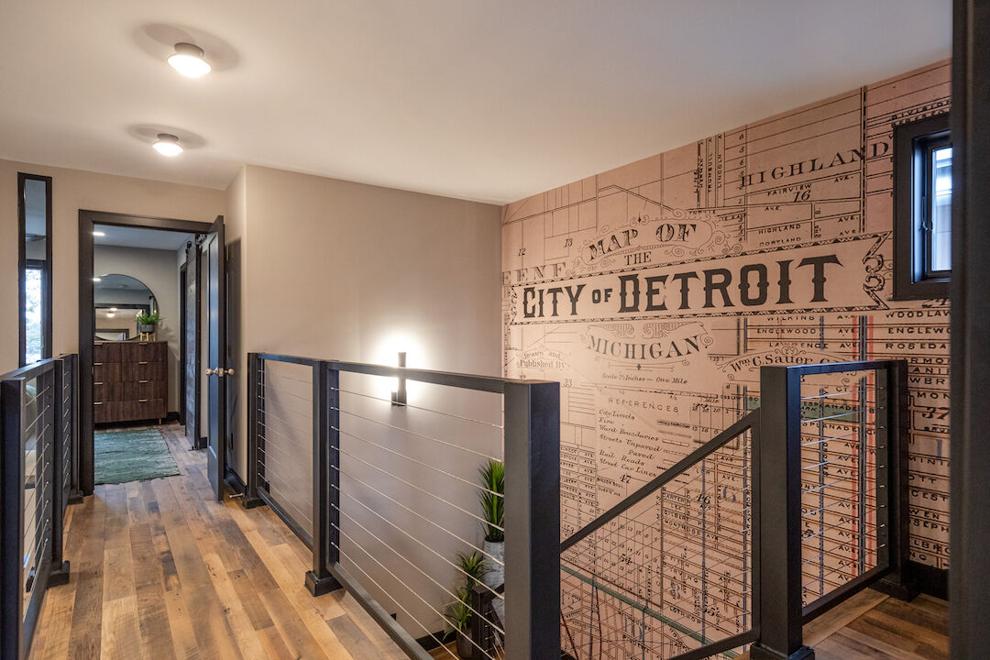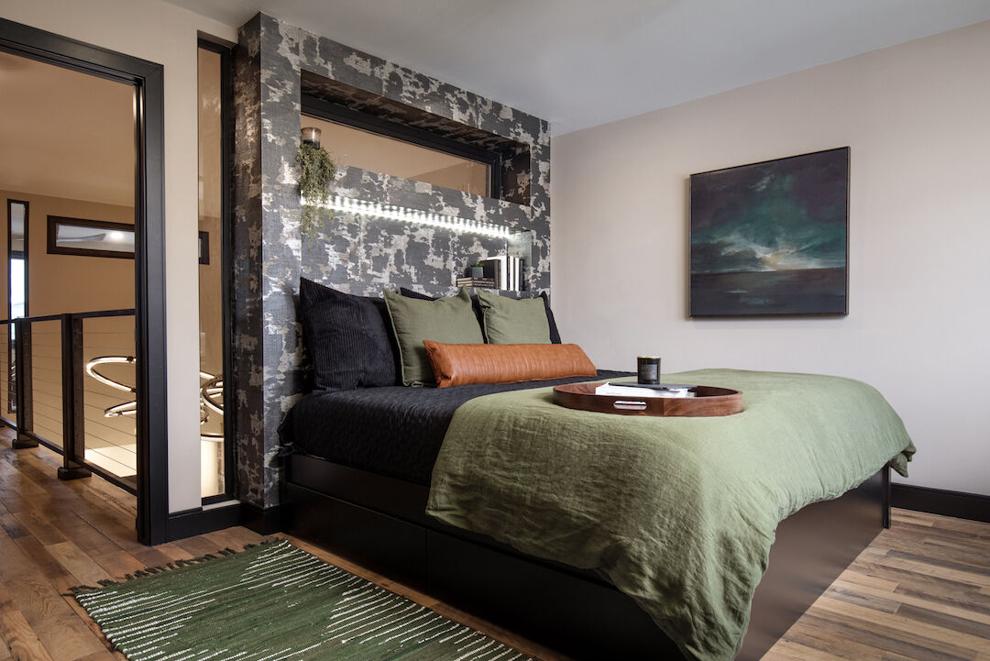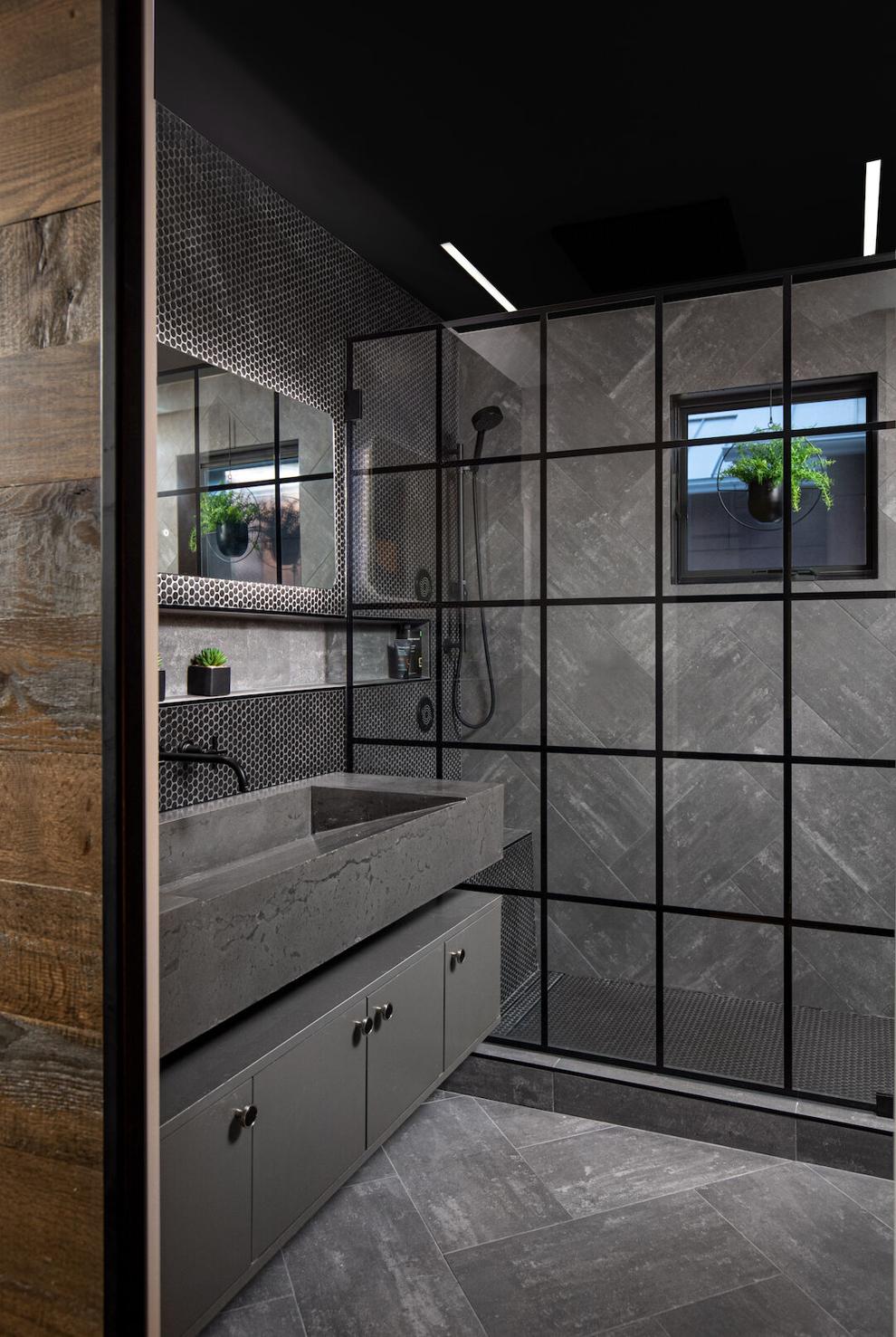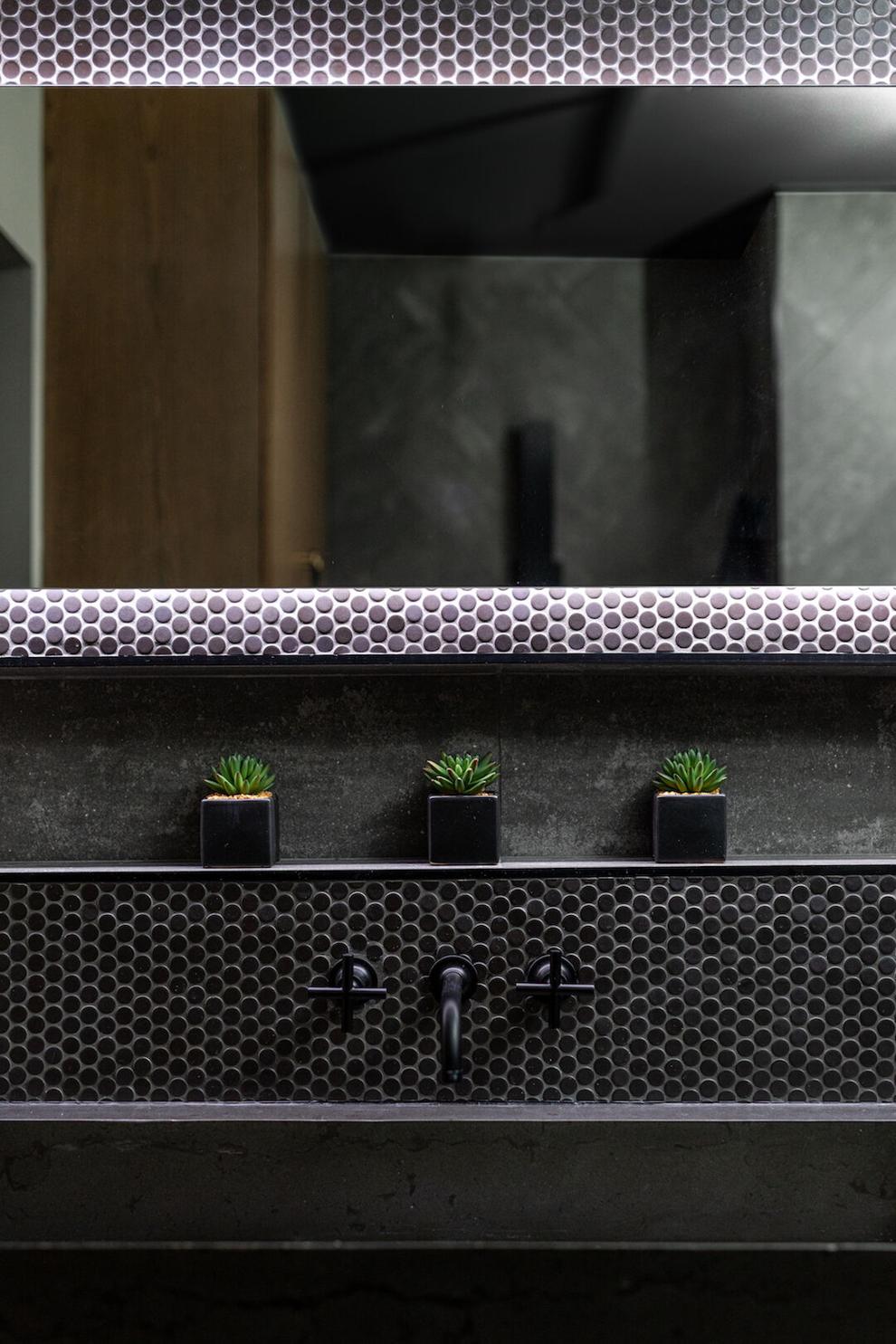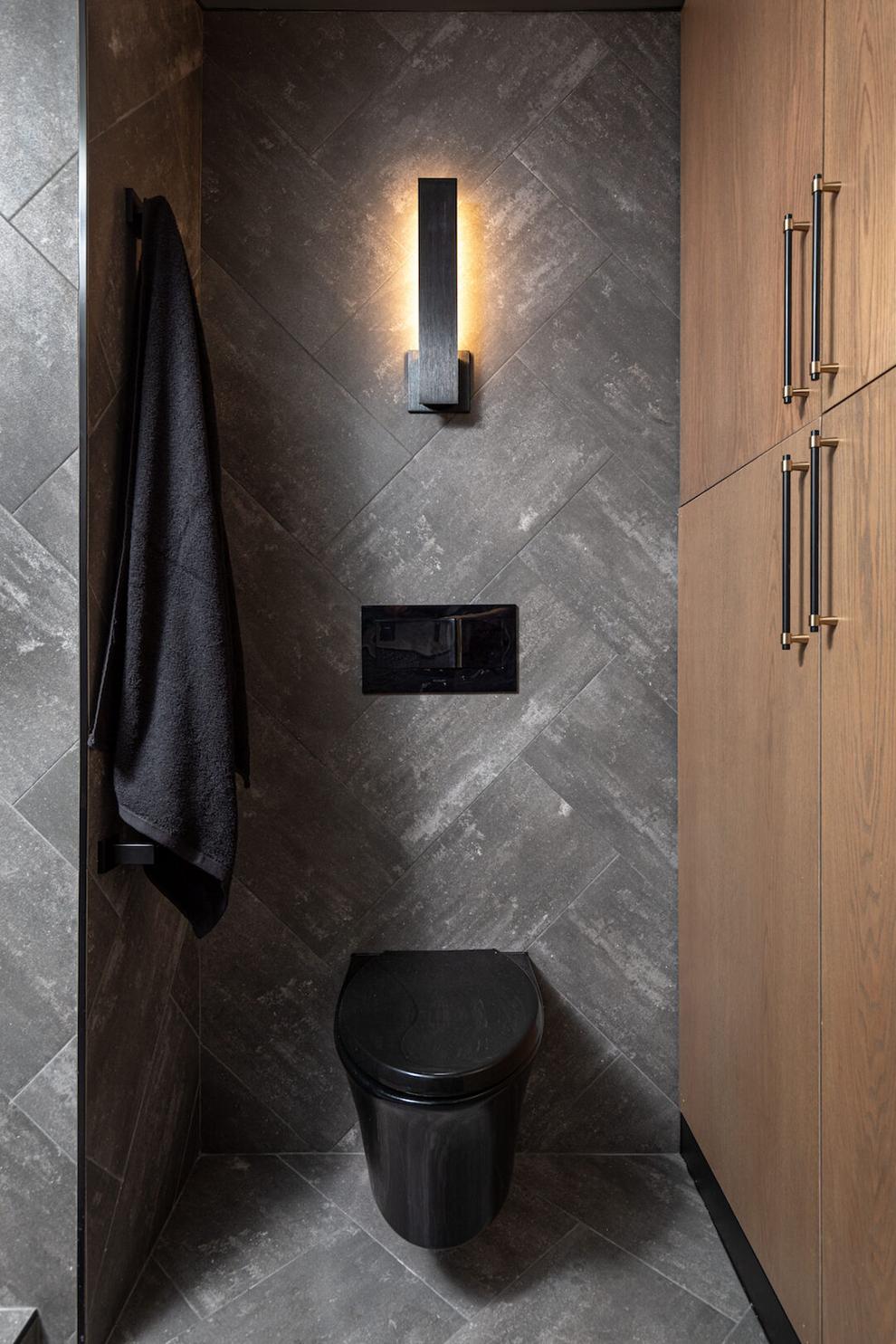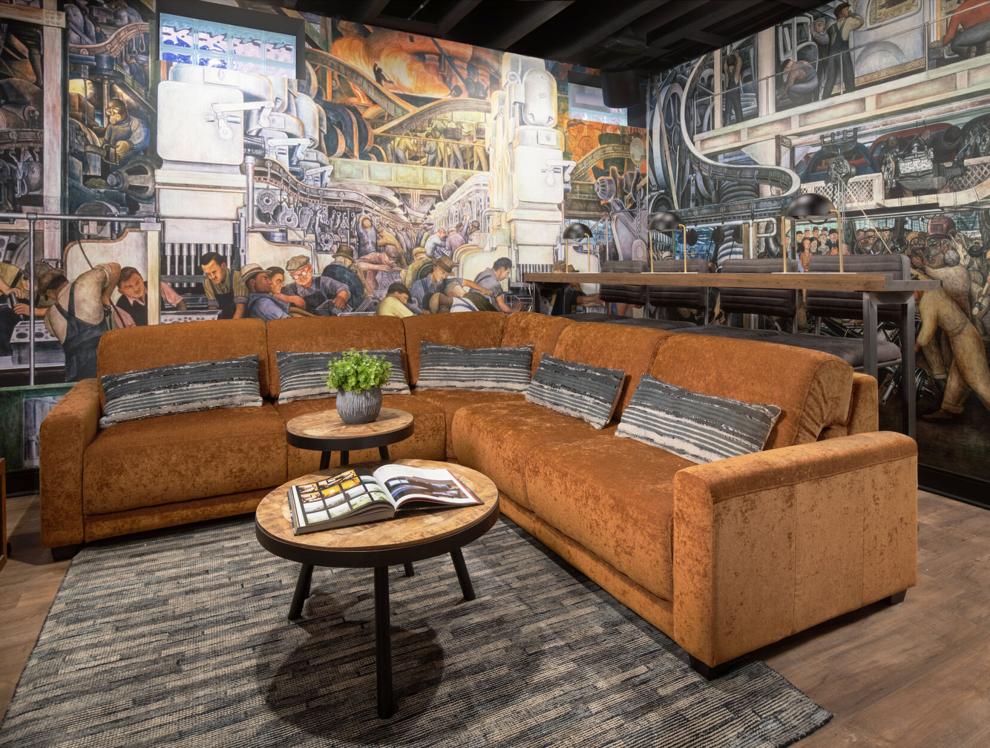 Another one of DiParvine's favorite features is the wallpaper replica of Diego Rivera's Detroit Industry Murals. "Because members of my family across different generations worked at Ford, it just reminds me of family," he says. "Especially the ones who have passed on." 
Concetti Design, 1111 Bellevue St Suite 250, Detroit, (313) 338-9559