This Mies-inspired vacation house on the Leelanau Peninsula offers sleek serenity
BY BRYAN GOTTLIEB
Perched above the shores of Grand Traverse Bay, in the small village of Northport, resides a vacation house brandishing features worthy of the term "midcentury modern." Its elevation and multiple built-ins channel the influences of the designer's townhouse in Detroit's Lafayette Park, a National Historic Landmark developed by famed architect Ludwig Mies van der Rohe.
Called "Seeblick Haus," German for "lake-view home," its architect is a native Berliner named Claudia Wigger, a lecturer at the Taubman School of Architecture and Urban Planning at the University of Michigan, Ann Arbor. For years, Wigger says, she dreamed of designing a family vacation house where she and her husband, and their two boys, ages 12 and 15, could escape from the rigors of urban living. It took a half-dozen years from the first pang of want before Seeblick Haus broke ground in 2018.
"I'm inspired by just living in one of [Mies'] buildings, so it's just very meaningful," Wigger says. "He's one of the most influential architects of the 20th century, and living in one of his buildings is amazing because you understand a lot of the decisions his practice made [relating] to one's daily routine."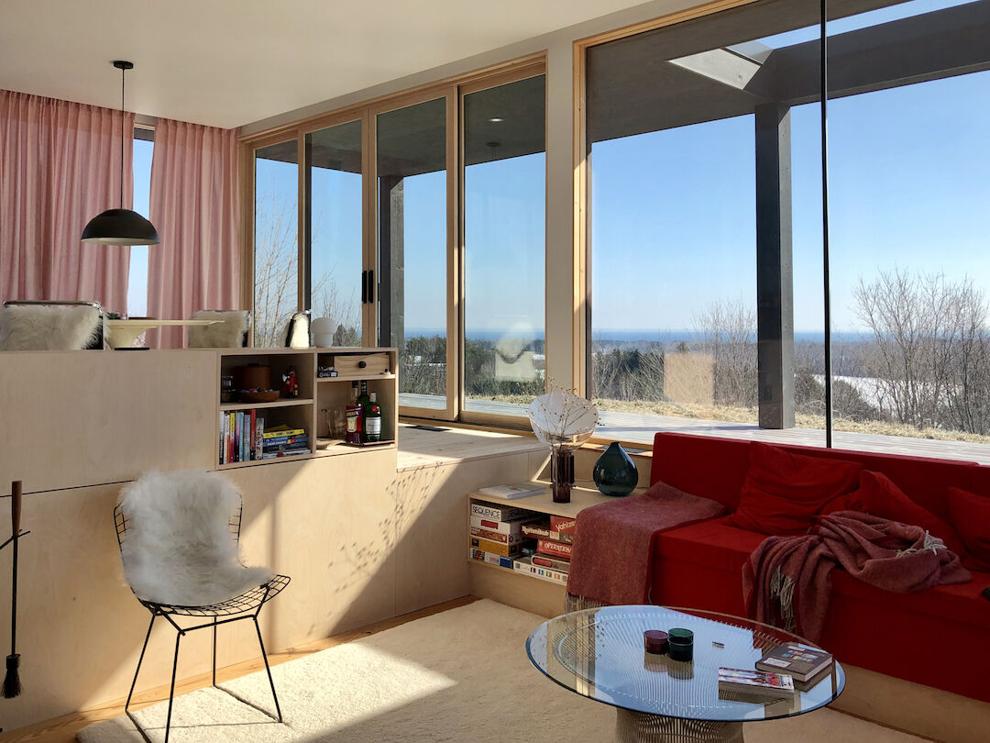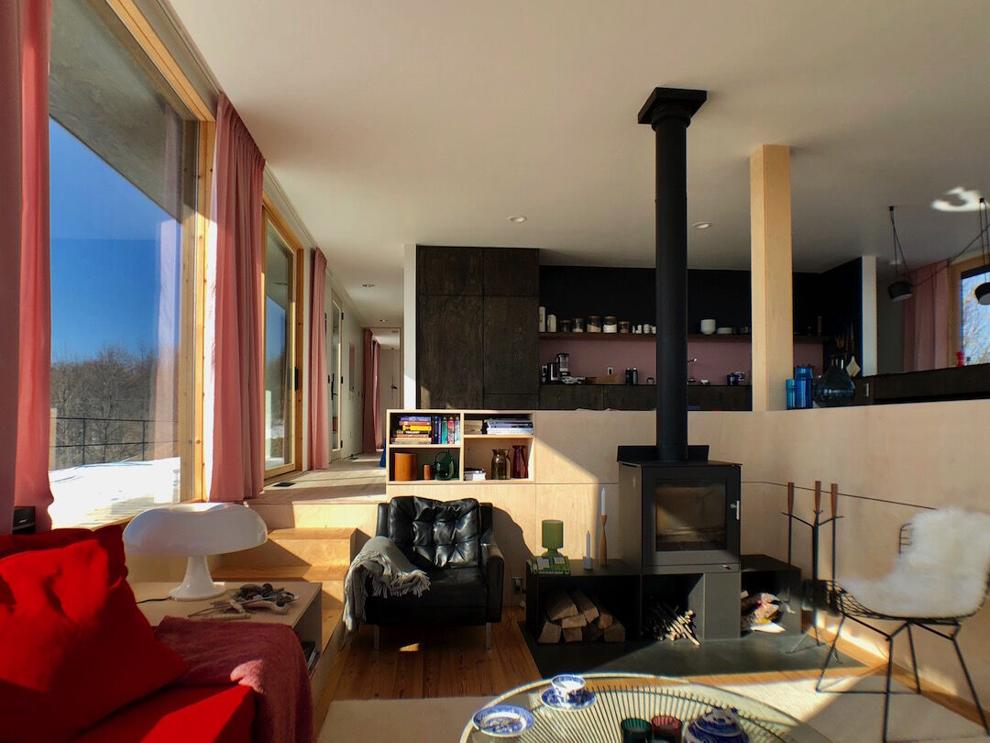 It's ironic, or maybe not, that Wigger originally hails from Berlin where the Bauhaus School, the birthplace of midcentury design, last held classes before closing in 1933 due to pressure from the Nazi government; Adolf Hitler was contemptuous of the sleek lines and utilitarianism Bauhaus made famous. Also noteworthy is that Mies van der Rohe — often referred to as Mies — was also the school's last director.
Midcentury concepts, Wigger continues, include the consideration of proportion to space for maximizing area, without sacrificing a sense of openness. One of Mies' American contemporaries, whose architectural designs mirror that ethos — and who enjoys acclaim few peers have matched — is, of course Frank Lloyd Wright. Wright's drawings, like those of Mies, have also become national landmarks, and metro Detroit boasts examples of work by both men.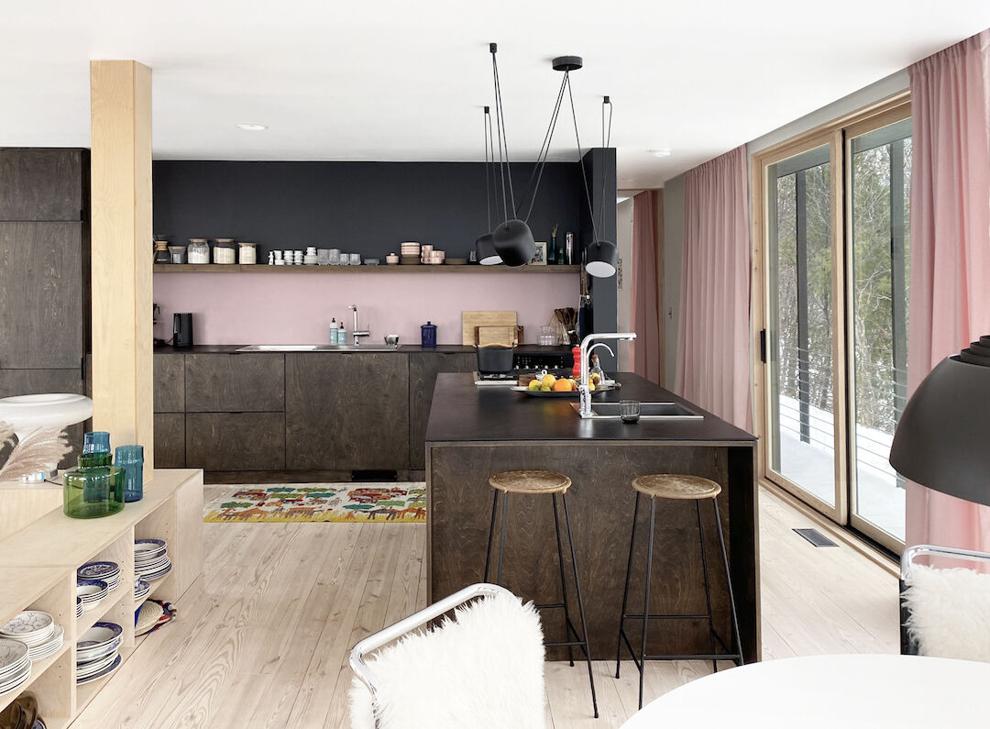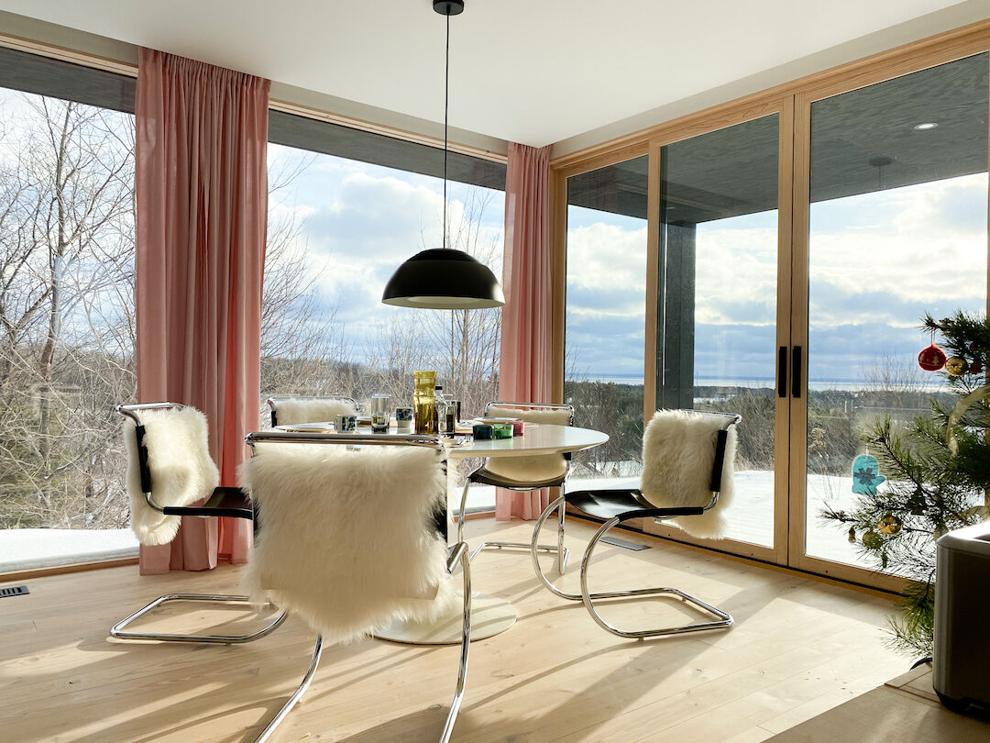 "All these things you can visit, but when you really live in them, you develop another sense of appreciation. And this is something that, when we started thinking about building a second home, we already lived six years in our townhome," Wigger says.
Seeblick Haus exemplifies the many hallmarks of Bauhaus and midcentury modernism, from its flat roof and numerous built-ins to the exterior cladding that seeks to amplify the natural elements it inhabits.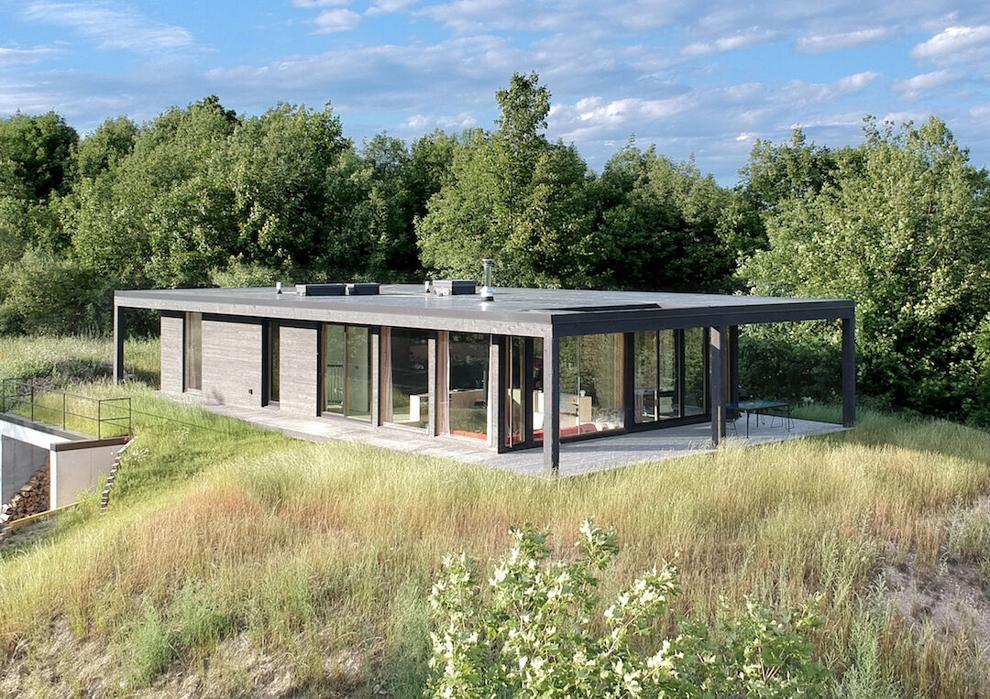 Wigger personally vetted several builders, ultimately hiring the contractor she felt shared her passion, and maintained an integral role throughout its construction. And, for anyone who has ever built a custom home, "fluidity" falls flat when anticipating how planning and execution intersect.
"There were elements of the design we just refused to compromise on, like the flat roof, which is definitely more expensive," Wigger explains, touching on specifics like water runoff mitigation and snow-load considerations. "There were a few moments where we had to decide what was within our budget but also what we were not willing to compromise on, like the windows. Because of the topography, we [chose] the highest point to have the best view."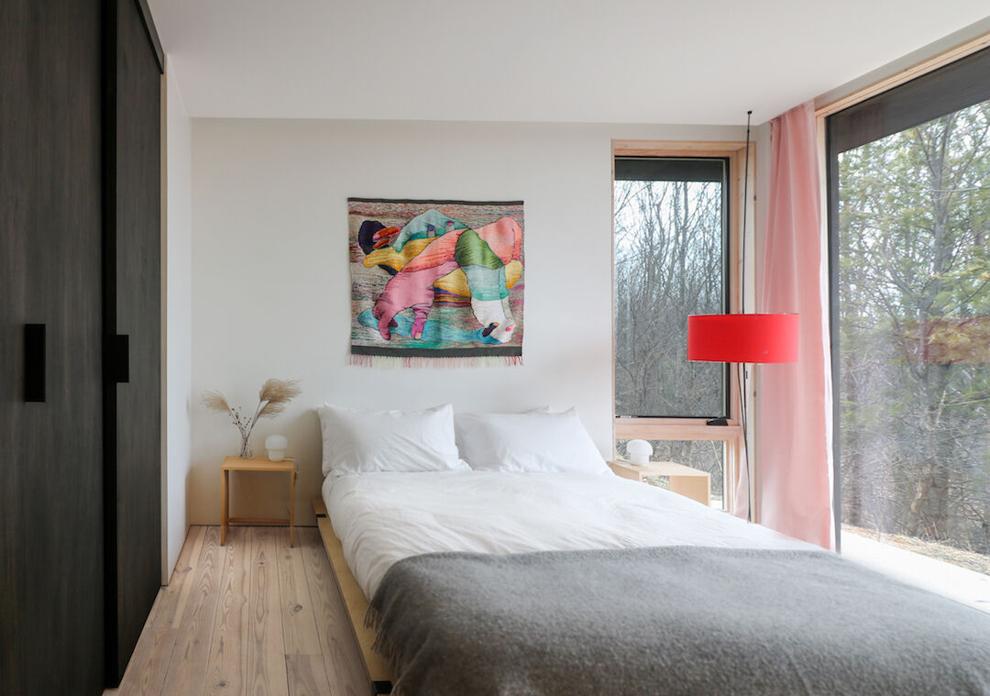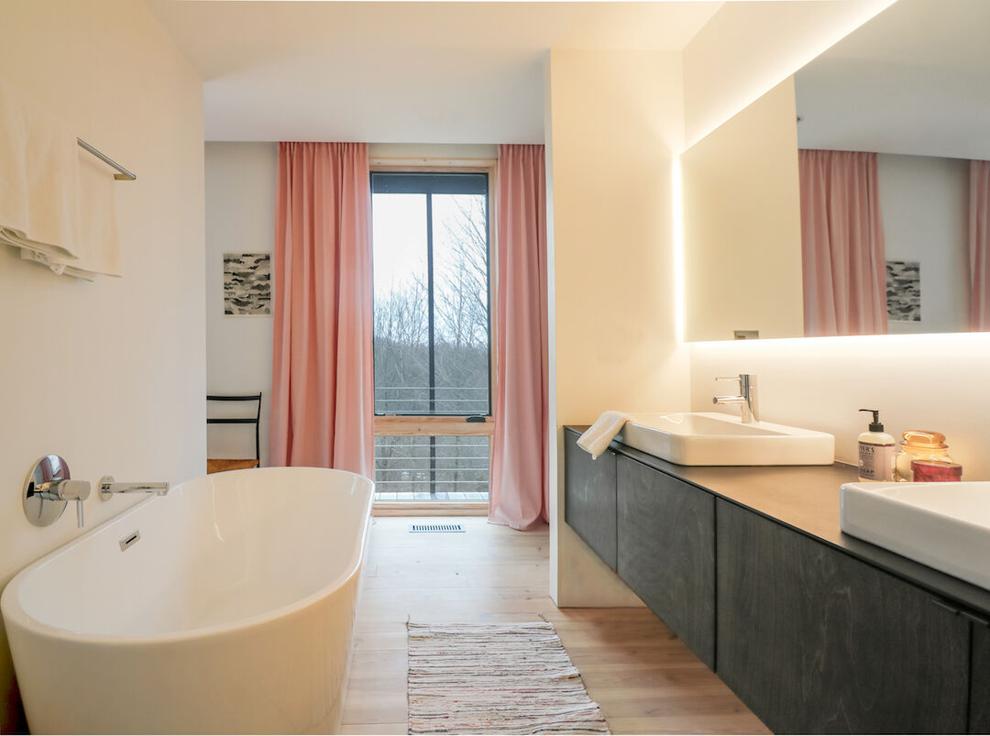 To that end, her decision paid off. With nearly 270 degrees of lake views, Seeblick Haus, despite its modest 1,400-square-foot-building envelope, harnesses the full effects of midcentury modernism's open floor concept, putting its surroundings at center stage.
The home's color palette is a mixture of light and dark woods, with pastels offsetting the timber stark-ness, and gives the residence a soft, lived-in feel. The open kitchen boasts Bosch appliances and substantial counter space. Its three bedrooms and two full baths, along with a sprawling outdoor porch with several sliding glass doors, means nature is always the focal point.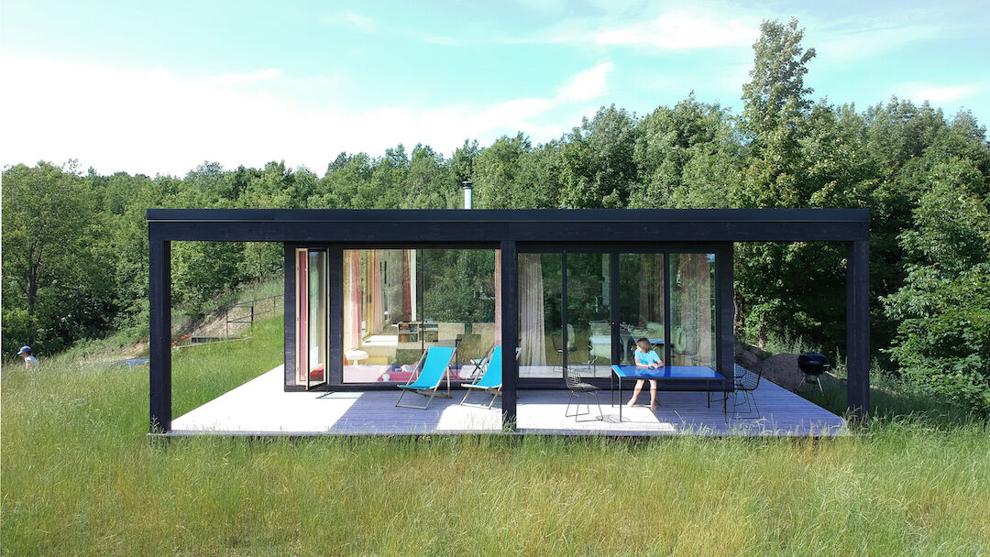 A particular allure of Seeblick's locale, Wigger underscores, is the home's position at the pinnacle of its 12 secluded acres, ensuring light pollution never detracts from stargazing, a nighttime sport that often draws visitors to the Leelanau Peninsula. "When the sky is clear, it's breathtaking," she says. "I mean, there's no other word that can [be used] … it's really amazing because you see the full spectrum of the night sky."
Want to stay at Seeblick Haus? You can! Check availability here and enjoy your own getaway by the bay.