This renovated Grosse Pointe home stays true to its traditional look more than 90 years later
BY DANIELLE ALEXANDER // PHOTOGRAPHY BY KAT STEVENSON
When a 1930s Tudor-style house went on the market in Grosse Pointe, Vanessa and Tim Paxton (names changed for privacy) knew they'd need to make a quick decision; however, when they found out it was 5,200 square feet on nearly an acre of land, they were instantly sold.
Vanessa and Tim, who requested anonymity, both grew up in 1930s Tudors on larger properties and had been on the search for something familiar. Although Vanessa says the five-bedroom, five-bathroom home was in need of "some major updating" — namely the yellowed walls, cherrywood stain, and outdated kitchen — the couple's goal was to maintain "what it was meant to look like" as much as possible.
Ancient Modern was the term she kept seeing in interior design magazines, and when she shared her inspiration with Grosse Pointe native Alexis Elley of Textures Design, Elley knew exactly what to do with this "big old tutor:"
"Like many houses in this city, we had to make it feel like it's 2022 without sacrificing the bones of the beautiful home," she says. "So, we kept the integrity of their house but, at the same time, made it livable for their modern-day family. The home is honestly the definition of traditional meets contemporary."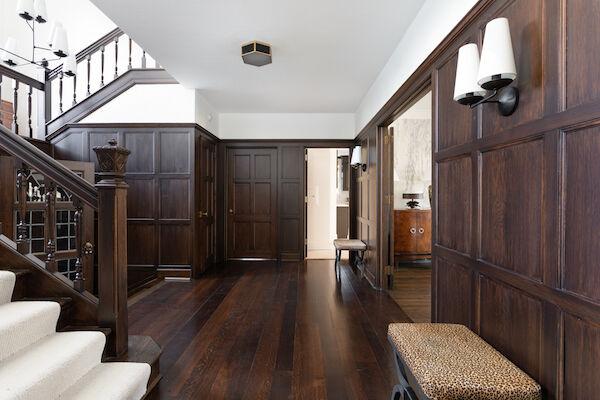 KAT STEVENSON
Following the re-staining of the paneling and flooring, the trio decided to tackle the kitchen, which, typical of the times the home was built, was not only small but separate from other rooms. To create a larger space and more of a "family-friendly flow," they opened up a wall into the dining room. "Now they can have a seat on the wooden stools that surround the new kitchen island for a more casual meal, but at the same time, the traditional formal dining room — now updated with reupholstered chairs, fun drapery, and Phillip Jeffries weeping willow wallpaper — is right there as an option, too," Elley says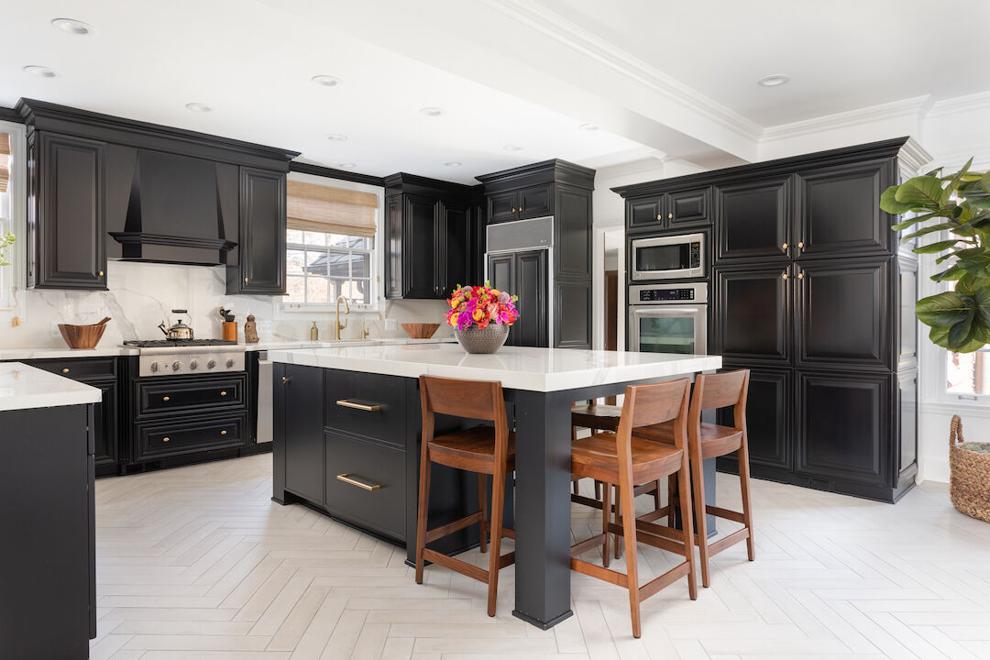 KAT STEVENSON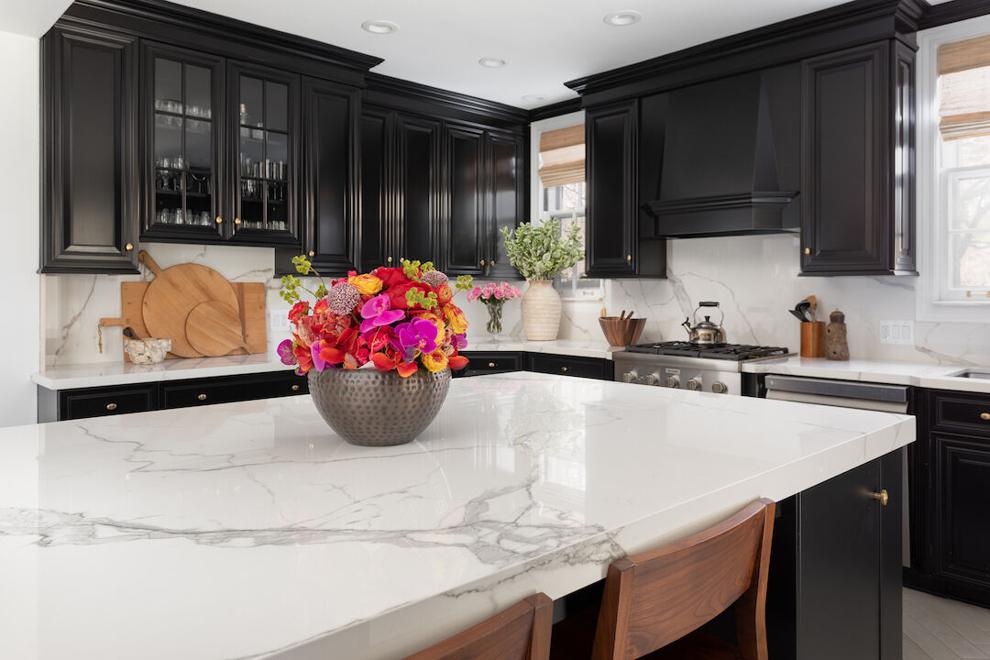 KAT STEVENSON
Tim's parents were luckily willing to part with a number of gorgeous antiques, such as the horse painting in Tim's office and the chest on the top landing, that Elley was also able to incorporate into the home to not only keep the Tudor tradition alive but simultaneously save them some money.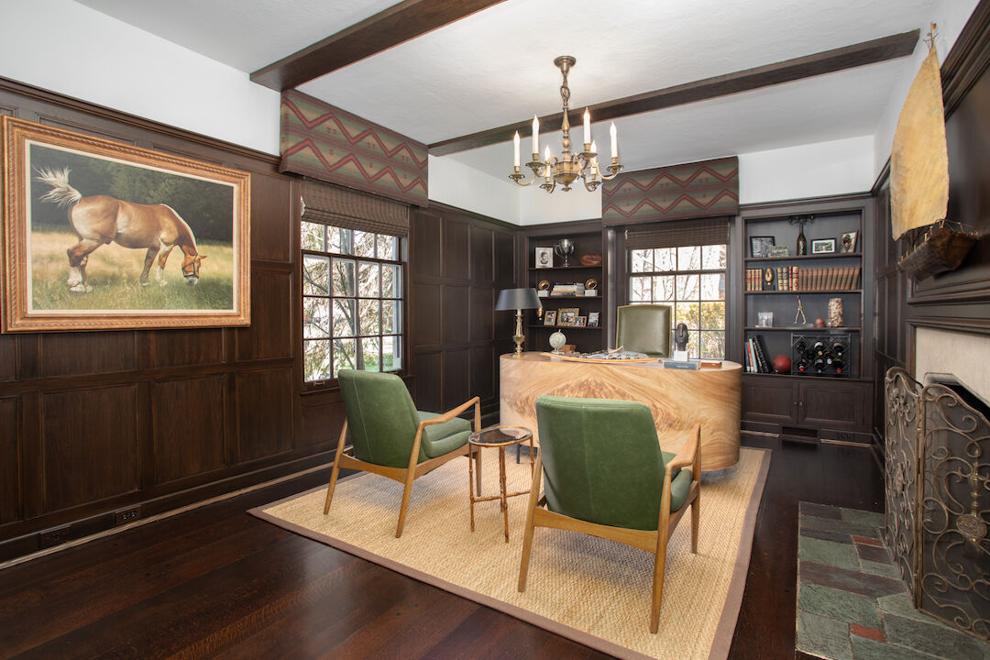 KAT STEVENSON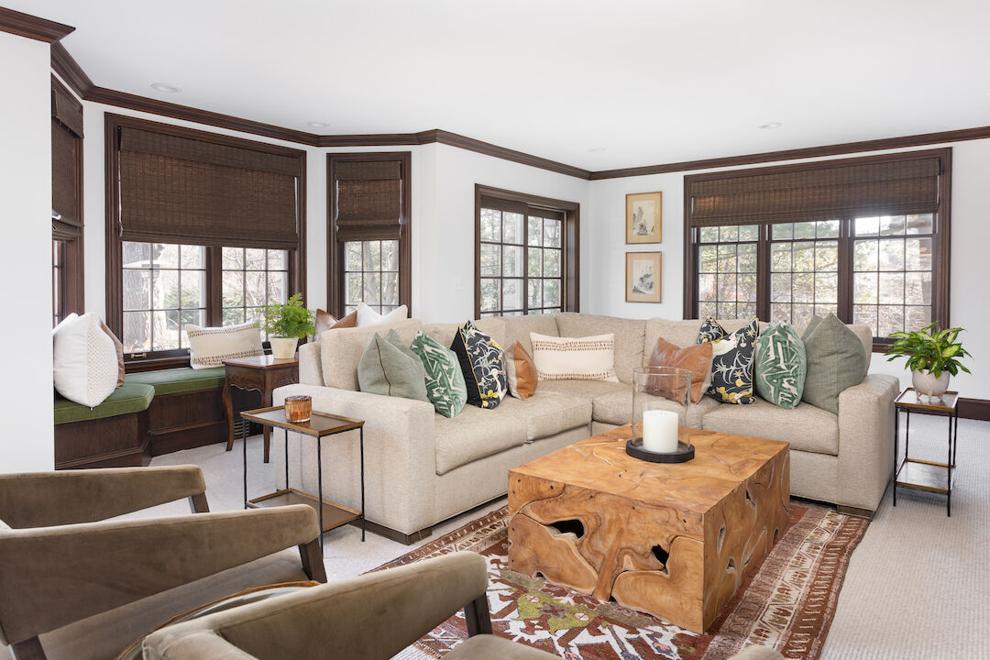 KAT STEVENSON
The couple kept the original kitchen cabinetry, but Vanessa admitted that she and Tim were initially hesitant when Elley suggested they paint the cabinets black and contrast them with light-colored countertops and flooring: "We wanted our whole house to feel warm and earthy," Vanessa says, "but between the wooden and gold accents, the baskets, the pops of color, and the sunshine now able to come right through, it ended up not feeling cold at all."
Besides a few requests — Vanessa, for example, is not a fan of the color blue, and Tim likes the warm feel of carpet — the couple wanted to give Elley artistic freedom, which she says ended up being "a lot of clean lines" and a culmination of both "an African and Californian feel" from her time spent living in those locations.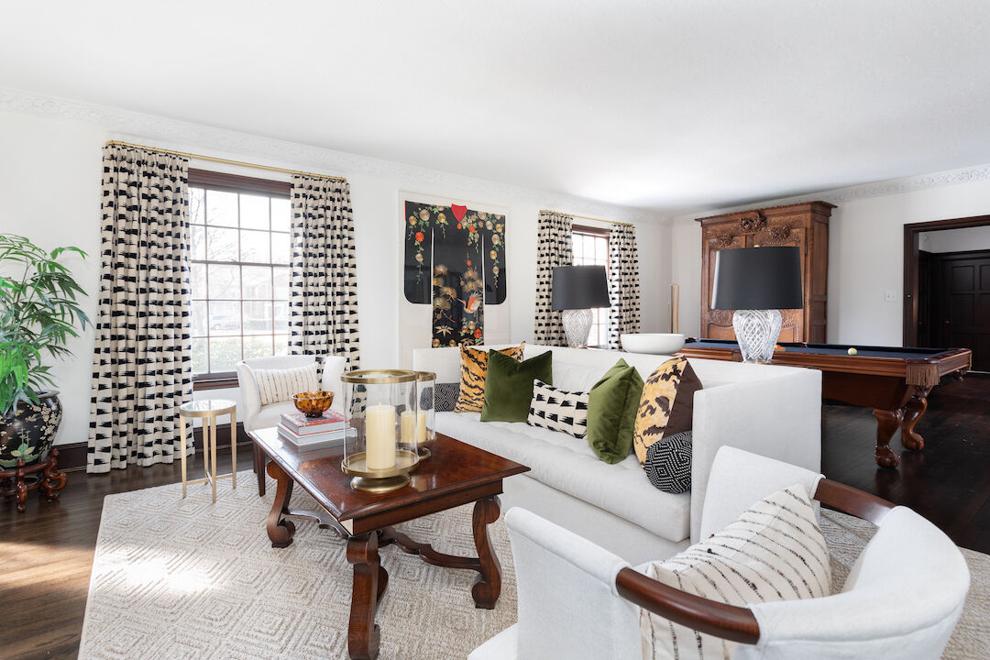 KAT STEVENSON
"I tend to incorporate a lot of greens, animals and animal prints, and other funky elements into my designs," she says, adding that this really came through in the living room, which is where the couple entertains; in the family room, aka the couple's "chill spot;" and in the nursery where their daughter not only sleeps but loves to play.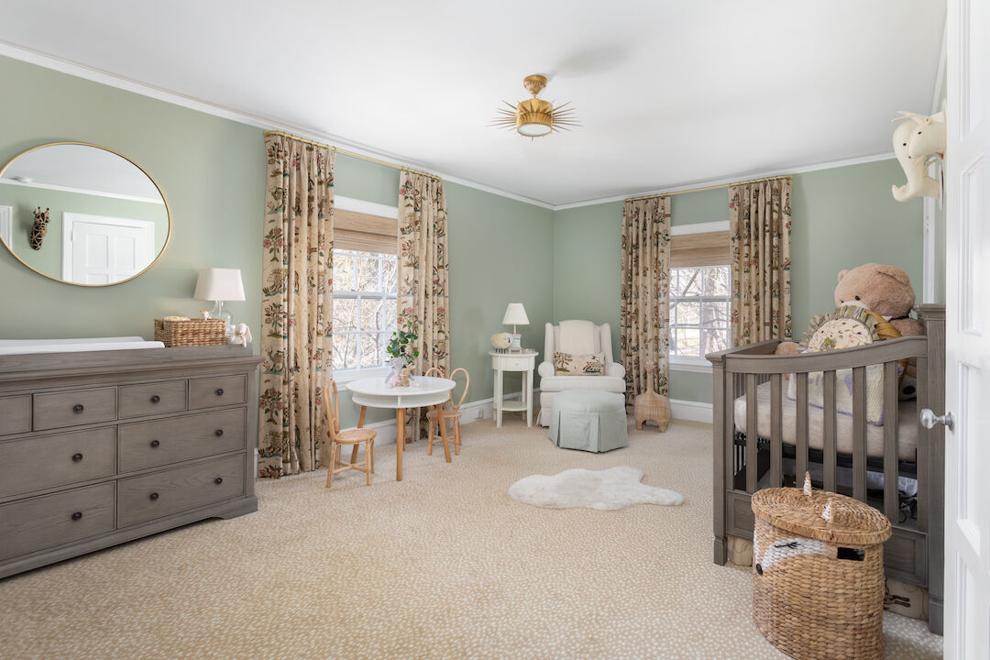 KAT STEVENSON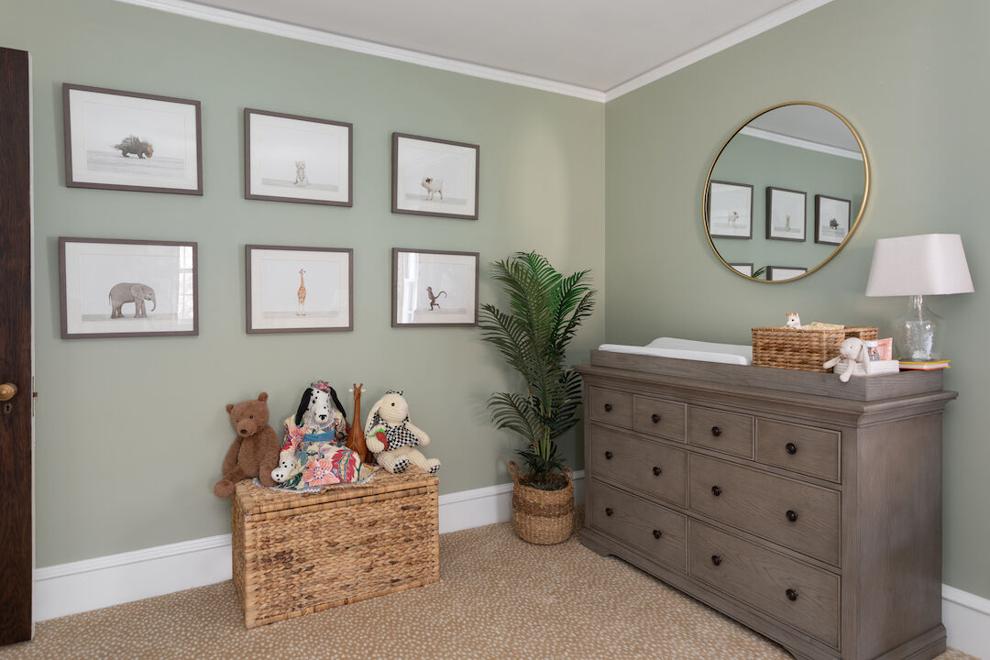 KAT STEVENSON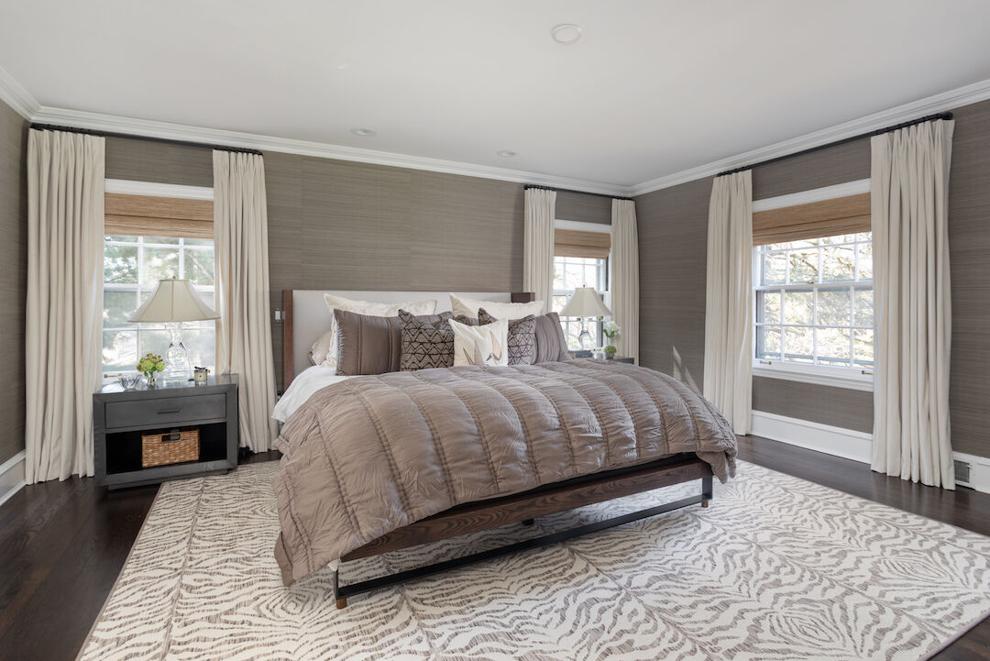 KAT STEVENSON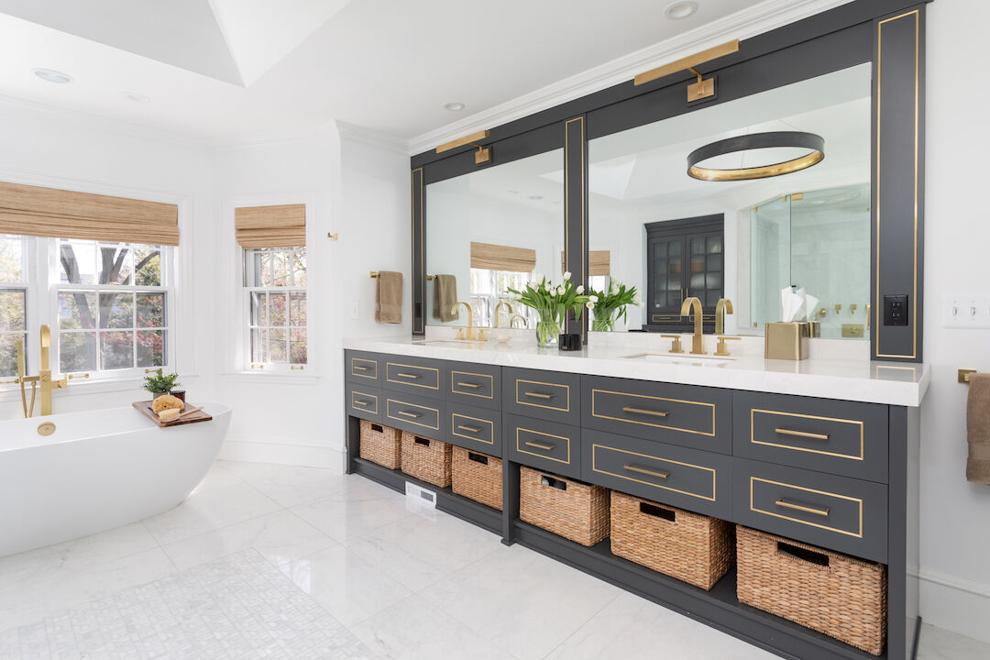 KAT STEVENSON
As a designer, Elley says it's her job to push clients out of their comfort zones and see the potential of what a room could be. "And this process works even better when you have clients like [Tim and Vanessa], who were not only quick to make decisions but willing to spend the money on the rugs they fell in love with and on the art that spoke to them, which is ultimately investing in their family's home," Elley says.