Jesse and Cali Green, the owners and designers behind A Green Haus Airbnb rentals, share how they got started in renovating and designing spaces, challenges they've experienced and cool projects they're working on.
By Chelsie Dzbanski 
Photography by Jesse David Green
1. Tell us about your professional background. Jesse is a professional photographer (and has been for the last 10 years since age 17) specializing mostly in commercial and editorial work these days (while still photographing a few weddings and portraits). Cali is a completely self-taught interior designer, stay-at-home mom, and prior to staying home with the kids, she was in customer care with a real estate startup.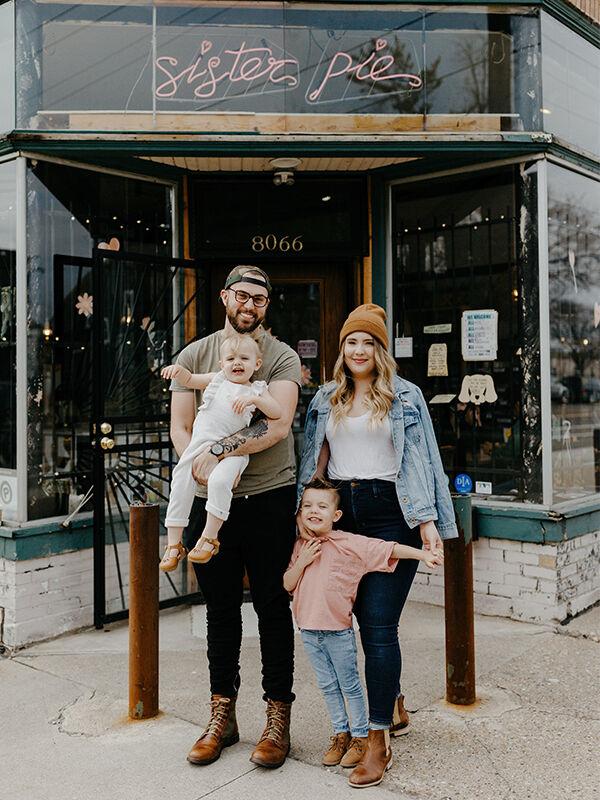 Photography by Justine Montigny
2. How or why did you become interested in renovating and designing spaces? This whole thing was completely and entirely started on a whim. It was 2015, we had a 1-year-old baby, had only lived in small apartments thus far and I (Jesse) had just come off a bad business "breakup" the year prior that had left some wreckage in its path. After moving out of that office in 2014 that I had shared with a business partner, I worked from home for six months or so and got my bearings. I was itching to find something new, but coming up short in the Detroit small business office market.
I couldn't find any inspiring spaces that I could also afford as a one-man photography business. While grabbing coffee with a friend who was at that time working for a property manager, she suggested looking at the residential route for my office. Somewhere that might technically be a residential apartment or loft, but zoned for mixed use. She had the perfect spot to show me that same afternoon, a ground floor unit with its own exterior entry in a 1926 art deco warehouse building in New Center Detroit. I fell in love with it and signed on the spot. The natural light, the concrete floors and ceiling and mushroom column, it was perfect. Shortly thereafter, I realized that with my schedule and shoots, I'm not quite working out of the office 40 hours per week, and it was a fairly high cost for somewhere for me to just go sit (I don't do much studio photography, so I'm not typically shooting in my offices/studio either). Since the place was technically a one-bedroom apartment, Cali suggested we go nuts, completely furnish and design the entire place, and then maybe rent it out on Airbnb a few times a month to subsidize the cost of the times I'm not there. I tossed her the keys and let her go nuts and make this place exactly the type of place she would want to stay if she was coming to Detroit for the first time.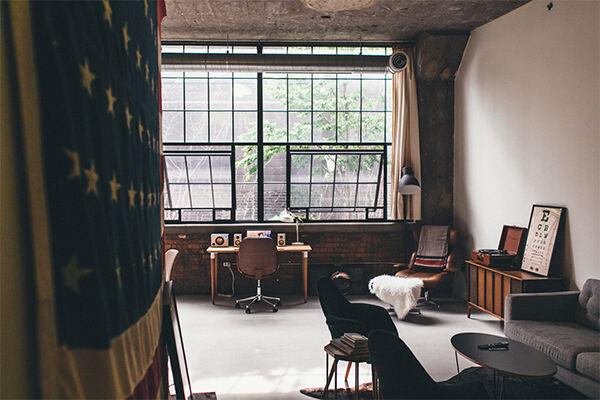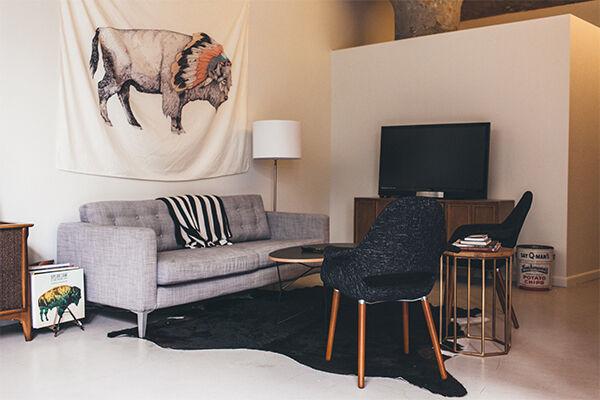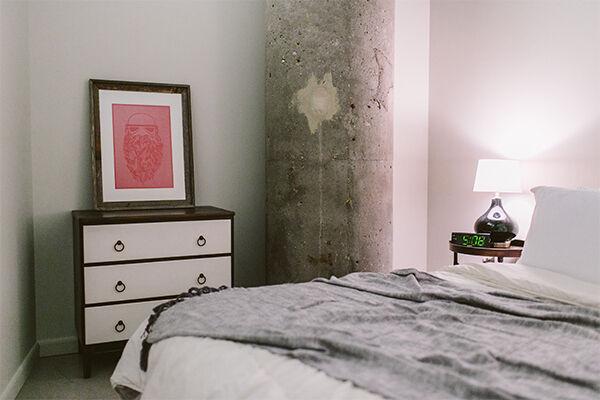 We had a few good things in place that made this work. Amazing location right on the Midtown/New Center border (and directly on Woodward Avenue), incredible space the can't be replicated and that speaks for itself design-wise, an in-house designer that didn't cost us a dime to make the place gorgeous, and then objectively good photos to show off the space. This was also 2015, and still relatively early on in Detroit's "renaissance" as a tourist destination, so our competition on Airbnb wasn't numerous, or stiff. Our beautiful space and good photos stood out right off the bat in search results. It was a fairly instant success (and maybe too much of a success for the sake of my office space). Within a month, we were consistently renting the place 20 to 25 nights per month instead of "just a few to subsidize the cost." Our reviews racked up, guests were having an amazing time staying in a true Detroit loft, and we were falling in love with the process. Due to our lucky timing and taking great care of our guests, this listing became the No. 1 Airbnb in Michigan. This was just the beginning though, and what ultimately lead to a newfound passion, and a way (outside of my photography) that we could work alongside each other and build something we both loved together.
3. What was your first project? Can you share what that experience was like? While the Airbnb studio/loft was our first "project," it was merely a design project. Furniture and decor sourcing and placement, and design of the space with little knowledge, and limited funds — it was an exercise in making the dollar stretch that I think we've brought with us every step of the way as we've gone further and expanded this.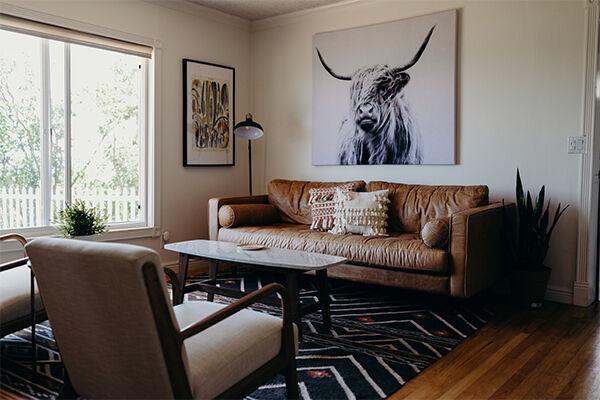 Our first real design and build project though, was our house in Traverse City. We're absolutely smitten with this house (and still are to this day) and it's a constant work in progress. But it was truly our first chance to take Cali's vision and actually turn it into something real and tangible that was ours, from the ground up. We've since gut-renovated almost the entire interior of this house save for a couple of rooms and have plans to tackle the exterior within the next year or so.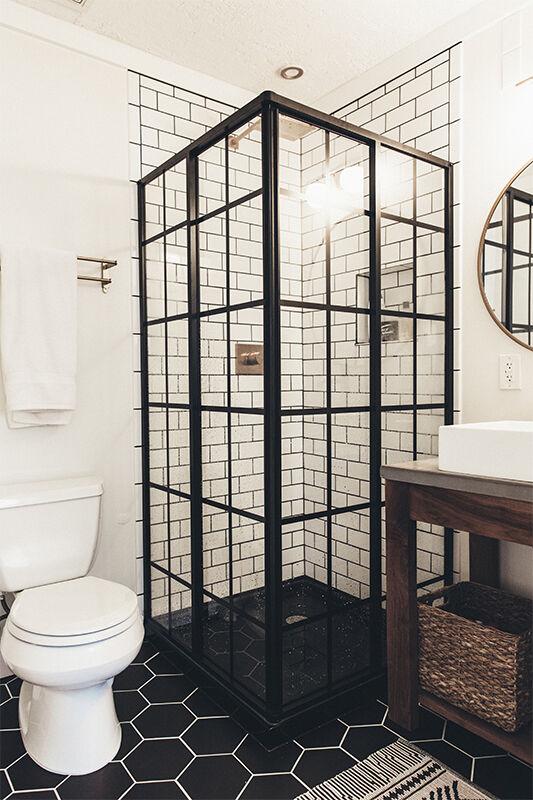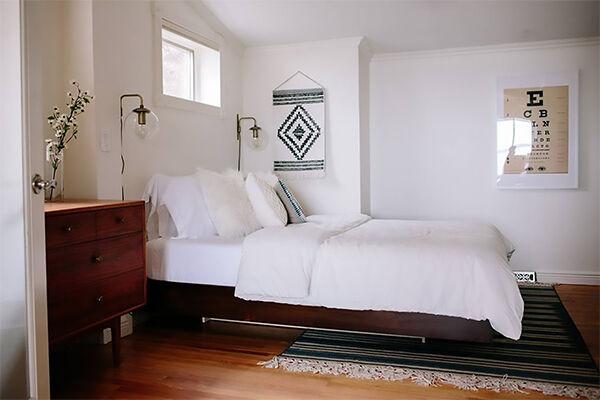 It's a complete manifestation of a little, perfect Up North getaway that we could only dream of. It's a pretty special and indescribable thing to walk construction sites with your young kids, knowing this is part of your legacy. Knowing that their little brains are going to remember "going to work" with Mom and Dad and being a part of the process. At 2 and 4, they know the names of all our projects and consistently ask when we can go check in on our places or projects. It makes us so happy to watch them run around the job sites and grow and explore right alongside us.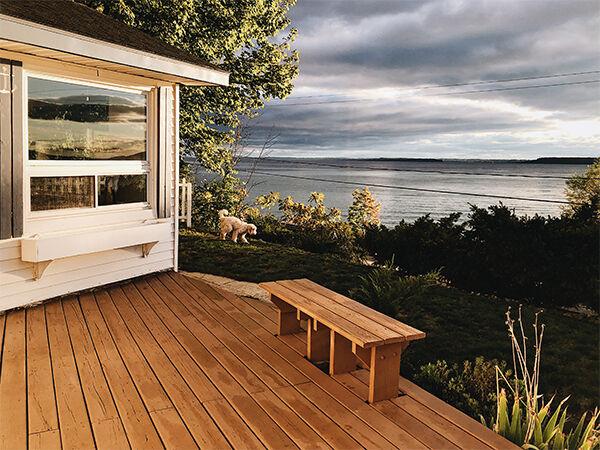 4. How did you come up with the concept of @agreenhaus, and can you explain what that exactly means? A Green Haus kind of came to be out of necessity. We were starting to grow and add more projects and properties a year or so ago, and me being in business (and especially in visual marketing), I wanted a way to lump everything under one roof from a branding perspective that didn't limit us, but was cohesive and allowed for quick and easy check-ins on what we were up to and what we had up our sleeves. We had already completed another one of our Airbnb projects, QuonsetHaus a few months prior. and I loved the simplicity of the name. A Green Haus just came to be as a play on our last name and the projects that came to be as a result of our combined efforts. It's simply a moniker that our design/renovation/hospitality projects can all coexist under one roof and makes for a pretty Instagram.
5. How many renovations have you done so far. and where are they all located? We're currently in the midst of our second full-blown renovation and design project (our personal residence in a historic 1914 home in West Village Detroit), though in total we've done five design/Airbnb rental projects since 2015, all for ourselves (among a few other small client design consulting projects). Five of our total projects have been in Detroit proper, and then Bayshore & Eagle is located in Traverse City.
6. Can you share any cool projects you're currently working on? Oh man, #WestVillageHaus is our current doozy. It's plain and simple, the biggest thing we've ever taken on and we're kind of loving every minute of it. In October 2018 (after three months of uncertainty), we purchased a previously vacant (for around 8-10 years or so) historic home in West Village Detroit, about a block and a half away from where we live now in a rental townhouse. The house was fairly stable, it hadn't been scrapped or stolen from, all the original wood floors remained and all of the windows still there (in various states of disrepair). But room-wise, there was nothing left. No kitchen, no bathrooms, just emptiness and messy crime scene vibes.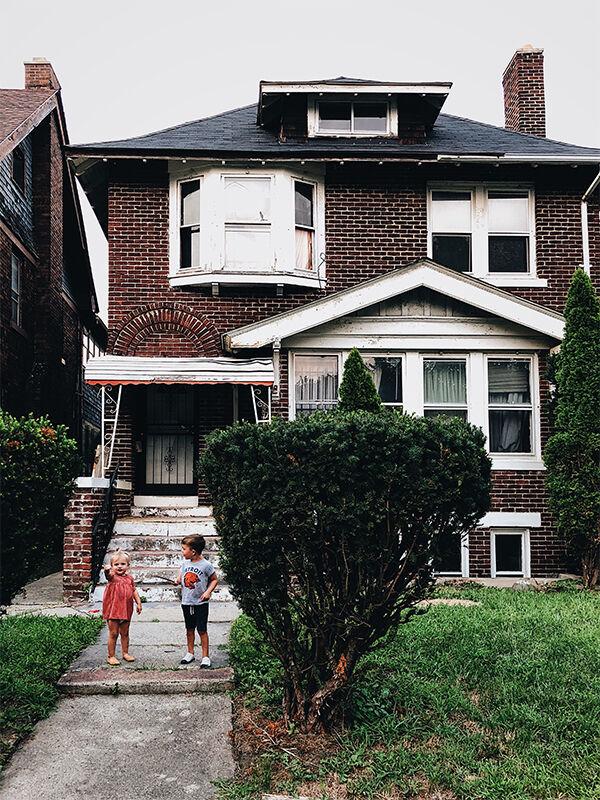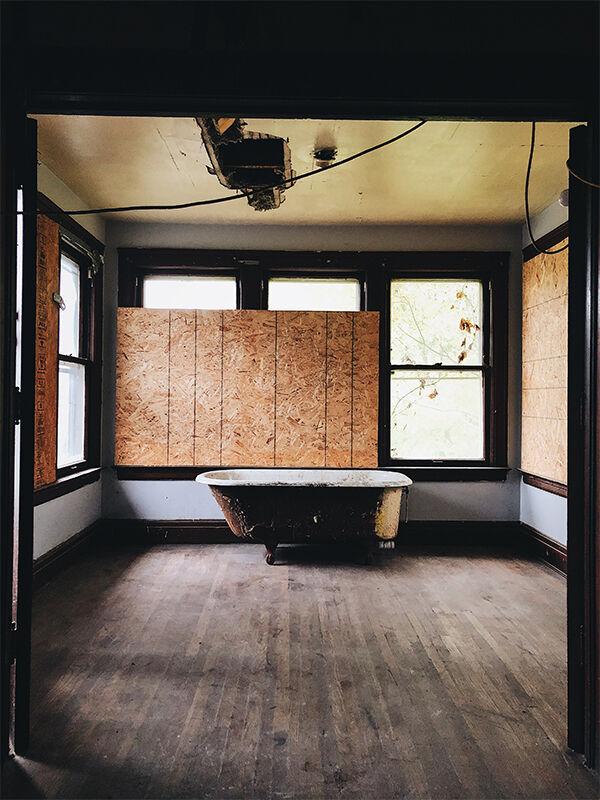 I (Jesse) walked through it alone first on a whim with our Realtor. We knew we didn't want to move again until we were ready to buy our first (non-vacation) home, but we weren't technically in the market or looking very hard at the time. We saw it pop up on a street that we were kind of seeking out, and I knew I had to walk it. It felt right nearly instantly. I could see the vision of each and every room and got Cali over there to see it ASAP. The funny thing is, the ideas we came up with for the house in that very first walk-through together (before even knowing if we were going to make an offer), are essentially all of the exact same ideas we're executing in the renovation. It's a gorgeous, big beautiful house that we can't wait to raise our kids in. When we say it's a gut-restoration, it's a gut restoration: 100% new plumbing, electrical, HVAC (hello, two furnaces and two air conditioners), kitchen, garage restoration, restoring the home's 63 windows, etc. We've got an incredible team at Detroit Build coming alongside of us to make it happen, but there is no stone being unturned in this place.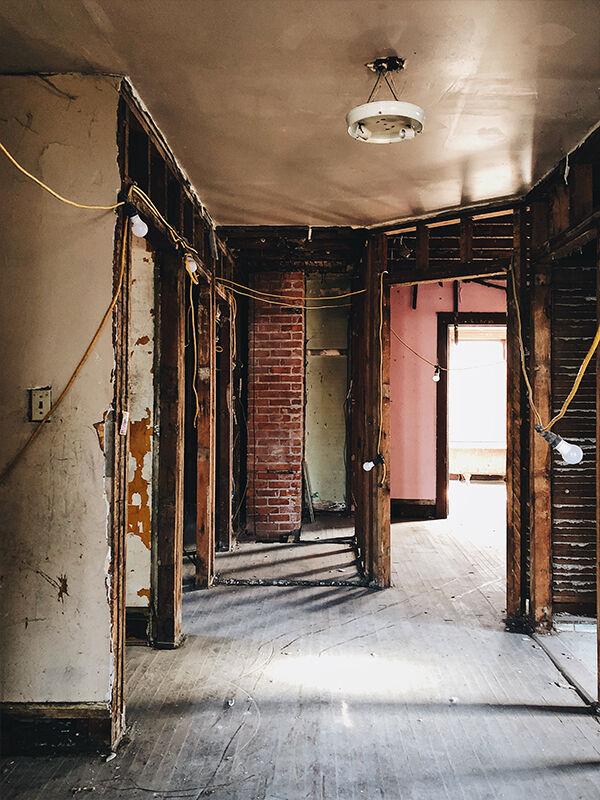 Being a 1914 home, it's a totally different style than the typical mid-century vibes we've leaned into prior to now, which has been a blast to branch into. We're trying to keep as much of the historic accuracies intact as we can, while making it comfortable and livable for our family (and any future families after us). It has obviously had its stressful moments, and we're so ready for it to be done to just start living there (and not be bleeding money any more for a bit), but I know when this first phase is over, we're going to have instantaneous longing for more projects.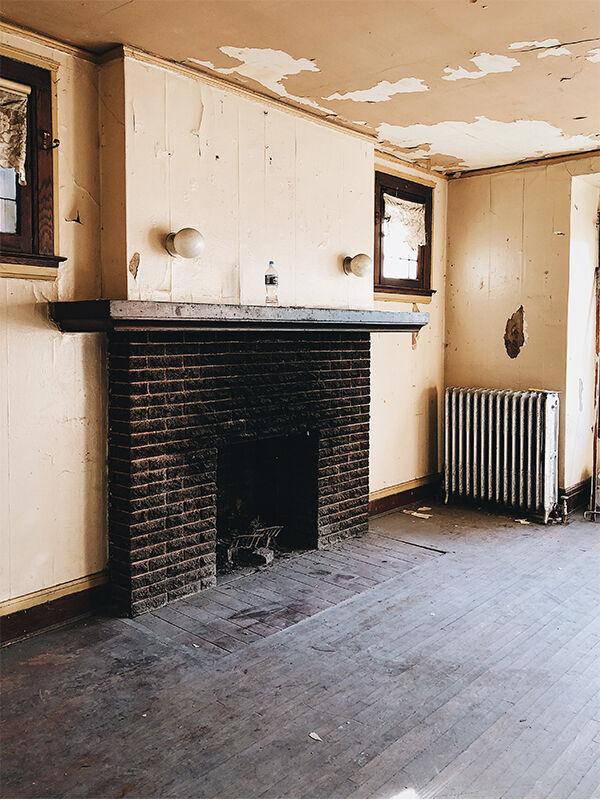 Past that, we're also consulting and managing another vacation rental project in a turn-of-the-century apartment building in Indian Village right across from the riverfront. It'll be our first two-bedroom unit, so we're excited to see how that all shakes out!
7. What are each of your roles in the renovation and overall company process? Who is responsible for what? Cali is the design lead. We've thankfully got a pretty identical design style which helps a ton (so that I can be looking for sourcing things at the same time as her and not usually be too far off the mark), but she makes the final decision on just about everything design-wise (unless it clashes with the budget). I (Jesse) work mostly on the sourcing and purchasing end of things. The logistics of how to take her vision and not only afford it, but execute it too. In the case of our vacation rentals, I photograph them when finished and then I also handle all of the day-to-day management of them too. Once they're designed and finished, Cali doesn't have too much involvement in the day-to-day (remember I mentioned we have a 2 and 4-year-old)? Though she is diving in a lot if we get in a pinch on a guest turnover for the vacation rentals, or quick design updates or sourcing too! It's a team effort that has been so fun to walk through after doing our own things work-wise for the first few years of our marriage.
8. What are some challenges you've experienced along the way? Oh man, there's been plenty. Whether it's the stress getting to us from too many hours working together, or butting heads on something (thankfully doesn't happen too much), or doing most of this with toddlers in tow. Renovation/construction timelines always run longer and cost more than anticipated, that's a given. Guests aren't always perfect in vacation rentals, and while we've only had maybe eight to ten bad experiences in four years of doing this, there's been some rough days/nights putting out proverbial fires or cleaning up messes left in their wake. On our Traverse City project, we've run into shoddy craftsmanship from the previous owner that we've had to fix every step of the way. We say often while we're working on things there that we probably should've just torn it down and started over had we known everything we were going to find behind walls and under floors, but what's the fun in that?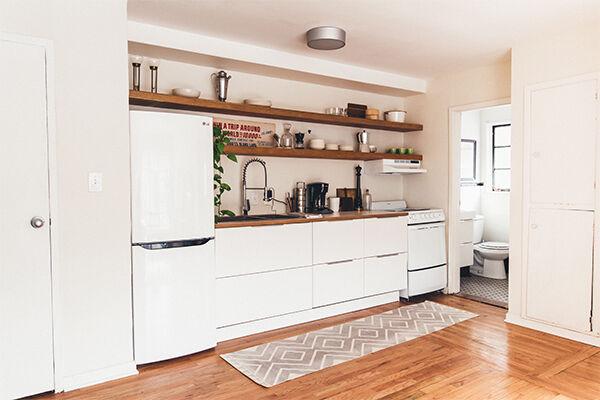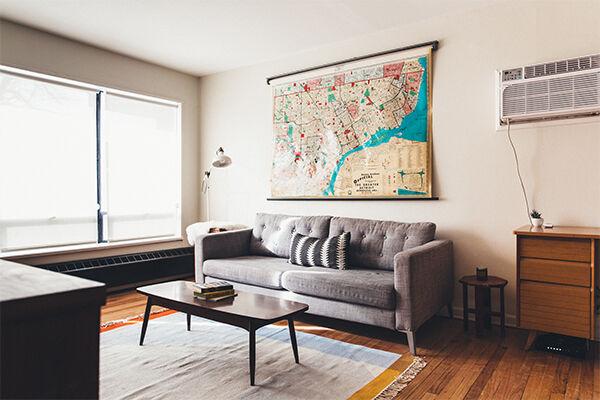 9. Any highlights you'd like to share from any of your projects thus far? This whole thing has been a highlight to be honest. We weren't ever trying to make this a business, we weren't ever trying to domino effect one property (that we weren't planning on) into 5-plus more. It's just been so fun and such a great creative outlet and side hustle that we've loved. It's been such a joy for me as well, seeing Cali recognized for her incredible eye and talent for design. I've watched her confidence soar in that regard and that's just been so fun to sit back and watch. We've been featured on Apartment Therapy, Dwell and the Detroit Free Press. I think once this West Village project is done though, that's going to be a pretty big feather in our cap that we're so excited for.
10. Which project have been your favorite to work on and why? Thats like being asked to pick your favorite child! They all hold a special place for so many reasons. Bayshore & Eagle has been fun because it's just been an ongoing project for 3-plus years, and we've gotten to infuse our own style into a place that becomes an amazing retreat for our family too. I think we both really loved putting together QuonsetHaus too. The space is so bright and lively (and there's quite literally nothing else like it in Detroit, let alone the state/country for a faction rental). On that project too, we collaborated with a ton of Detroit businesses to outfit the space with as many local makers/businesses as possible to become a "showroom" of sorts for all of these brands. It's a curated experience for our guests to let them live and breathe the Detroit brands we love, and then use the guidebook we created to go out and support those brands themselves and take home a bit of Detroit with them. That was a super proud moment to be able to assemble all of that and forge those relationships with friends from the city both new and old (Detroit Denim, Shinola, El Dorado General Store, City Bird, Detroit Rose, LeadHead Glass, Pot + Box, Detroit Bikes, etc.)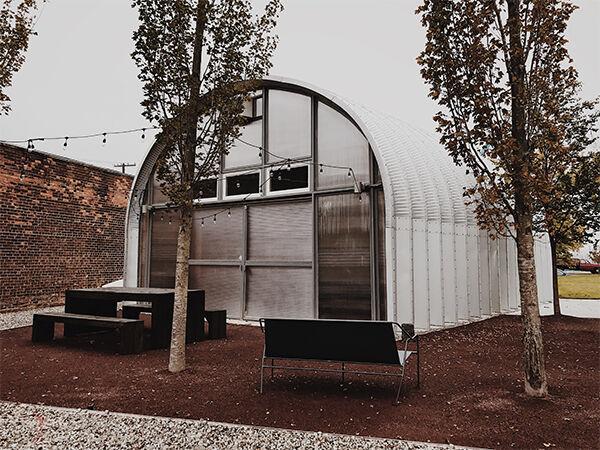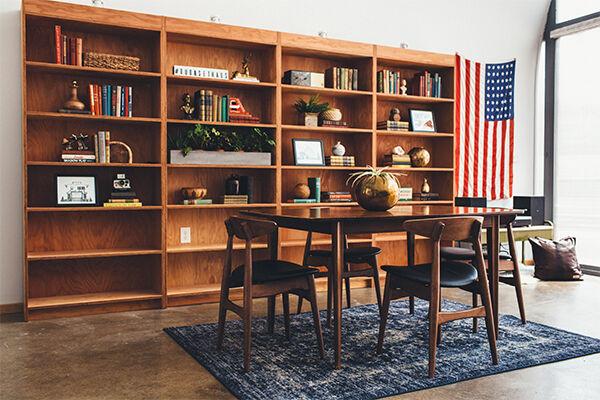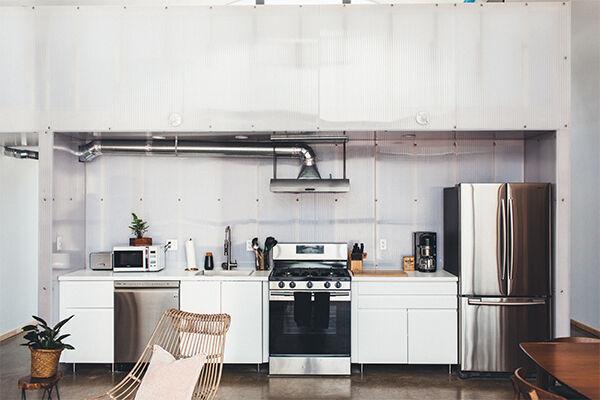 11. Where do you find inspiration for your renovations? In an overarching answer, the state and the city in which the project resides. Its people, its businesses and amenities, the history that came before it, those are all intentional things that we look into and breathe in before we start putting somewhere together. But in a practical sense, Instagram and Pinterest are our friends for sure.
12. How would you describe your renovation/design style? Mid-century modern with a touch of bohemian. Relaxed, minimalistic, bright and white. Somewhere that looks good, but we're also not afraid of our kids running around in or coloring with their crayons or our dogs knocking something over. Attainable, clean design that you feel like you could move right into yourself.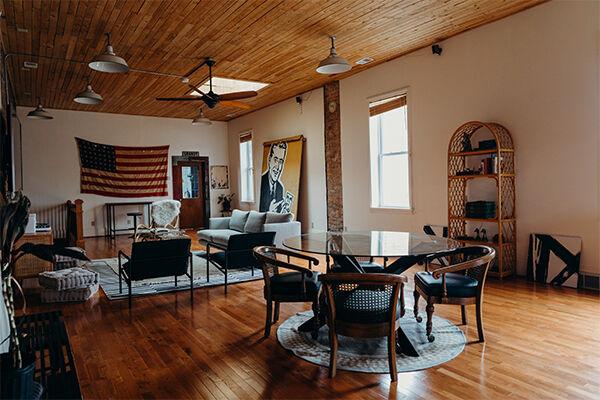 13. Can you share a renovation or design tip or trick you've found to be useful? For design, one of the biggest banes of our existence early on was shelves. How to style them, where to source things from, how to put them together. We (especially Cali) hated shelves so much because it felt like the one part of the project we just couldn't figure out. I think she was better at it than she gave herself credit for, but if definitely paused us on multiple occasions. One great trick we came across though is to not try and style a shelf by itself or pre-plan what will go on it. It's too hard, you won't ever have enough pieces or it'll feel too contrived. In Traverse City and QuonsetHaus, we have massive walls of built-in shelves that felt daunting. Rather than trying to plan how we'd decorate them, we just sourced an insane amount of shelf decor (vintage books, small brass and wood items, framed prints, etc.) and we'd pile it all on a table with no plan for it. By putting out everything that we had and then just pulling from it to "create" scenes on the shelves it went quicker and with better results than if we would've tried to actually source per shelf.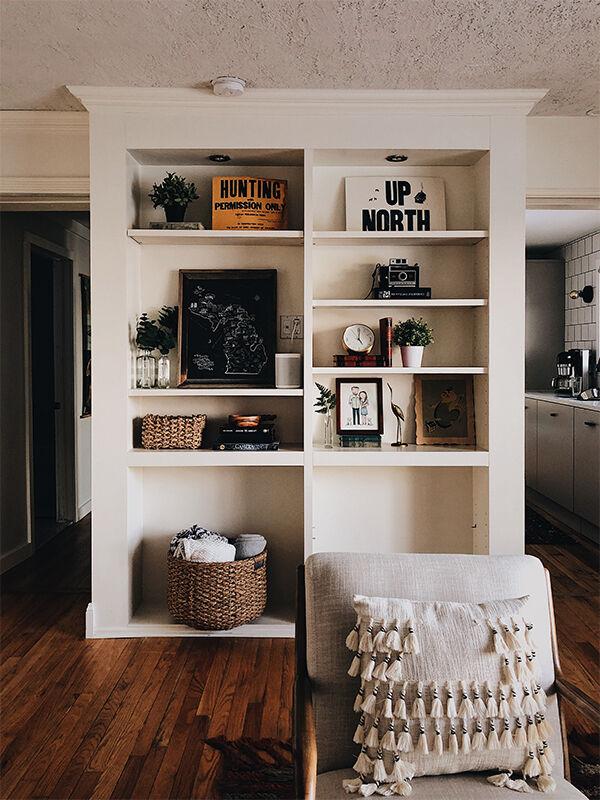 For renovation, the obvious one is that you always need to allot more time and more money than you think, than your contractor thinks, than your Realtor thinks, to get this thing done. It's just a fact of life. That being said, pay keen attention to your sourcing as you go. For each and every room in the house, there are so many ways that you can save a ton of money and not compromise your vision — whether it's simple and minimal tile choices dressed up via other fixtures, or it's shopping wisely for fixtures and decor on crazy sales that higher-end websites often put up. You can keep to the budget and still get the look you're going for; it just takes a bit of extra hustle.
14. What is your overall goal for A Green Haus? We want to keep growing and refining. Finding new ways to work together and finding ways to make this whole "project" more sustainable into the future. We love Detroit and Traverse City with all of our hearts, and if we can just wake up and keep working in these magical places each and every day, while designing and photographing and raising our family; we're happy. If we can do house renovations and host guests from around the world and make their stays amazing in the meantime? Well, thats just the icing on the cake.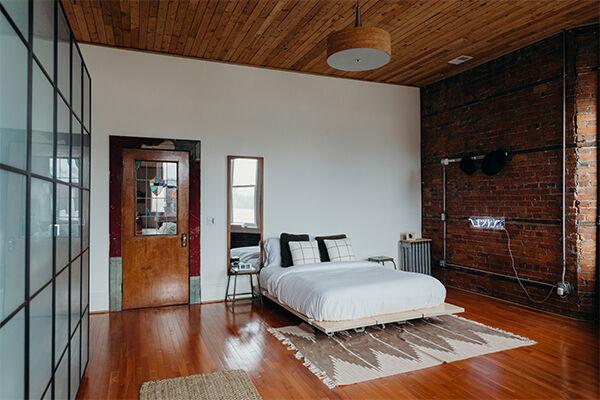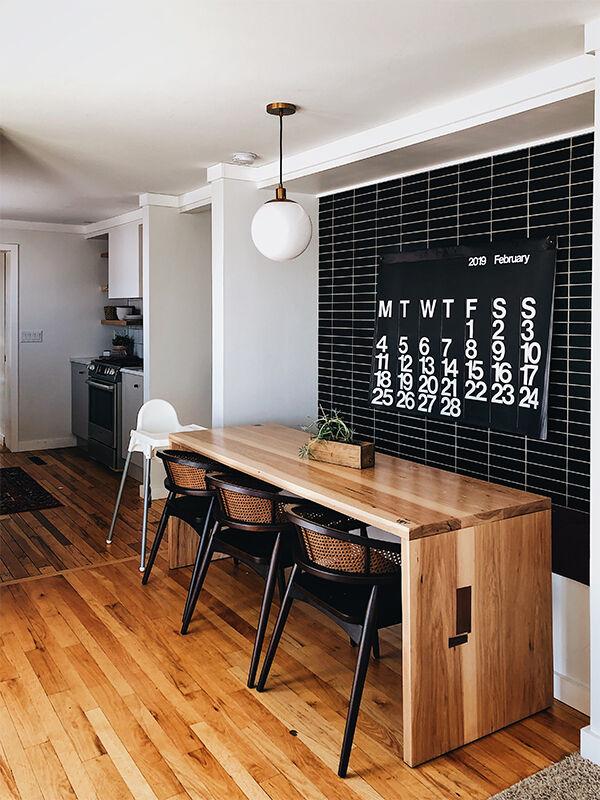 15. If readers are interested, where can they find your listings for rentals? They can follow us on Instagram at @agreenhaus and contact us there, or click the link in our bio for all of our current properties. The direct link to view all of our listings is airbnb.com/users/2050325/listings.
Read more: