These home bars in Metro Detroit take entertaining at home to the next level.
By Judith Harris Solomon
Metro Detroit homeowners take their bars seriously. And at these watering holes, just like that iconic one on "Cheers," you can be sure everyone knows your name. 
The Hideaway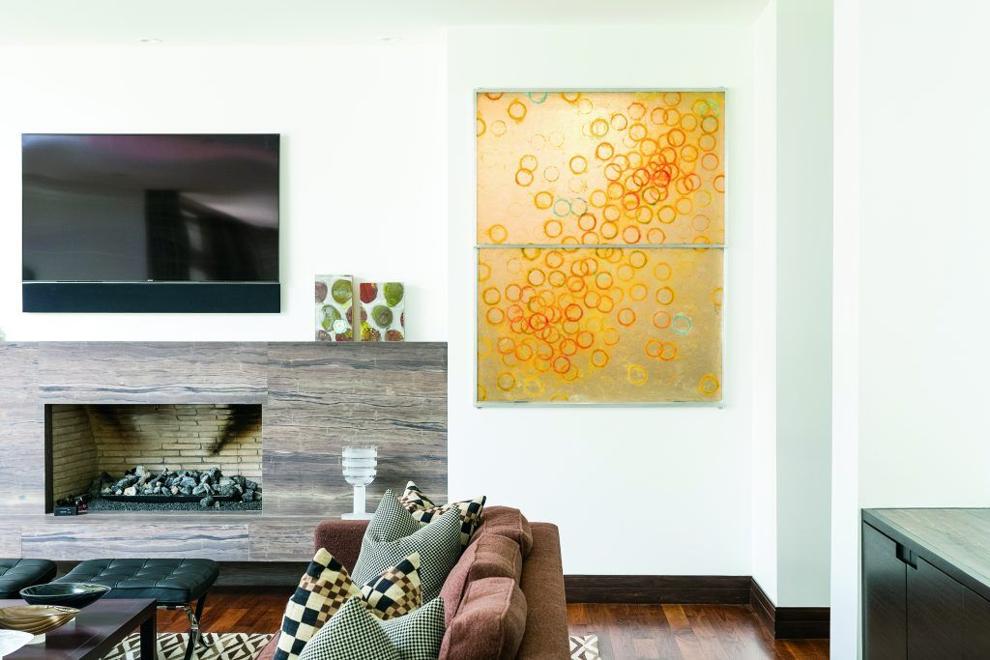 Brett Mountain for SEEN
Franklin residents Roz and Stanford Blanck wanted a pocket bar on the main floor that would work well with a bartender when they entertained. "Because I did not want to take away from the beauty of the living room, my concept was to hide the bar when not in use with a piece of art," says interior designer Jane Redfield Schwartz.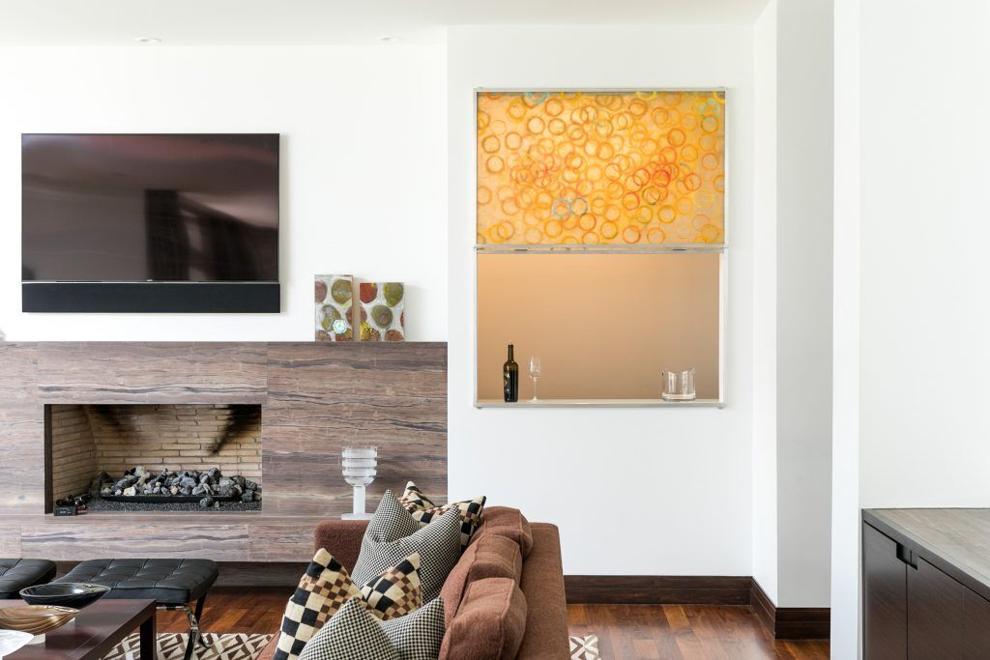 Brett Mountain for SEEN
Mission accomplished! First, a small 4-by-8-foot pocket space behind the living room was designated to become a bar. Then a hole was carved out of the wall that separated the living room from the bar area. Finally, local artist John Rowland filled the hole with sliding double panels that can stack up to expose the bar. Made out of transparent fiberglass — to which he added colorful pigment to create a circular design — the panels are particularly beautiful when lit from behind.
Bar Bells and Whistles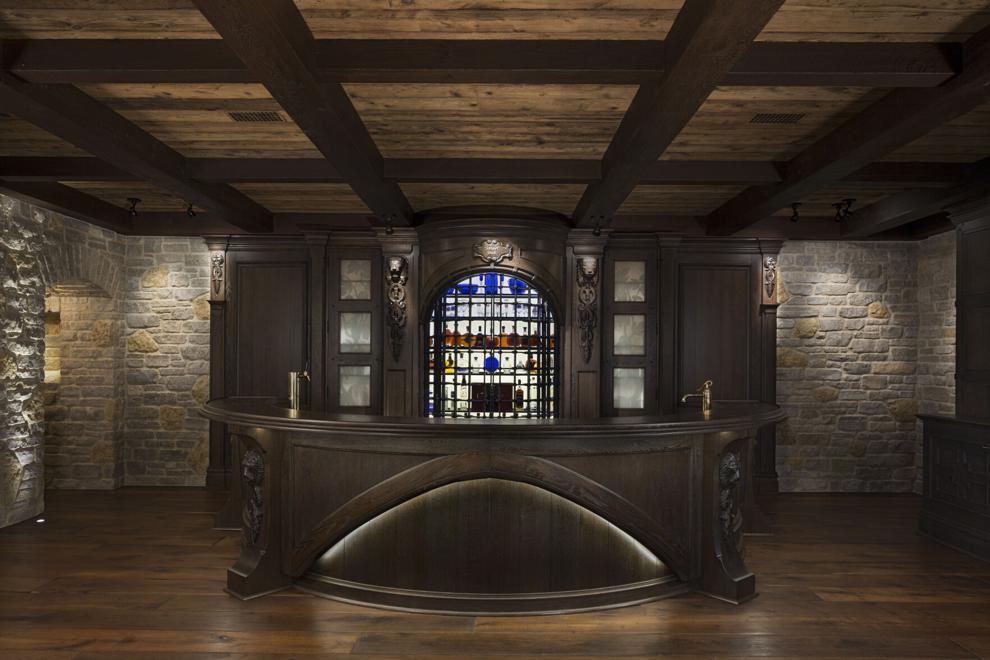 Courtesy Beth Singer
The homeowners of this newly purchased Bloomfield Hills home decided to convert what was previously used as a mode-train room into a medieval-inspired pub. Designed, fabricated and installed by Vogue Furniture in Royal Oak, the result is breathtaking.
You first enter the space through beautiful iron gates (crafted by Tom Myers of Gallery Steel in Waterford) whose design is repeated for the floor-to-ceiling doors of the rear bar. The back bar is adorned with Lalique-inspired sand-blasted etched glass panels featuring a vine pattern as well as the figures of a lion and lioness hand-carved out of wood by sculptor Evangelos Zispoulus. Several other hand carvings, placed throughout the room, acknowledge historical family events. The cabinetry, millwork and furniture were milled from solid white oak lumber, which was distressed and caroused in a rubbed lacquer in order to create this authentic Old World finish.
The pub also features extensive wall paneling with lighted frames displaying leaded glass panels, a large screen TV lift concealed in the lower cabinetry, a built-in upholstered banquette and freestanding pews for seating.
A New York State of Mind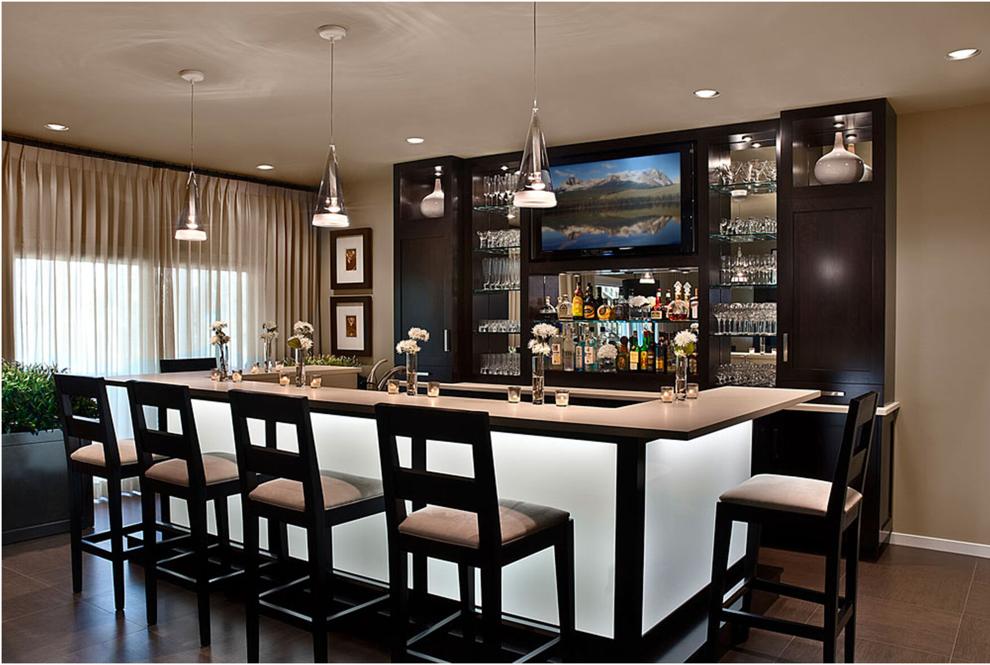 Courtesy Beth Singer
Located in a detached condo in West Bloomfield, this stunning lower-level bar was designed by Jeffrey King of Birmingham-based Jeffrey King Interiors eight years ago, but you would never know it. "It's really timeless and still looks brand-new," King says. "The owners, Cathy and Bill Eisenberg, entertain all the time, and the bar acts as the pulse of their entertaining. And I love that you can sit all the way around it."
The bar's acrylic front panels can be lit from behind, and the back bar features open glass shelving and a mounted flat-screen TV. Other materials include a Caesarstone countertop, pendant lights by Flos from Arkitektura in Birmingham and bar stools with faux leather seats from RJ Thomas in Troy.
"Our bar is beautiful, and I think it has a New York penthouse kind of feel," Cathy Eisenberg says. "It's where everyone gathers when they come over. And at other times, when it's just the two of us, while it's kind of like a man cave complete with an adjacent couch, chair and another TV, I'm still allowed to be in it."
Closet Makeover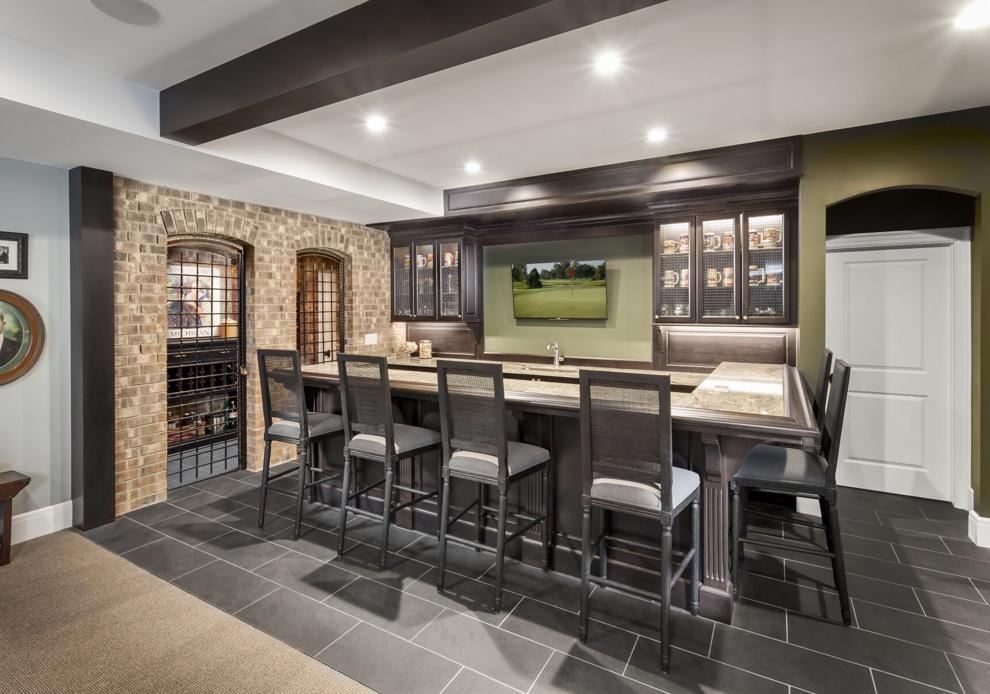 Courtesy Don Schulte
For this lower-level bar, located in the year-old Clarkston home owned by Leslie and Tom Risi and built by Bloomfield Hills-based Petrucci Johnson, designer Richard Daniels decided to turn a basic closet into a fabulous wine cellar. Leftover bricks from the home's exterior were used on both sides of its metal gates — forged by metalsmith Michael Barna — and also for all the walls inside the cellar. "I chose these bricks because they had a pretty, Old World feel and a nice Old World texture," Daniels says.
A heavy wooden bumper, inserted with granite, tops the bar's base made out of ebony-stained clear Alder wood. Its fluted pilasters echo the fluting on the Restoration Hardware chair legs. "I chose these chairs because I thought they had an Old World look but were still transitional," the designer says. "For the back bar's cabinet doors, we used square iron mesh inserts to mimic the squares on the wrought-iron gates. All of the bar's cabinetry was handmade by Timber & Toil, a company owned by Petrucci and Johnson.
Gray Matters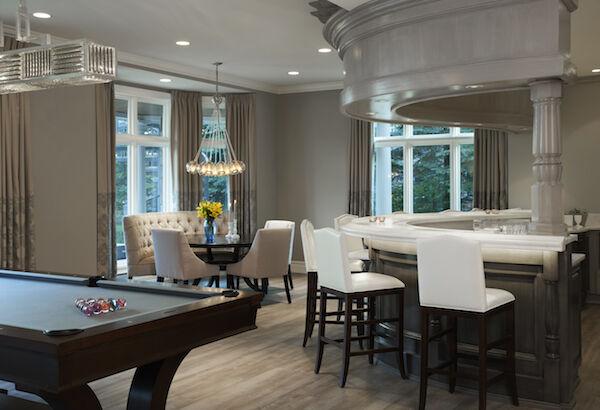 Courtesy James Carlson
When Sarah and Phil Robbins purchased their Lake Angelus home built in 2002, the lower level was dominated by a very cumbersome, very traditional dark-stained oak bar with a pool table to match. But not anymore. Along came Cheryl Nestro, principal of Tutto Interiors in Northville, who decided to give the entire bar a face-lift. So all the oak cabinetry was refinished with a gray glaze patina, and the countertop, formerly oak, was replaced with a carrara gray quartz material. The addition of glass cabinet inserts, Swarovski crystal handles and a gray and white tile backsplash from Ann Sacks, also serves to lighten and brighten the original space. Nearby, a 60-inch round wooden table, surrounded by a custom-made banquette and four chairs, offers additional seating.