Photography by Rebecca Simonov for SEEN
Located in downtown Birmingham's bustling shopping district, Zana — named for the fairy of the mountains in Albanian mythology and folklore — is a modern-American restaurant with a hint of European flare. The third restaurant from The Tallulah Group, Zana celebrates the fusion of art, aesthetics, and food through subtle references to lush mountain forests, elaborate floral garnishes, intentionally sourced and foraged ingredients, and curated events that spark a sense of awe and wonder.
"Everything began 10 years ago with Tallulah, and then we welcomed Besa in 2018," says Mario Camaj, Zana's owner and leader of The Tallulah Group. "I came across this space, which was formerly The Bird & The Bread, and within walking distance from Tallulah; it seemed like a perfect opportunity. The most challenging aspect of designing Zana was taking 10,000 square feet and making it a welcoming, inviting, and intimate experience through various dining areas."
Sabrina Buchanan of Base Designs, Ian Hartwell of Oliver Max Inc., and architect John Gardner of Gardner + Associates brought the design of Zana to life. The front windows fold open in warmer months, and the dining area transforms into an open-air patio dining experience with green accents of verdant plush Italian booths, mint chairs and bar stools, emerald water glasses, geometric art installations, and plant accents on the walls and delivered from the bar as the garnish on cocktails. Gold leaf accents line the retro-modern bar, a backdrop to the main dining area where hand-blown glass bulbs lend pops of pink and serve as a statement piece that draws people in from the street. The open-kitchen concept complements the warm feel of the space, and plush booths directly next to it invite guests to a chef-focused experience.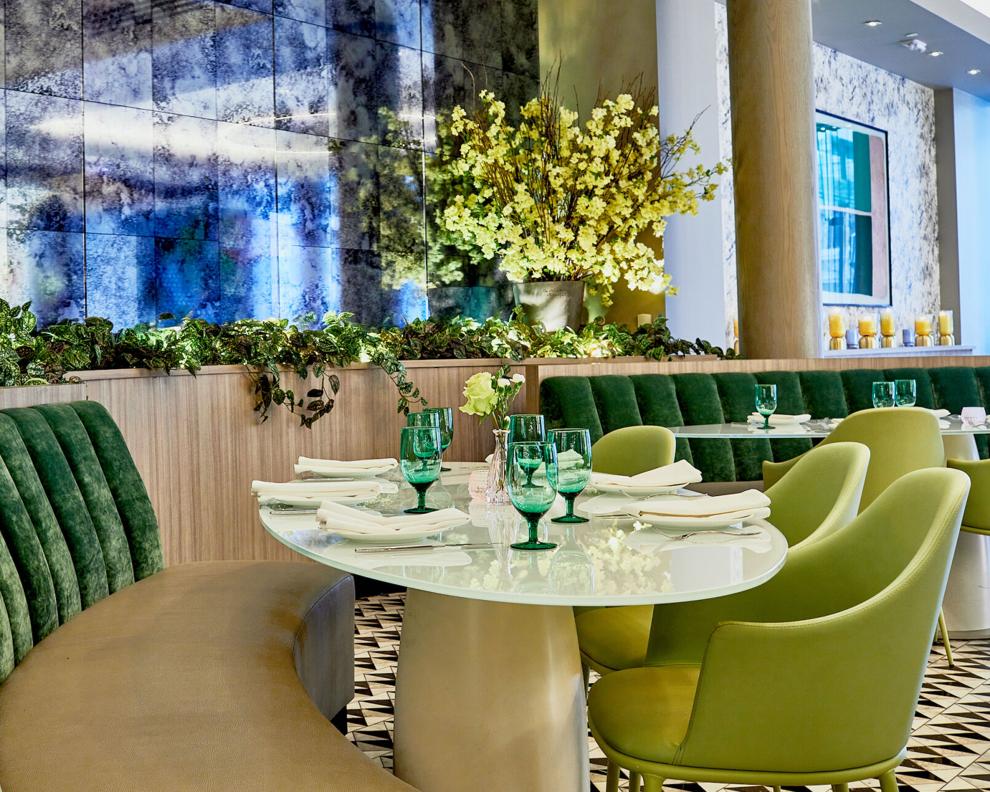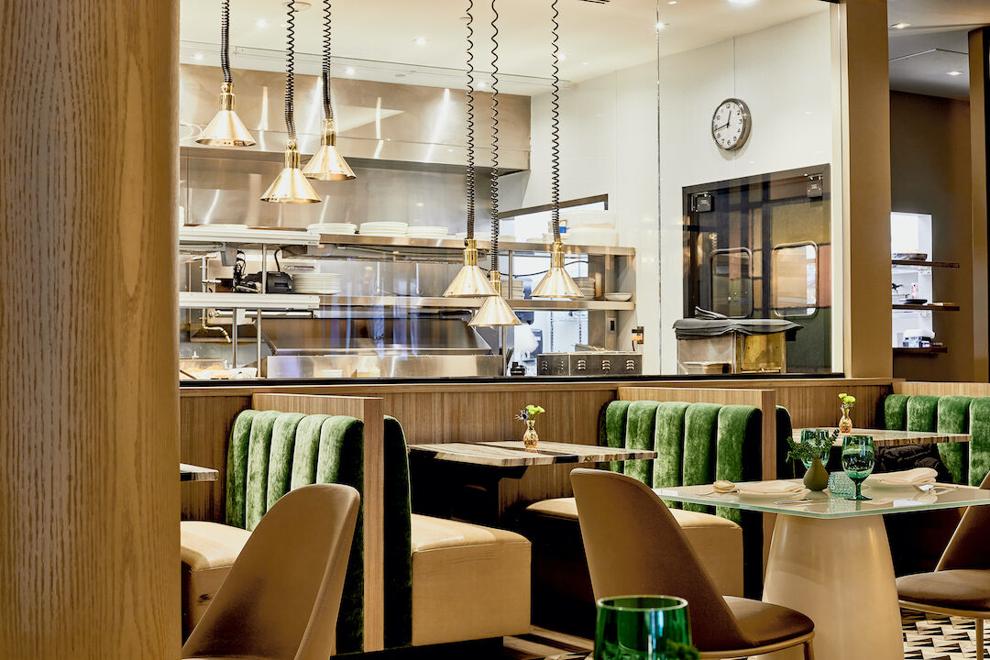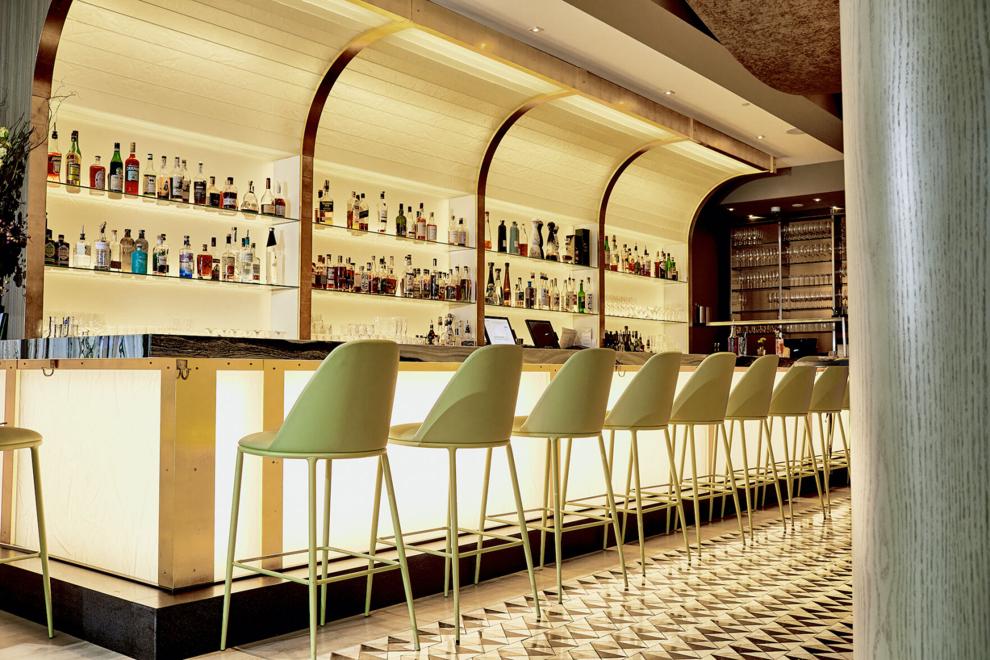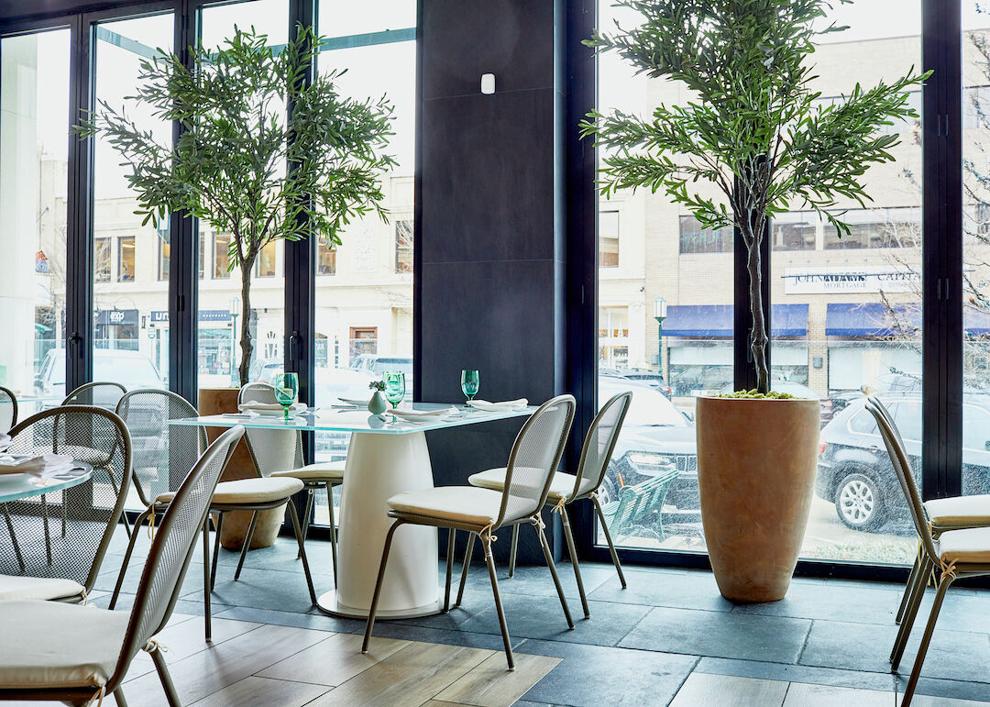 "The main concept we wanted to embrace with the opening of Zana was to create an atmosphere that transports people but still provides an upscale experience that can serve the amazing community here in Birmingham," says general manager and partner Johnny Prenci. "I grew up at Tallulah. I started as a busboy and worked my way to server and then manager. The opportunity to bring Zana to the city presented itself, and I'm excited to say we're putting our best foot forward daily to become another staple in this community."
Executive chef Jason Bamford is cooking up American-modern flare at Zana. He brings culinary education from New York's Culinary Institute of America and years of cooking experience as the VIP chef at the flagship Waldorf Astoria and executive chef at the Delano Hotel in Miami. Zana's food menu features local ingredients from various Michigan farmers, including the Mushroom Hub and Featherstone Garden.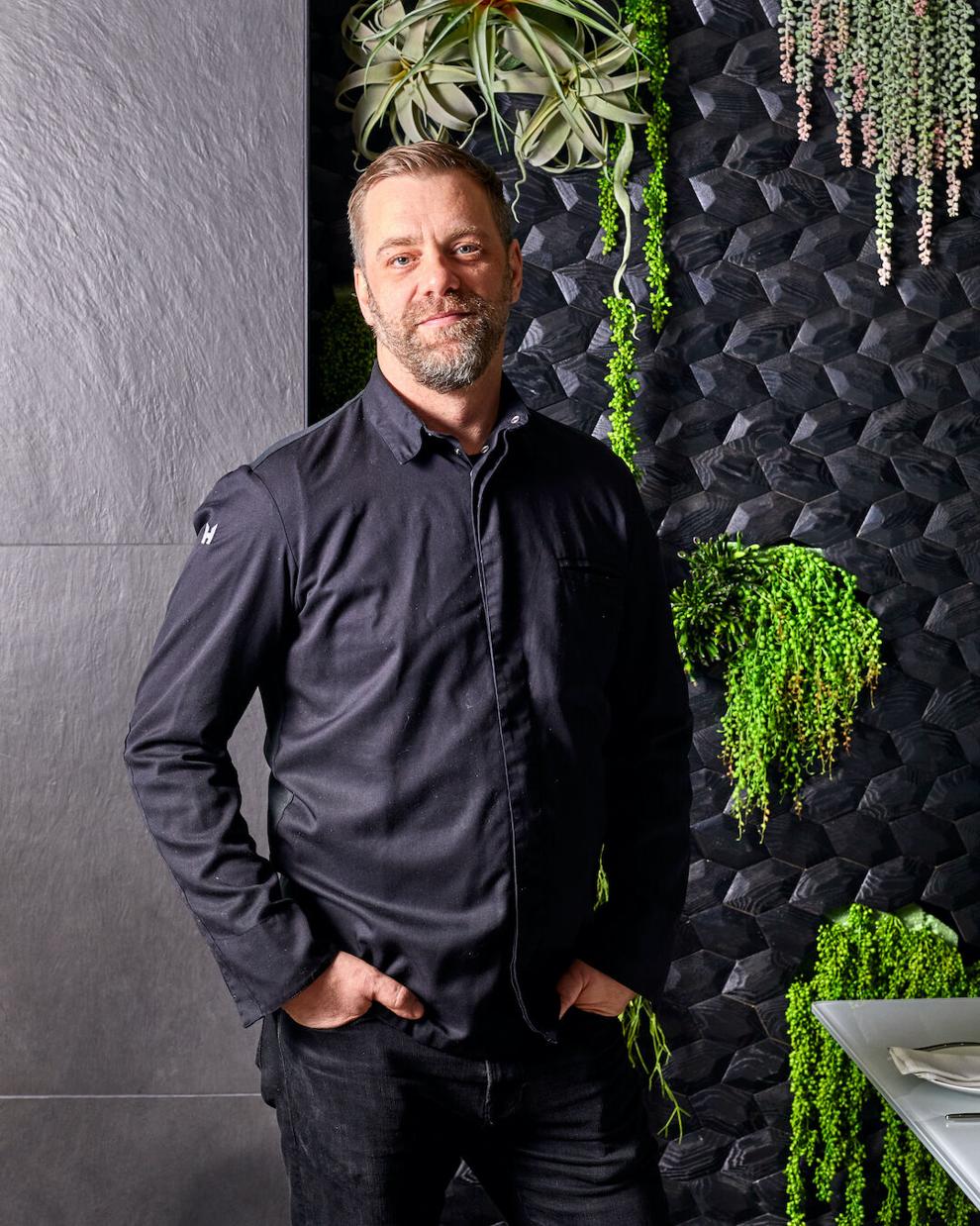 "We're really excited about the planting program and partnership we've formed with Annie Hakim at Featherstone Garden," Bamford says. "We'll then highlight those ingredients on our food and bar menus throughout that collaboration. That's how we're structuring our seasonal menus, through local ingredients and sustainable methods that use as much of the individual ingredient as possible through various techniques and multiple dishes on the menu."
Zana's wagyu meatballs, for example, are a staple that showcases the versatility of the menu and how Bamford uses various parts of the locally sourced ingredients in several ways. The dinner wagyu meatballs have golden raisins, pignoli, tomato, pecorino, and basil. There's also a happy hour version of the dish: It's one wagyu meatball with golden raisin-infused gravy resting atop the pommes aligot, a delectable combination of Yukon Gold potatoes and Brillat-Savarin cheese also featured as a side item on the dinner menu. The frizzled leeks that top the meatballs also appear in Zana's happy hour chopped salad and dinner wedge salad.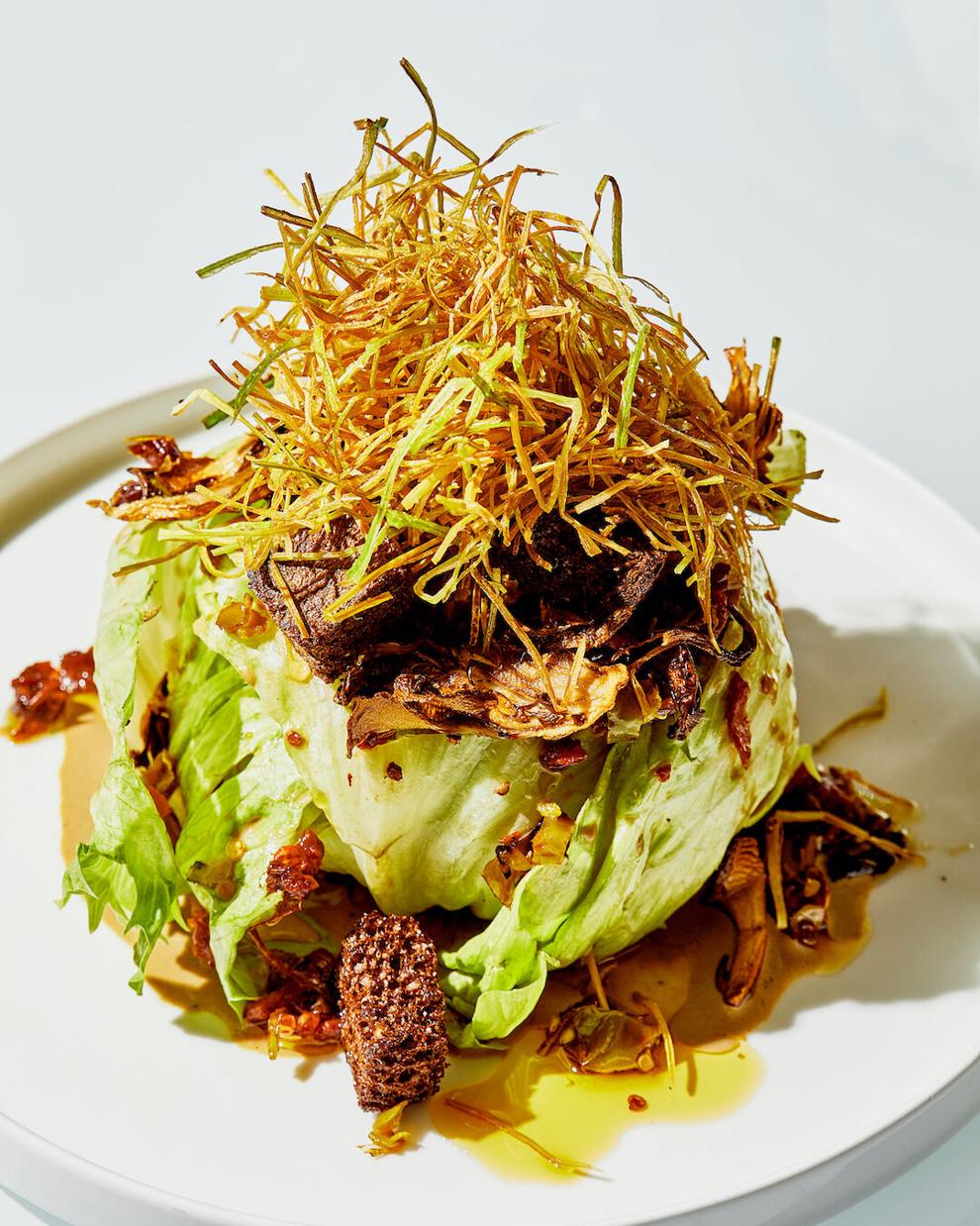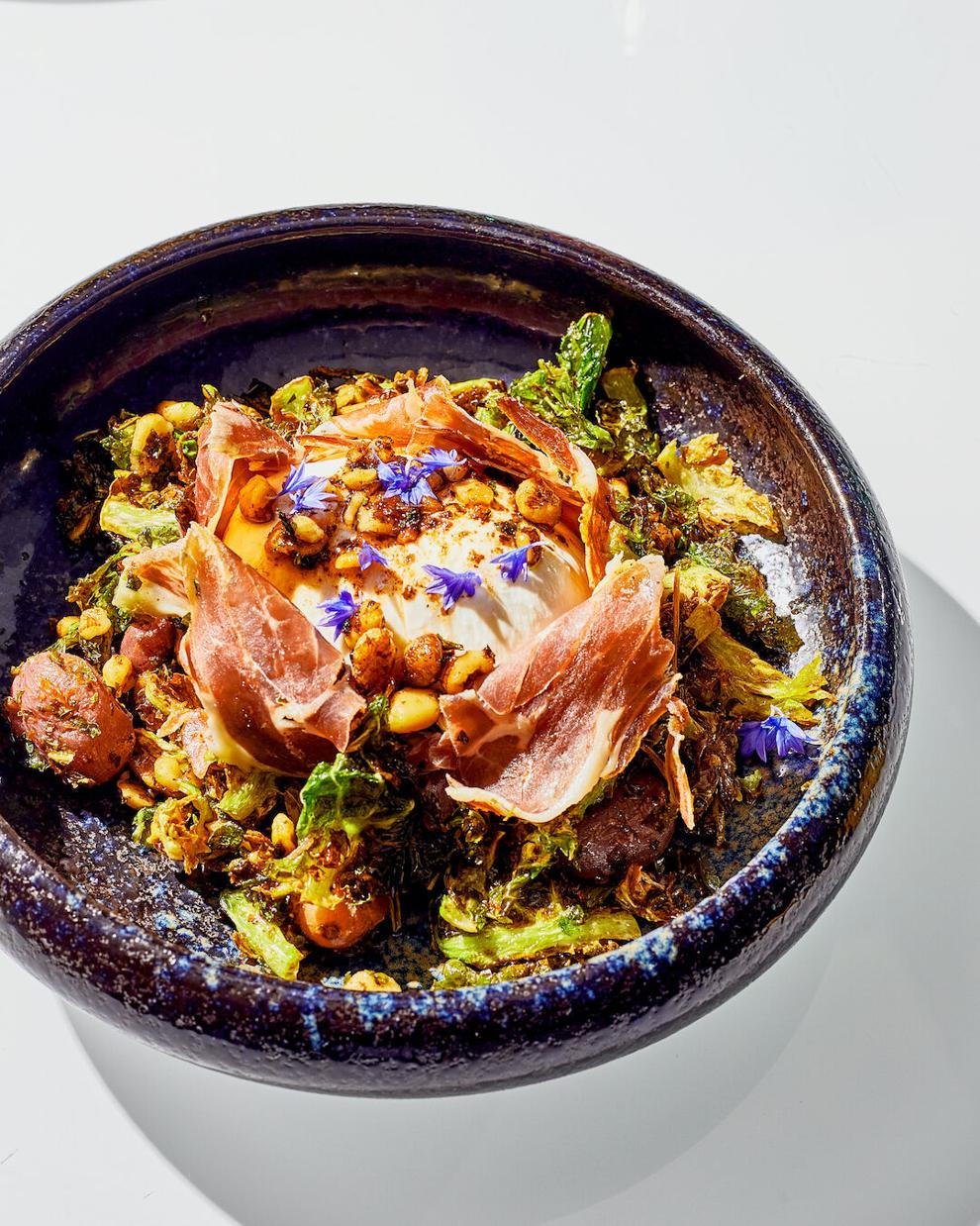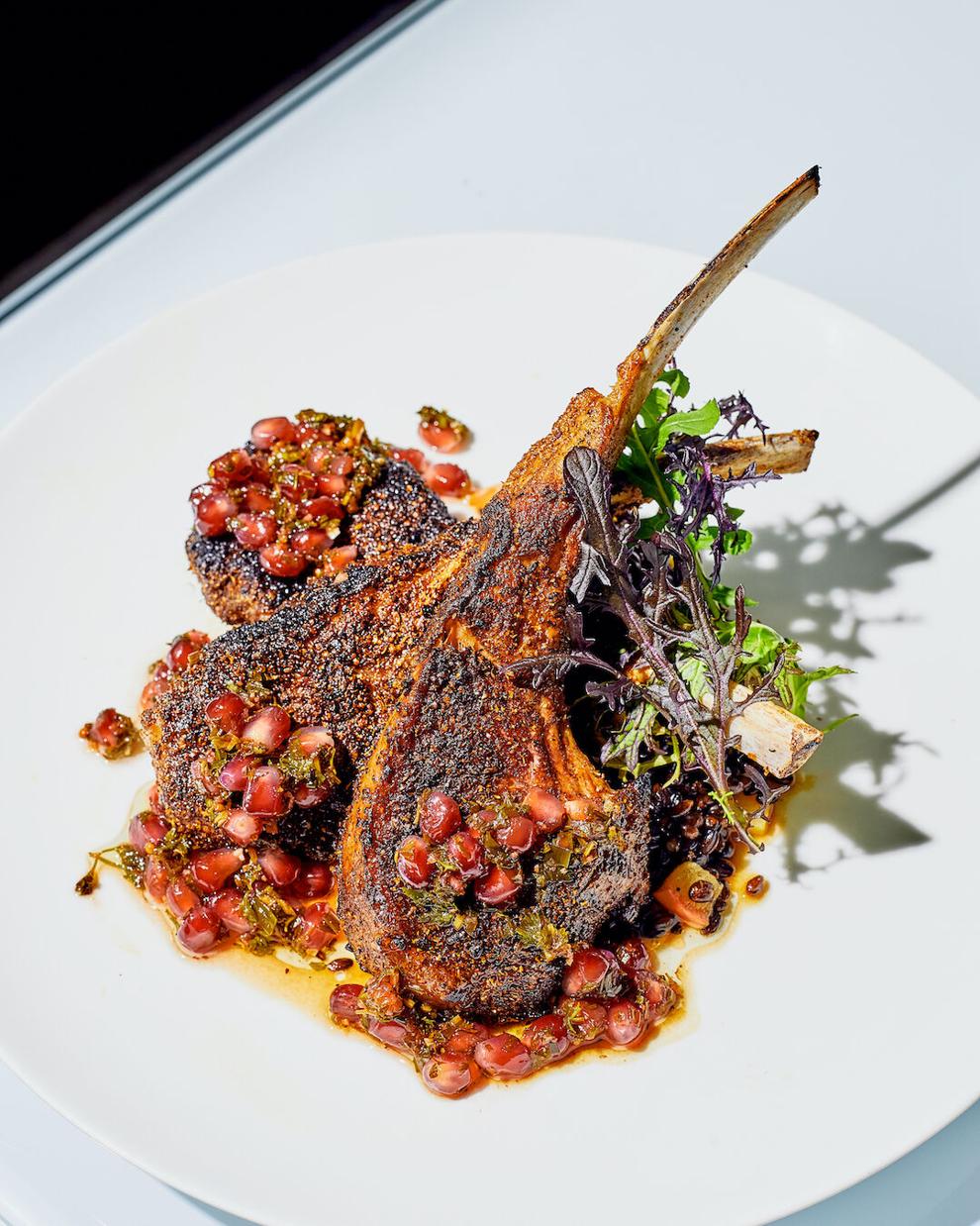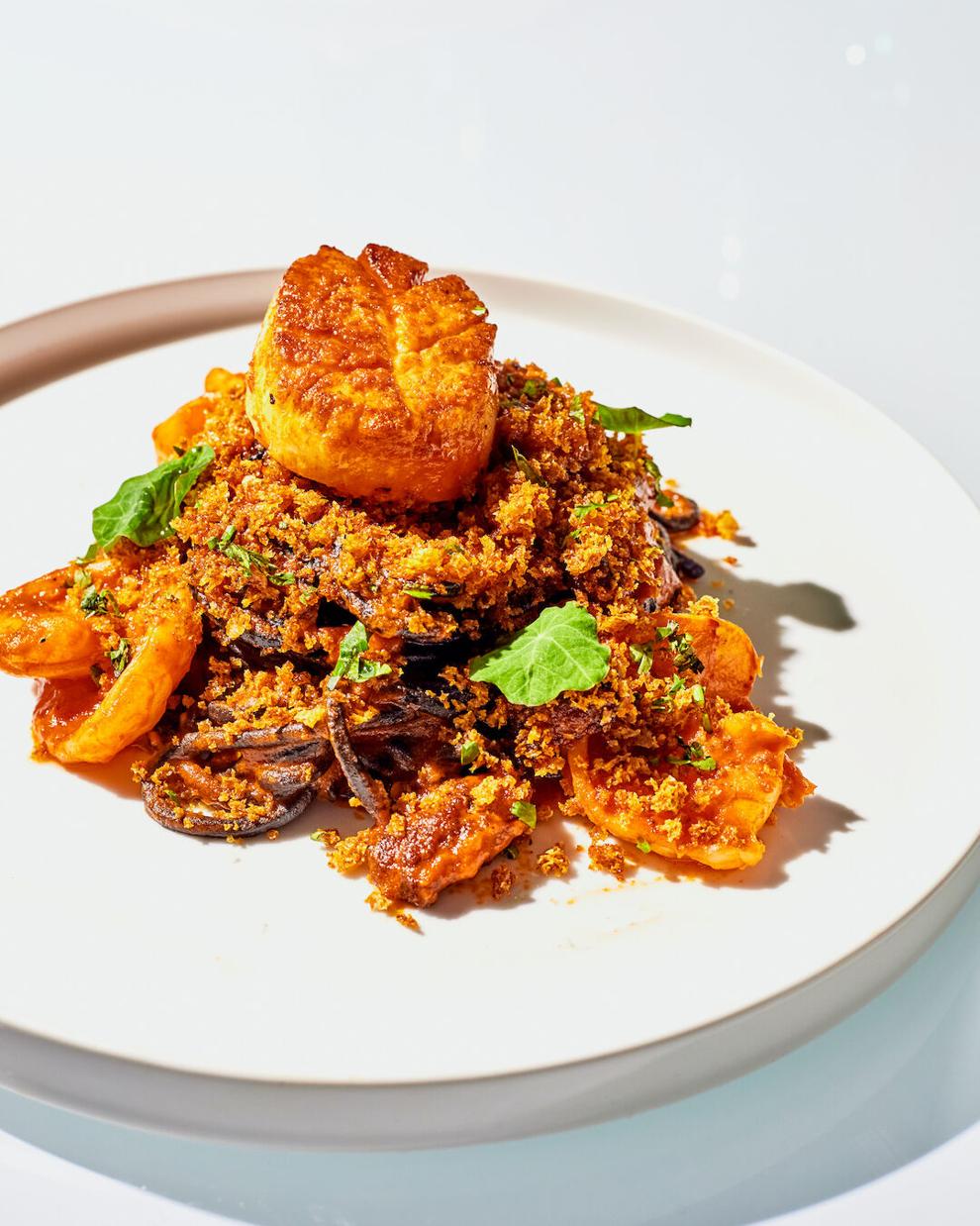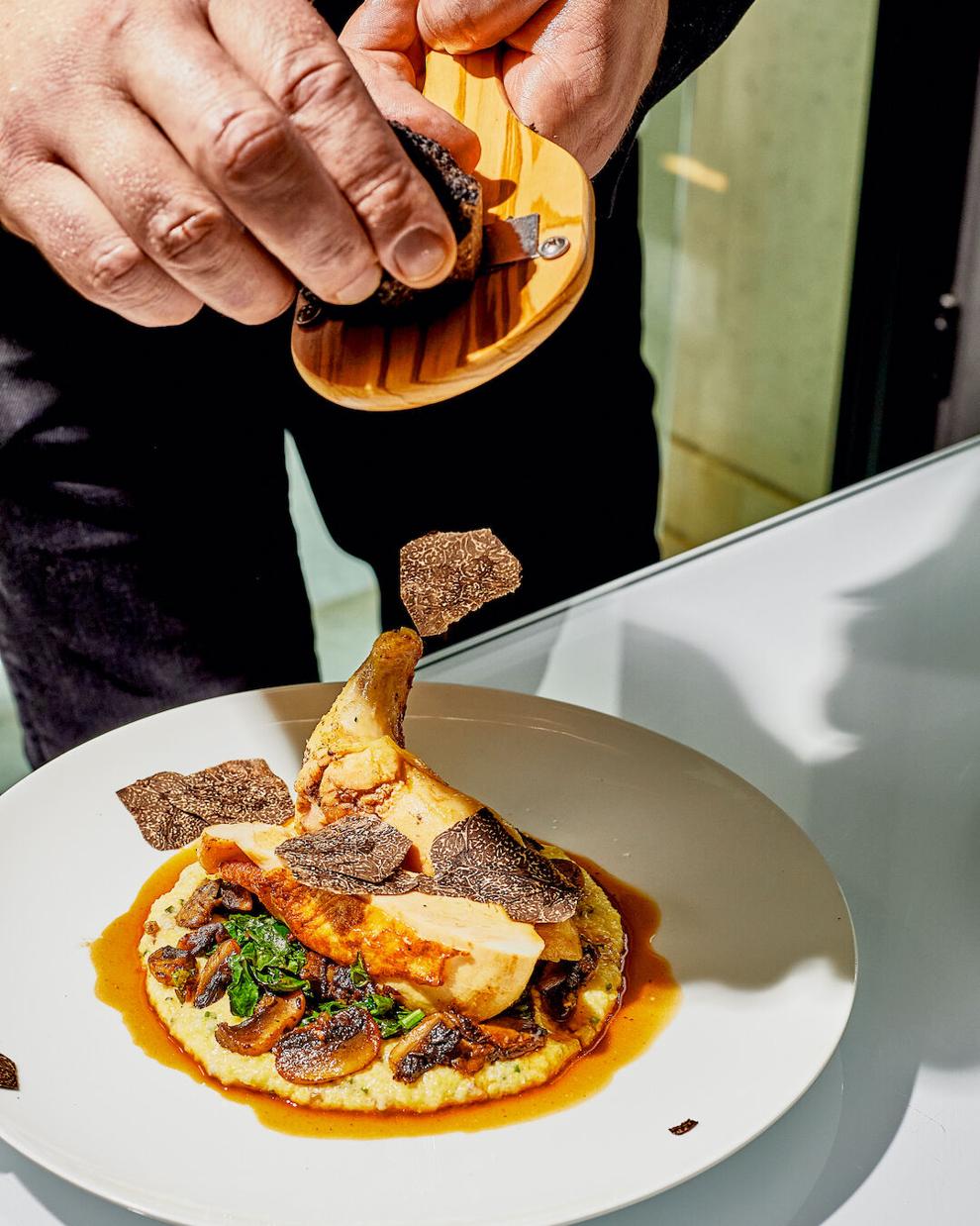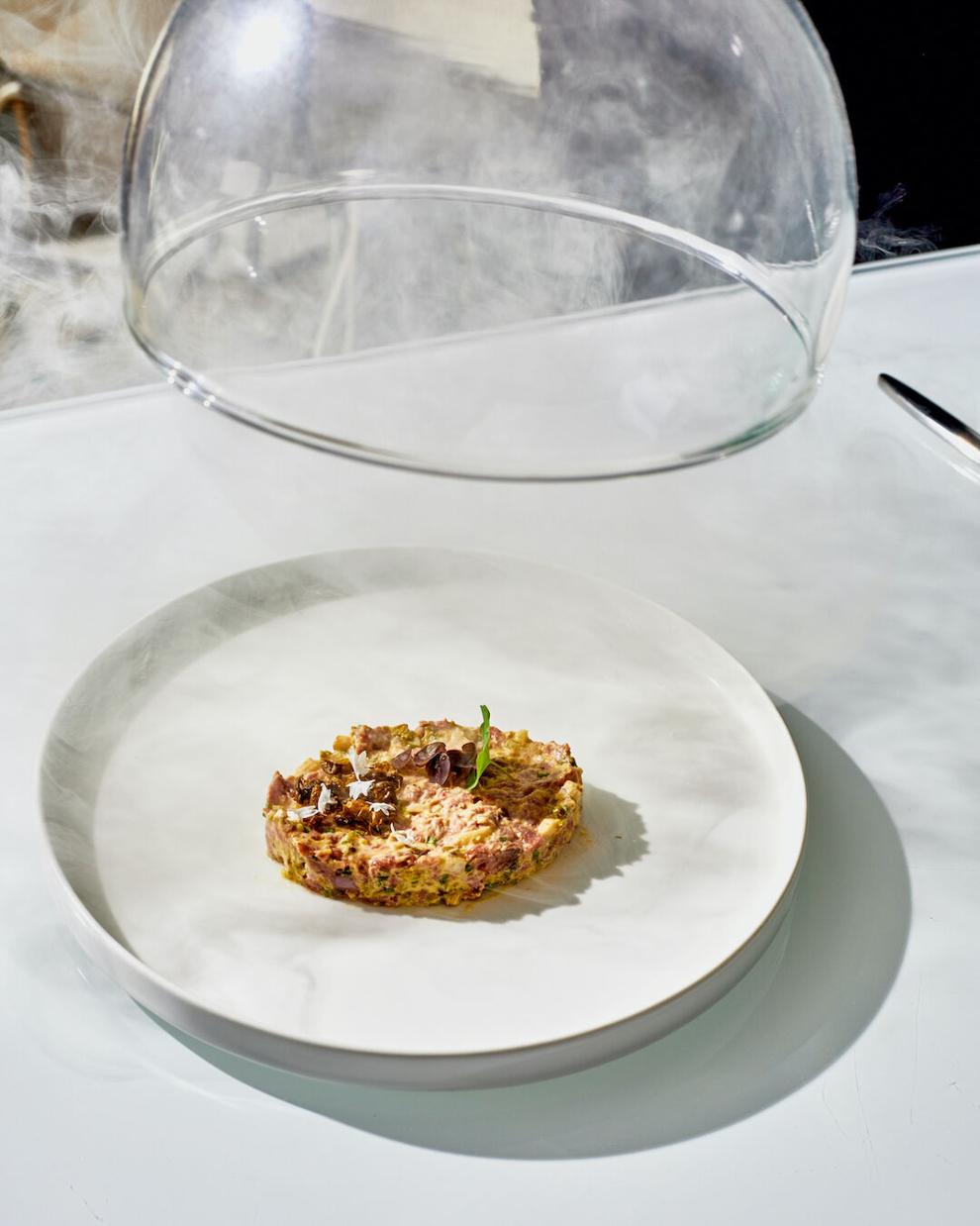 The Mushroom Hub's hen of the woods is on the wedge salad, which lends a strong earthy and peppery flavor and a touch of umami that complements the black garlic ranch. The smoky flavor of shiitake mushrooms in the steak tartare resonates throughout the decadent dish. The Amish chicken highlights different mushrooms as they become available throughout the season, and shaved truffles are a delicate connector between the chicken, sunflower polenta, greens, and jus.
"Our bar program follows Jason's program quite a bit, and we're aiming to get as close to farm to table and farm to bar as we possibly can," says Anthony Escalante, who runs the bar program at Zana. "We meet weekly to talk about all the ingredients coming in and ways we can utilize them both in the kitchen and behind the bar. This creates less waste, more creativity, and an intentional focus on sustainability."
From the local produce to the floral arrangements that garnish Zana's cocktails, the bar highlights fresh ingredients and adds to the bring-the-outdoors-in vibe of the restaurant. Escalante and his team craft in-house infusions highlighted in various menu drinks and cocktail specials. The Spice of Life cocktail is a twist on the spicy margarita and showcases Escalante's capsaicin tincture made with habanero, serrano, and Scotch bonnet peppers. The infusion is blended with 123 Organic Tequila Blanco, French curaçao, and a maceration of turmeric and thyme, and is then spiked with the tincture.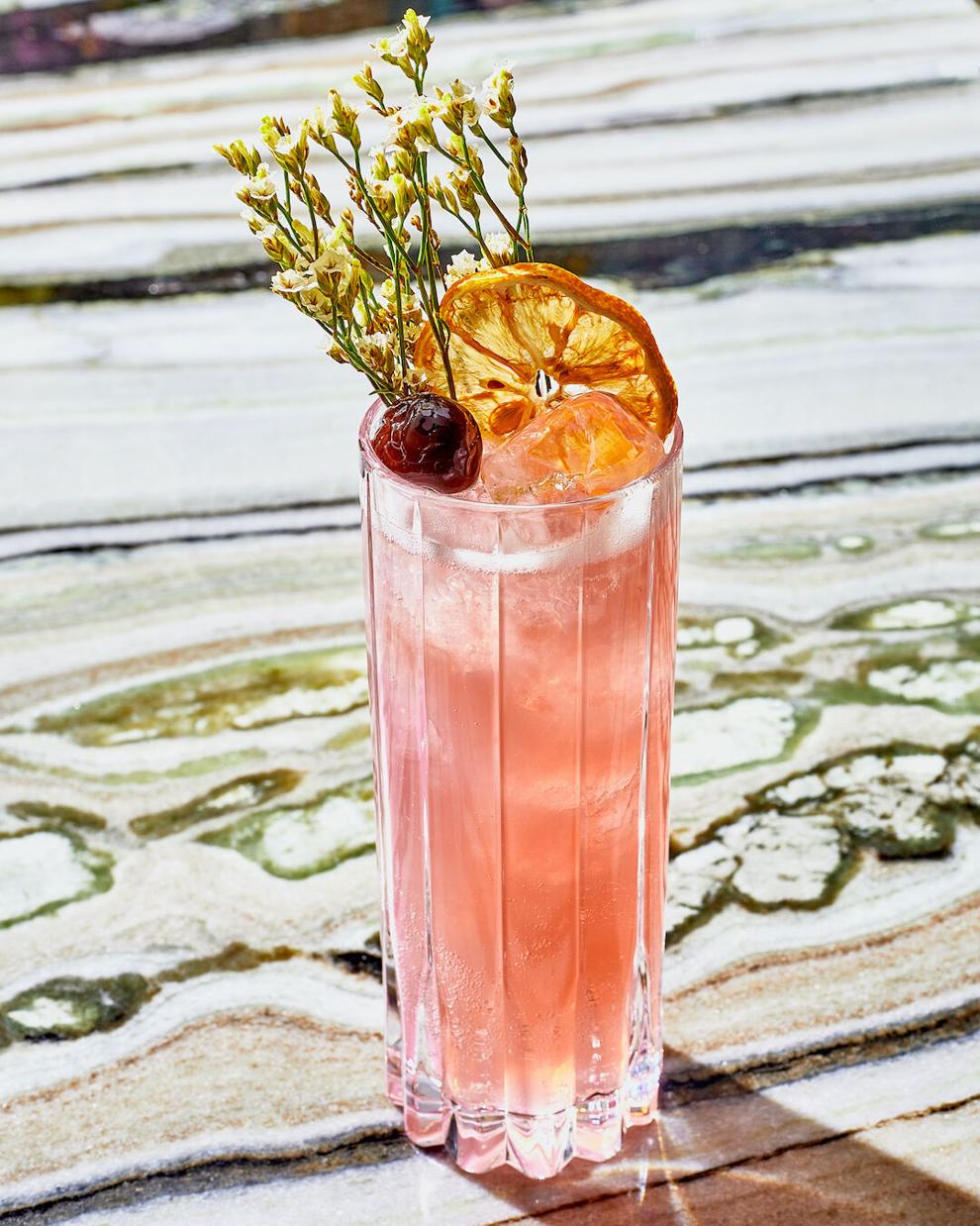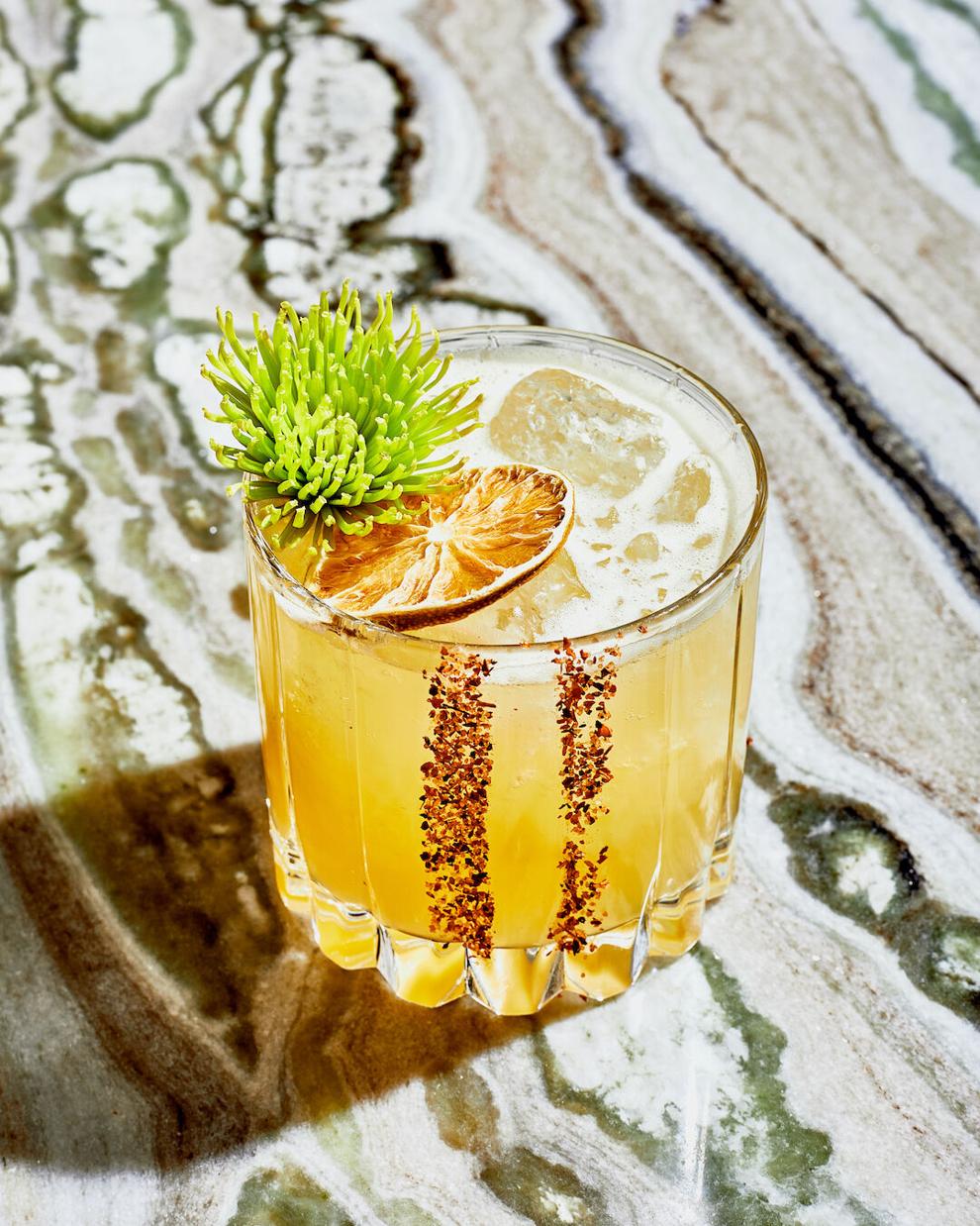 Mirroring the success of sister wine bar Tallulah — which won a 2022 Wine Spectator magazine restaurant award for its wine selection — Zana's wine program holds close to 280 bottles of different varietals from all corners of the world. Temperature-controlled wine cabinets book-end the open kitchen and offer wines from around the globe, focusing on California and Italy.
A private dining room provides groups of up to 16 guests with a more intimate experience without sacrificing the views of the open kitchen and main dining room. Zana also has a banquet facility that seats 135 guests and can be divided into two rooms to fit smaller parties. The restaurant will also be hosting special wine dinners and curated holiday experiences. Zana's website provides information regarding these events, tickets, banquets, and reservations.
Located at 210 S. Old Woodward Ave. in Birmingham, Zana is open 4-10 p.m. Tuesday and Wednesday, 4-11 p.m. Thursday-Saturday, and 4-8 p.m. Sunday.
Want to wow your dinner guests with a delectable dish? Get the recipe for chef Bamford's grilled Spanish octopus with red eye bacon jam, Alabama white sauce, and potato tostones here.