Chef Philip Vernier of Detroit's new comfort-food hotspot Union Assembly, shares his recipe for Charred Scallion Manchego Fritters.
Contributed by Chef Phillip Vernier
Charred Scallion Manchego Fritters
Yields six portions
Equipment needed: large mixing bowl, high-sided medium-large saucepan, fry thermometer, slotted spoon
Ingredients: 
1 gallon canola frying oil
1 cup whole milk
1 pint all-purpose flour
¼ lb. manchego cheese, finely grated
4 eggs
2 oz. charred scallion, minced
2 oz. unsalted butter
2 tsp. baking powder
½ tsp. kosher salt
Directions: 
Place saucepan filled with about 4" high with canola oil on medium heat until it reaches 360 degrees. Once at temperature, reduce to low heat.
Char lightly oiled scallions on a grill or in a hot pan. Set aside to cool. Chop finely.
Combine dry ingredients in mixing bowl and mix.
Combine wet ingredients and mix. Add about ¾ of wet ingredients to dry and begin to mix. Use the reserved wet ingredients to adjust consistency. It should resemble cake batter (or wet spackle for you home renovators).
Use the portion scoop to begin dropping fritters into hot oil. You will need to raise the heat while adding batter as it will drop the heat of the oil. You may add about 10 at a time. Cook until they're rich golden-brown in color and floating in the oil.
Using the slotted spoon, scoop them out of the oil onto paper towel.
Repeat steps 5 and 6 until all are cooked and ready to serve.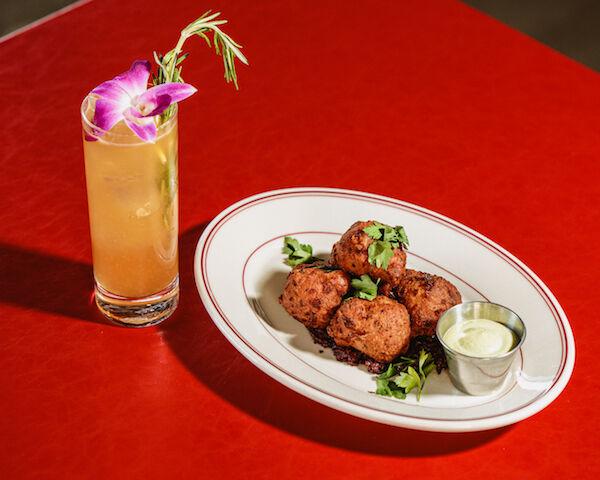 Enjoy! Best paired with your favorite flavored mayonnaise or dipping sauce.
Read more about Chef Philip Vernier in Inside Union Assembly – Detroit's New Comfort-food Hotspot