Chef Hajime Sato makes a splash with Sozai, his new sustainable sushi restaurant in Clawson
By Markham Heid
Photograhy by Rebecca Simonov
Tokyo. Vancouver. New York. Hong Kong. On the world's culinary map, a handful of cities stand out as destinations for world-class sushi. As crazy as it sounds, Clawson may be clawing its way onto — or at least toward — that esteemed list.
The Detroit suburb, already home to award-winning local favorite Noble Fish, recently welcomed Chef Hajime Sato and his newly opened Sozai — a play on the Japanese character for his own name and one that means to create food — to its dining scene.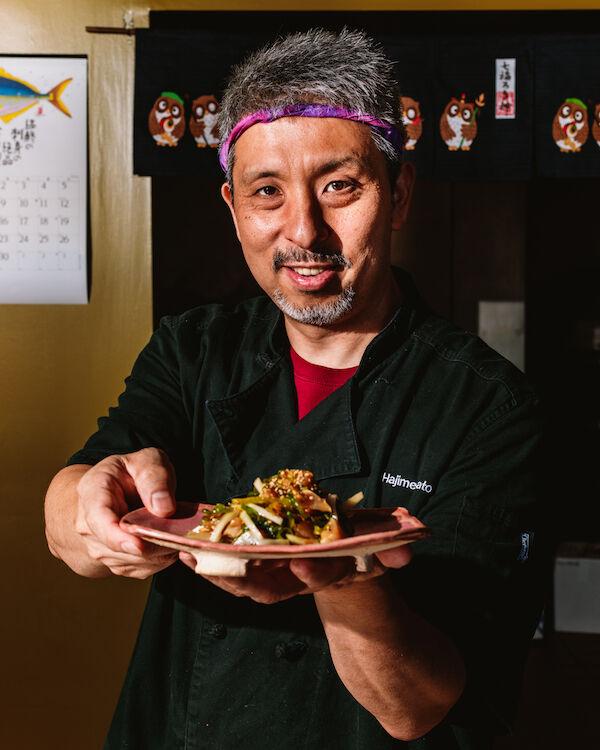 Rebecca Simonov for SEEN
Sato's arrival in southeast Michigan is quite a windfall for local raw-fish fans. Born and raised just outside of Tokyo, Sato, 51, moved to Seattle to attend college. He loved the city and stuck around after he finished school. After working in several of the city's acclaimed sushi restaurants, Sato opened his own, called Mashiko. For 25 years — from 1994 until 2019, when Sato sold the restaurant to some of his employees — Mashiko consistently ranked among Seattle's top sushi spots. In its announcement of Sato's departure, Eater called called him "one of Seattle's best sushi chefs."
Seattle's loss and Detroit's gain were the result of a near-tragic health scare. "We moved here because my wife got breast cancer," Sato says. The couple felt that a cutting-edge treatment called cryotherapy — basically, destroying cancer cells by freezing them — was their best option. It turned out that one of the few doctors in the world who specializes in the procedure for breast cancer is based in Rochester Hills.
The couple first flew to Michigan for treatment in 2018, and in 2019 they resettled in Clawson with their two dogs so that Sato's wife could receive follow-up medical care. "She's doing great," he says. "She's been cancer free since the treatment." He says they chose Clawson primarily because it was close to the health system that cared for his wife, and also because it's very dog-friendly. "I feel like there are more dogs than people here," he jokes.
While he'd looked at other locations for Sozai, including in Ferndale, he says that eventually a perfect spot opened up within walking distance of his house, and he couldn't pass it up. "I actually started looking at spaces in January 2020, but then everything came to a halt after Covid hit," he says. He signed the lease on Sozai last October, and the restaurant was completed in May.
Sato is committed to sourcing only traceable, sustainable seafood — something that only a handful of U.S. sushi restaurants do, he says.
In Seattle, Sato was praised for his commitment to sourcing only sustainable, traceable seafood. He's brought that same ethos to Sozai. "We went sustainable at Mashiko 12 years ago, and even now, there are probably still only 10 sustainable sushi restaurants nationwide," he says. "It's really unfortunate." Give him an excuse, and he will talk for hours — passionately, often bluntly — about the problems with the global fishing industry and the practices that go on behind the scenes in many sushi restaurants.
"It starts with traceability — where does the fish come from," he says. Many popular species of fish served in sushi restaurants are typically raised or caught using methods that pollute the oceans or threaten its ecosystems, he explains. Some of these species are endangered. He says others tend to be pumped full of antibiotics or fed massive quantities of smaller fish like sardines or plank-ton — a method of fattening up fish that he calls unnatural and wasteful.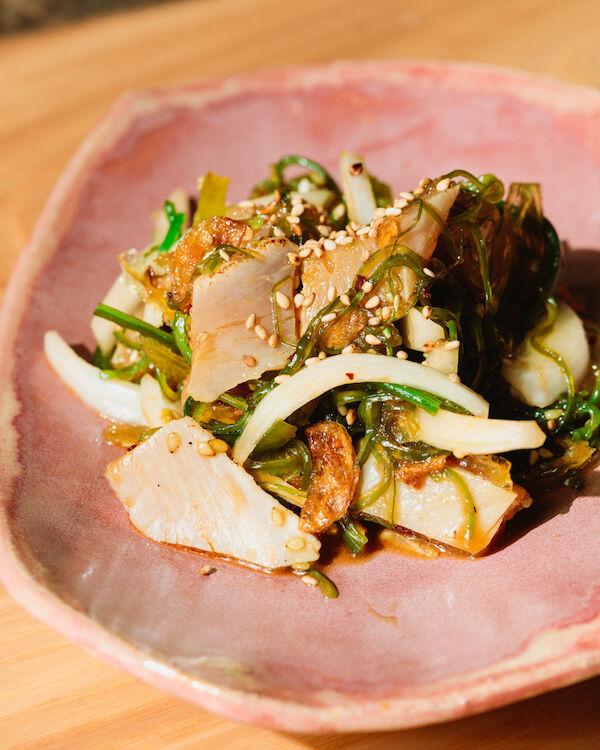 "Some people say there's no sustainable seafood, period, and we should all go vegan. I'm fighting that because I think there are good sustainable fisheries out there, and things we can do to limit the environmental impact of eating sushi."
Sustainability aside, Sato says the health of his customers is also a priority. "About 80 to 90 percent of farm-raised salmon or tuna, I'm not even going to touch it," he says. "You see this really bright-colored tuna that's been refurbished with carbon monoxide, and we're one of the only countries that allow that." Canada, Japan, and the Euro-pean Union outlaw the practice because it may disguise spoiled fish, which are a common cause of food poisoning in the U.S.
"Some people say there's no sustainable seafood, period, and we should all go vegan. I'm fighting that."— Hajime Sato
To overcome these obstacles, Sato has gotten creative with his menu. For example, his "Michigan Roll" features Great Lakes walleye. "I like to use local fish whenever possible," he says. He also sometimes serves carp, catfish, and other abundant invasive species. Still, many of his customers want the classic tuna and salmon. His solution is to buy only the freshest, sustainably sourced fish from certified suppliers or, in some cases, direct from sustainable fisheries, even if that dedication comes with a cost. (On the menu as of this interview: Coho salmon from Alaska and albacore tuna from the Pacific Northwest.)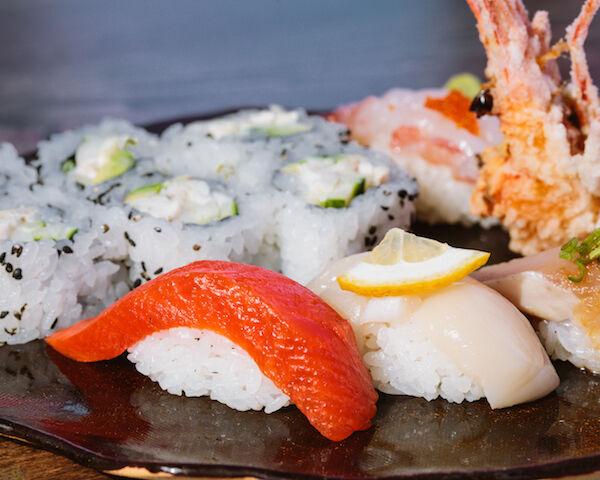 Rebecca Simonov for SEEN
"For some tuna, my cheapest cost is $25 to $30 per pound, versus the $5-per-pound others pay for this inferior tuna," he says. Still, he's willing to make such sacrifices for the greater good. "His dedication to sustainable sourcing and true determination to make a difference in a big picture with small, thoughtful actions radiates through his work," says Chef Brittney Payne, who worked for Sato at Mashiko in Seattle. "He truly believes in food as a way to create and evoke real emotions — not just offering the same thing created in the same way, but capturing a feeling in each iteration of a dish.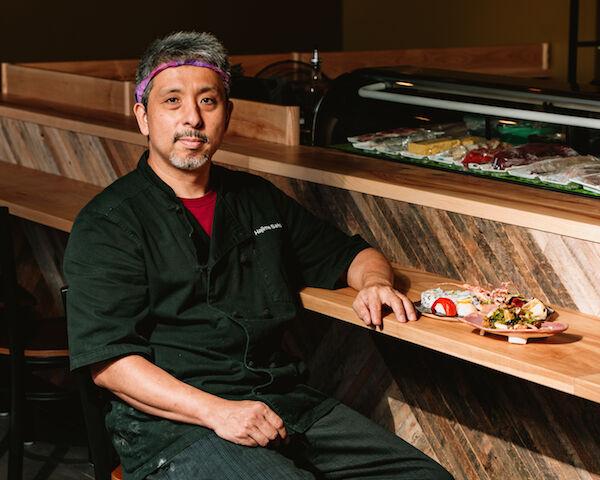 Food isn't the only thing on offer at Sozai — there's also lots of sake. Sato is certified by Japan's Sake Services Institute (which accredits sake sommeliers), and when it comes to sake, he is, once again, pleasantly plainspoken. "People think sake is bad because most places serve cheap crap," he says. "Good sake is like good wine — there are a lot of factors to consider. That's why you need the guidance of an expert." Metro Detroit is lucky to have one in Sozai where both sake and sushi are concerned. "[He has] a genuine passion for creating meaningful dialogue with food, both with flavor and substance," Payne says. "I'm truly excited to see his vision for Sozai come to fruition."
Sozai
449 W 14 Mile Rd,
Clawson, MI 48017
Hours: Tuesday – Thursday 5:03 pm – 9:00 pm, Friday and Saturday 5:03 pm -10:00 pm, Closed Sunday and Monday