The Henry Ford's annual holiday meals give diners a taste of history with dishes from the 1800s. Executive Chef Eric Shilbe takes SEEN into the kitchen and shares what it's like to recreate 19th century delicacies.
By Dorothy Hernandez
Photography by Derrick Martinez
For many people who celebrate the holidays, the meals are some of the most memorable — and stressful. From making sure the rib roast is cooked perfectly to making cookies just like Grandma, the pressure is on to pull off the perfect meal for a gathering of 20.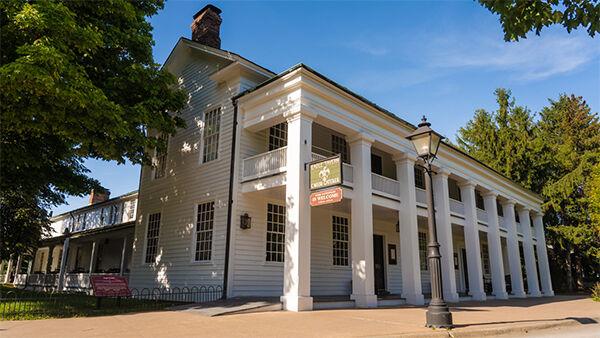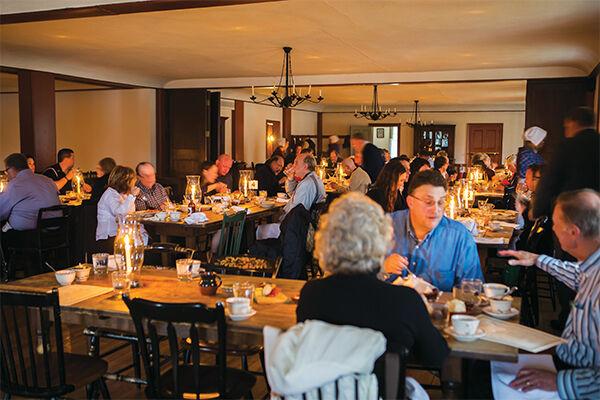 Try doing that times 360. But for Eric Schilbe, executive sous chef at The Henry Ford, it's just a part of the job, a challenge he fully embraces. Every year, he creates festive feasts rooted in history and tradition for the 7,200 guests who come to The Henry Ford's sold-out Holiday Nights dinners throughout December.
Figuring out how to execute these meals without a hitch suits him. Following in the footsteps of his father who was an engineer at Ford, Schilbe studied engineering in college. He describes his mindset as analytical and straightforward, a mentality that works well under the pressures of a kitchen. Then he decided to change gears.
"During my second year of college I wanted to do something that I truly enjoyed," says Schilbe, 44, of Livonia. He also wanted to create something for people to enjoy. So he made the switch to study culinary arts and went to Schoolcraft College. While there he met famed local chef Brian Polcyn and did an unofficial apprenticeship with him. After graduating, he worked at Polcyn's now-closed but beloved Five Lakes Grill in Milford as well as top local restaurants such as Steve and Rocky's.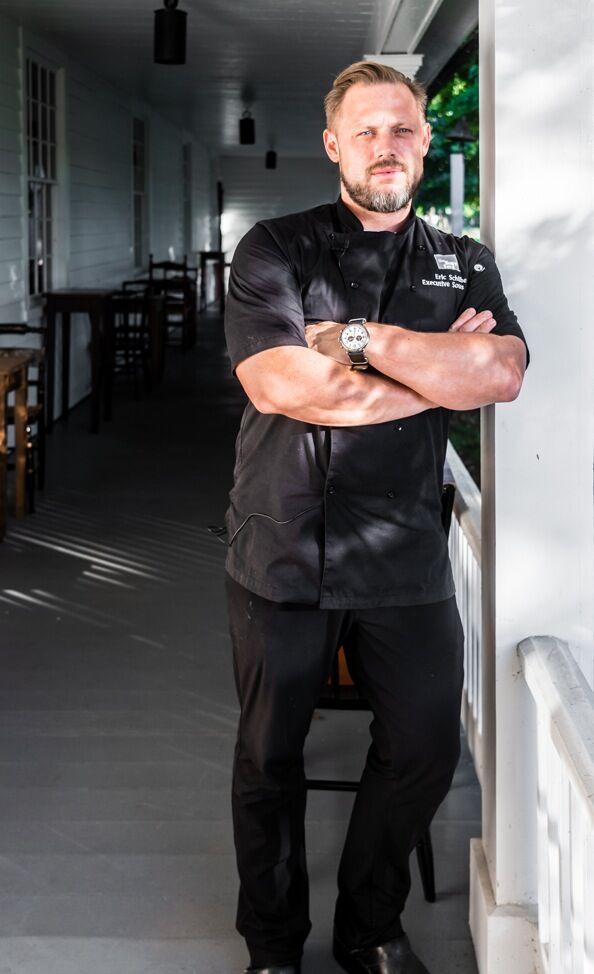 Even though Schilbe never did end up going into engineering like his dad, in a way, things have come full circle for him as he now works at The Henry Ford — not far from the automaker. Schilbe came to the museum in 2015, combining his culinary arts experience, analytical mind and appreciation for history in his role as executive sous chef at The Henry Ford, overseeing not just the meals at the restaurants but also events.
To recreate what people would eat in the 19th century in Michigan, before a potato is peeled or prime rib is roasted, a lot of research goes into it.
As a museum curator, specifically in the area of domestic life, Jeanine Head Miller says she and her fellow curators are responsible for collecting information that tell stories to the museum's visitors. The team will pore through merchants' records and travelers' accounts to see what people ate in taverns. Guides for immigrants who came to America, newspaper ads and cookbooks like "The Kentucky Housewife" also all help inform The Henry Ford's meals.
Courtesy of Doug Coombe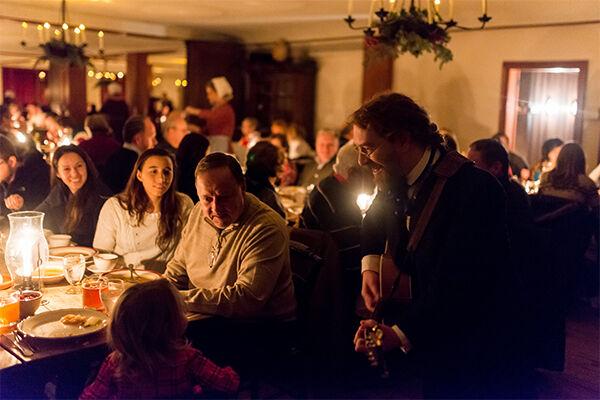 Courtesy of Doug Coombe
Ingredients are seasonal, local and accurate for the time period, Head Miller says. And even ingredients that weren't local are still historically accurate.
"There was a train that went through Tecumseh, a few miles south of Clinton. So that was a way to get ingredients like oysters that you would obviously not (harvest) locally," she says.
Schilbe and his team take a look at the research and ingredients to create the menu. From there, Head Miller and Schilbe will work together to fine tune the menu.
"Eric is well versed in the historical background of the kinds of foods that would be served," she says. "He takes his creativity and puts it within the recipes that would have been popular and available back then."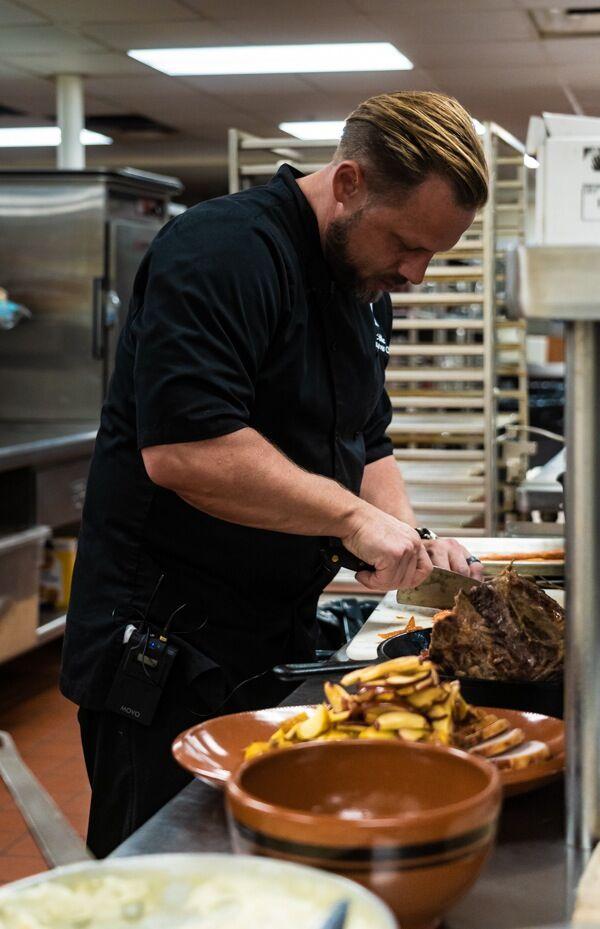 Like any good holiday meal, the favorite dishes won't dramatically change, but Schilbe says he tries to freshen things up every couple years. In addition to the dinners, there's also the holiday happy hour every night, which Schilbe describes as a "fun little party" compared to the big holiday tavern meals. Set in a 1960s den or basement-type atmosphere complete with shag carpets, happy hour offers dishes that reflect a more modern approach but still pay homage to local and seasonal ingredients, with dishes such as smoked Gouda mac and cheese, turkey with local sausage and cranberry relish, and maple bacon doughnuts.
This year's Eagle Tavern dinner menu features freshly baked breads and muffins, squash soup (a perennial favorite), chicken, roasted beef with gravy, pork and stewed apples, and honey ginger cake for dessert.
The dinners are meant to be an immersive experience, transporting people back to Michigan in the 1850s. And it's quite the production.
"It's amazing to see how people react to what we do (at Eagle Tavern)," Schilbe says.
"We're kind of on stage every night," he says, "every time we send out a plate that adrenaline (kicks in)."
When you're serving 7,200 people over 18 dinners, an adrenaline rush is inevitable, whether it's 1850 or 2019.
Smoked Gouda Mac and Cheese and Cipollini Onion Jam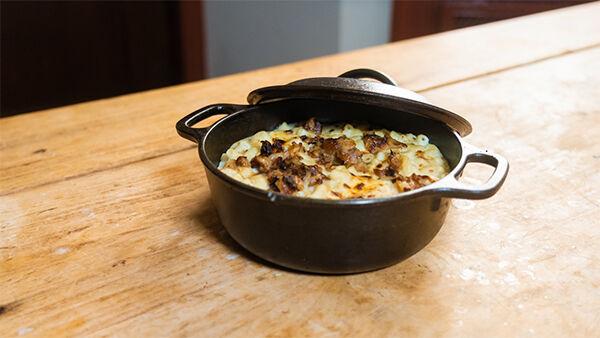 Serves 8-10
(Editor's note: This recipe is not available during the Eagle Tavern holiday meals, but it is available during happy hour every evening.)
1 pound cooked elbow macaroni
1 cup Spanish onion, medium dice
8 ounces whole butter
7 cups whole milk
8 ounces smoked Gouda
Salt and pepper to taste
Directions:
Melt butter in cast iron pan. Slowly whisk in flour and cook gently until light brown. Slowly add milk while whisking and bring to a simmer.
Add macaroni and bring back to simmer.
Mix in smoked Gouda and some onion jam.
Bake at 350 F until golden brown.
Garnish with onion jam.  Note: Adding chopped bacon is always a great option too!
For the onion jam
1 pound peeled Cipolinni onions, can substitute any sweet onion
4 ounces butter
3 tablespoons peeled garlic
Directions:
Add onions, butter and garlic to a baking dish with a lid. Bake 325 F for 2-3 hours, stirring often. Once tender, golden brown and caramelized mash the onions to a paste. Reserve to garnish mac and cheese. Note: This is very tasty on almost anything.
Eagle Tavern at The Henry Ford
313-982-6001