Chef Colin Brown has cooked for a Duke and Disney World visitors, but takes the most pleasure in cooking for guests at the Royal Park Hotel.
By Dorothy Hernandez
Photography by Viviana Pernot
Chef Colin Brown has traveled all over the world, from working for the Duke and Duchess of Devonshire to cooking in kitchens in Thailand.
Throughout his career, he's moved from kitchen to kitchen, many headed by top chefs, including those with coveted Michelin stars. So when Brown, who's from Scotland, came to the Royal Park Hotel in Rochester after six years at The Townsend Hotel in Birmingham, he thought he would stay a year or two. Thirteen years later, he's still there.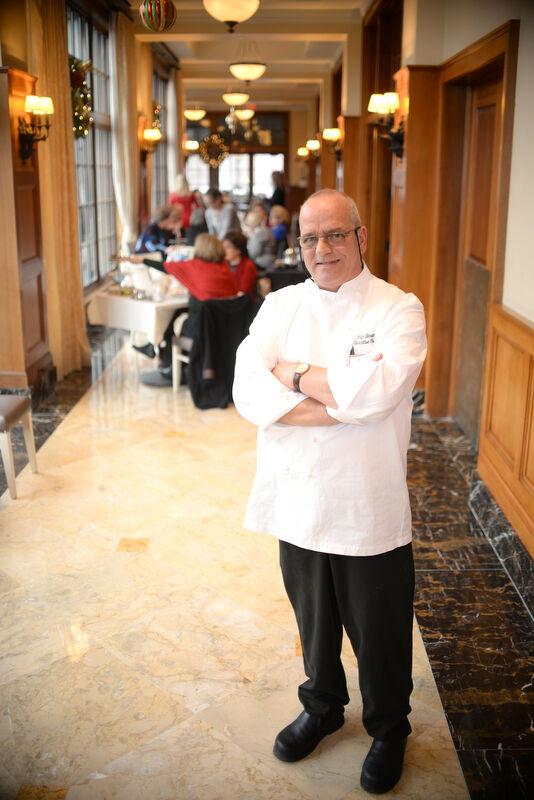 About three years ago, Brown had a vision to transform the hotel's restaurant, a formal French cuisine establishment, into what would become Park 600 Bar and Kitchen, a more casual spot with a locally focused eclectic menu. The restaurant was successful, Brown says, but as a fine dining restaurant where Dover sole was sold tableside, he wanted to make it more than a special occasion place with a hefty price tag — and bring it out of a "time warp."
"One of my visions here was to have a focal point for the hotel and our guests and try and make it part of the community where (patrons) would want to come more often," Brown says. "We'd see people once a year, they (would) come for a special occasion. … We wanted to make it more approachable."
He also wanted to focus on local products and farmers. More than 60 percent of the menu is locally sourced, Brown says. He tries to source as much as he can in the community that Royal Park Hotel calls home, such as purchasing from The Cheese Lady and The Give Thanks Bakery. Popular dishes feature shrimp from an Okemos farm and trout from Indian Brook farm in Jackson.
One of the biggest changes of the restaurant was bringing in a marble bar and pizza oven. That investment paid off because 90 days after the restaurant opened, Brown says they had paid for the oven. That first year they sold 25,000 pies, Brown says. The pizza dough is proofed for 72 hours, resulting in a crisp and flavorful crust, and is topped with housemade cheese blends and top-notch pepperoni. The focus is always on the quality, Brown says.
The restaurant had always sourced locally, but Brown wanted to embrace that philosophy more and "tell a story of why."
"People want to know where food comes from, so that was one of our big beliefs," Brown says.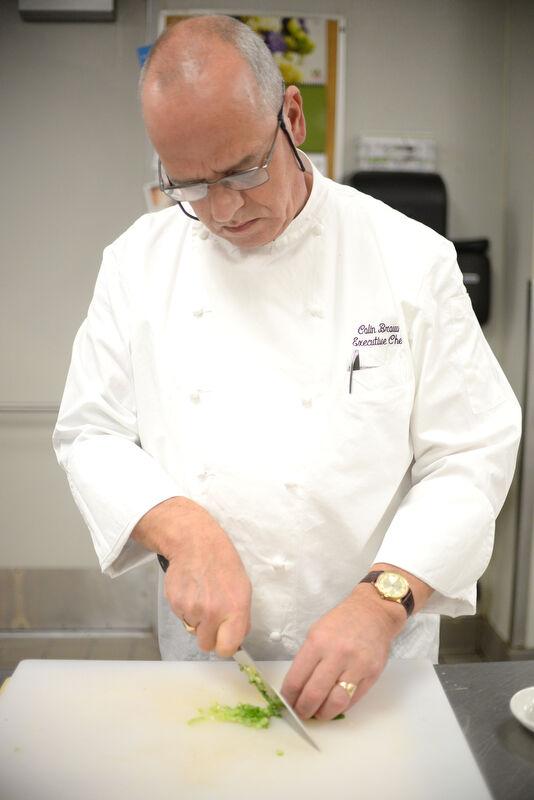 Part of that story is expanding Park 600's cocktail program. Brown recently traveled to Mexico to visit the Patrón facility in Guadalajara where Brown tasted tequilas before hand selecting a barrel for the 2018 Chef's Collaboration Patrón tequila that has Brown's name on it.
Food and drink should "marry together," Brown says. After that trip, he came back with not just the tequila but also a new cocktail recipe for the "Dancing Bee." Brown and his team also went to Kentucky to select bourbon for the restaurant.
Brown, 53, of Auburn Hills became interested in the culinary arts when he was a teenager. One of his cousins was a chef and worked on the Queen Elizabeth 2. His cousin traveled around the world on the cruise ship and would bring mementos back, and that intrigued him, Brown says. He admits he hated school — he would rather play rugby or row — but he had the opportunity to work in a small country house hotel that paved the way for a long and successful career in the culinary arts, including working for the Duke and Duchess of Devonshire at the Devonshire Arms Hotel in England, as executive chef at Hotel d'Angleterre in Switzerland and then specialty chef at Walt Disney World.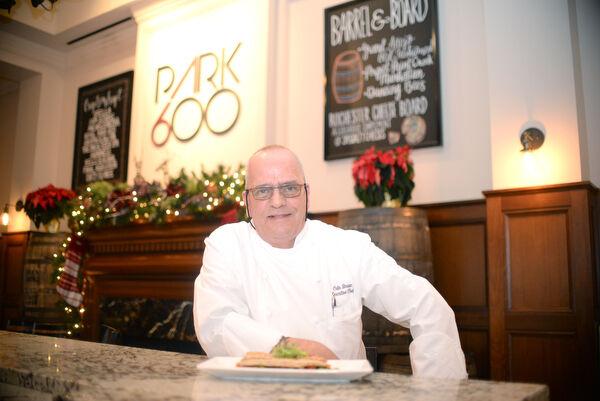 After traveling the world, he's happy to put down roots here and pass on the culinary knowledge he's gleaned.
"I get to tell (younger chefs) that story and show them what I learned," Brown says, adding it's an exciting time to be in Rochester. "The downtown has really come along, (grown in) leaps and bounds in the last four or five years and really has become a destination that people want to come to."
Sesame Seared Local Indian Brook Rainbow Trout with Winter Vegetable Ratatouille, Cabbage Fondue, Spiced Jus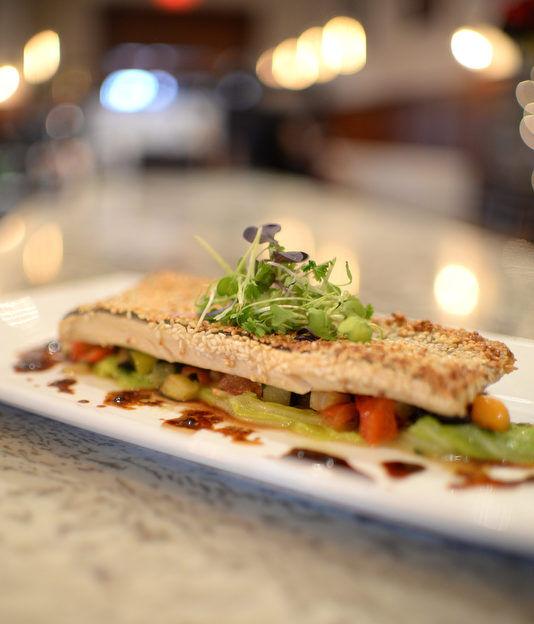 Serves 4
Rainbow Trout
2 egg yolks
Ground cayenne pepper
Salt and ground pepper
Four 5-6 ounce rainbow trout filets*
¼ cup sesame seeds
*Salmon may be used in place of trout.
Place the eggs yolks in a bowl and whisk lightly. Season with cayenne pepper, salt and pepper. Brush the skin side of the trout and sprinkle with sesame seeds. Press gently to help the sesame seeds adhere. Place on a sheet tray and cover. Refrigerate.
Winter Vegetable Ratatouille
¼ cup extra-virgin olive oil, plus more if needed
¼ eggplant, diced
¼ butternut squash, peeled and diced
½ onion, diced
½ red pepper
½ yellow pepper
½ zucchini, diced
2 vine ripe tomatoes, diced
2 cloves garlic
1 sprig thyme
5 fresh basil leaves
Salt and freshly ground pepper
Heat 2 tablespoons of the olive oil in a shallow saucepan until medium hot, add the eggplant and cook for 2-3 minutes, stirring continuously.
Remove with a slotted spoon, and drain on paper towel.
Repeat above process with the butternut squash, then onions, peppers, zucchini and tomatoes. Add garlic and continue to cook for 1 minute. Add more oil if necessary.
Remove the pan from the heat, and return all vegetables. Pull the thyme leaves, pick the basil and scatter over the pan. Season with salt and pepper, set aside.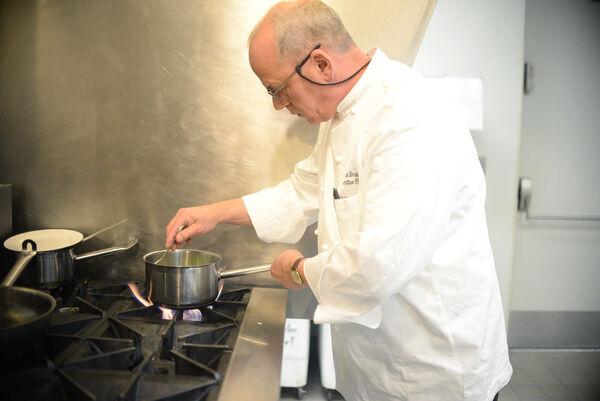 Cabbage Fondue
1 head of savoy or Napa cabbage
1 green onion, finely chopped, including the stem
1 tablespoon extra-virgin olive oil, plus another tablespoon
Salt and ground pepper
2 ounces vegetable stock
¼ stick unsalted butter
Bring pot of salted water to a boil.
Remove and discard the outer leaves of the cabbage. Separate remaining leaves.
Once the water is boiling, blanch the cabbage leaves for 1 minute, remove and refresh in ice water. Cut out the large central ribs, drain leaves and press between your hands to eliminate all the water.
Place green onion in a sauté pan with a tablespoon of olive oil, and cook over medium heat until translucent.
Add the cabbage leaves, and season with salt and pepper. Add the vegetable stock and butter, and continue to cook until the cabbage is tender and melting. Remove from heat, and set aside.
Spiced Jus
½ tablespoon olive oil
1 shallot, finely chopped
1 teaspoon harissa spice
¼ cup red wine
1 tablespoon balsamic vinegar
2 tablespoons soy sauce (low sodium)
1 tablespoon cornstarch if necessary
Heat the oil in a saucepan to medium heat. Add shallot to the saucepan and cook until translucent. Add the harissa spice and remaining liquids to the pan. Increase heat and reduce until liquid starts to thicken. Note: Be careful not to let it reduce too much, as it will burn.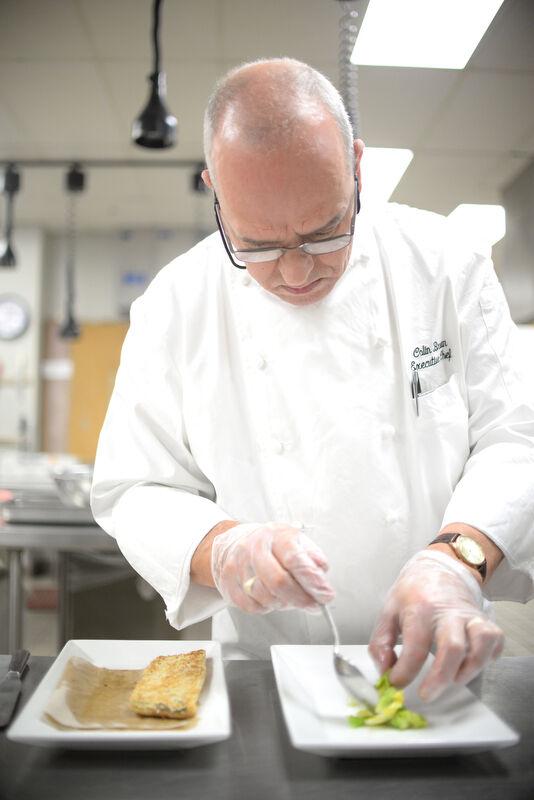 Assembly
Reheat cabbage, ratatouille and sauce.
Remove trout from refrigerator. Heat 2 tablespoons of olive oil in a nonstick skillet until hot. Add the trout skin side down, leave to color for 1 minute, turn over and cook for 40 seconds on the other side or until firm. Remove from skillet and drain on paper towel.
Place the cabbage in the center of the plate. Top with vegetables, place fish on top, drizzle the spiced jus over the trout and enjoy!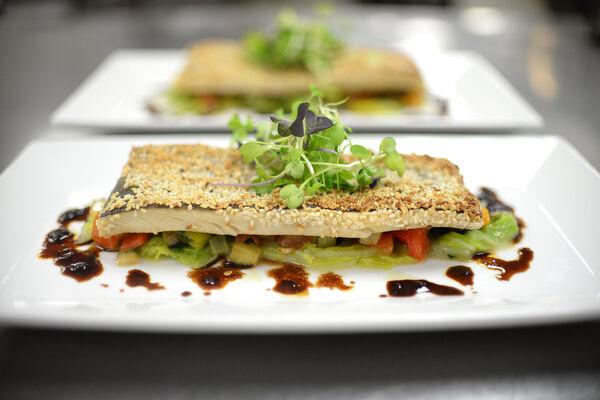 Park 600 Bar and Kitchen
600 E. University Drive, Rochester
248-652-2600