Any way you slice it, Rubina Kurdian, executive chef of Mootz Pizzeria is putting a new spin on pizza. She takes SEEN inside the Mootz kitchen and shares a delicious pizza recipe.
By Dorothy Hernandez
Photography by Viviana Pernot
Doing pizza in the land of Detroit-style pizza where there is no shortage of pies is bold. Doing non-Detroit-style pizza is even bolder. Recently, Chicago-style pizzeria Giordano's folded in downtown Detroit, where Mootz Pizzeria opened up shop earlier this year. The pizzeria on Library Street dishes up New York thin crust pizza where Detroit square pizza reigns, so it's always going to be an uphill battle with diehard square pizza fans.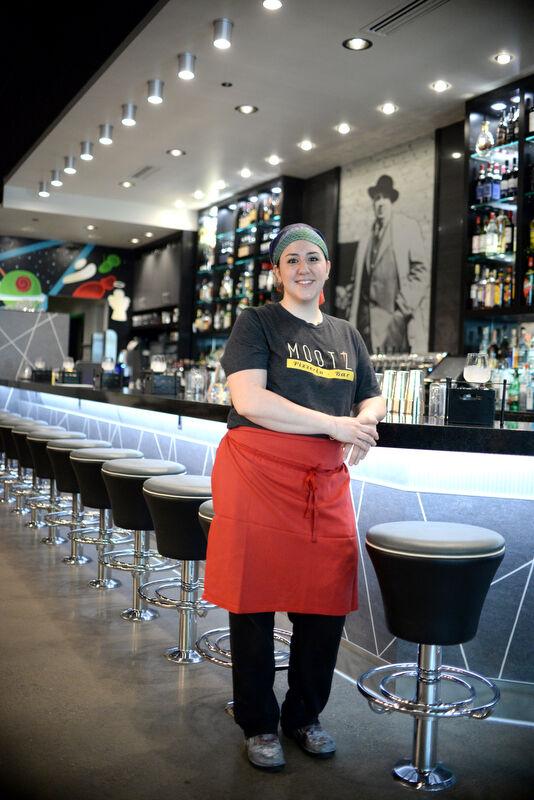 But Mootz Pizzeria and its executive chef are up to the challenge, with nontraditional pizzas such as the Juliet, with prosciutto, fig jam, gorgonzola, "mootzarella," balsamic glaze and green onions, as well as traditional pies like the Margherita with tomato and basil (with Mootz touches). Or the Breakfast of Champions Pizza Pie, with bacon, onion, peppers, baked egg, potato and sausage gravy. Salads go beyond the staples such as chopped; here, the Mediterranean Tomato comes with stuffed grape leaves, made by the executive chef herself.
"I handmake the grape leaves and (operating partner) Tony (Sacco's) told me a couple times people that are Middle Eastern or from the Mediterranean, they try it and they're like, 'Wow, this is almost better than my grandma's grape leaves.' Every time I hear a compliment about the grape leaves, it definitely hits a soft spot," says executive chef Rubina Kurdian. Kurdian, 26, who hails from Commerce Township, grew up with traditional Middle Eastern foods and making manti dumplings, which are stuffed with ground beef in a tomato broth, with her close-knit family.
Her parents immigrated to America from Lebanon at a young age. Having learned how to make a lot of Armenian foods, she's brought some of that culture to Mootz. She also boasts an impressive resume of fine dining, including working closely with James Beard nominee Jacques Van Staden, whose Las Vegas restaurant Alize won a Michelin star under his watch. He was also the former executive chef at Bistro Joe's in Birmingham. Before taking on the job at Mootz Pizzeria, she worked with Van Staden as a consultant on Princess Cruise ships, helping to elevate the cruise ship fare for travelers heading to Belize, the Caribbean and Mexico.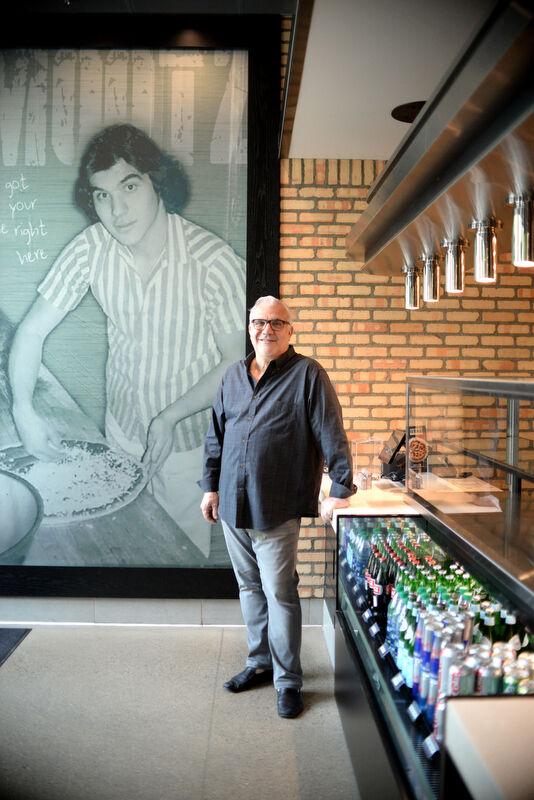 But after six months, home was calling her back and she returned to Michigan. She applied for a personal chef job with Tony Sacco, who owned and operated pizzerias in Monroe County. Born and raised in Detroit, Sacco, 66, had just moved back to his hometown and was exploring a new restaurant enterprise with his son, who works at Quicken Loans. The personal chef gig didn't pan out, but when it came time to hire an executive chef, Sacco knew who he wanted to helm his new restaurant.
Bedrock was looking for more unique concepts, Sacco says, and along with his partners Dean and Lisa Walters and his son, Nick, and Jason Pace, his boss and regional vice president at Quicken Loans, as investors, they came up with the idea to open a New York pizzeria.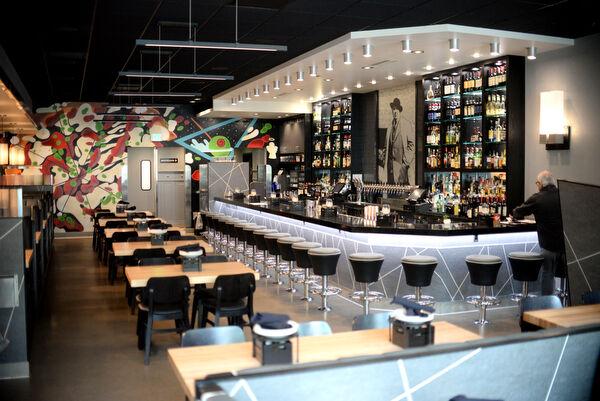 "Pizza's always been my passion," Sacco says. At 10 years old, he started making pizzas in his aunt's basement, and his first job was working in a pizzeria in 1968. He went on to run pizzerias in Monroe County as well as a diner and sports bars. Mootz is a culmination of his experience combined with his vision of what he's wanted to do with food, he says.
"I've been doing pizza all my life, but I wanted to elevate my game. You got to do something really cool 'cause you got a lot of competition out here (in Detroit)," Sacco says. He brought in a friend, Bruno DiFabio, whom Sacco describes as a "pizza geek," to help open Mootz and train the staff on the fine art of New York pizza making.
At Mootz, the dough process starts with a mother dough that ferments for 18 hours, Kurdian says. It's a two-step process that's time intensive and laborious. It proofs for three days, and the result is a crisp, airy crust, perfect for folding.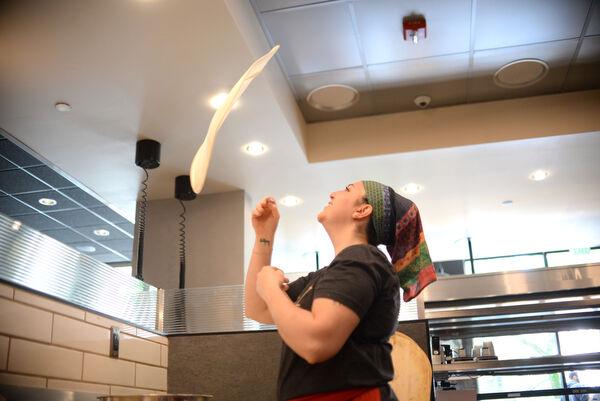 "On a Friday (or) Saturday night we use about 35 to 40 trays of dough, and each tray holds eight pieces of dough. So we're running through a good 300 pieces of dough on a Friday, Saturday night," Kurdian says.
While the pizzas were pretty much set when she came on, she has flexed a lot of her creative muscle and showcased her high-end background on the brunch menu as well as dishes such as the Truffled Bumblebee — whipped sheep's milk ricotta, honeycomb, fig, truffle honey and Tony's bread — and the Gemelli Pasta, with truffle cream sauce, wild mushrooms, spinach and pancetta.
But for all the premium ingredients and interesting flavor combinations, the most popular pizza among kids and adults is cheese.
"If I could choose to have any slices from our slice window, I always go for the cheese pizza," Kurdian says.
Innovation is always good, but sometimes nothing beats a slice of plain old cheese pizza.
Starry Hope Pizza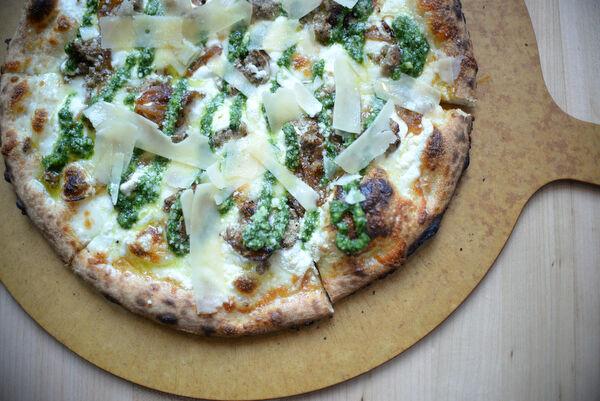 9 oz. pizza dough
4 oz. shredded mozzarella
2 tbsps. caramelized onion
4 oz. ricotta cheese
Cooked meatballs
4 oz. pesto
1 tbsp. shaved Parmesan cheese
1 tbsp. grated pecorino
1 tbsp. olive oil
Stretch pizza dough. Top dough with cheese, caramelized onions, dollops of ricotta, and meatballs. Bake to perfection at 400 F for 20-25 minutes or until golden brown. Garnish with pesto drizzle, shaved Parmesan, grated pecorino and a drizzle of olive oil.
Mootz Pizzeria
1230 Library St., Detroit
313-243-1230