At Ann Arbor's Miss Kim, Ji Hye Kim puts a modern spin on traditional Korean food — and earns a James Beard nod in the process
By Dorothy Hernandez
If it weren't for really good cheddar cheese from Zingerman's, Ji Hye Kim might not have changed careers to own a restaurant.
Today Kim, 42, of Ann Arbor is chef and managing partner of Miss Kim, a modern Korean restaurant under the umbrella of Zingerman's Community of Businesses. In February, Kim's fresh take on Korean food — which also nods to the country's history and culinary tradition — scored a semifinalist nod from the acclaimed James Beard Foundation. (As of press time, the awards have been postponed due to the COVID-19 pandemic.)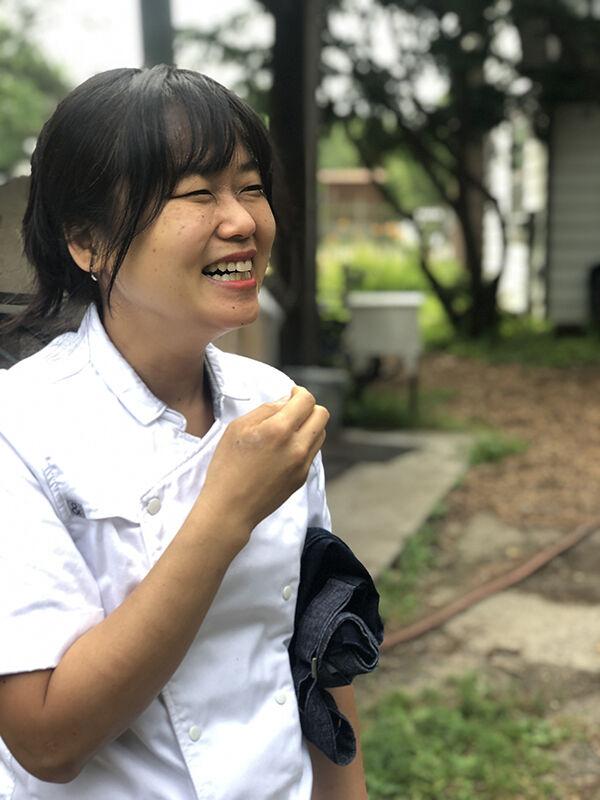 Kim opened her restaurant in 2016, but her path to becoming a chef was set in motion in 2007. Back then, Kim had recently quit her job in hospital accounting because she found the work unfulfilling. With her then-husband, an architect and teacher at the University of Michigan, Kim would often attend dinner parties, where she "would find the subject of architecture, or academia really boring," she recalls. "But they always had good food. I [thought] I can actually have a great time as long as I have good food."
And these parties always had really good cheese. At one get-together, the host told Kim the cheddar was from Zingerman's, so she went to the Ann Arbor deli and bought some. Kim, who was looking for a job at the time, was so intrigued by the company's culture and employee-friendly practices that she decided she wanted to join the team. In 2008 she took a 90% pay cut from her previous job — which focused on doing accounting for small hospitals — to work in the deli.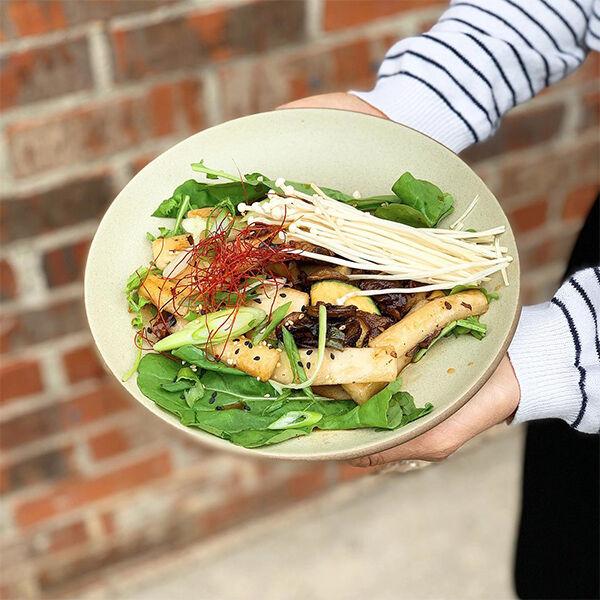 Via Miss Kim Facebook
Via Miss Kim Facebook
Despite her lifelong love of food, Kim, who grew up in the suburbs of Seoul, South Korea, didn't plan on joining the restaurant world. "The last thing I wanted to do was work in the food industry because I saw how hard it was," she says, adding that when she was 13 her family moved to New Jersey, where her aunt owned a Korean restaurant.
Still, she worked her way up the ranks at Zingerman's, making her way to the prep kitchen and sandwich line. (She also worked at Zingerman's Roadhouse as a line cook.) In 2011, backed by Zingerman's "path to partnership" program (in which employees can become a partner in one of the company's businesses or launch their own), Kim co-founded an Asian street food cart and quickly racked up accolades for classics like Asian buns.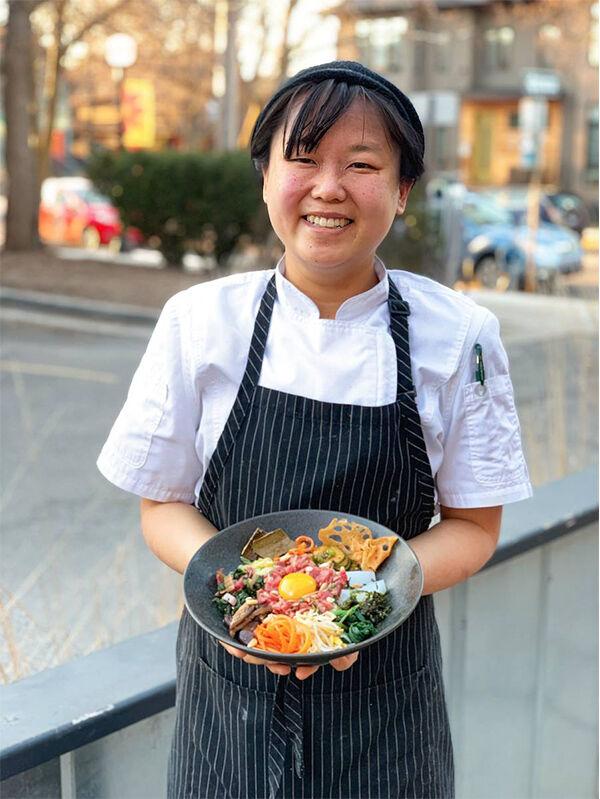 Via Miss Kim Facebook
When it came time to open her own restaurant, Kim drew on her experiences working in health care, a job that gave her freedom to create systems, hire people and design processes. "Having that freedom, I felt very empowered," she says.
Miss Kim is "as much as a Korean restaurant as it is a Michigan restaurant," says Kim, adding that her two biggest inspirations are culinary traditions from her native country and seasonal products. The menu changes often, mirroring the seasons and what she can get from local purveyors, but some staples include Korean fried chicken and tteokbokki, chewy rice cakes.
The latter dish is a prime example of how Kim melds her two inspirations: "I added personal touches from my experience eating it as a child on the street in Korea and then some Michigan produce," she says. "All these things are coming together on a plate, and it makes a one-of-a-kind concoction."
MyThy Huynh, of Detroit, is an ER nurse by day and pop-up chef by night. She's collaborated with Kim on two dinners at the restaurant, and as someone who puts her own spin on dishes from her Vietnamese and Chinese upbringing, she digs Kim's approach. For example, Huynh always thought kimchi has to be made from napa cabbage but Kim will make the dish out of strawberries, apples — whatever is in season.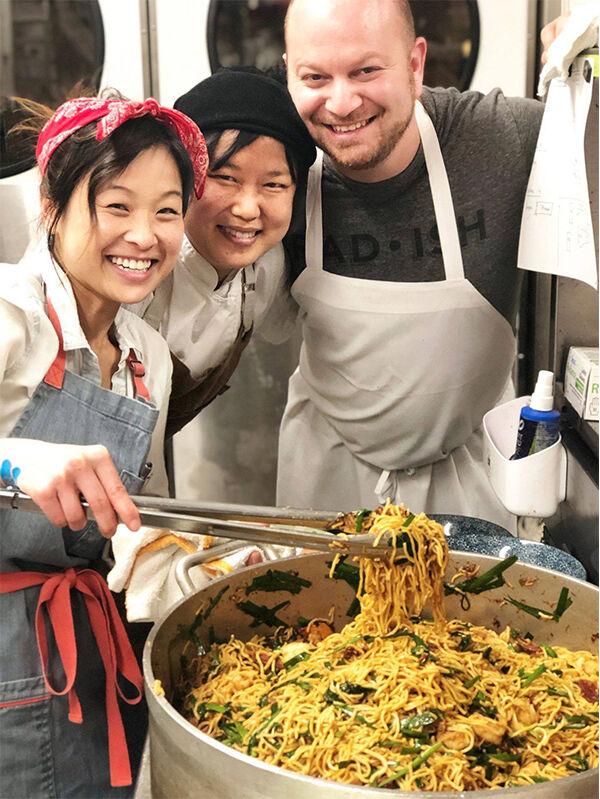 "She taught me how to see Michigan produce, using what's seasonal and local, in your cuisine," Huynh says, adding plenty of chefs use those buzzwords but Kim actually embraces that method.
As much as possible is made in house, including two to three kinds of kimchi every day. Even the soy sauce is homemade when it's feasible.
Despite her efforts, Kim has drawn criticism from people who claim her food isn't Korean enough. "Sometimes [a customer] will say, 'This is not how my mom makes things,'" she says. "And I tell them I cannot compete with your grandmother's cooking. It doesn't make my experience and my inspirations and my interpretations invalid."
These days Kim's biggest challenge is navigating the impact of COVID-19. As of press time, Miss Kim was closed per Gov. Gretchen Whitmer's March order that all restaurants cease dine-in operations. (The restaurant is still open for carry-out and delivery.) That led to a 90% loss in business, forcing Kim to furlough most of her staff. The crisis spurred her to take action, including joining a call with Sen. Gary Peters and other chefs seeking help for the hard-hit industry.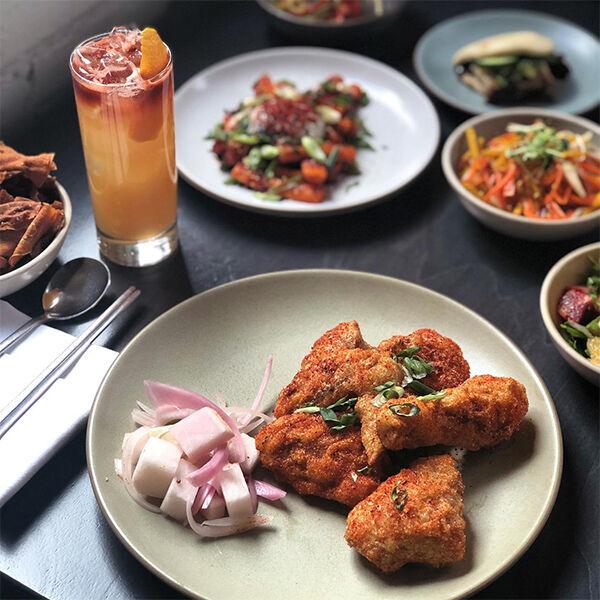 Via Miss Kim Facebook
Even before the crisis, Kim was a fierce advocate for workers — she's a longtime supporter of the One Fair Wage campaign to pay employees a living wage. Treating employees right is why she ended up at Zingerman's in the first place, she says. "I knew that it was a safe culture," she says, recalling the "terrible culture" she found herself exposed to while waitressing during college. (She recounts the time a sushi chef followed her around with a giant clam and asked her what female body part it looked like.)
It takes a strong leader to put a stop to that, says Kim. Her kitchen's supportive atmosphere has led to a staff that's both ethnically diverse and inclusive. "I'm really proud of the staff and how well they're working together," she says. "And I'm proud of myself for build[ing] a culture that's conducive [to] that."
Tteokbokki, Royale Style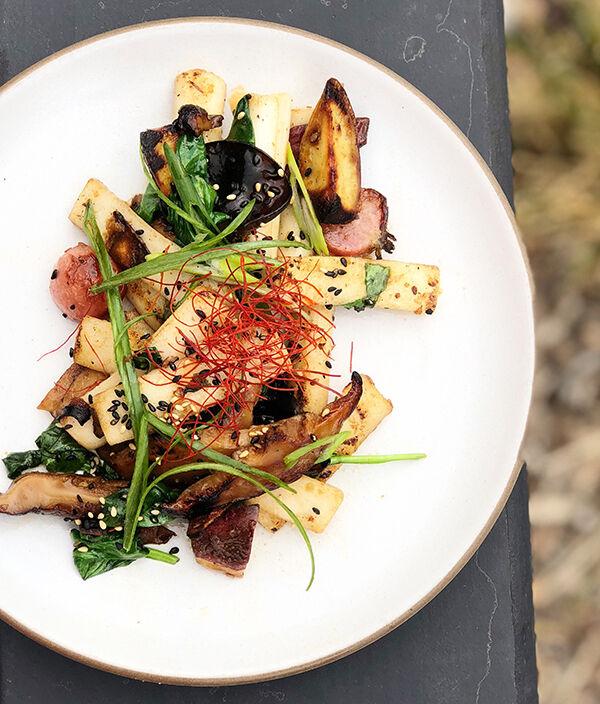 This is a quick and easy vegan version of the sauteed tteokbokki served at Miss Kim. It was inspired by the old palace version of tteokbokki from the 19th century. Miss Kim makes a simpler version with seasonal vegetables and mushrooms, quickly sauteed in a hot pan to order.
For the sauce
100g Korean soy sauce
40g mirin
25g gochujang sauce
5g perilla oil
10g chopped scallions
5g minced garlic
15g brown sugar
Directions:
Mix all ingredients in a large bowl. Make sure all the sugar is dissolved.
Keep the finished sauce refrigerated; it will last a few weeks.
For the rice cakes (aka tteokbokki)
2 cups rice cakes shaped specifically for tteokbokki (available at specialty and Asian grocery stores)
4 tablespoons royale tteokbokki sauce (above)
½ cup mushrooms (Kim likes shiitake, shimeji and maitake; crimini or button mushrooms are good too!)
3 ½ tablespoons neutral oil like canola, divided
Pinch salt and pepper
½ cup of vegetables, whatever you have on hand (Kim's team loves winter squash or carrots)
2 tablespoons scallions
Pinch granulated sugar
Garnish: chopped scallions and sesame seeds
Directions:
Preheat oven to 350 F.
Slice mushrooms into ¼-inch pieces. In a mixing bowl, toss the mushrooms with 1 tablespoon of oil, a pinch of salt and pepper. Place the mushrooms on a baking sheet and roast in the oven for about 10-15 minutes until brown around the edges.
Cut vegetables of your choice into half-inch pieces. In a mixing bowl, toss the mushrooms with 1 tablespoon of oil, a pinch of salt and pepper. Place the vegetables on a baking sheet and roast in the over for 15 minutes or so, until the vegetables are soft, but not falling apart.  Let cool.
Place a heavy steel pan or a wok on the stove over medium high heat. When the pan is hot, add 1 1/2 tablespoons of oil and roll it around to cover the pan.  Sprinkle the pan with a pinch of sugar evenly.
Add the rice cakes into the hot pan and toss. Let them hang out for a minute or two until the bottom is golden brown. Toss in the pan and let them cook for another minute or two until most of the rice cakes are toasted golden brown, crispy on the outside but tender when poked.
Add mushrooms and vegetables and toss to mix well with the rice cakes.
Add the sauce to the pan and toss well so everything in the pan is coated.
Cook for another minute until the rice cakes are nicely toasted brown. Make sure the rice cakes are not burnt and there is no pool of sauce on the bottom of the pan.
Place the cooked rice cakes and the vegetables into a pasta bowl.  Garnish with sesame seeds and chopped scallions to serve.
Miss Kim
415 N 5th Ave, Ann Arbor
(734) 275-0099