Shawn McClain has conquered 'Iron Chef America' and won one of the culinary world's top honors. Now he's setting his sights on his loftiest goal yet  — Highlands. He takes SEEN into the kitchen and shares how the project, which was two years in the making, came to life.
By Dorothy Hernandez 
Photography by Derrick Martinez
Whether it's prying open large sea snails on "Iron Chef America" or opening restaurants across the country from Chicago to Las Vegas, chef Shawn McClain has never been one to shy away from a challenge.
Now, he's setting his sights on his loftiest goal yet: taking over floors 71 and 72 of General Motors Renaissance Center for his new restaurant, Highlands. The eatery, which opened in November, occupies one of Detroit's most iconic restaurant spaces that's been home to well-loved spots like Coach Insignia and The Summit. Highlands boasts the same commitment to top-notch service and spectacular, 360-degrees of the Detroit River and skyline as its predecessors — but forging a new identity for the restaurant will be no small feat.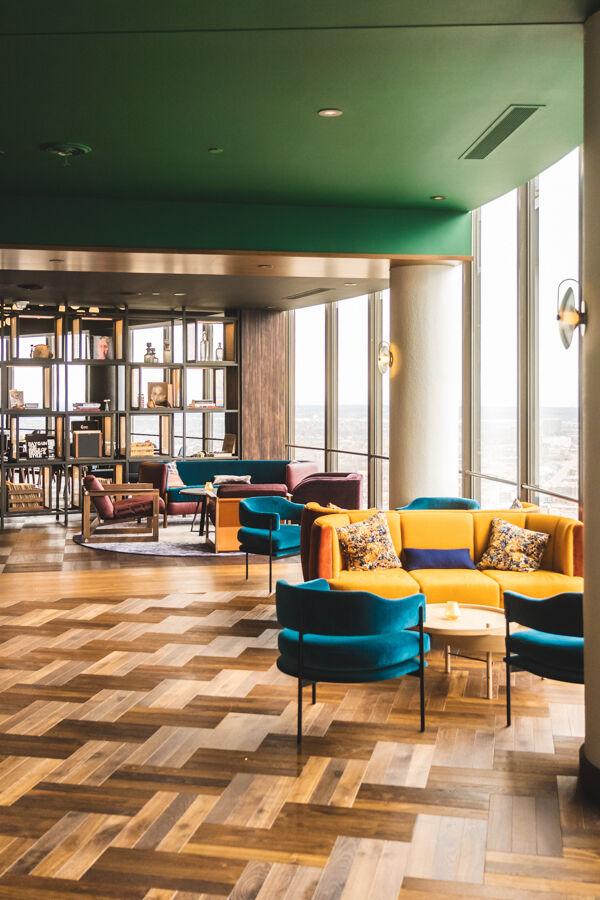 McClain, a James Beard Award-winning, 30-year veteran of the restaurant industry, is up to the task. "I love the challenge of creativity, of new things and businesses," he says.
A project more than two years in the making, Highlands comprises three concepts under one (extremely tall) roof: Highlands Steakhouse, Hearth 71, which serves upscale bar fare, and the craft-cocktail-centric High Bar. McClain oversees each one. "We like to try to push the envelope a little bit," he says. "It's a chef approach to how we source, how we combine things [and] layering ingredients." For example, produce comes from local farms and classic dishes like beef tartare are reimagined with ingredients like sous-vide, smoked-egg vinaigrette and beef-fat powder. "It's not simple by any means, but we want it to be super approachable."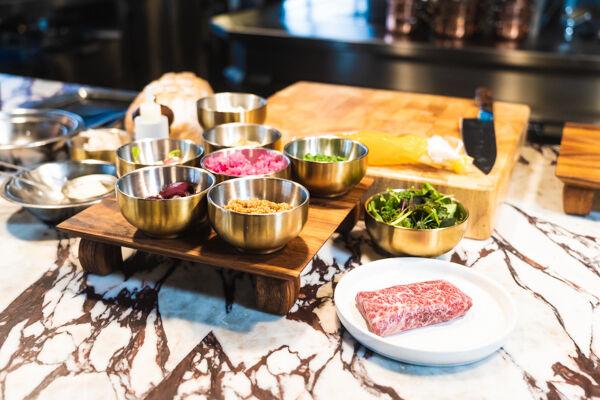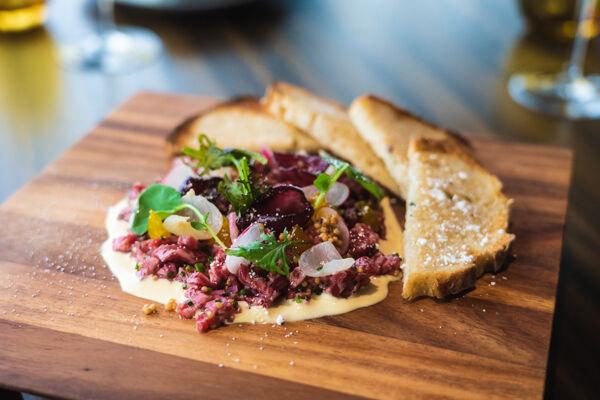 Originally from San Diego, California, and raised in Ohio, McClain found his calling while working in a restaurant during college at Miami University, where he went to study business. "I was running a kitchen and I enjoyed that feeling and the energy of the chaos," he says. Instead of pursuing his major, he decided to go to culinary school at Kendall College in Chicago. This was during the late '80s and early '90s, when the profession wasn't glamorized like it is today. "I didn't have any grand dreams of what [being] a chef or restaurateur meant," he says. "I just enjoyed being in the kitchen."
Over the next decade, McClain went on to lead some of the most acclaimed restaurants in the Chicago area, including legendary fine-dining spot Trio, vegetarian destination Green Zebra and modern-seafood restaurant Spring, which in 2002 snagged a Best New Restaurant nomination from the James Beard Foundation. Four years later, the organization awarded McClain the title of Best Chef: Midwest — one of the culinary world's most prestigious honors. He capitalized on the momentum, expanding his restaurant empire to Las Vegas, where in 2009 he opened the upscale Sage at the Aria Hotel. (He also runs the Five50 Pizza Bar in the Aria Casino and the Libertine Gastropub at Mandalay Bay.)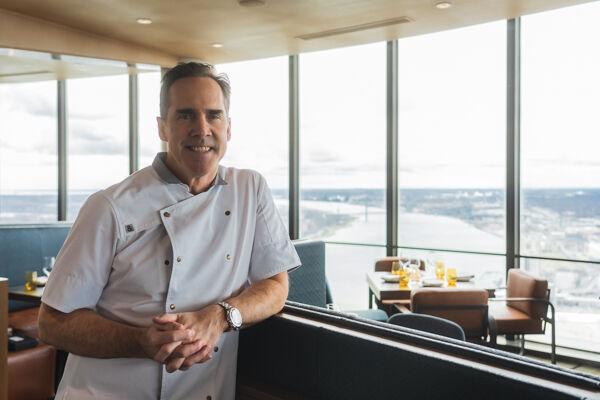 McClain's accolades haven't changed the way he runs a kitchen, says Highlands' executive chef Scott Garthwaite, who's worked with McClain since his Chicago days. (Translation: No fiery, celebrity-chef-style attitudes here.) "He's never the yeller," says Garthwaite. "He always maintains a level of decorum in the kitchen, holding everyone to [a high] standard while creating a kitchen the cooks want to come in, work [in] and have fun."
That coolness under pressure was on full display in 2012 when McClain appeared on the Food Network's "Iron Chef America," where challengers battle one of the Iron Chefs — in McClain's case, restaurateur Marc Forgione. He went head to head with Forgione, besting him by five points with his South Asian-inspired take on the ingredients he was given, including a sea snail known as whelk, which McClain had never seen before. "It was fun, exhausting and exhilarating," he says.
For the past nine years, McClain, 52, and his family have lived in Grosse Ile. His wife (and business partner), Holly, is a Michigan native and the couple relocated here to raise their daughters, ages 9 and 11. McClain says he'd been looking for the right opportunity to open a Detroit restaurant since moving to Michigan.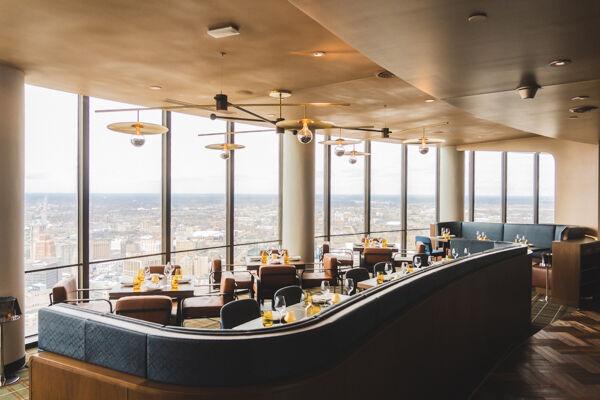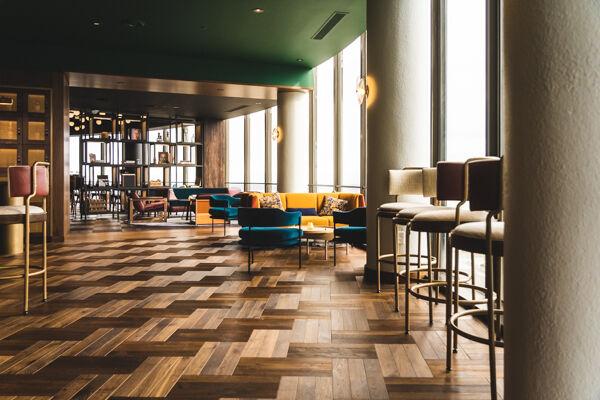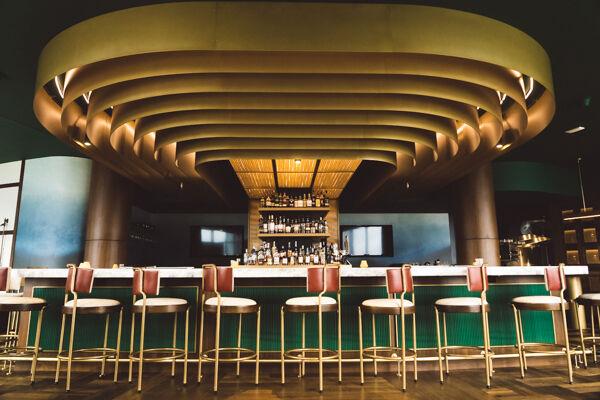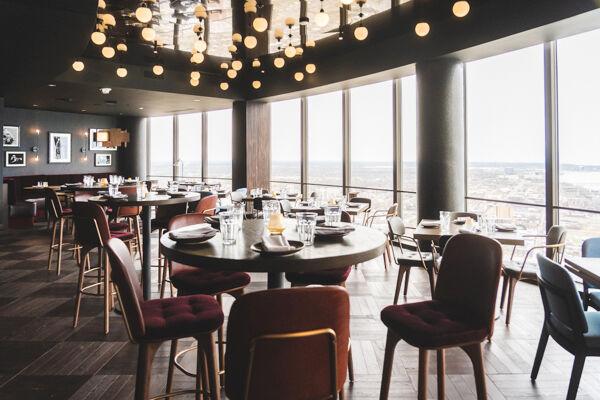 He finally found it with Highlands. The restaurant's three concepts cater to customers seeking different experiences, whether that means chatting over drinks at High Bar, grabbing a casual bite at Hearth or treating themselves to a New York strip or Hudson Valley foie gras at the steakhouse. "We really wanted to upend the traditional model, which is formal," McClain says. "We wanted this to be kind of an every-occasion destination." Adds Garthwaite, "You don't have to wait until your birthday or anniversary" to visit.
Regardless of who's sitting at his tables, McClain says he sees Detroit's chefs raising the bar — which makes him excited to be a part of the city's current restaurant boom. "It's culturally diverse here and there's a lot of independent spirit," he says, noting that corporate food companies aren't major players in the city's restaurant scene. "Everybody has a really unique signature. That inspires me to be part of that group and to try to fit into that landscape."
Wagyu Beef Tartare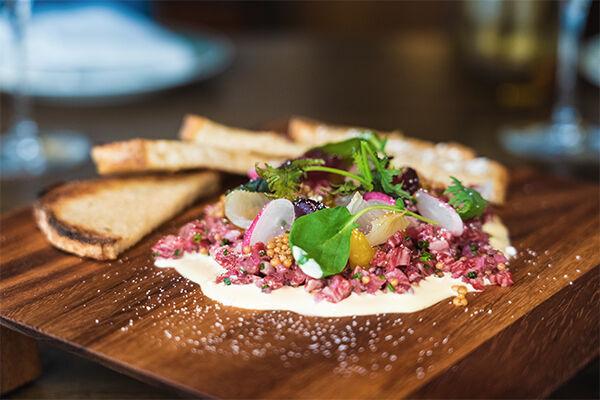 Editor's note: This recipe has been adapted from chef Shawn McClain's original recipe for the home cook.
Serves 4
Ingredients:
12 ounces hand-chopped Wagyu sirloin
2 ounces extra-virgin olive oil
2 teaspoon chives, shaved thin
4 tablespoons pickled shallots, minced
Sea salt to taste
Garnishes
2 ounces egg vinaigrette
2 tablespoons extra-virgin olive oil
2 teaspoons pickled mustard seeds
8 each roasted pearl onions, chilled
16 each small mustard greens
16 each small arugula leaves
Marrow Toast
8 slices rustic sourdough
4 tablespoons beef marrow butter*
Assembly:
In a small bowl, mix beef tartare with salt, chives, olive oil and pickled shallots.
On plate, spread out egg vinaigrette, then place seasoned tartare atop. Sporadically scatter the garnishes on top of the beef tartare. Drizzle with extra-virgin olive oil.
Spread the bread slices with beef marrow, cook under broiler till lightly toasted and crispy, serve on side of tartare.
Pickled Shallots
Steep together 1/2 cup hot water with 1 cup white balsamic, 2 tablespoons sugar and 1 tablespoons of salt. Pour over 1/4 cup of minced shallots and let cool. Refrigerate.
Egg Vinaigrette
Boil 6 eggs for 6 minutes and let cool. Peel and transfer to a blender and blend with 2 tablespoons white balsamic vinegar and 3 tablespoons extra-virgin olive oil. Season to taste with sea salt.
Marrow Butter
Combine 4 ounces cleaned and poached marrow with 4 ounces butter. Blend to
combine, season with sea salt and refrigerate.
Chef's note: Marrow bones can be purchased or ordered at any local specialty store. Have the butcher cut the bones in half and poach until the marrow is easily removed from the bone.
Highlands
400 Renaissance Center, Detroit
313-877-9090