With Frita Batidos, chef Eve Aronoff Fernandez pays homage to Cuban culture and her family, both in and out of the kitchen
By Dorothy Hernandez
Photography by 2u Media Productions
One of the first food jobs Eve Aronoff Fernandez ever had was selling hot dogs at Fenway Park in Boston, where she went to college. More than 30 years later, it's all coming full circle: Aronoff Fernandez, 52, of Ann Arbor is once again hawking food near a ballpark, but this time it's in Detroit — and she owns the restaurant.
"We've been wanting to come to Detroit for a number of years," says Aronoff Fernandez, who opened Frita Batidos this past fall in the Columbia Street promenade near Comerica Park. "We love the city, the character, the energy, the architecture [and] so many things about the city's history."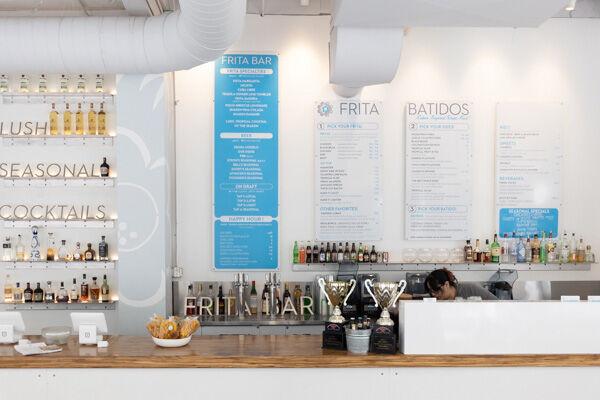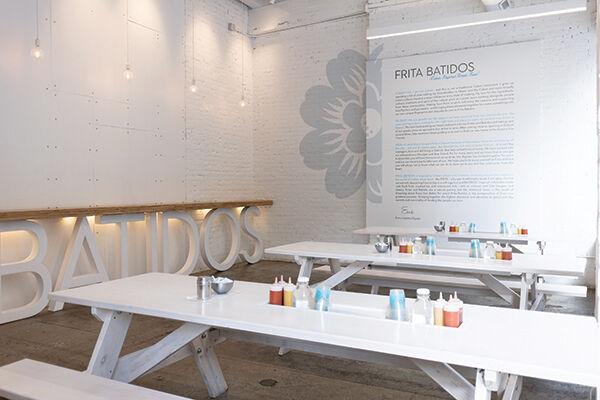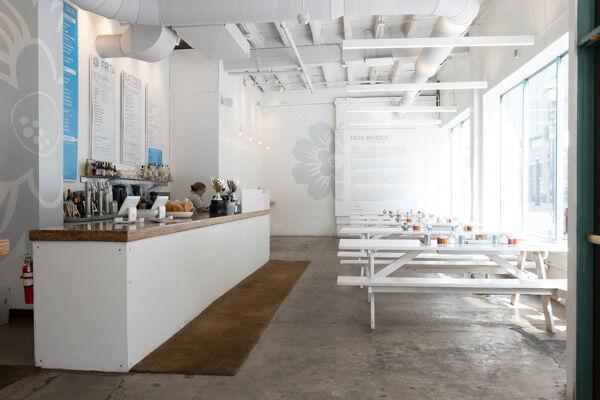 Frita Batidos is Aronoff Fernandez's ode to Cuban street food. The restaurant, which debuted its first location in Ann Arbor in 2010, is inspired by the chef's childhood visits to her grandmother in Miami, where she was immersed in Cuban culture. "Being around that vibe and energy and [those] ingredients at the time that I was falling in love with food and cooking … had a really powerful influence on me," she says.
Aronoff Fernandez's love of food goes way back. Growing up in East Lansing, she started cooking with her mother when she was 12 years old. Her mom bought her a copy of The New York Times International Cookbook, and the young chef was "obsessed" with reading about different cultures and ingredients.
Aronoff Fernandez started throwing dinner parties for her parents and their friends, cooking multicourse meals with dishes from all over the world. When she went off to Boston's Brandeis University to study comparative literature, food was still the center of her universe — but her parents, who were professors at Michigan State University, wanted her to get an education first. When she started cooking in an Italian restaurant in Boston, though, she "fell head over heels in love" with restaurant life. "And then I knew I wanted to open a restaurant," she says.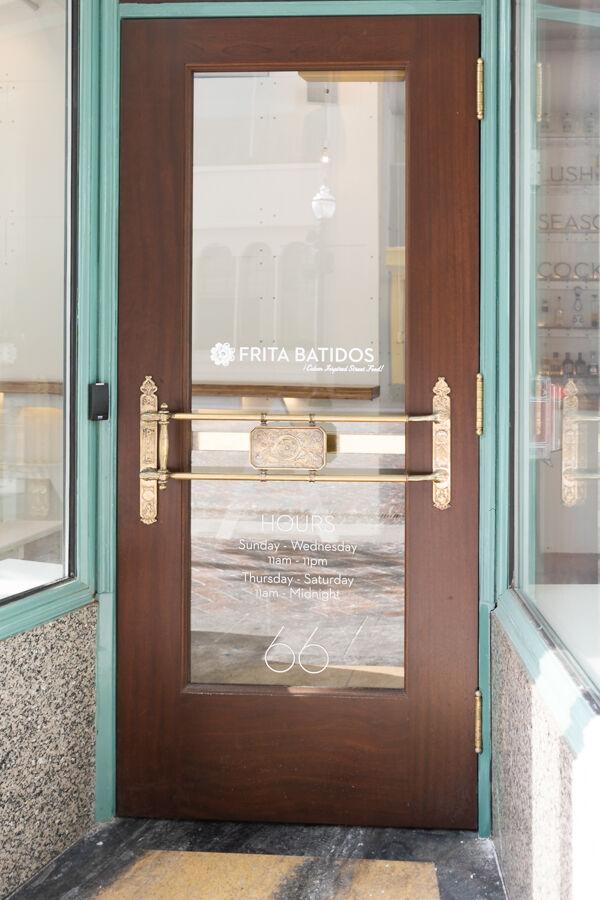 Post-college, she moved to Ann Arbor, taking on roles from prep cook to chef at local institutions like Gandy Dancer and Café Zola. She then attended culinary school in Paris. When she returned to Ann Arbor, she opened her first restaurant, eve, a celebrated spot that borrowed influences from around the world with a heavy French spin. (The original location in Kerrytown closed in 2010; a second location, opened in 2016, shut down a year later.)
Where eve was worldly and sophisticated, Frita Batidos is fun-loving and casual. Take the restaurant's namesake dishes: Fritas are Cuban burgers topped with shoestring fries, while batidos are thick and creamy milkshakes. Aronoff Fernandez puts her stamp on each, with frita versions ranging from chorizo and beef to black bean, and batidos featuring Guernsey ice cream and fresh fruit. As much as possible is made from scratch, from the chorizo to bread for the sandwiches.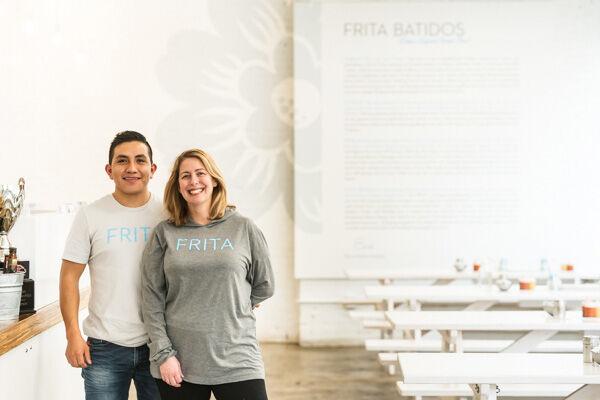 The whimsical, playful menu highlights Cuban and Latin influences while borrowing from other places around the world. Take the "Inspired Cuban," Aronoff Fernandez's play on the traditional sandwich: her version features roasted pork loin with Asian flavors combined with Comte cheese.
No matter the dish, the thread that ties her food together is the idea of family and gathering to share a meal. Over the years, Aronoff Fernandez has cultivated a tight-knit group of key managers, who do everything from cook to conceptualize creative catering events. The chef fondly refers to this crew as her equipo (which means team in Spanish). Two equipo members have been with her since the eve days and today the team also includes Aronoff Fernandez's husband, Carlos.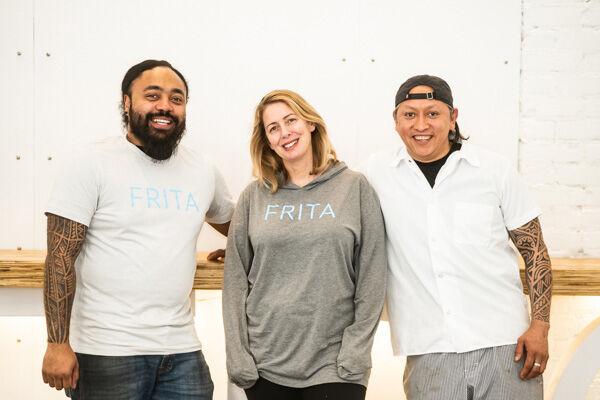 "We work with each other, not for each other," says Paterno Johnson, who has been with Aronoff Fernandez since 2010. "We are willing to do whatever it takes to get the job done like we are family." (He really means it: He once flew to Mexico to bring Aronoff Fernandez some medication she'd forgotten at home.)
Aronoff Fernandez is quick to point out that her restaurant is bigger than just her. While sitting at a communal picnic table in the Detroit location on a recent Friday, she introduces team members as they enter the restaurant. As mom to an 18-month-old, the latest phase of her culinary journey is juggling parenthood while running a restaurant.
That's where her trusty squad comes in. "Our equipo [is] the only thing that's made [balancing both roles] practical," she says. "We've become like a very close-knit extended family. That's what makes it really special for me."
The Frita 'Inspired Cuban' Sandwich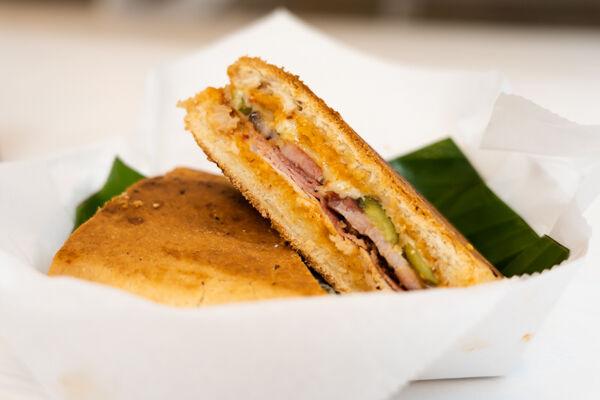 For this recipe, you'll need a loaf of Cuban bread. Frita Batidos bakes theirs in-house, but you can order one from the restaurant, bake a loaf at home or use a French baguette. (Each loaf will make 3-4 sandwiches.)
Ingredients (per sandwich):
Chipotle Mayo (see below)
1.5-2 ounces Lemongrass Roast Pork Loin (see below)
1.5-2 ounces Tasso ham
2 ounces thick cut bacon (about 1 slice cut in half)
1.5-2 ounces Comté cheese
3 cornichons, sliced thin lengthwise
Chipotle Mayo
1 cup mayonnaise
¼ cup canned chipotle peppers, puréed
Combine ingredients in food processor until well blended.
Lemongrass Roast Pork Loin
2 shallots, peeled and rough chopped
2 garlic cloves
2 tablespoons lemongrass
1 teaspoon fish sauce
1 teaspoon soy sauce
¼ teaspoon salt
2 teaspoon sugar
2 pounds pork loin
Directions:
Place all the ingredients except pork loin in the bowl of a food processor and puree until mixture forms a paste. Transfer to a shallow baking dish.
Add the pork loin to this mixture and make sure all sides are covered well with marinade. Marinate in refrigerator for 8 hours. Roll in marinade every couple of hours.
Heat oven to 350 F. Season the pork loin very generously with kosher salt and freshly ground black pepper.
Roast until a meat thermometer registers 137 F internal temperature (it will rise to 150 outside of the oven from carry over cooking).
Assembly:
Preheat sandwich press, griddle or nonstick pan over medium high heat.
Cut bread in half lengthwise and lay open. Spread each piece generously with chipotle mayo (bread will absorb mayo while cooking so use more than you think you need!).
On one half, layer pork loin, Tasso ham and bacon. On the other half, layer cheese first, then cornichons. Close sandwich and place in sandwich press.
Cook 10-15 minutes until cheese is melted and ingredients have melded together.
Frita Batidos
66 W Columbia St, Detroit
 (313) 725-4100