Restaurateur Sarah Yi shares her family's recipe for Hobak Jeon (Korean zucchini fritters), a staple on their Thanksgiving table
Hobak (zucchini) Jeon
Note: You can make jeon — a Korean-style fritter — with any vegetables, fish, seafood or meats. Traditionally, jeon is most commonly made with Korean zucchini called ae hobak, tofu, fish, oysters, beef, and mushrooms. The following recipe is for hobak jeon but can be used interchangeably with any type of vegetable or protein.
Ingredients:
2 ae hobak (Korean green zucchini, but you can use any zucchini)
1 cup flour (more or less as needed)
¼ cup cooking oil (grape seed oil, corn, or vegetable oil) (more or less as needed)
4 eggs (more or less as needed)
Salt and pepper to taste
Directions:
Wash and cut the ae hobak into ¼ inch slices
Lay flat on plate or large tray and season each side with salt and pepper
Crack eggs into bowl and mix to create an egg wash
Place flour in a separate bowl
Heat a non-stick pan over low to medium heat
Generously add cooking oil to pan
Coat ae hobak slices completely with a thin layer of flour then dip entirely in bowl with egg wash
Transfer the coated pieces to the pan to cook
Repeat with all remaining pieces until your pan is full but not crowded
Cook each side for 1 to 2 minutes until a light golden brown
Remove cooked jeon onto paper towels to remove excess oil
Guard jeon from family members as they will attempt to steal them
Wipe down pan with a clean paper towel between each batch and use new oil to keep the jeon from browning too quickly or burning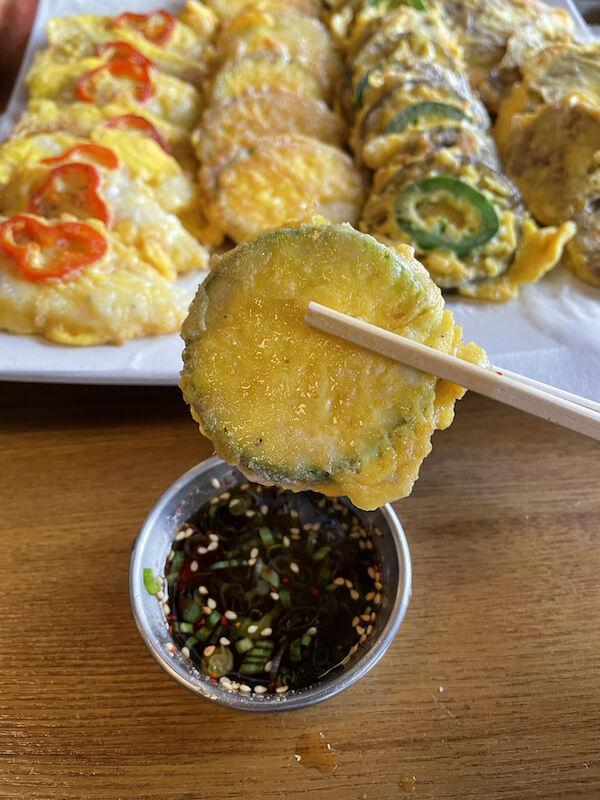 Dipping Sauce: 
Mix soy sauce, sugar, vinegar in a 2:2:1 ratio. Optional: Add one or all of the following: minced garlic, red pepper flakes, sesame seeds or chopped scallions to taste
Want more great family recipes? Read 5 Thanksgiving Family Recipes and Traditions from Around the World.
Did you try this recipe? Comment below and let us know how it turned out!