From Coney Dogs to Vernors, these iconic foods and drinks define the Motor City
BY KAREN DYBIS
Detroit is known as the birth-place of many things: the auto industry, the Motown sound, those yellow lines that run down the middle of the road (who knew?). But it's also home to culinary creations that resonate far beyond the city, from coney dogs and Vernors to triple-decker corned-beef sandwiches and crunchy square pizza. In a place where what you order at the bar or in a restaurant tells a story about who you are and what you love, here's a look at the iconic food and drinks that are ingrained into Detroit's culture.
Coney dogs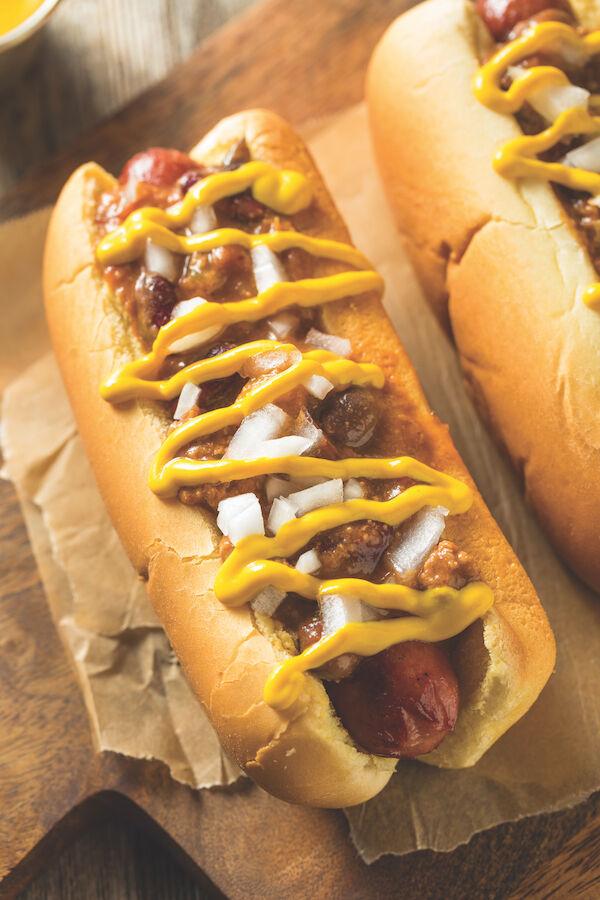 Detroit's love affair with coney dogs began around 1917, when Greek immigrants Bill and Gust Keros opened American Coney Island in downtown Detroit. (They later had a falling out and in 1936 Bill opened the competing Lafayette Coney Island next door.)  For Bailey Sisoy-Moore, founder of Detroit History Club and Detroit History Tours, coney dogs define Detroit food. "They fill you up, at an affordable price, in a welcoming environment," she says. The obsession is still going strong today: You can find classic coney dogs — topped with chili, mustard, and chopped sweet onions — at any of hundreds of Coney Island restaurants across Metro Detroit and the state.
Stroh's beer
Like many storied Detroit products, Stroh's beer was founded by an entrepreneurial immigrant: German-born Bernhard Stroh, who began brewing beer in 1850 and grew his business into the city's largest beer producer.The company survived Prohibition and the Great Depression by pivoting to making pop and ice cream (it's widely credited with inventing another local classic, Super-man ice cream). "So much of Detroit's story over the last 200 years can be encapsulated by one single drink: a cold can of Stroh's beer," says Mickey Lyons, a local historian and the blogger behind the site Prohibition Detroit. "It's unpretentious, simple, and classic."
Dinty Moore sandwich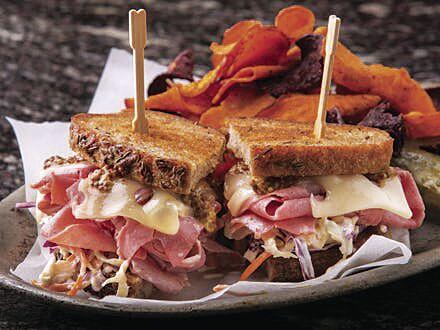 With three layers of corned beef, Swiss cheese, lettuce, tomatoes and a slathering of Russian dressing on toasted rye bread, the Dinty Moore is Detroit's own creation — perhaps because the city is home to three major U.S. corned-beef producers, some of which have been in business since the 1800s. "I consider [corned beef ] an iconic Detroit food," says Karin Risko, owner of City Tours Detroit and author of A History Lover's Guide to Detroit. "Whether Irish-American-style corned beef and cabbage, New England-style corned beef hash, or Jewish deli-style, it's a Detroit favorite." Want to sample the best Dinty Moore in town? Head to Bread Basket Deli in Livonia or, not surprisingly, Zingerman's in Ann Arbor.
Vernors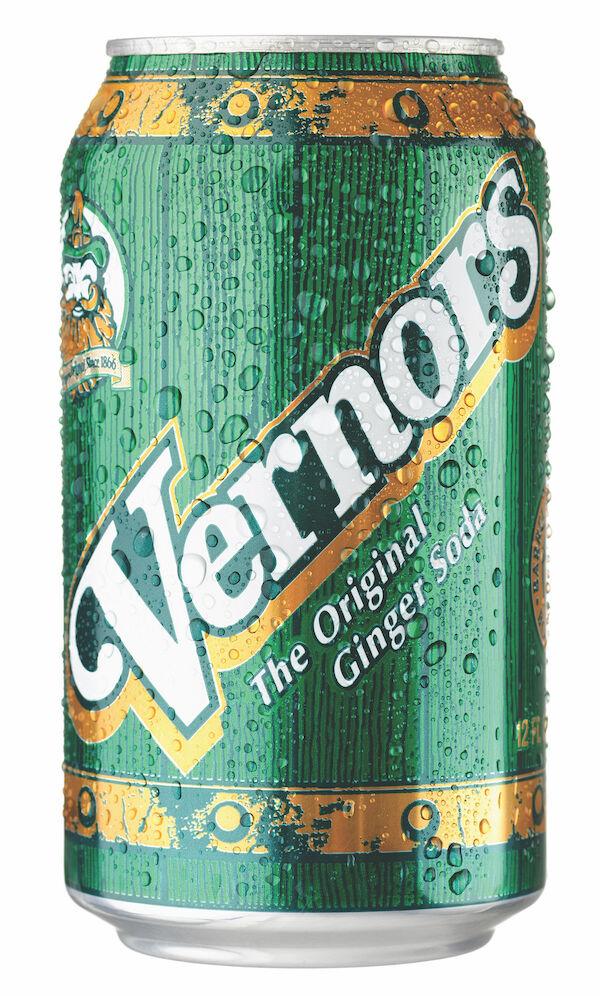 According to company lore, Detroit's very own ginger ale was invent-ed when drug-store clerk James Vernor decided to experiment with remedies for his stomach-ache. He mixed vanilla, spices, and ginger and left the brew to marinate while he served in the Civil War — and returned four years later to find a bubbly, golden-colored beverage that later became a staple at a soda fountain he owned on Woodward Avenue. While the Vernors plant closed in 1985 and the drink is no longer made in Michigan, it's still beloved by locals. "I [remember] viewing the green-and-gold-colored Vernors plant," recalls Detroit author and reporter Ken Coleman, "and thinking to myself, I could live there and be very happy."
Pączki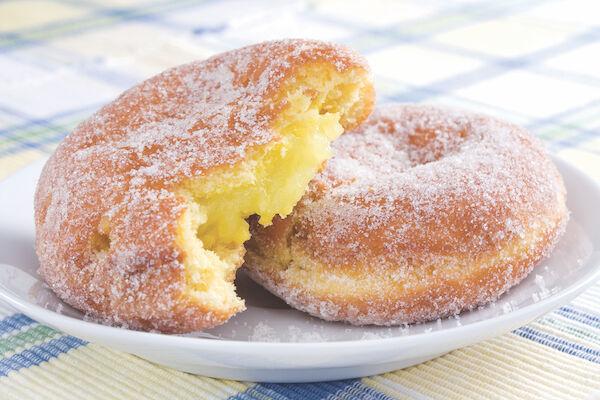 Getty Images/iStockphoto
Pronounced "puhnch-kee," these deep-fried, doughy treats likely originated in Poland as families used up their eggs, butter, and sugar before the Lenten fast. Polish immigrants brought the tradition to Detroit bakeries, where it became a staple of the calorie-rich Fat Tuesday celebration that rolls around every year a few weeks before Easter. "Pączki are an example of the recipes and traditions that came with the huge influx of immigrants when they arrived in Detroit to find work in the auto industry over 100 years ago," says Jeanette Pierce, the founder of the Detroit Experience Factory, which leads tours around the city. "Paczki Day brings the whole city together to eat, drink, and be merry."
Detroit-style pizza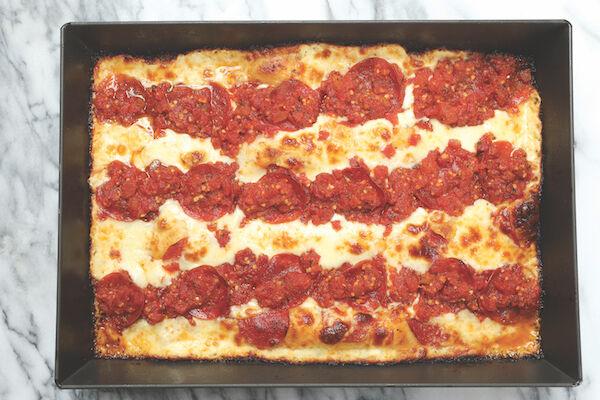 Detroit-style pizza is becoming all the rage in cities across the U.S. and as far as Abu Dhabi, but true to its name, the crispy-bottomed square pies topped with caramelized cheese and tomato-sauce stripes were born on Six Mile and Conant. Thank Gus Guerra, the founder of Buddy's Rendezvous Pizzeria (what we know today as Buddy's), who in 1946 had the tasty idea to bake his pies in a very Motor City fashion: in thin steel pans borrowed from local auto plants.
Hummers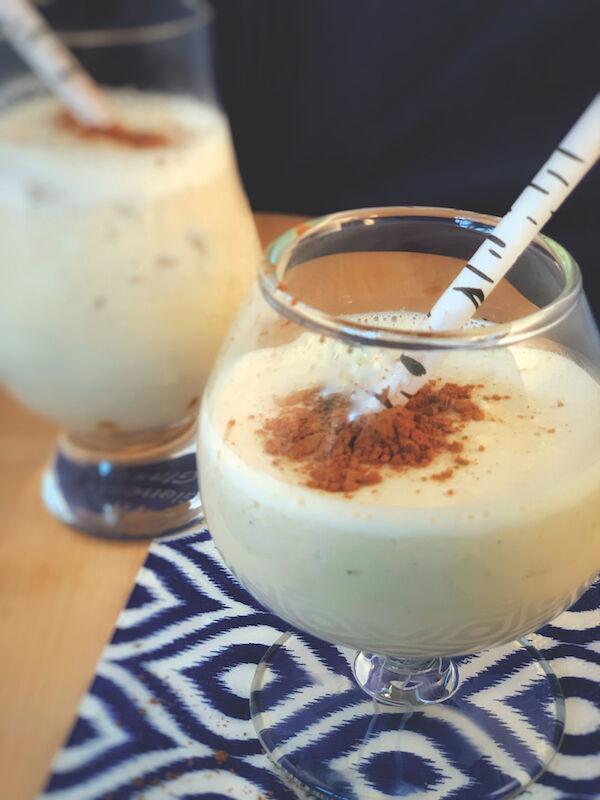 Who knew that rum, Kahlua, vanilla ice cream and ice cubes blended together could be transcendent? Jerome Adams, for one. As a bartender at Detroit's Bayview Yacht Club, he's credited with creating the boozy milkshake known as a Hummer (named after a patron who said the drink made him "start to hum") in the late 1960s. Since then, it's become known around the world — in Germany, for example, it's reportedly called a "Sir Jerome" after its founder.
What are your favorite food or drinks either founded in or made famous in Detroit?
The writer of this story, Karen Dybis, is a former Detroit News reporter and longtime SEEN freelance writer, is the author of several Detroit based books:
The Ford-Wyoming Drive-In: Cars, Candy and Canoodling in the Motor City
Better Made in Michigan: The Salty Story of Detroit's Best Chip