Metro Detroit's hottest new restaurant is serving up local, sustainable fare from a 300-year-old barn.
BY MARKHAM HEID
PHOTOGRAPHY BY REBECCA SIMONOV
CLICK THE ARROWS ON THE IMAGE ABOVE TO SCROLL THROUGH THE GALLERY OF IMAGES
The first time Chef Chris Gadulka cooked for Nicole and Tim Ryan, he was in his own kitchen and working with vegetables and herbs he'd picked from his own garden. And he was nervous.
This wasn't just any get-together — it was an audition. At the time, in 2020, the Ryans planned to open a new farm-to-table restaurant, to be housed in a 300-year-old barn that the couple had salvaged, transported from Maine, and erected on a five-acre plot in Sylvan Lake. The barn would be surrounded by a working farm, which would supply the restaurant with herbs, vegetables, and other fresh produce.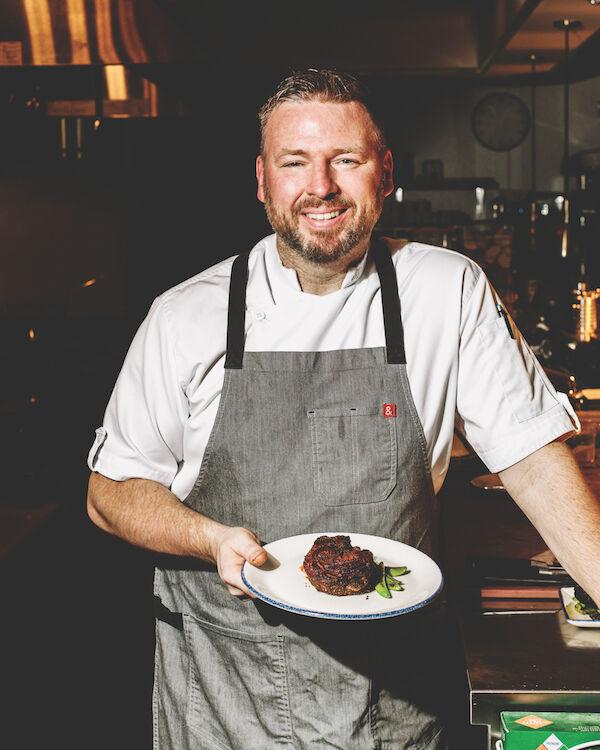 Gadulka — who'd helmed kitchens for almost three decades with the Fleming's Steakhouse and Toast restaurant groups — hoped to be the Ryans' first executive chef. "I'd already been out to walk the property, and when I saw the scale and scope of the project, I was like a bumbling idiot," he recalls. "If you're in this industry and you have an opportunity to be a part of something like this — it's just everything you could want."
That night at his home in Rochester, Gadulka prepared roughly 20 dishes for the couple. Any plates that didn't feature items from his own backyard highlighted mostly seasonal and local ingredients. "I wanted to make them dishes that mimicked what I would prepare [at Sylvan Table]," he says. The Ryans were impressed and offered Gadulka what he calls his dream job.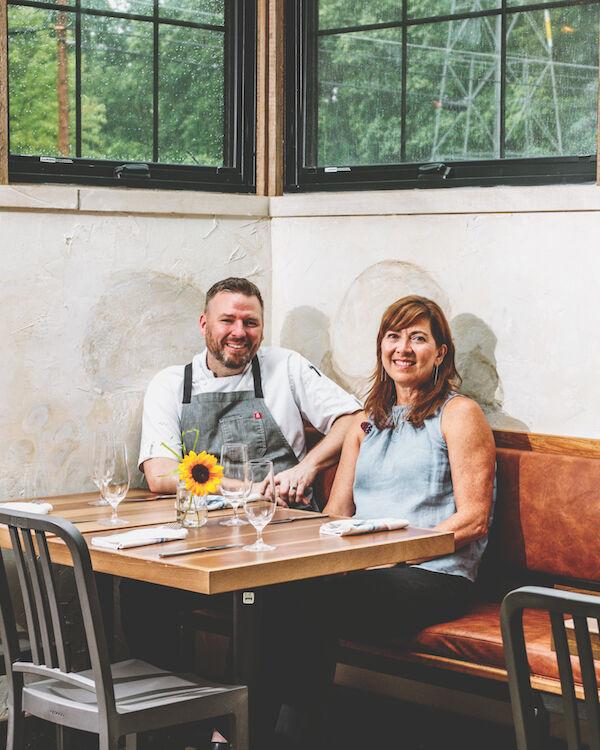 Now, a year later, that dream is a reality. Sylvan Table — which has a warm, homey vibe that spans two levels — opened its old barn doors in June, and while its farm will take three-to-five years to reach its full potential, it has already produced its first crops. "Right now we're harvesting a lot of salad greens and radishes and fresh herbs, and soon it will be carrots," says farm manager Kristina Pruccoli. The farm will eventually have 100 different crop varieties; it also includes apple, pear, plum and Michigan kiwi trees that will bear fruit as they mature, and chickens that will provide fresh eggs.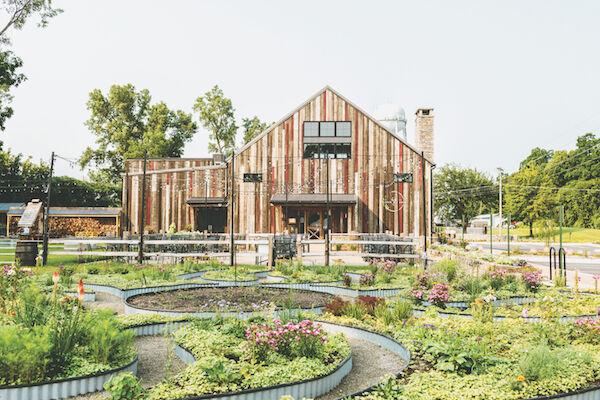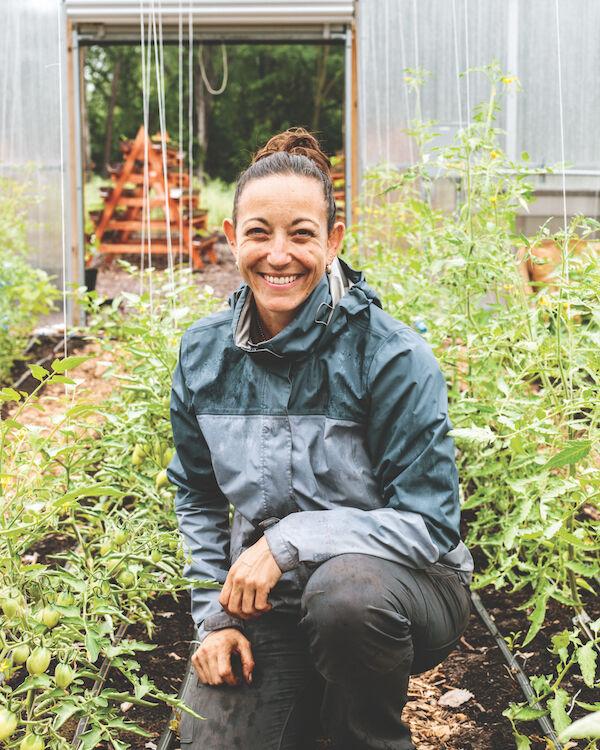 Pruccoli plants only organic seed and employs a mixture of organic and biodynamic farming practices. Like Gadulka, her enthusiasm for her work is effusive. "I feel so fortunate to be a part of this," she says. And while many area restaurants throw around "farm-to-table" as a descriptor, Sylvan Table stands out in its dedication to that philosophy."I think this is going to be a model for the future of where restaurants can go."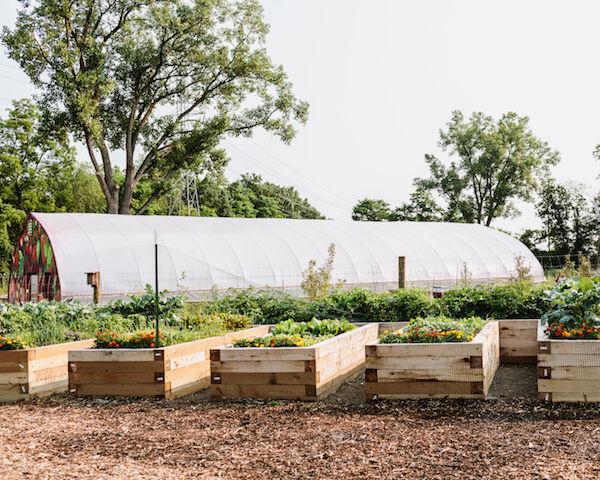 The Ryans, who live in West Bloomfield, own a construction company that builds restaurants — ironically, mostly fast-food spots — throughout the Midwest. Nicole says they'd always dreamed of opening their own place that focused on sustainability and local and seasonal ingredients. When their kids left for college, they decided the time was right to make it happen. But it didn't come to fruition overnight. "This was a six-year process," she says.
She drew inspiration from a homesteading course, which she completed online through the University of Massachusetts Amherst. "I learned all about where our food comes from and how it impacts the environment, and how restaurants typically are pretty wasteful," she says.
"As the project evolved, it went from being a restaurant to something much more: to knowing where food comes from and having something super tasty that's coming right from the field to the table."

 
"Hyper-seasonal is a term we use a lot," Gadulka adds. "You're not going to come here in December and see fresh tomatoes." He works closely with Pruccoli to coordinate their plantings and harvests with the restaurant's menu. His job will soon involve a lot of canning, pickling, curing, and other preservation methods that will allow him to fully utilize and what the farm produces throughout the year, including in winter.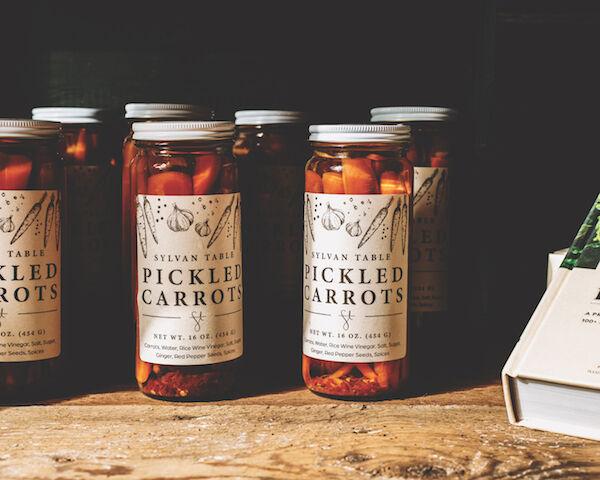 "We have about 30 items on our menu, but there are going to be biweekly changes based on seasonality," he says. This month into early fall, expect to see plenty of tomatoes, fresh herbs, and root vegetables like beets and carrots on offer.
While the farm will supply some of Sylvan Table's needs, Gadulka says they must also rely on outside sources for meat, fish, certain spices, and other essential items. For crops that they don't have the space to grow themselves — such as corn and potatoes — they've partnered with nearby Michigan or Canadian farms.
Their menu will also feature a lot of Great Lakes bycatch — fish that commercial fishermen inadvertently catch, and that are typically chopped up and thrown back into the water. "Everything we get, we try to be sustainable and local," he says.
When he can't stay local, Gadulka says his goal will be sustainability — using fish or cuts of meat or game that are less conventional, or that tend to go to waste. A recent menu featured a deckle steak, which Gadulka describes as the cap of the rib eye, a seldom-offered cut that has tremendous marbling and the tenderness of filet. It's being served with horseradish root and mashed carrots that were harvested last fall. "That combination is like horseradish sauce without all the heavy cream and fats," he says.
Anything the restaurant can't use or preserve will go on sale in a small retail area near its entrance. "We just don't want to waste anything," says Nicole, who gets a little teary talking about her restaurant. "We have the most amazing staff of like-minded people who care about what we're trying to do here," she says. Gadulka, too, is grateful to be on board. "The good fortune of being a part of something like this…" he says, "I feel very lucky"
Try Chef Chris Gadulka's Summer Pea and Mint Pesto recipe for the perfect accompaniment to meat or vegetables. 
1819 Inverness St, Sylvan Lake, MI 48320
M – Thurs 5 – 10 PM
Fri & Sat 5 – 11 PM
Sun 4 – 9 PM