PHOTOGRAPHY BY REBECCA SIMONOV
Since they first opened the doors to Regale Craft Food & Drink in 2019, Chef Shawn Mckerness and his wife Rachelle Mckerness have been serving up lavish, globally inspired gustatory delights. Regale's diverse menu featuring staples such as succulent Korean baby back ribs, a posh kohlrabi salad with spiked raisins, and Scotch eggs made with flawlessly spiced lamb is attracting hungry diners from both near and far.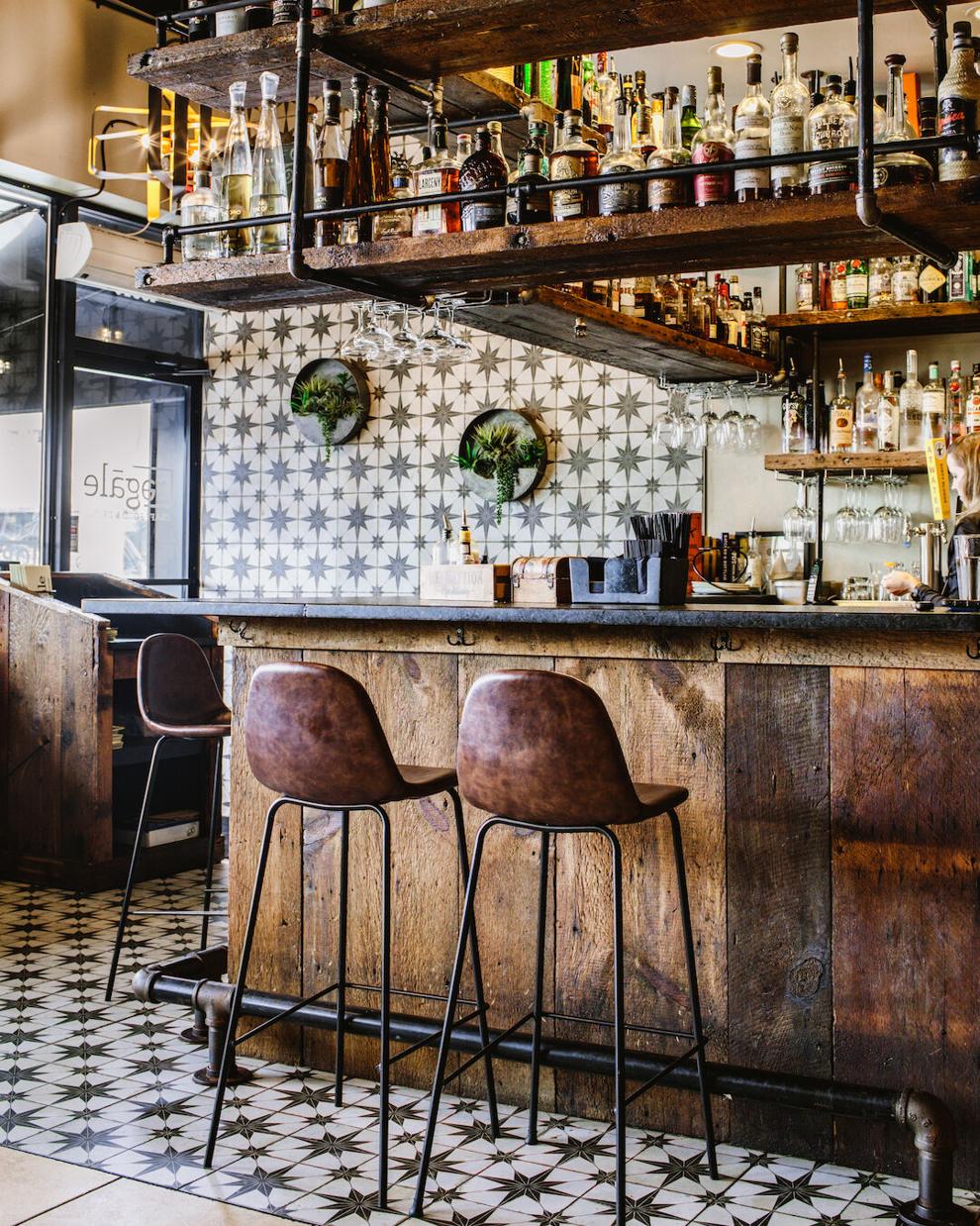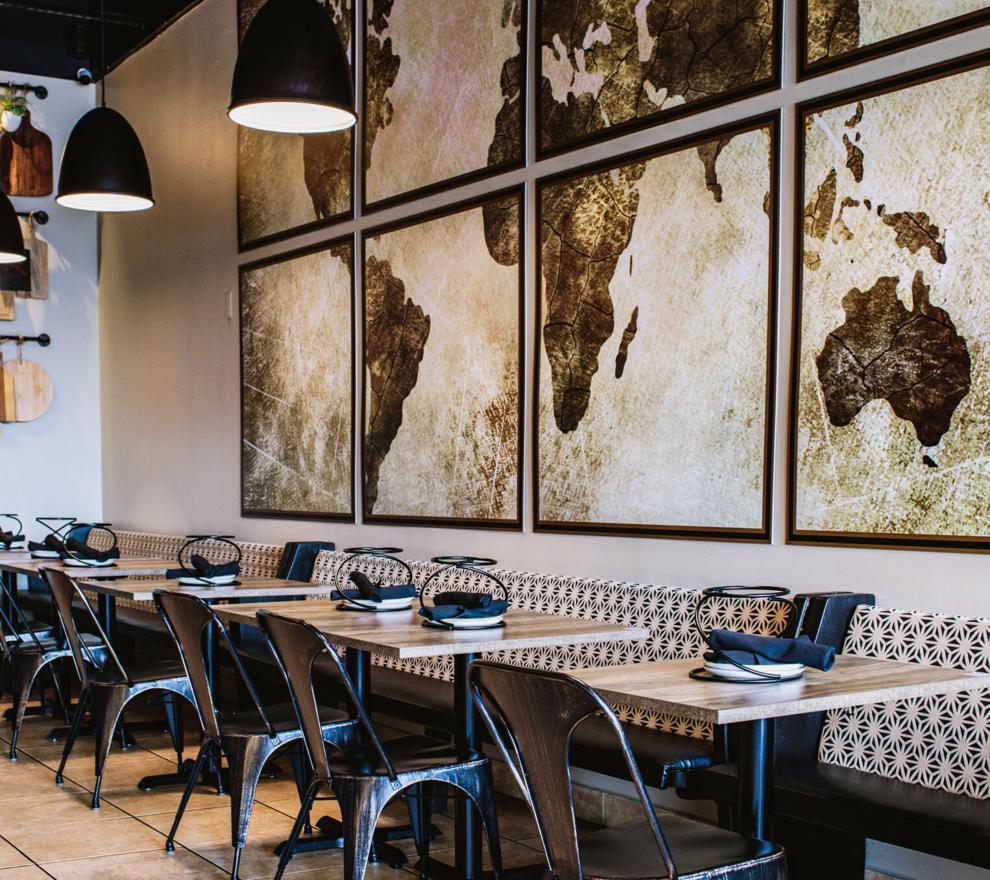 "People are blown away by actually enjoying foods that they never thought they would. It's the best compliment I could get as a chef," Shawn says. Chiming in, Rachelle adds, "Our dishes are comfortable foods with just a hint of other flavors that they may not have tasted before. It's a really exciting and unforgettable experience."
The Mckerness' recipe for success has proven masterful. Using only the freshest possible seasonal ingredients, they craft clever from-scratch dishes. Everything is wallet-friendly and served small plate style so patrons feel encouraged to try multiple dishes and build connections through sharing. A modest seating capacity for 40 diners means that the atmosphere is close, lively, and personal. Six stools cuddle a snug bar area that is nestled near an open-concept kitchen area, allowing diners a chance to marvel at Shawn and his crew's culinary wizardry — or what he calls "dinner and a show."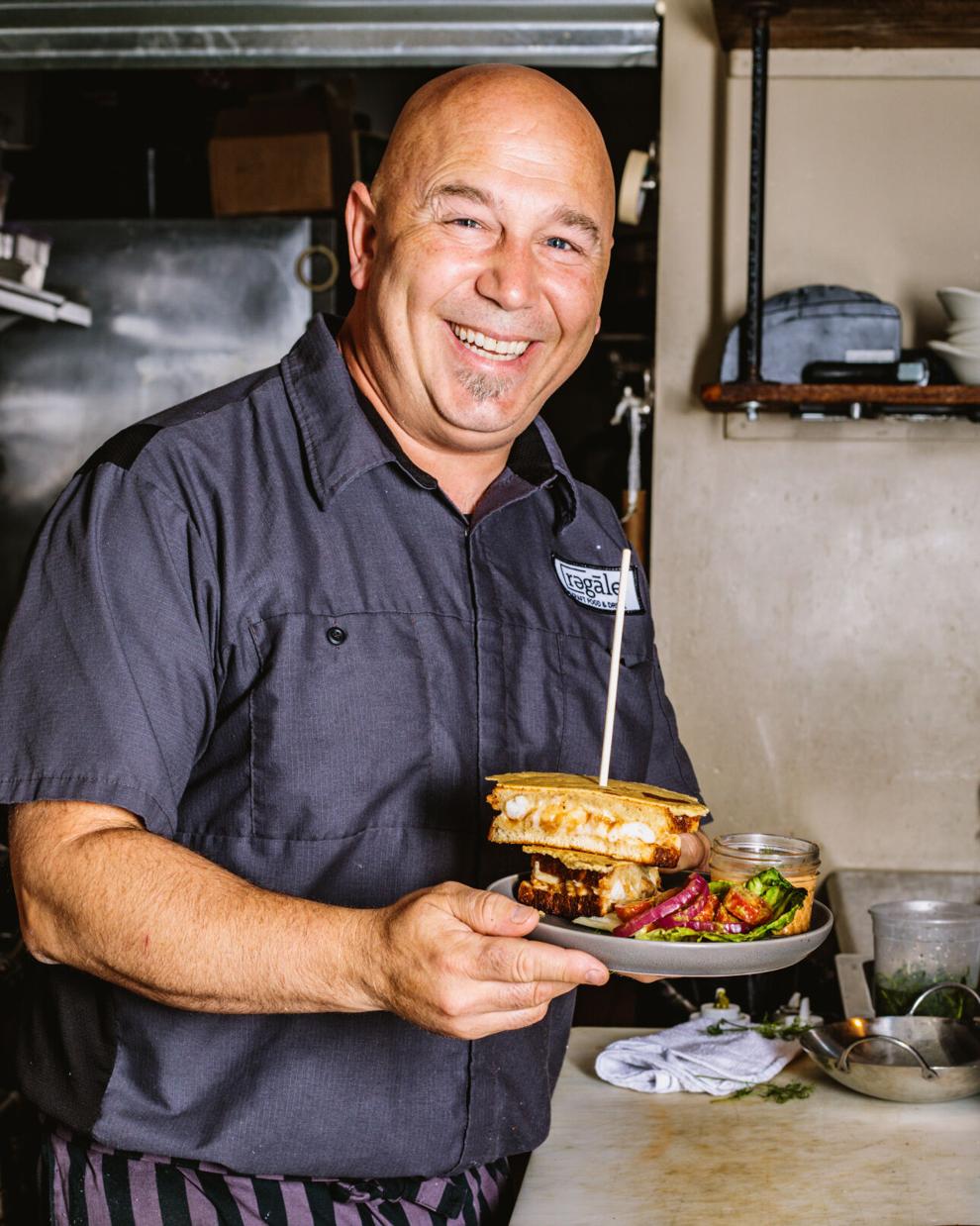 "When people see me in the kitchen, I want them to feel like they are stepping into my own family's kitchen at home," he says. "We believe that food is nurturing and brings folks together, so dining in our restaurant is a bit more interactive and intimate."
Rachelle explains that the sharing of dishes is an important foundation of their dining concept as it doesn't force diners to commit to one thing that they absolutely must eat. Instead, they're presented with a style of dining that's richer and allows them to comfortably sample new things.
"For a lot of people, this is the first time that they're having this type of dining experience in Macomb," Rachelle says. "Maybe someone loves ribs, but they've never had them with a Korean twist," she says. "Shawn has found a way of introducing things in such a nurturing manner that opens up people's minds."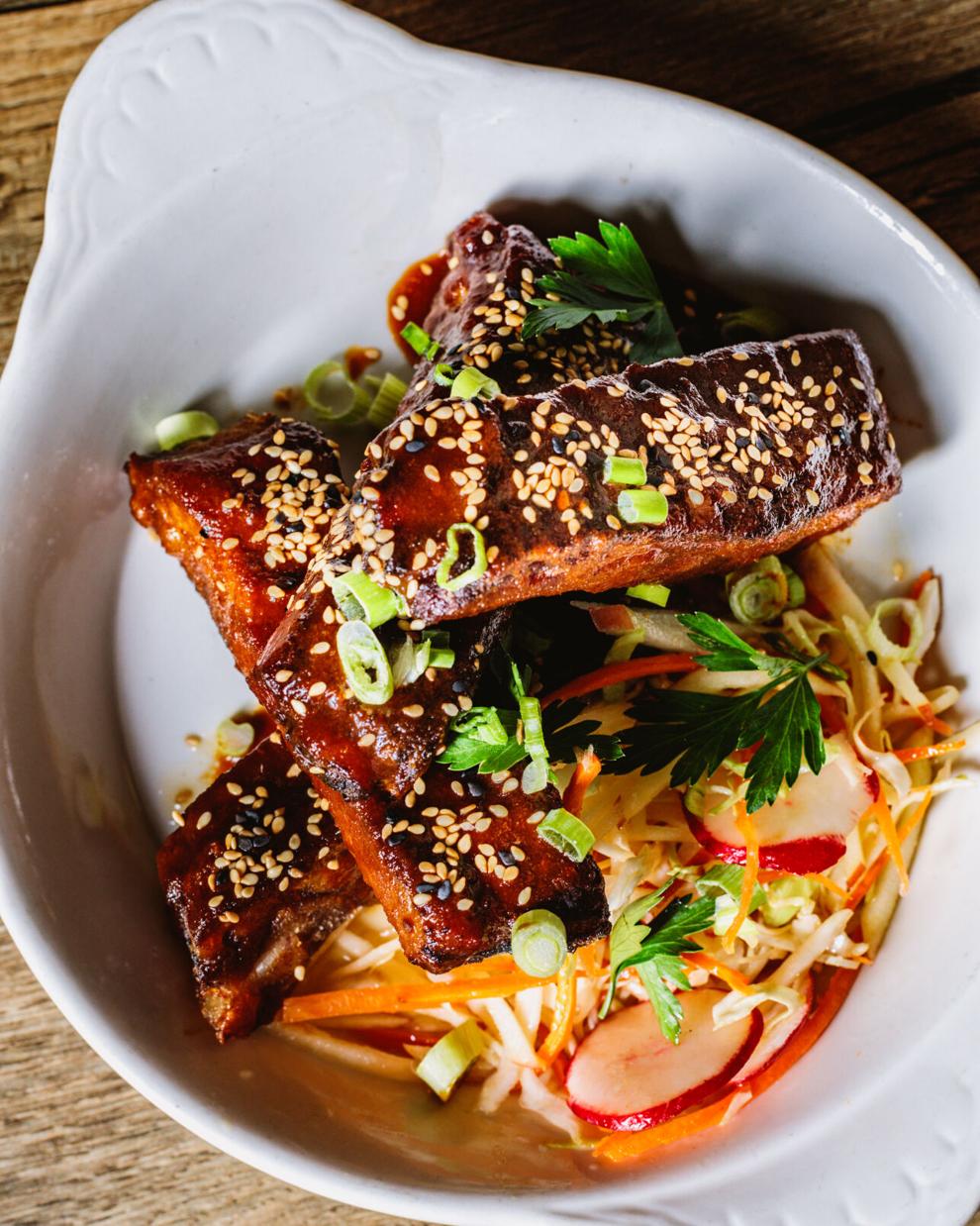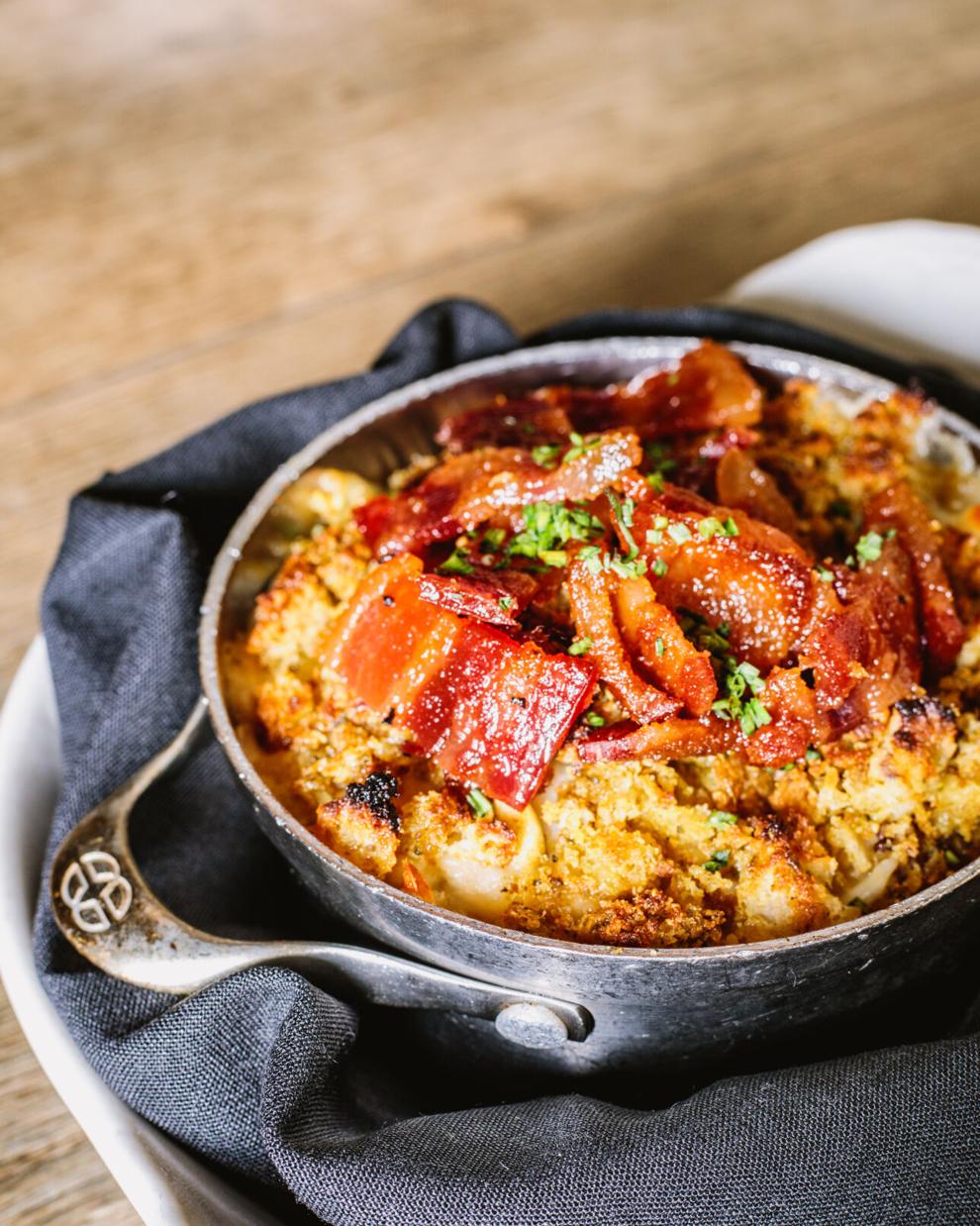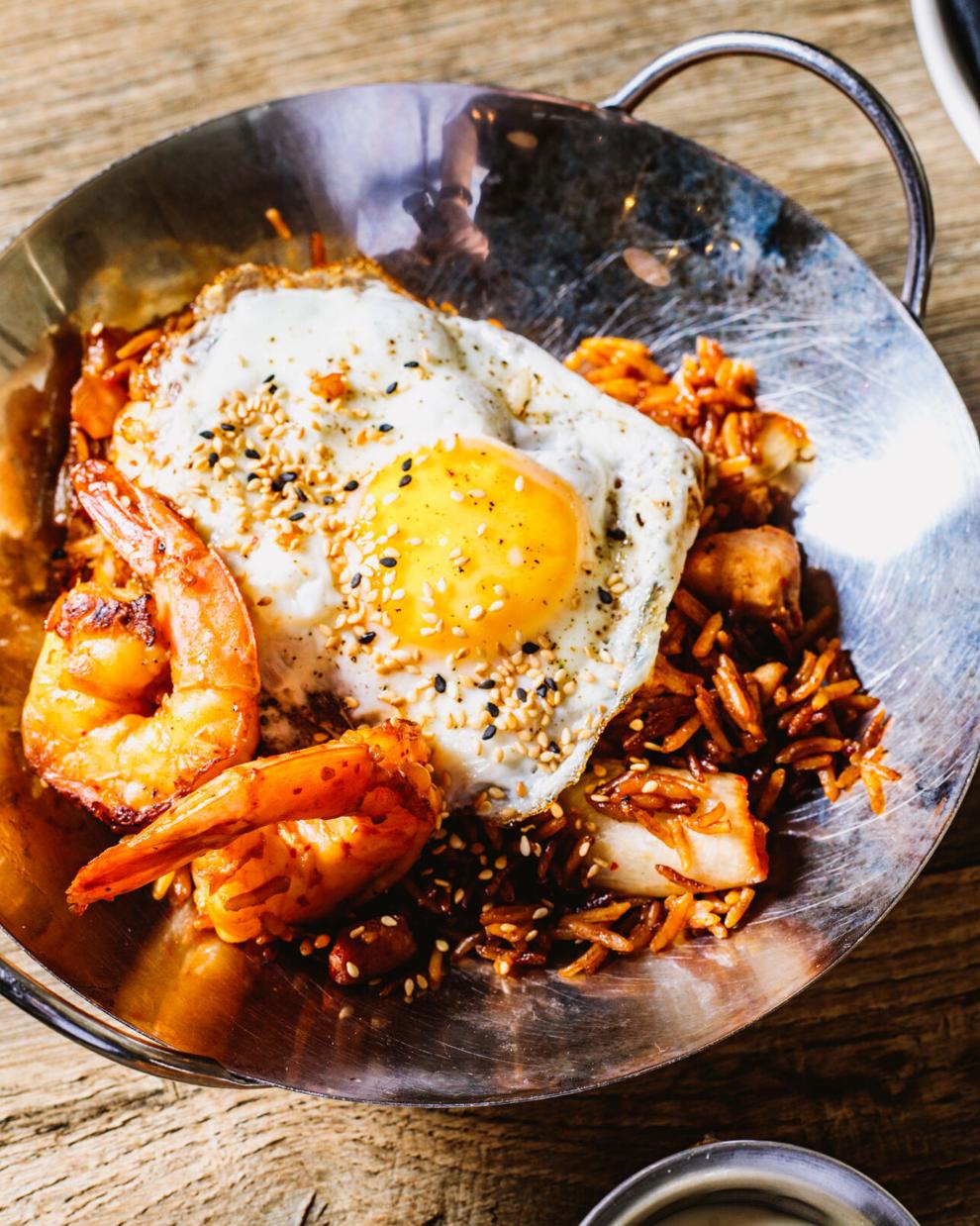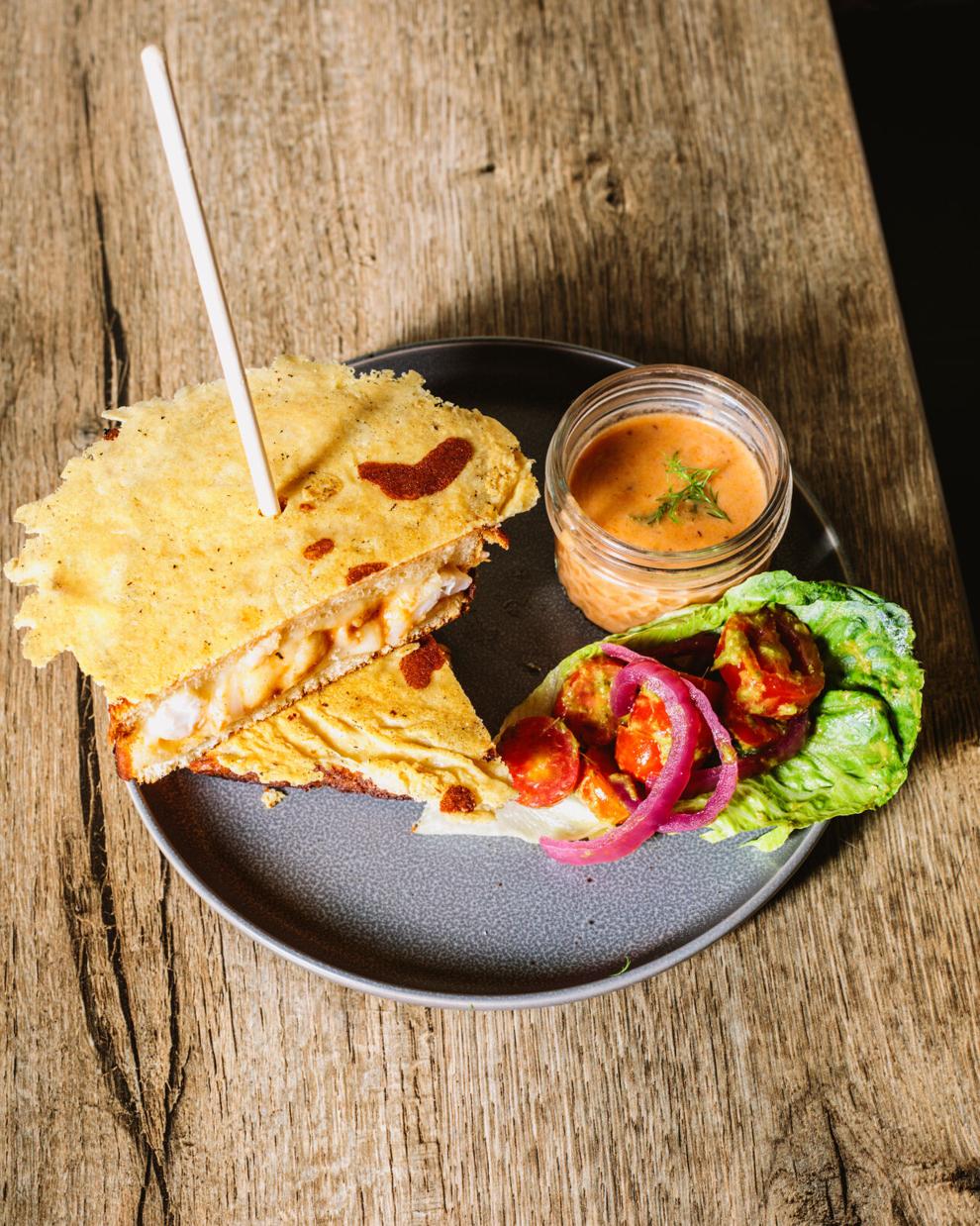 While Regale, 48810 Hayes Road in Macomb, is his first foray into restaurant ownership, Shawn is no stranger to the scene. Hailing from Halifax, Canada, he has 25 years of restaurant experience. Before moving to Michigan, he was the executive chef of the award-winning restaurant The City Grill in Windsor, Ontario. Shawn also spent nearly 10 years traveling the world while working for a luxury cruise line. He's visited all seven continents and nearly 90 countries, and he channels a lot of his varied global culinary experiences into his creations.
"At every port Shawn would go and look for the very best local food. He would look for the street carts or the little shacks to experience how the locals eat," Rachelle says. "He's taken a lot of that personal experience and passion and pulled together some wonderful flavors for some of our dishes."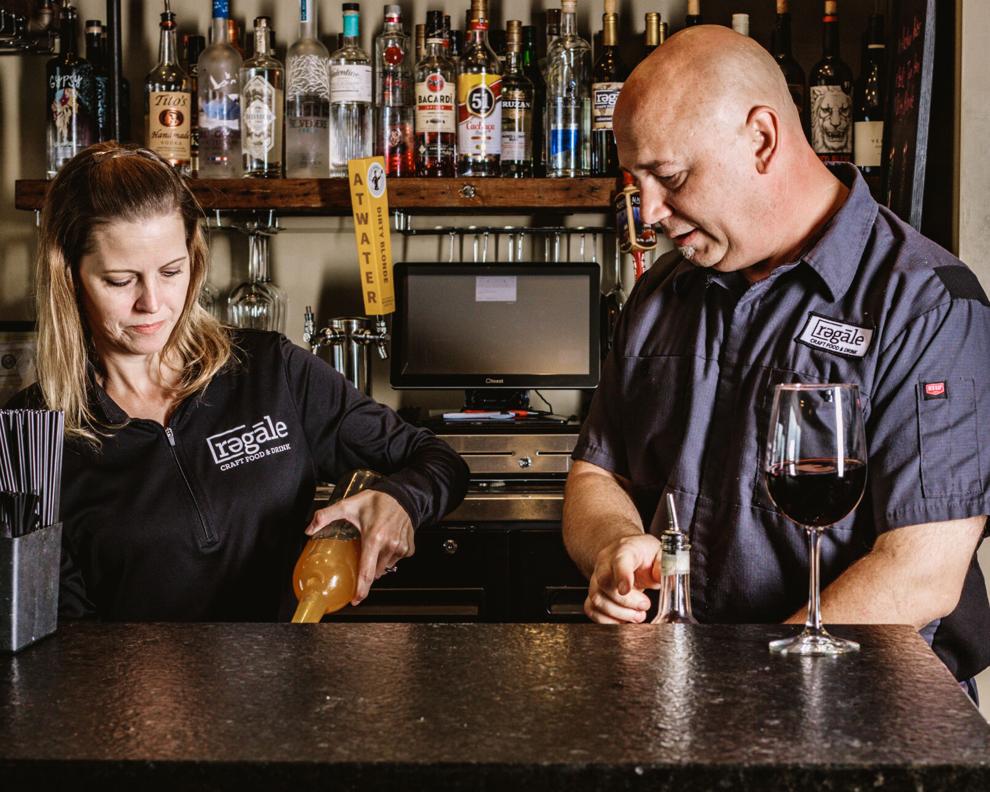 It was also at sea that Shawn met Rachelle, who was a dancer for the cruise line at the time. Today, Rachelle is a CPA by day who also handles Regale's bookkeeping. The couple has a 6-year-old daughter, Taya, who is often on site and adds another layer of charm to the restaurant. Rachelle says that elements of the restaurant's decor, such as a world map that emphasizes travel and different flavors, give diners a glimpse into the restaurant's beginnings. A bell that was originally in the officers' bar of the ship that the couple met on is another meaningful tribute.
"Every officers' bar has a bell, and if you ring the bell, you're buying a round for everyone in the bar," she says. "When our customers ring our bell, they're buying a round of drinks for the kitchen staff and spreading the love."
The drinks and cocktails at Regale rotate and are driven by the seasonality of local ingredients, which, as Shawn explains, allows them to spoil lucky eaters with "the freshest bounty" available. A current customer favorite is their Ol' Fashioned, made with bourbon that is infused with orange peel to make the flavor pop. Their Manghostarita — a blend of tequila, ghost pepper, mango, and Tajin — is killer. And while their cocktail and food menu does change, there are a number of dishes that he confides people would absolutely despair over if they disappeared.
"We have these little wonton tuna tacos made with sashimi-grade tuna where I've melded different flavors that are exciting together," Shawn says. "It's like tuna poke, but with a little bit more of an Asian sauce with fresh avocado, cucumber, green onion, and sesame. People won't let me take that away."
Same goes for his Nova Scotia Chowder, which is not a basic affair for Regale customers. The magnificent homage to his homeland — a hearty smattering of juicy clams, cod, plump shrimp, succulent scallops and fresh dill and potatoes plunged into a creamy oasis — is an upper-crust creation that's often praised by devoted regulars.
As more people clue into the hidden treasure that is Regale, it means that the dynamic duo is faced with what they describe as "a good problem to have." They're operating on mostly a reservations-only basis and weekends are often booked by the week before.
"It's not a style for dining for everyone, but often it leaves customers wanting more," Rachelle says. "It's very personal and very intimate, and also really good."
Regale Craft Food & Drink
48810 Hayes Rd, Macomb