The award-winning team behind Chartreuse serves up a fun and fancy multi-course culinary experience at their newly opened Freya.
BY MARKHAM HEID / PHOTOGRAPHY BY REBECCA SIMONOV
According to Norse mythology, Freya is the goddess of love. She's also the goddess of sex, war, and gold. She rides a chariot pulled by two cats, and she wears a cloak of falcon feathers. Basically, she's a badass. And any restaurant hoping to do her name justice would need to be pretty badass as well. Fortunately, her new namesake spot — the latest addition to Detroit's hot Milwaukee Junction neighborhood — doesn't disappoint.
Freya is a tasting menu-only, multi-course experience. You pay when you make your reservation — $85 without beverage pairings — and what you get is a memorable array of dishes that feature the freshest local ingredients prepared with elevated culinary techniques. "The way I think of my cooking style, it's like I'm a chef living in northern Michigan 50 years ago but with a French background," says executive chef Doug Hewitt.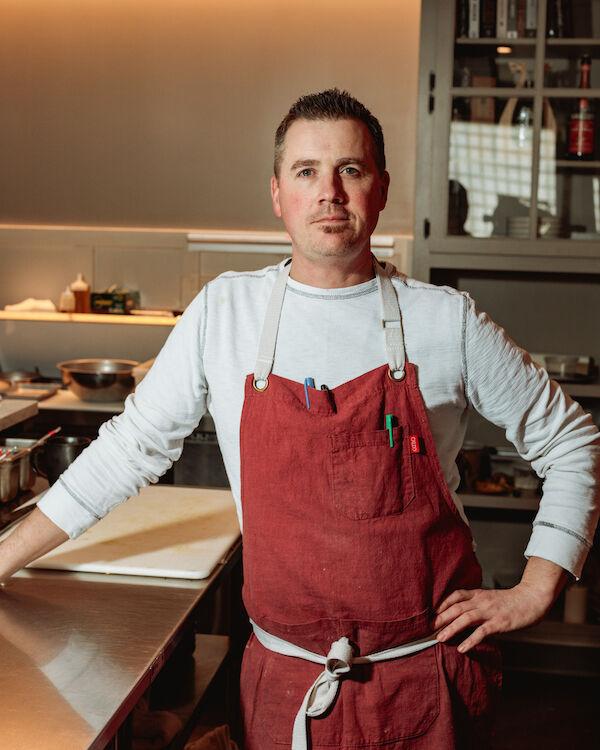 Hewitt co-owns Freya along with restaurateur Sandy Levine. The partners also own and operate Chartreuse Kitchen & Cocktails, which won the Detroit Free Press 2016 Restaurant of the Year Award. When they gave Chartreuse the award, the Free Press write-up praised the "unparalleled freshness" of Hewitt's ingredients and called him a vegetable wizard. It was around that time "the wizard" and Levine first started kicking around the idea that would become Freya.
"We were doing some fun things at Chartreuse, but we knew we wanted to expand and offer something more elegant — more of an experience," says Hewitt, 41, who lives in his hometown of Howell. The partners started looking around for a space for their new concept, but years passed without luck. "We signed several letters of intent for leases, but for different reasons, none of them worked out," he says. That changed when they got a tip from a friend about a great spot for sale in Milwaukee Junction. "We never intended to buy a building — we didn't think we'd be able or ready," he says. "But we looked at it and loved it, and we closed in August of 2019."
Hewitt and Levine were just getting to work on the space when the pandemic hit. "Everything took a lot longer than it should have," Hewitt says. Freya didn't end up opening its doors until November of 2021, but the finished product was worth the wait. Think of a cool friend's down-town loft — throw rugs, a turntable, lots of honey-toned wood and gray brick — and you'll have an idea of the vibe at Freya, which Hewitt and Levine came up with on their own. "I always wanted it to feel like a Nordic Lodge — lodgy but upbeat," he says. "The aesthetic is dark — candlelit and intimate — but we keep the tunes pumping."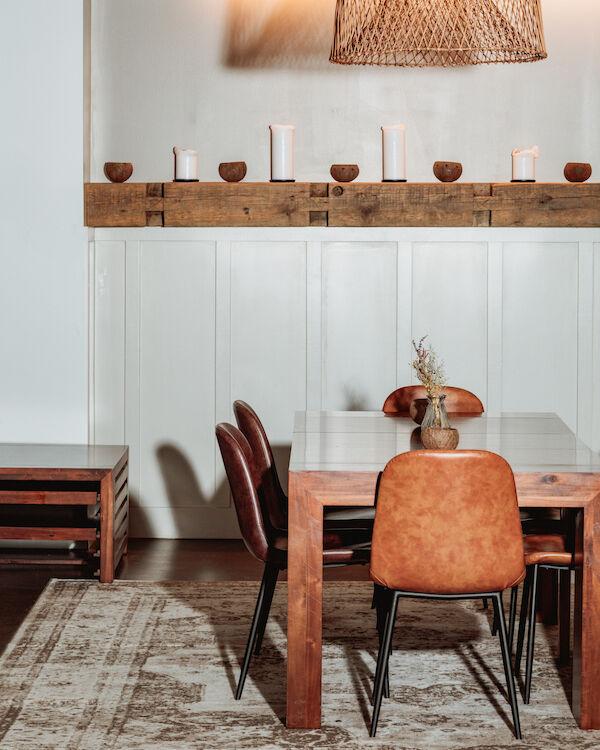 The beauty of the space is its own enticement, but the guests are drawn to Freya for the food, which surpasses its chic digs. When you make your reservation, you have the option to choose between pescatarian, vegan, or an "I Eat Everything" option that may include meat dishes. Each tasting menu is composed of six to eight courses, and you should plan to spend two or even three hours at the restaurant. If you're fretting about getting locked into a mystery menu, set your fears aside. "We offer selections throughout the meal where diners can choose what they feel like," Hewitt says. "So for instance, on the second course, we may have a choice between pork belly or a salt cod dumpling, and further down you could choose between venison or red snapper."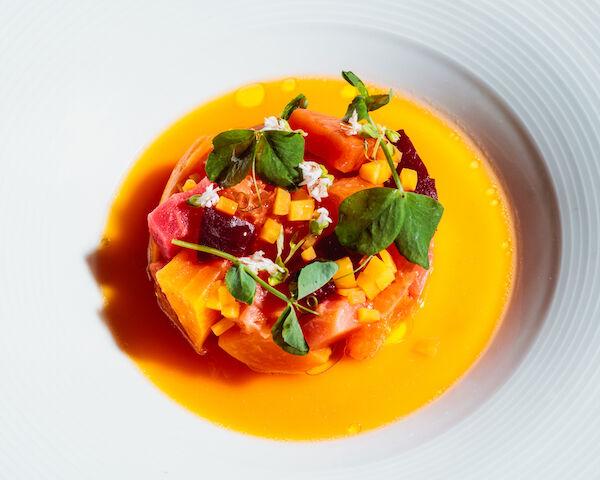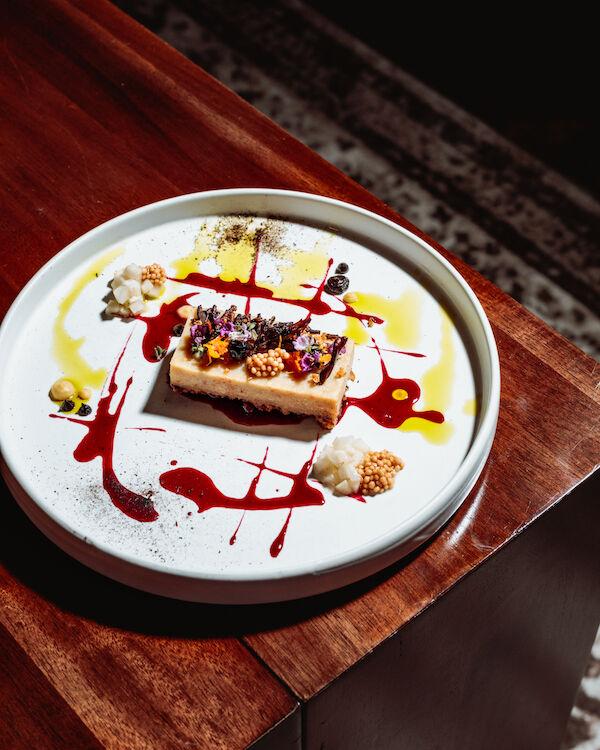 Asked why he and Levine opted to make Freya tasting-menu only, Hewitt says it makes the experience simpler and more comfortable for visitors. "We're trying to take a lot of anxiety out of the process of ordering," he says. "I believe there are experiences where people miss out on things they would have enjoyed because they're worried about the price point." Paying up-front allows his guests to forget about the cost and simply follow their guts.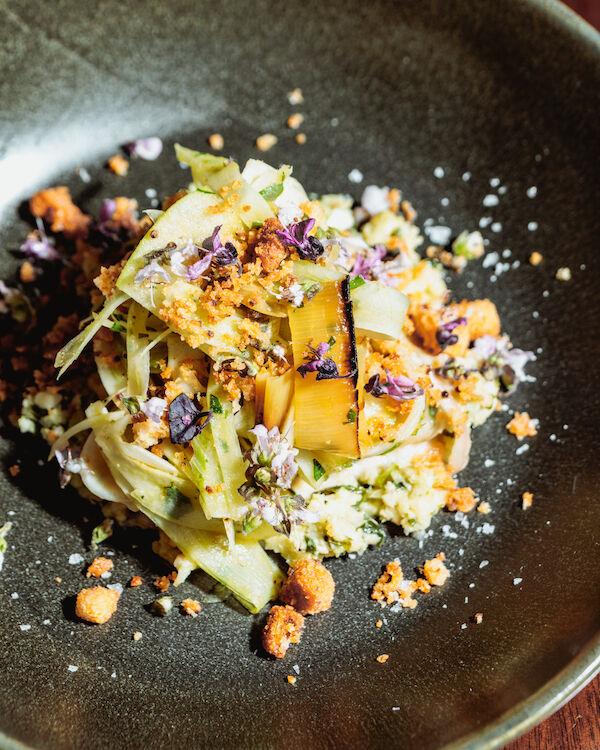 Returning to that pork belly, Hewitt says his version is served with an English-pea puree. "It's very classic and bright, and we mix in a split-pea miso that makes it a little more vibrant and funky," he says. The dish also features a caramel pork stock reduction. It's a dish that sums up a lot of what he and his group are putting together at Freya. "There's some classic technique in there, but some brightness and seasonality and playfulness as well," he says. "My team is very eclectic, so you'll see a lot of different techniques and different eras in one dish." That team includes pastry chef Ben Robison, another Chartreuse veteran. "The coffee caramel parfait Ben's been doing lately has been a big hit," Hewitt says.
As at Chartreuse, fresh and mostly local ingredients take center stage at Freya. They buy as much as possible from Michigan farms and Detroit suppliers. "We get our miso and some other things from Deana [Wojcik] at The Mushroom Factory," he says, referring to specialty food and creative space in Detroit.
Hewitt grew up in Howell, but he was born in Detroit. "My dad was a city cop, but we moved when he retired," he says. Asked what he hopes guests will take away from a visit to Freya, he doesn't hesitate. "We want people to feel totally fulfilled — that it was an unbelievable experience and so worth the money," he says. "As long as there's that feeling, we've done our jobs."
Freya 
2929 E Grand Blvd, Detroit
Head to Freya for an incredible culinary experience and then try making their Apple Pesto at home with this recipe.
APPLE PESTOThis is a current element in Freya's vegan tasting menu. Chef Hewitt says he uses it on his cappelletti pasta, which is filled with candied orange and whipped tofu. "But it is great with many proteins as well like pork and poultry, or even a fatty fish," he says.2 Granny Smith apples, cored and cut into chunks1 cup basil4 cloves garlic, minced1 teaspoon salt1/4 cup lemon juice1/2 cup macadamia nuts1/4 cup olive oilBlend in a food processor.Executive chef Doug Hewitt