Local 4 News traffic reporter Kim DeGiulio and Kevin Yarows share how they weaved local brands and places into their Motor City wedding.
By Eden Lichterman
Photography by Holden Photo
While Kim DeGiulio, 28, and Kevin Yarows, 26, both grew up attending Camp Michigania, a University of Michigan alumni camp in Northern Michigan, they never went at the same time of the summer. It wasn't until they both returned as counselors in 2010 that they finally met and bonded over their mutual obsession with maize and blue. Two years later, the Detroit residents took their friendship to the next level and started dating.
DeGiulio says she knew Yarows was the one about a year into dating, but she's not so sure he felt the same way. "I knew a lot sooner that we were going to get married than Kevin," she says. "Because he's younger than me, it took him some time to be comfortable with the idea of marriage."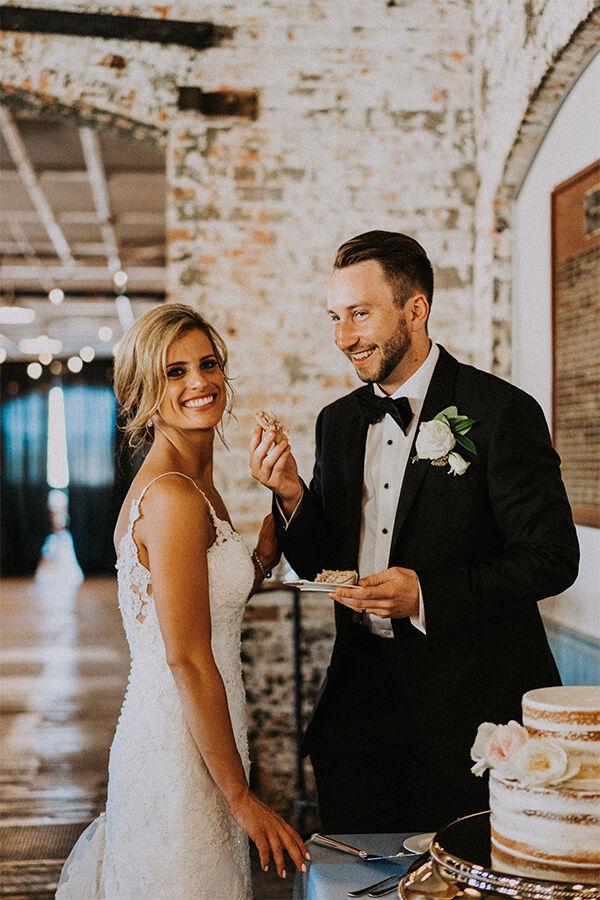 After dating five and a half years, Yarows, a member of the business evaluation group at Plante Moran, came to his senses and popped the question. Since DeGiulio attended college in Arizona and Yarows in Ann Arbor, and they lived in various places post-grad, the couple spent many years in a long-distance relationship. Once they both ended up in Detroit and began to create a life together, Yarows knew he was ready to propose. "I love being around her and spending time with her," Yarows says. "Everything fell into place, and the timing was right." 
On a Friday evening in December 2017, DeGiulio thought they were just going for happy hour at Townhouse in Detroit. As the couple walked to the restaurant, however, Yarows slowed down in front of the Spirit of Detroit, expressed his love for DeGiulio and got down on one knee. DeGiulio, in complete shock, said "yes." The pair then enjoyed drinks at the Detroit Athletic Club, followed by dinner with their families at Townhouse.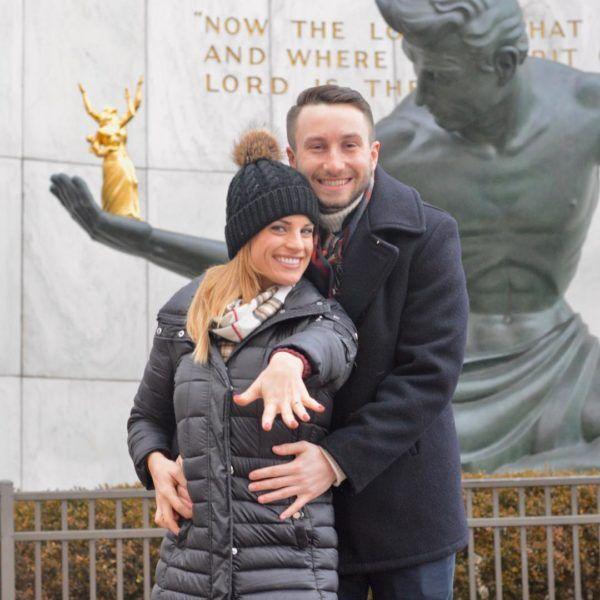 Via Kim DeGuilio's Instagram
Within the first year of the couple's relationship, Yarows remembers looking on DeGiulio's Pinterest page for gift ideas. To his surprise, he found photos of diamond rings. "I was caught off guard," Yarows laughs, adding, "I was like 20 years old." Luckily, Yarows wasn't scared off, and that Pinterest page came in handy a few years later.
Yarows picked out a 1.7-carat round solitaire diamond from a family jeweler, which he paired with a diamond-encrusted gold band from Lewis Jewelers in Ann Arbor, a partner of University of Michigan Athletics.
Once the engagement high subsided, it was time to start planning the wedding. With only eight months to plan, the couple had to make some quick decisions. "One thing I knew for sure was that I wanted to have the wedding in Detroit," DeGiulio says. "Just because we both live here. We love it here." Yarows adds, "Detroit is a special place for us because it was the first time that we were able to live in the same city for an extended period of time."
The couple chose St. John's Episcopal Church for the ceremony and the Ford Piquette Avenue Plant for the reception — two symbols of Detroit history.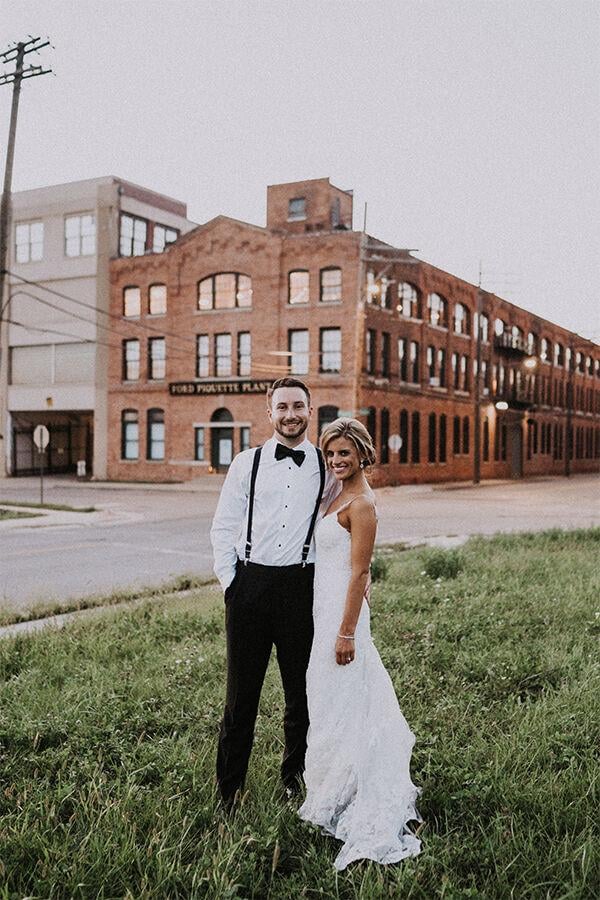 Most guests arrived for the Labor Day weekend wedding on Saturday and checked into the Greektown Casino Hotel. "My goal for the wedding weekend with having so many people from out of town … was for them to see how awesome Detroit is and get a good feel for this renaissance that's going on," DeGiulio says.
Each hotel guest received a Detroit-themed bag, complete with Vernors, Faygo, Better Made chips and Sanders chocolate to kick off the weekend. Festivities began with the rehearsal dinner on the second floor of Firebird Tavern in Greektown.
Following dinner, the couple invited their family and friends to join them at Buffalo Wild Wings in Greektown to watch the Michigan vs. Notre Dame football game. Of course, they couldn't miss the season opener.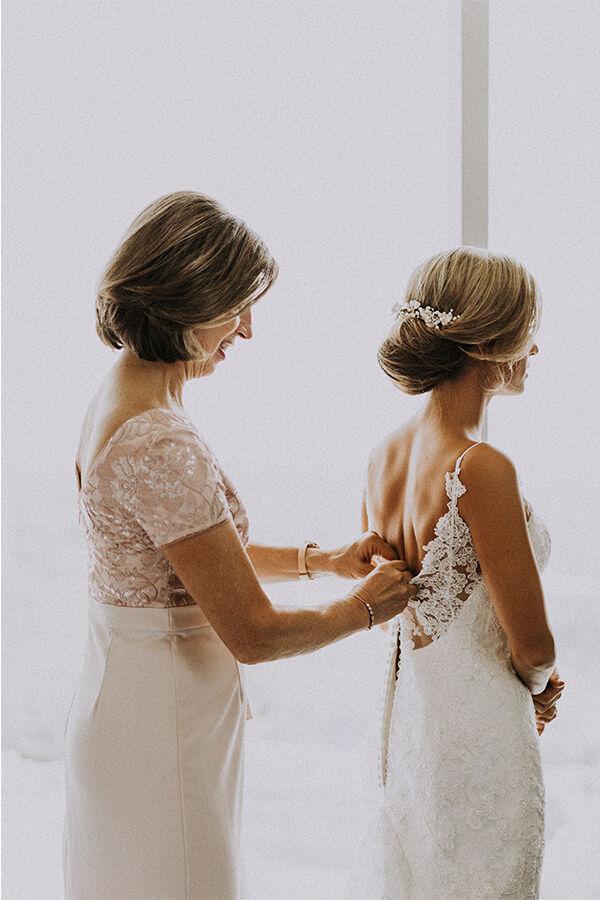 After spending the night apart, DeGiulio and Yarows woke up on their wedding day, ready to celebrate their Michigan-made love. DeGiulio's day with her bridesmaids, who wore dusty rose dresses, began early with hair and makeup. DeGiulio put on her Kenneth Winston lace gown, which she purchased at Gina's Bridal Boutique in Milford. Yarows and his groomsmen wore classic black tuxes.
DeGiulio and Yarows did a first look on the steps of the Detroit Institute of Arts. While some couples wait to see each other at the ceremony, DeGiulio couldn't wait to see her groom. "I just wanted to spend the most time possible of our wedding day with Kevin," she says.
Yarows admits he was nervous on the wedding day until he finally laid eyes on his bride. "When I actually saw her, I was able to relax and go through and enjoy the day," he says.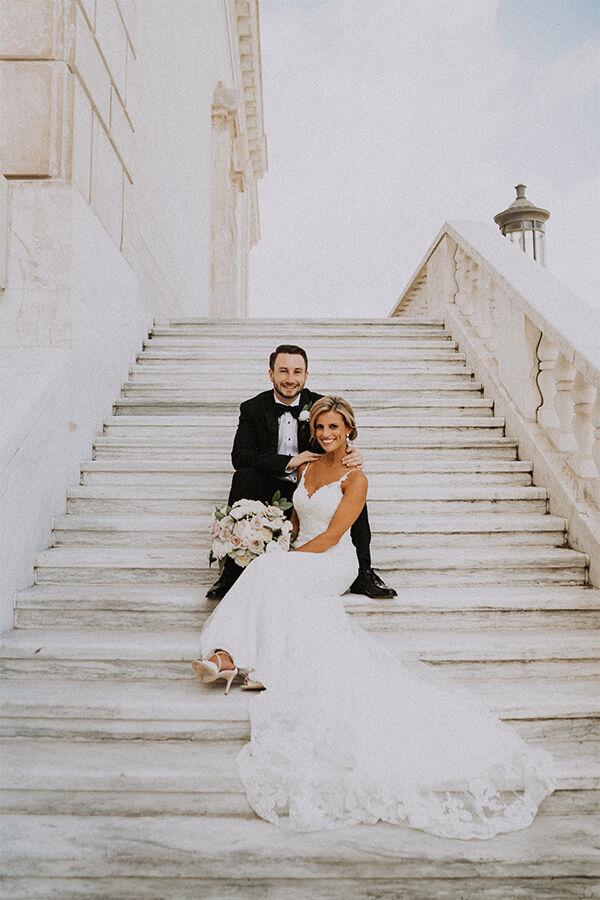 Along with their wedding party, DeGiulio and Yarows rode a trolley through Detroit, taking photos around the city and dancing in the street. "It was like a fairy tale," DeGiulio says. "Nobody cared that we were just blocking traffic."
Since Yarows is Jewish and DeGiulio is Christian, they had a joint-faith ceremony, officiated by both a rabbi and priest. DeGiulio describes walking down the aisle as one of the most memorable moments of the weekend. "My jaw dropped seeing every single person that you know and love in the same room all looking at you," she says. "And then the man you're going to marry at the end of the aisle. Like what? That's crazy."
Following the ceremony, the newlyweds went for a spin down Woodward Avenue in a Ford Model T. The old-fashioned car dropped them off at the Ford Piquette Avenue Plant, where the car was originally built. At the rustic venue filled with white and dusty rose flowers and greenery, guests enjoyed a string quartet and cocktail hour before gathering in the main area for the reception.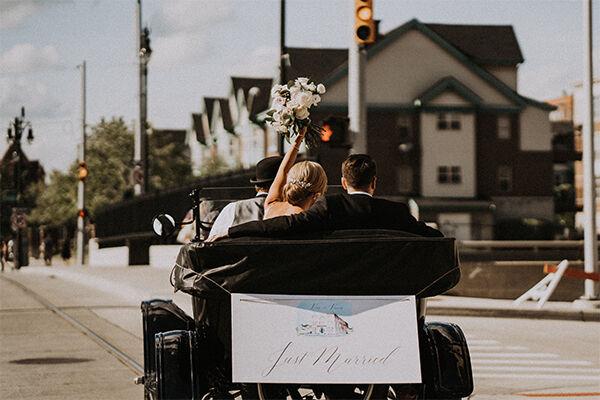 Instead of having their guests clink glasses for them to kiss, a typical wedding tradition, DeGiulio and Yarows asked their family and friends to sing songs about love. DeGiulio's colleagues from Channel 4 stole the show and sang "Freeway of Love" by Aretha Franklin, setting a laid-back, fun tone for the night. Guests also enjoyed dinner from Andiamo, a local restaurant and caterer.
The couple did their first dance to "May I Have This Dance?" by Francis and the Lights featuring Chance the Rapper. Everyone joined them for the Hora, a traditional Jewish dance, and stayed on the dance floor for the rest of the night jamming to Motown music.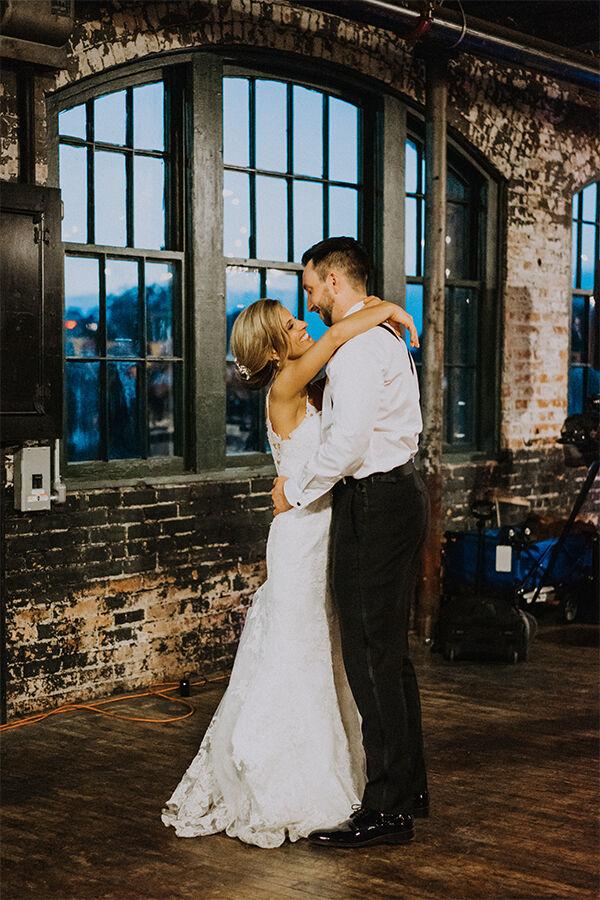 DeGiulio and Yarows rounded out the Detroit theme with Jet's Pizza and Gus's Fried Chicken as a late-night snack. "After a couple of cocktails, people were loving on that," DeGiulio jokes.
The pair enjoyed every minute of the whirlwind weekend, and they now look forward to embracing their new adventure in the Motor City. "It's exciting to figure out what we want to do for the rest of our lives," Yarows says.
DeGiulio feels equally excited to settle into married life with her best friend. "I just knew that he's the person that I wanted to spend forever with," she says, "because I never wanted the feeling that I had to go away."
Wedding Details
Date: Sept. 2, 2018
Venue: Ceremony: St. John's Episcopal Church, Detroit
Reception: Ford Piquette Avenue Plant
Florist: Vine Floral Design
Caterer: Andiamo
Cake: Holiday Market
Entertainment: Bluewater Kings Band and Go 4 Baroque
Dress: Kenneth Winston from Gina's Bridal Boutique in Milford
Shoes: Badgley Mischka
Rings: Lewis Jewelers in Ann Arbor
Hair/makeup: The Makeup Loft (DeGiulio's was done by a friend.)
Tux or Suit: The Black Tux
Invitations: Jade Social in Royal Oak
Wedding planner: Sarah Rhodes-Boyce
Photographer: Holden Photo
Videographer: Jose Degollado
Honeymoon destination: Beverly Hills, California