Using his two hands, Detroit-based sculptor Austen Brantley shapes his identity and finds his artistic voices
BY PATRICK DUNN / PHOTOGRAPHY BY DARREL ELLIS
At 26 years old, Detroit-based sculptor Austen Brantley has exhibited work in venues across the country, been commissioned to create sculptures of public figures, and traveled the world to collaborate with other artists. It's a heady list of accomplishments for an artist who laughingly admits that he took his first ceramics class solely "to get an easy A" while he was at Berkley High School.
At that time, Brantley had little artistic experience and was feeling anxious about having no career plan. At first, ceramics seemed like a dead end; he didn't even like the feeling of clay on his hands. But as a self-described "awkward, shy kid," Brantley discovered that sculpture quickly became a way to express himself — particularly his struggles with his racial identity. Throughout Brantley's childhood, Black kids told him his speech patterns sounded white, while white kids told him he wasn't Black because he listened to Chinese music, flamenco guitar, and opera instead of rap.
Darrel Ellis for SEEN
"I feel like the rebel in me is always trying to find my own identity," he says. "I think being Black is a part of me, and I'm trying to put that into my work, but I'm always trying to find who I really am."Now, as a professional artist, Brantley creates sculptures that tend to emphasize Black subjects in poses of contemplation, strength, and serenity. His art has appeared in institutions ranging from the Detroit Institute of Arts to the National Afro-American Museum and Cultural Center in Wilberforce, Ohio. His work is also on permanent display at Detroit's Viola Liuzzo Playground, where he was commissioned to create a statue of the playground's namesake, a murdered civil rights activist.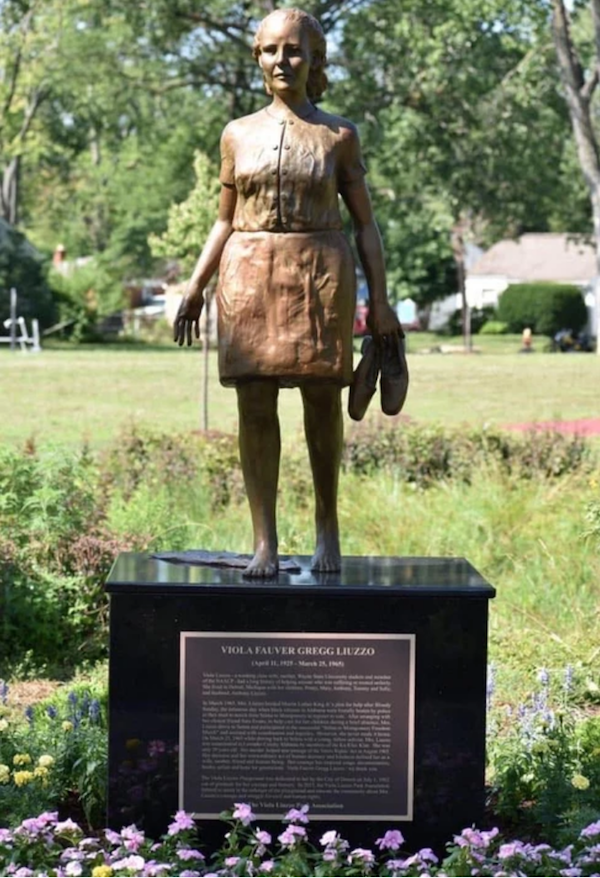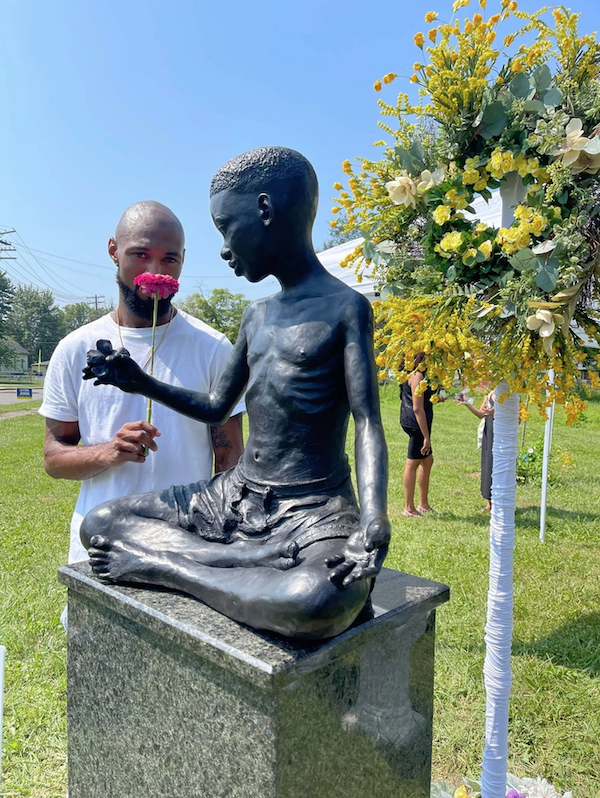 Brantley says his sculptures are "very quiet pieces, but they can have a certain power to them, like [him]." For example, he says he relates strongly to his "Cocoon" series of sculptures, which depicts Black figures breaking free from white wrappings.
"I'm not a Facebook-status type of guy. I don't say my political opinions on Twitter or anything," Brantley says. "I'm more the kind of person who wants to say something through my work because I feel like that's way more powerful."
Asia Hamilton hosted Behind the Mask, a solo exhibition of Brantley's work, last year at Detroit's Norwest Gallery of Art, where she is founder and director. She says she appreciates the beauty in Brantley's depiction of "Black bodies in that statuesque form."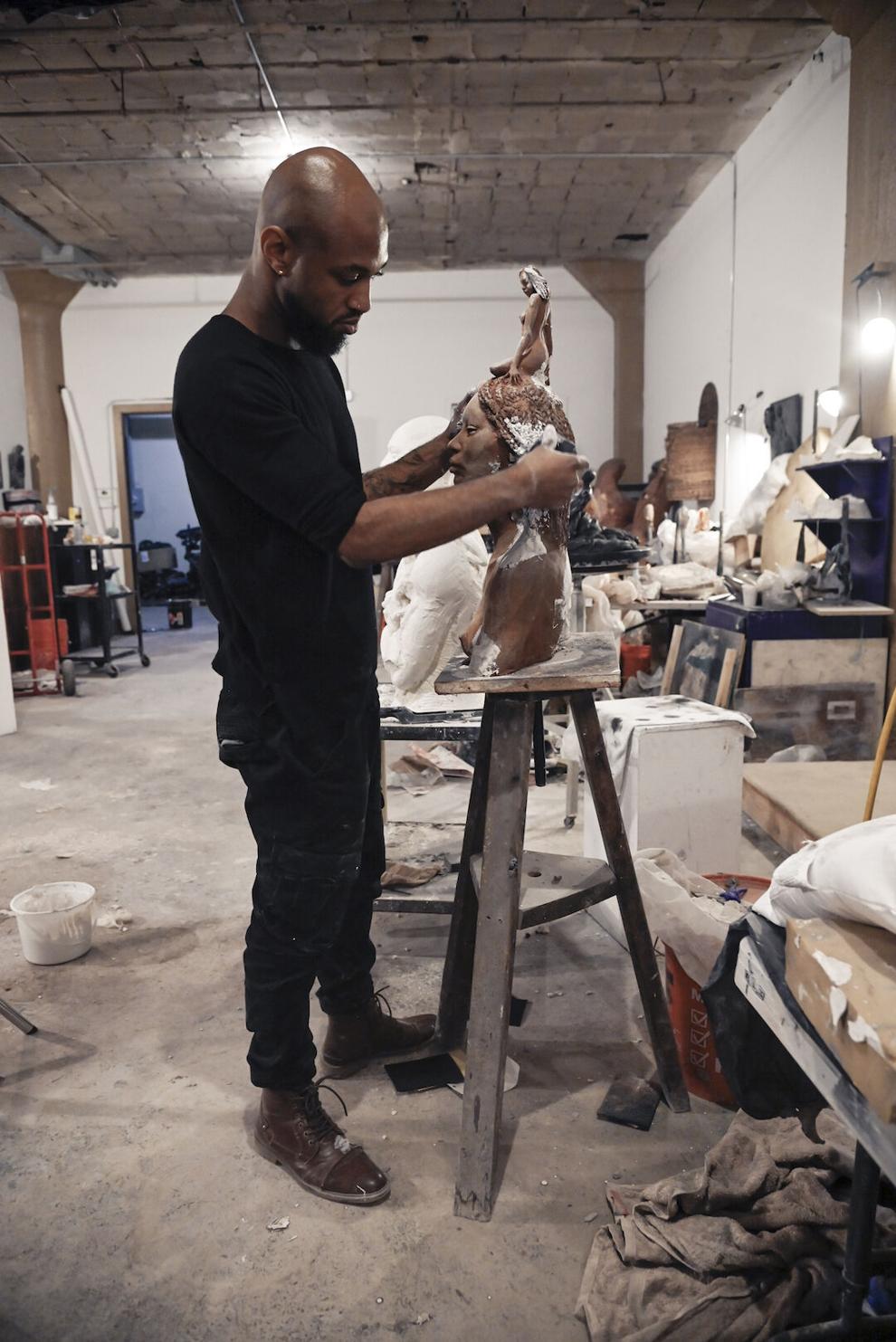 Darrel Ellis for SEEN
"You go to museums and you see a lot of white figures, but you don't see enough Black people made in that way," Hamilton says. "It brought a different attention to the body, more of an awareness of it being art and not something that's oversexualized or portrayed to be a slave or something of that nature. That's something that was very powerful about his work."
Brantley has no formal training. He applied for scholarships to art schools with no success, but that didn't stop him. Instead, he sought out a different kind of education by following thousands of sculptors on social media and asking them to critique his work.
Through that process, he's built relationships with fellow artists around the globe and has traveled to work with several of them in Mexico, Italy, and Colombia. Although Brantley mostly grew up in Southfield, his earliest memories are of the few years his family spent living in Germany for his father's work, and travel is integral to his creative process.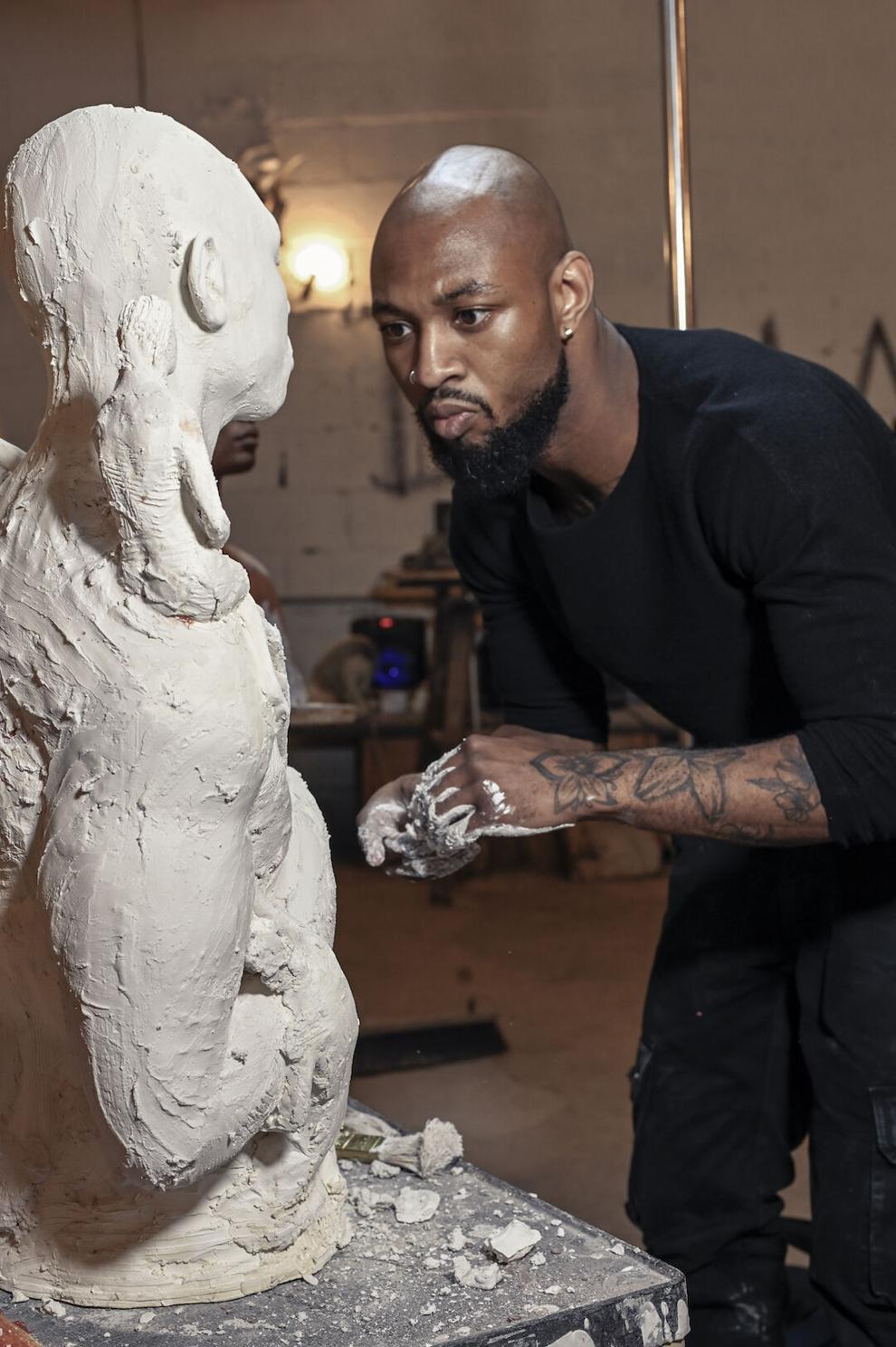 "I need … experiences like that that make me feel like I'm not just a Detroit artist," he says.
However, Brantley feels strongly about Detroit, where he lives and also works out of a studio in the Russell Industrial Center. He says he anticipates the city will always be his "headquarters."
"There's very hardworking people here, and I like being around that," he says. "I like coming home from a long journey and getting back to my studio."
Brantley recently completed a solo exhibit called Coarse, an examination of identity through the lens of Black hair, at Madison College in Wisconsin. After working part-time retail jobs to help get his art career off the ground, he's been a full-time artist since 2017. And although his career is going strong now, he's unworried about whether it'll stay that way.
"I meet a lot of artists who have to work part-time jobs, but they still are very passionate about their work," he says. "I think for me it's about the fact that I can wake up and still call myself an artist no matter what and still have the drive to create things."
For more information about Austen, his work and upcoming exhibitions, check out his website: austenbrantleysculpture.com
You can meet Austen Brantley and see a few of his pieces at our upcoming Art + Wine SEEN event on Thursday, July 21, at Art Leaders Gallery in West Bloomfield. Get your tickets here.