Married artists Rosa Chavez and Leon F. Ruiz have a passion for art inspired by romance
BY KORIE WILKINS / SPONSORED BY ROSA CHAVEZ
Artists Rosa Chavez and Leon F. Ruiz – married for more than 30 years – have one rule in their shared art studio: A critique isn't given unless it is requested.
"The couple, originally from Mexico, share a studio in Granger, Indiana and this simple rule has kept them happily making art over the years," says their daughter Esmeralda Ruiz, who manages their business.
Chavez and Ruiz met on a beach in Acapulco, started talking and discovered they were enrolled in the same art school in Mexico City, Instituto Nacional de Bellas Artes. Ruiz – who grew up in Mexico City — already was working as an architect, but loved hand-draw-ing his designs so much he decided to pursue a degree in fine art painting. Chavez, from the agricultural state Michoacan, was taking classes there but had been making art out of found items from nature for years.
"Making art is like breathing; you need it to survive," Chavez says. "I feel that being an artist isn't a hobby, a job or a choice. It is something you are born with that you need to focus on or else you will go a little mad. I paint every single day and when I'm not painting, I talk about it with my clients, my husband or friends. It is truly the first thing that comes to mind when I wake up in the morning and it has consumed me."
"Making art is like breathing; you need it to survive," – Rosa Chavez
Ruiz agrees. He comes from a long line of artists. His grandfather was a muralist whose work can be found on the ceilings of some large Mexican cathedrals. His uncle, Leon Martinez Torres, was an art collector and dealer.
But the greatest influence on his work was his great grandfather, Arturo Ruiz Moncada, who helped restore paintings and created murals in the Sistine Chapel.
"I am truly living a dream being able to work with the love of my life next to me every day," Ruiz says. "We travel together, grow as artists and as individuals in unison. Yes, some days are hard but at the end of the day we are both doing what we love to do. This creative journey wouldn't be the same without her. Whenever we face doubt, we have each other to lean on."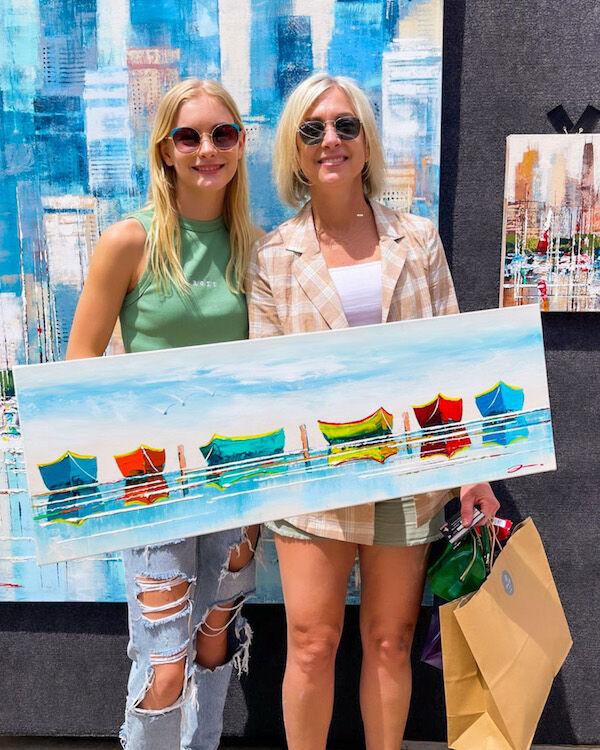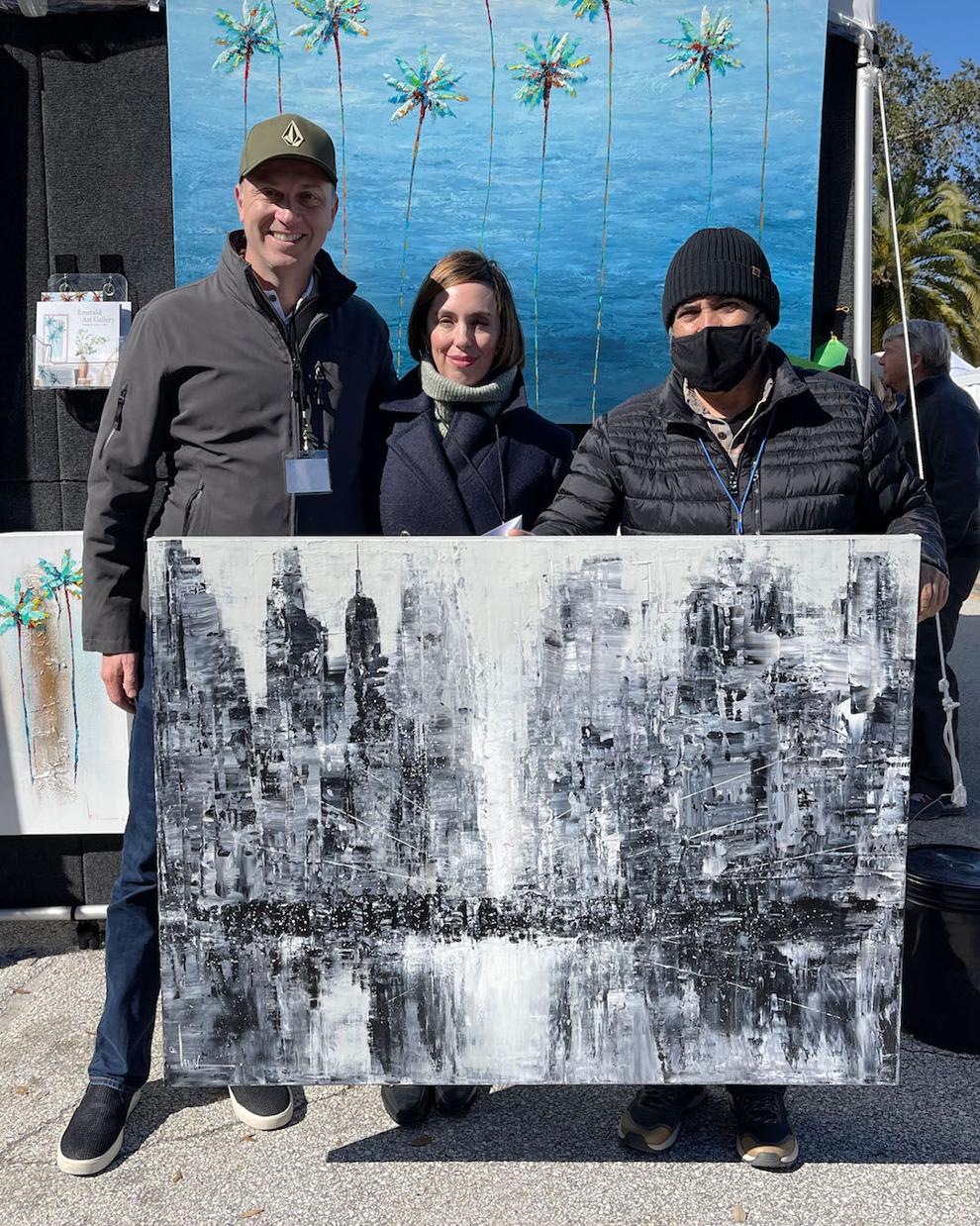 As Esmeralda says her parents moved to the U.S when her father was pursuing his Master of Fine Arts from the Academy of Art University in San Francisco. New to the art industry, the couple started selling their work from home and in flea markets. As their careers blossomed, they sold their work from their gallery located in Carmel, California; at around the same time, they were represented in galleries in Monterey, Beverly Hills, and Napa Valley. They also joined the art show circuit in California and eventually, other states – including Michigan.
"I am truly living a dream being able to work with the love of my life next to me every day" – Leon F. Ruiz
Their artwork, inspired by American cities, marinas and nature, is bold, organic and colorful, seeking to show the relationship between the natural world and man-made items. Both Ruiz and Chavez love sharing their art at festivals.
"Art festivals have given me and my family the ability to share our work with the world in a personal way," Chavez says. "It isn't stuffy like a gallery where you walk in and you're instantly intimidated. I love that art festivals take place in parks or in downtown areas because I get to meet real people that can tell me their stories and feel comfortable enough to ask me questions about my paintings and my style of painting. That interaction has inspired me to create new art pieces."
You can meet Rosa and Leon and view their work at several art shows throughout Michigan, including:
LAKESHORE ART FESTIVAL 6/24/22 – 6/26/22, MUSKEGON
WEST SHORE ART FAIR 7/2/22 – 7/3/22, LUDINGTON
KRASL ART FAIR ON THE BLUFF 7/8/22 – 7/10/22, ST. JOSEPH
ANN ARBOR SUMMER ART FAIR 7/23/22 – 7/24/22, ANN ARBOR