Leaning Into Extremes: Martyna Alexander embraces duality to discover a 'Middle Ground' of unexpected beauty.
BY PATRICK DUNN / PHOTOGRAPHY BY DARREL ELLIS
Whether it's the push and pull between her artist mother and engineer father, the precision of graphic design work and the freedom of fine art, or abstraction and figurative work, Martyna Alexander is drawn to the relationships between opposites.
"I'm always trying to find extremes so I can find the middle ground and find ways to mix the two," says Alexander, 33. "That's always inherently been an aspect of my work without really realizing it or thinking about it."
In the past two years Alexander has made a name for herself on Detroit's art scene with her colorful, precisely composed abstract paintings, in which careful balance between opposing visual elements is key. But her foray into fine art is a reaction to her lengthy preceding career in graphic design. Alexander completed her bachelor's in fine arts at the University of Michigan with the intent of becoming a graphic designer and followed through on that goal with eight years designing for employers including Whirlpool and Shinola. In 2016, the latter job brought the Ann Arbor native to Detroit, where she now lives in the Cultural Center area in north Midtown with her partner, photographer Daniel Ribar. But towards the end of her time at Shinola, Alexander says she became "a little jaded" with the nine-to-five life.
"I started to lose the feeling that I was doing a creative job," she says.
Alexander launched a freelance design and illustration business in 2019, and in early 2020, she scored a contract doing web design for Apple in San Francisco. She describes the job as "one of the most intense working experiences" she's ever had, requiring a two-hour commute each way to and from a "tiny box" of an apartment. Seeking a form of release, she bought art supplies and started creating a series of abstract paintings.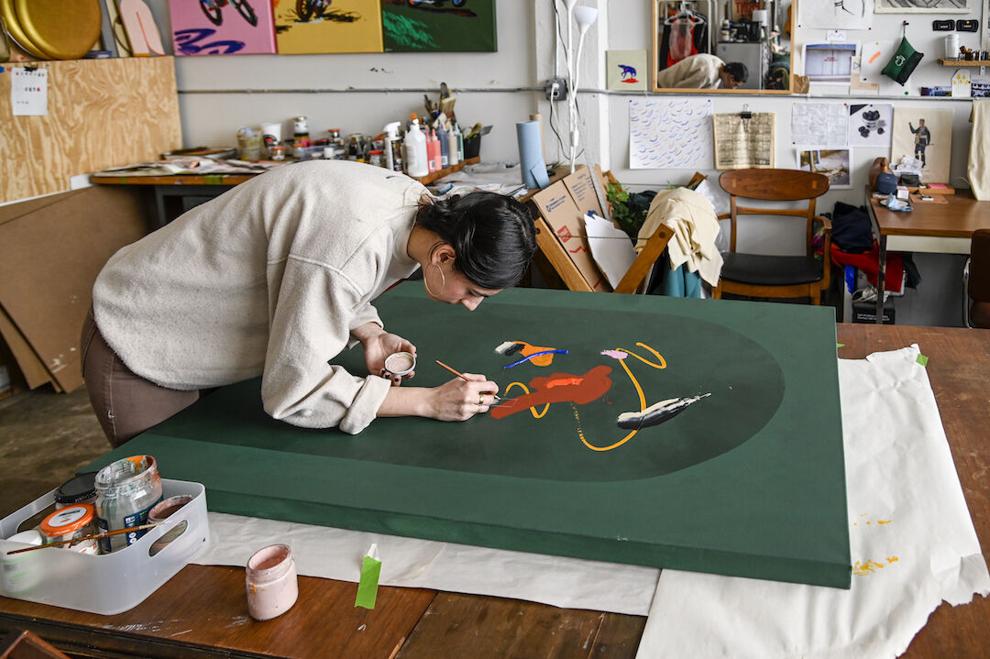 DARREL ELLIS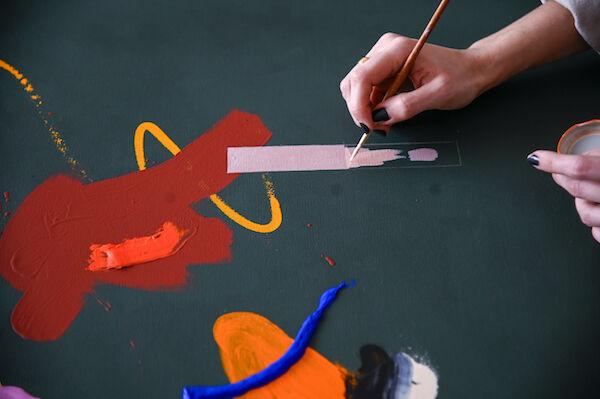 DARREL ELLIS
"From that particular, really small series of work that I was just making kind of as a form of healing or escape, it started out my style and the kind of visual language that I use now very heavily in all my work," she says. "So something there broke or cracked or was born, maybe from the stress or from the inspiration of being in a new place."
The COVID-19 pandemic arrived two weeks before the end of Alexander's contract with Apple, and when she got home to Detroit, she found her other freelance gigs had dried up. So she just kept painting."I was just so inspired," she says. "I know it was a hard time for everyone, but it was also such a transformative time for me. I look back on it very fondly."
Alexander's work was featured in Art Mile, a 2020 virtual group show at Detroit's Hard Gallery, which she says helped her see fine art as a "viable path" for her career. For her, painting is a return to the influence of her mother, a Polish immigrant who once restored frescoes in Italy and taught painting classes throughout Alexander's childhood.
"Everything I know about materials, I think I've learned from her," Alexander says. "She's a magician."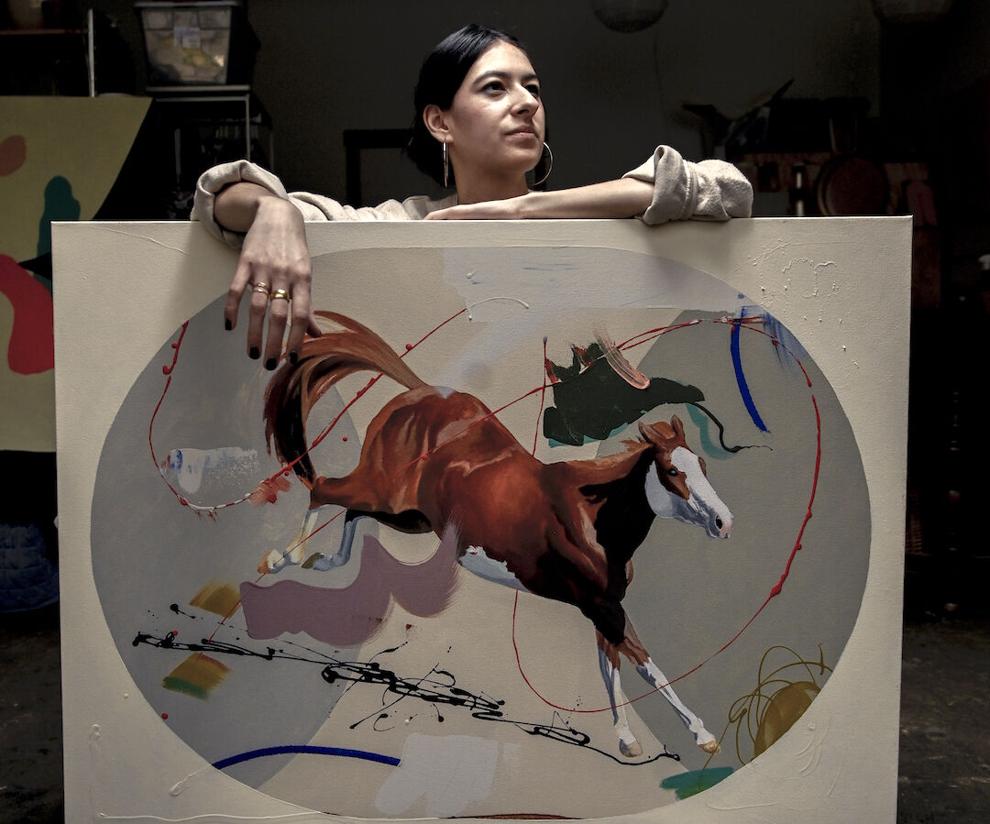 DARREL ELLIS
However, Alexander sees herself as just as much the product of her father, whom she describes as "very logical, mathematical, and organized." His influence helped drive her interest in the more precise disciplines of graphic design and illustration, which she still does on a freelance basis in what she calls a "really lovely balance" between disciplines.
Paulina Petkoski hosted Fields, a show of Alexander's work, earlier this year at her gallery, Playground Detroit. Petkoski says the influence of both the fine art and design/illustration worlds shine through in Alexander's work, noting that Alexander designed her own catalog for Fields.
"She considers everything in each project, and a lot of artists don't necessarily have that kind of bandwidth," Petkoski says. "They're more focused on the actual practice or technique or concept. … But she really is so strong across the board."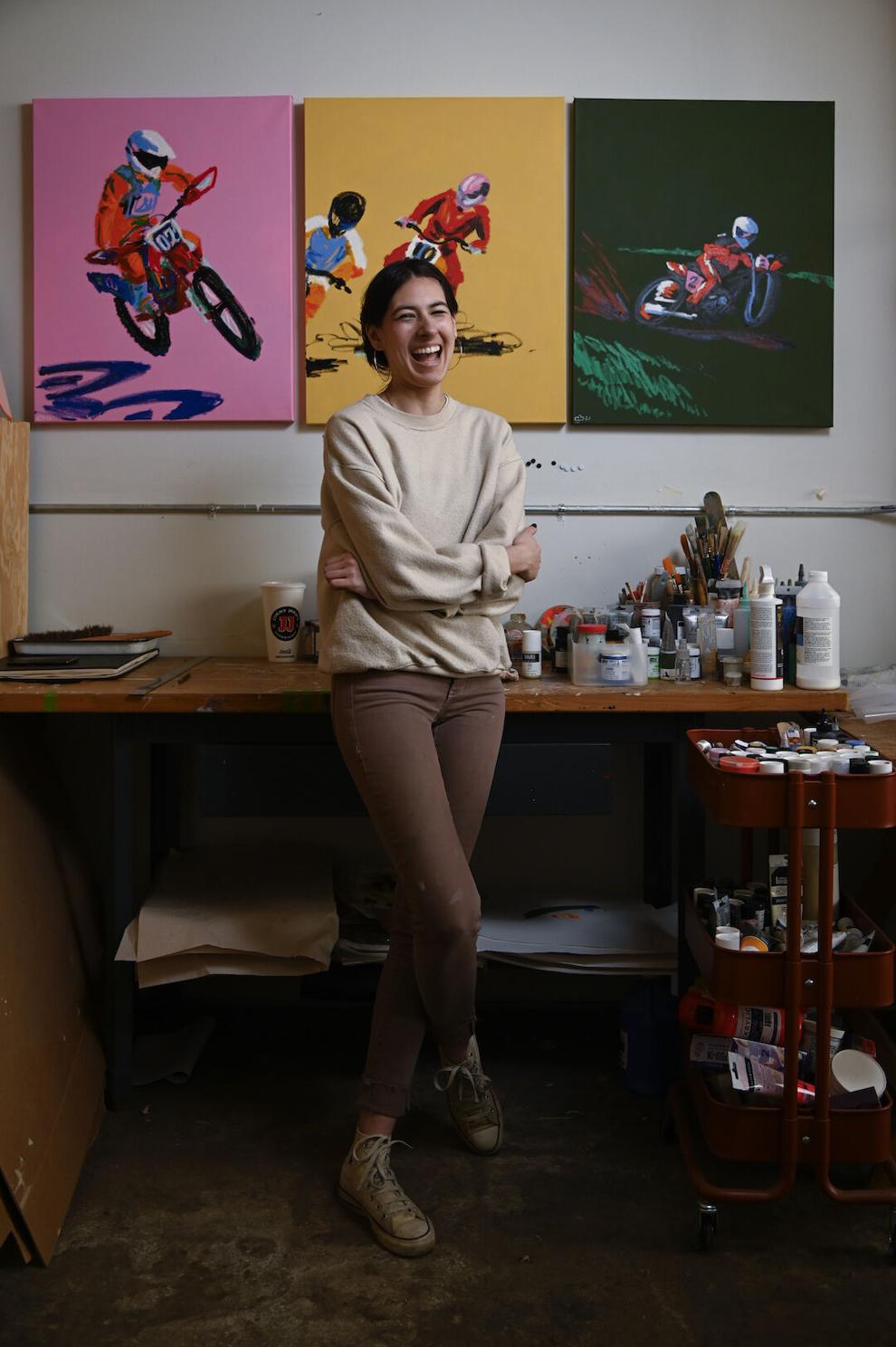 DARREL ELLIS
Alexander has had a busy 2022 so far. In addition to Fields, she did a three-week artist residency in Tokyo in May and June. For her next act, she's veering back toward another extreme — figurative work — for a series that will explore the relationship between humans and domesticated animals. That project will tap into the next dichotomy in which Alexander is seeking to find balance: the relationship between people and the environment.
"Even though my practice isn't perfect, I'm trying to get it to a place that is more sustainable and environmentally friendly," she says. "But I know ultimately that isn't the most important thing… If I have a platform from being an artist, I want to use it to talk about our relationship with the environment and how to better it."
Read more about Martyna and view or purchase her work at her website: martynaalexander.art
You can meet Martyna and view some of her pieces at Art + Wine SEEN 2022 on Thursday, July 21 at Art Leader's Gallery in West Bloomfield. Get your tickets here before we sell out!