Painting the Immigrant Experience: Ivan Montoya channels two countries' influences to bring otherworldly stories to life
BY PATRICK DUNN / PHOTOGRAPHY BY DARREL ELLIS
Having immigrated from Chihuahua, Mexico, to Novi at age 5, painter Ivan Montoya strongly identified with the Spanish expression "ni de aquí ni de allá" — or in English, "neither from here nor there."
"I grew up knowing myself in the lens, or in the space, of the United States," Montoya says. "But there's still a huge internal side of me that's from Mexico … that tries to hold onto that and keep it alive as much as I can."
Montoya, now 26, has channeled that experience into his art, which often features otherworldly imagery inspired by a mélange of Mexican and American influences. He says he's been drawing "ever since [he] could hold a pencil," and seeing his uncle's success as a professional caricaturist helped inspire him to pursue a career in art. Pixar movies and Batman comics were major influences in Montoya's younger days, which led him to begin his career at the College for Creative Studies with aspirations of becoming a professional animator. But he found his true passion when he discovered oil painting.
"I fell in love with this kind of alchemy that results from mixing colors … on a panel or on a canvas," he says. "That kind of connection, that fluidity of thought from color to canvas to narrative, was really exciting to me."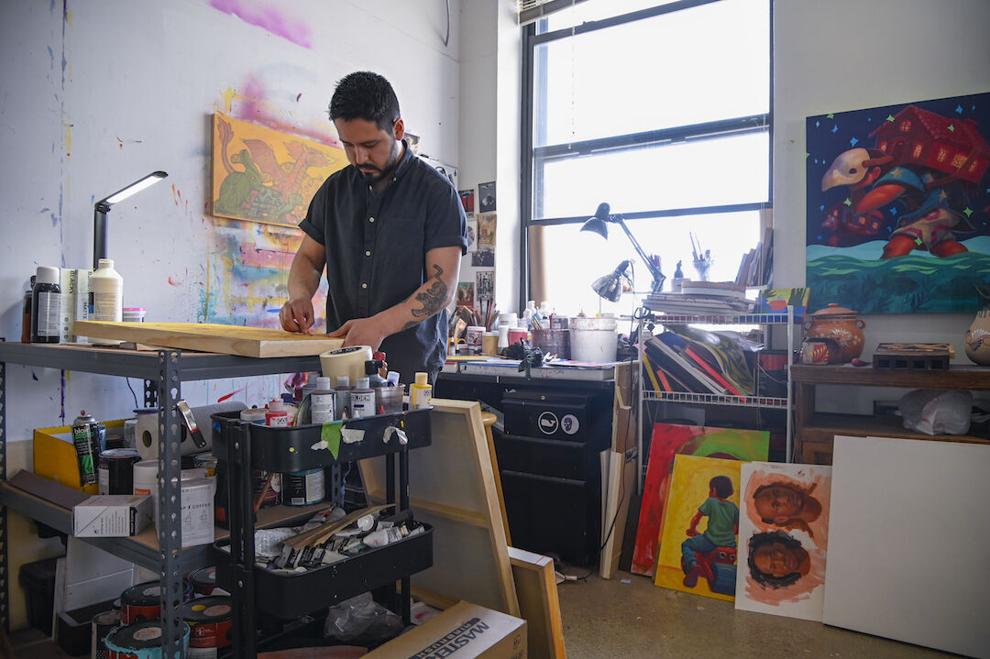 CCS Assistant Professor Francis Vallejo taught Montoya, and the two have remained friends. Vallejo says Montoya's early work "had potential," but it was somewhat "generic" until Montoya discovered painting.
"Previously he was just trying to do work he thought the entertainment industry would want to see," Vallejo says. "But once he looked inside himself … that was when he really exploded and took off."
Montoya also developed a unique visual language for his work. Just as comic books enthralled him in childhood, the epic scale of Mesoamerican folklore has heavily influenced his adult artistic output.
"It has everything from brother warriors fighting this massive Earth-serpent, and then breaking up the body to create the continents of the planet, to sun gods and feathered serpents," he says. "It's this huge universe of fantastical characters and narratives, all kind of tying into being a good person. There's always morals to those stories."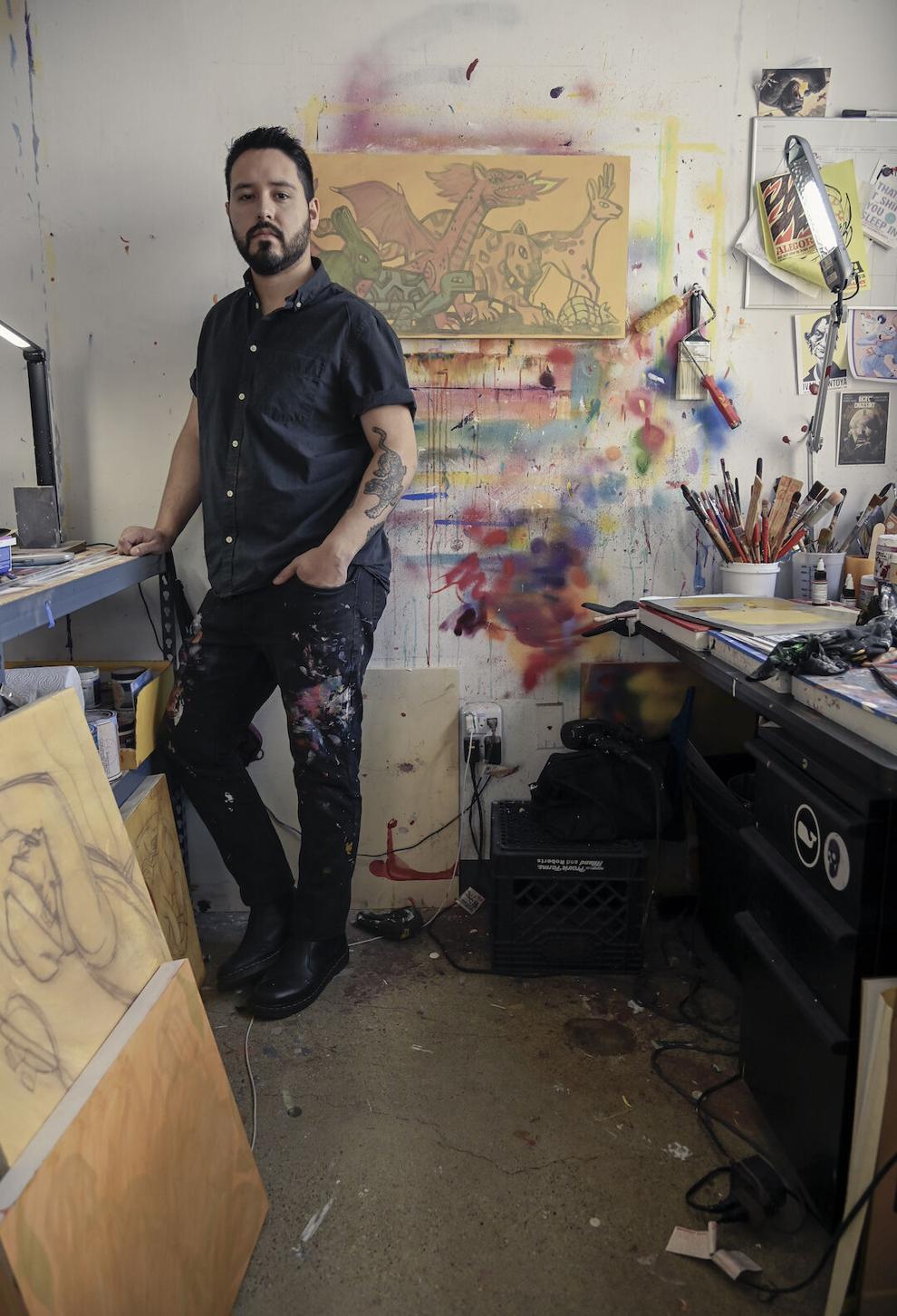 DARREL ELLIS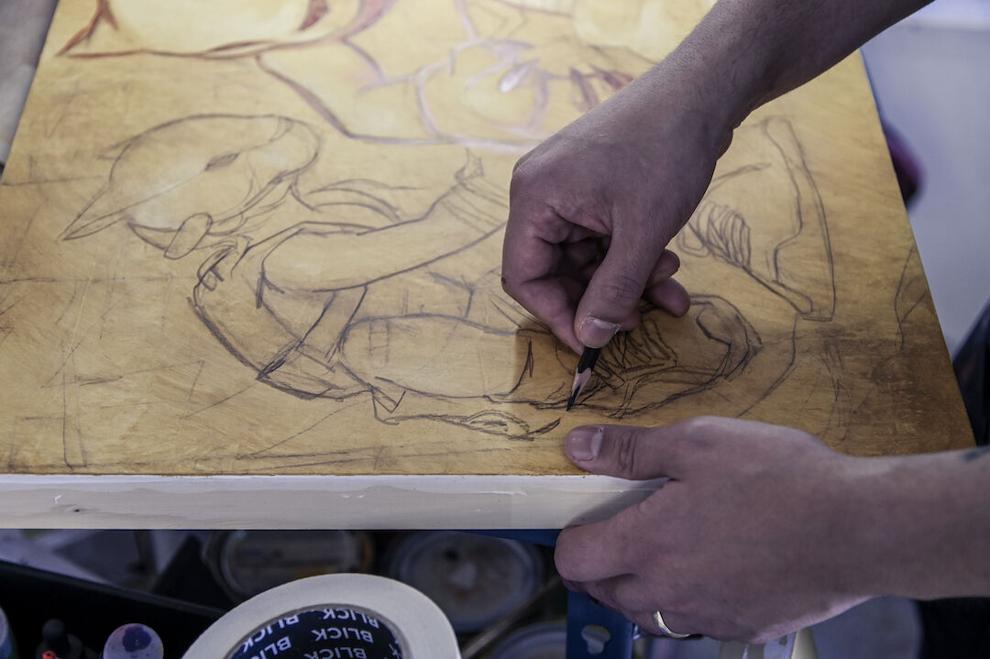 DARREL ELLIS
Montoya saw parallels to the superhero stories he'd loved as a child, and even to the larger-than-life characters of the saints he learned about grow-ing up in the Catholic Church. The ghost stories his family told during his childhood were another key influence. His mother grew up in Chihuahua, capital of the Mexican state of Chihuahua, an area known for reportedly being haunted. He says he was captivated by the way her stories could "freak [him] out but also inspire those feelings of wonder and awe."
"I was really a fan of that feeling of otherworldliness," he says.
The paintings that result from these influences indeed invoke a sense of wonder while also exploring weighty themes about the immigrant experience. Montoya's figures are rendered in rich color and with a sense of massive scale, looming over natural landscapes as they carry oversized burdens and perform menial tasks. He often depicts figures wearing surreal animal masks, a motif intended to represent the roles immigrants play when they're trying to assimilate in a new environment.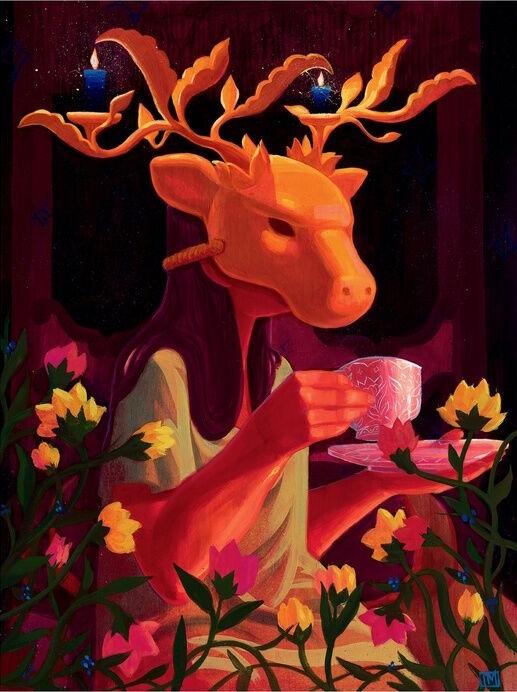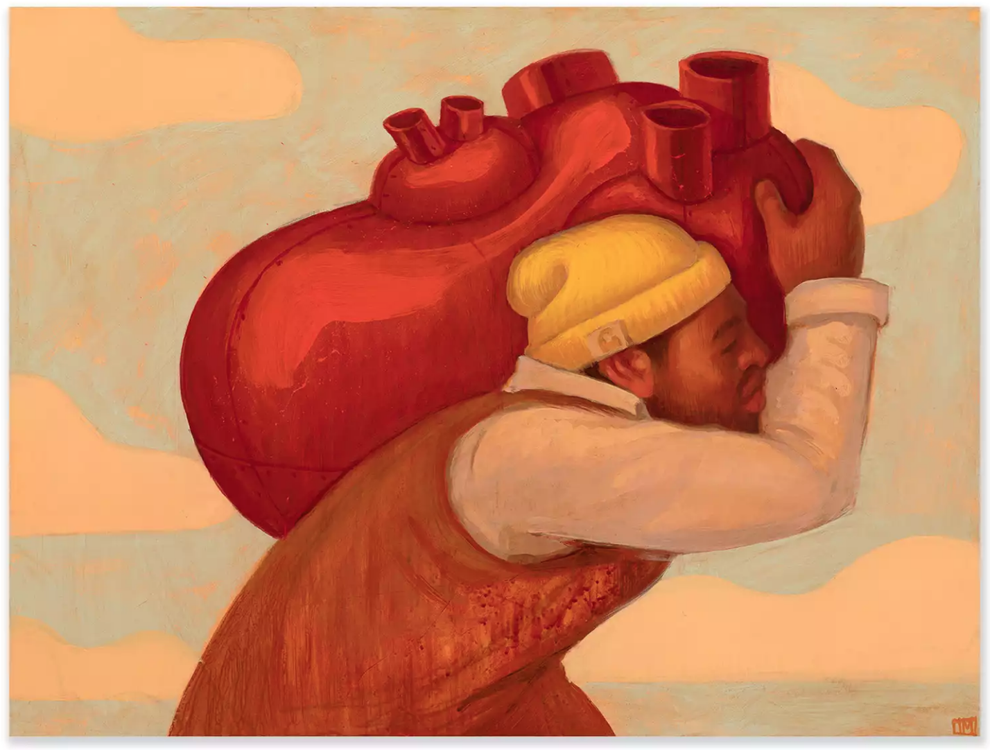 "You either put the mask on to try to convince yourself you are this person you're coming into the world as, or you put the mask on to maybe protect yourself in a sense," he says.
Montoya has experienced both challenges and benefits in his own assimilation process. For example, he feels guilty about being less connected to his family than many other people of Mexican heritage are. But he also values the individualistic life he's built for himself in Detroit, and these days he says he's "embracing the idea of belonging to both [Mexico and the U.S.] a bit more."
Montoya lives in Midtown with his wife and shares a studio space in the Fisher Building with several other artists. He recently began teaching figure drawing and painting at CCS, and he says he values the "grindset" he finds among Detroit artists.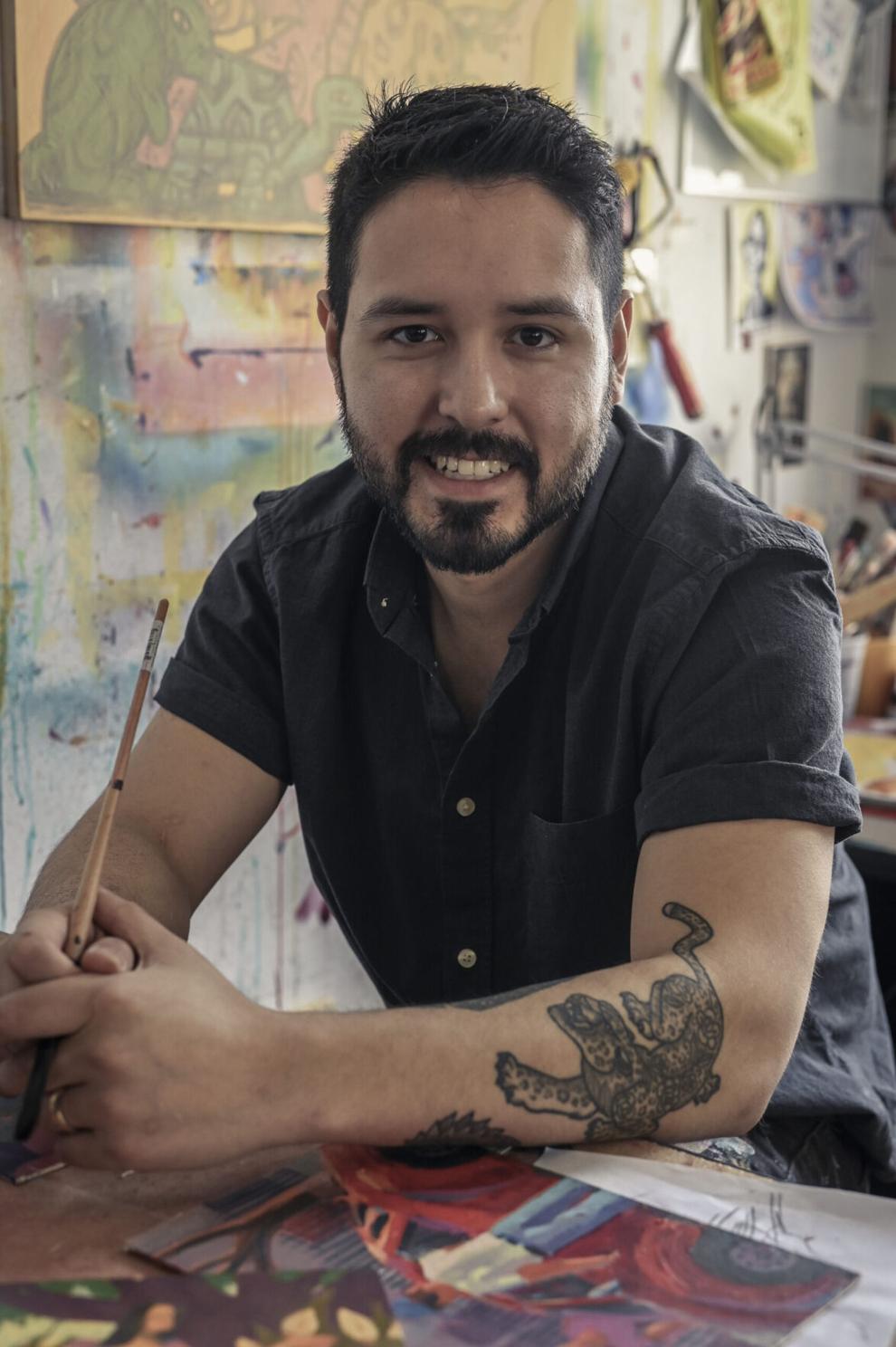 DARREL ELLIS
"That's an example of being able to let go of certain cultural traits but also gain a couple that benefit me," he says.
Montoya will continue to explore the immigrant experience with an October exhibit at Playground Detroit, titled Semillas, or Seeds in English. He says the show's title is inspired by another Mexican saying that speaks to him: "Hoy semillas, mañana flores," meaning "today seeds, tomorrow flowers" in English.
"I think that just resonates with the immigrant story," Montoya says.
"My parents came here to plant the seeds of their dreams in a new soil, and in essence I think the first-generation and second-generation immigrants are the flowers or the bloom of those seeds."
Learn more about Ivan, view and purchase his artwork at his website ivanmontoya.art
You can meet Ivan and view some of his work at Art + Wine SEEN on July 21 at Art Leader's Gallery in West Bloomfield. Get your tickets here before we sell out!