Blake Kownacki is revitalizing the city's wine production with Detroit Vineyards.
By Karen Dybis
Photography by Jenna Belevender
Blake Kownacki understands the surprise when people hear he has a vineyard in Detroit. How could a city known for its urban architecture, automotive manufacturing and Motown muscle also have an environment ripe for vineyards and wine production?
Kownacki counters their disbelief with Detroit's history of winemaking as well as its perfect setting for developing, marketing and tasting fine wines. Add his experience as a longtime winemaker and vineyard manager, along with his desire to develop a co-op vineyard program for Detroit residents, and it is a formula for a thriving new industry.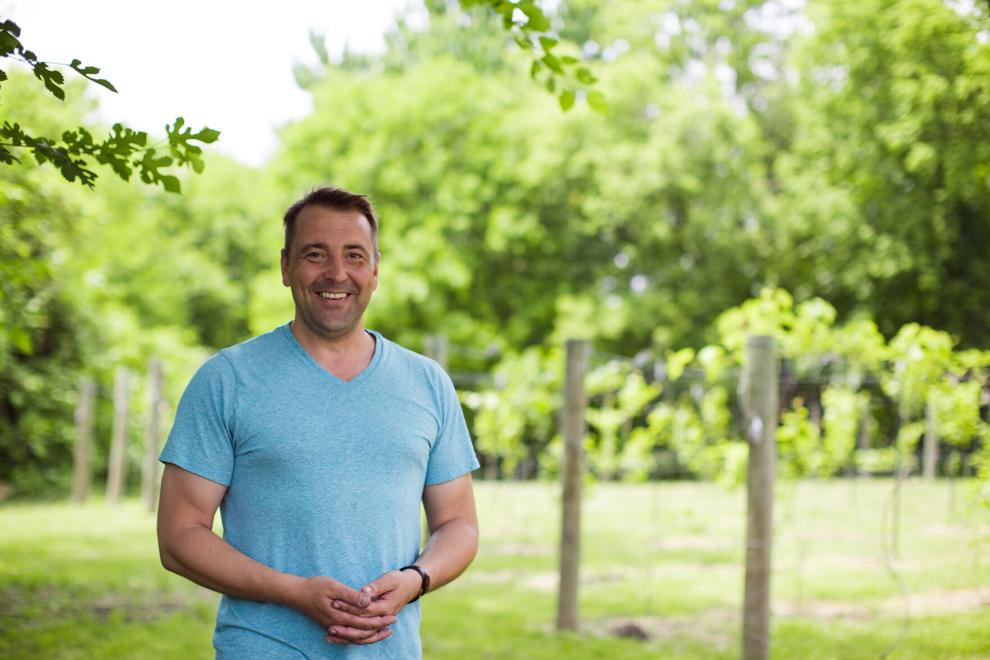 His business, Detroit Vineyards, has been making small-production boutique wines in the Motor City since 2016. Detroit Vineyards uses Michigan grapes, primarily from the Lake Michigan shore and southwest area of the state, but Kownacki has two pilot projects where he works with Detroiters to plant and cultivate grape vines in the city's side lots. One on Waterloo Street neighbors Gleaners Community Food Bank. Kownacki also produces mead and cider, giving Detroit Vineyards a variety of beverages in its product line.
The 39-year-old Detroit resident is working feverishly this year to open a tasting room on Gratiot in the former Stroh's ice cream factory near Ford Field and the thriving food scene around Eastern Market. He envisions a space where wine newbies as well as connoisseurs sit side by side, enjoying the fruits of his labor. His goal is to have the tasting room up and running by fall or winter.
"I've had a love affair with Detroit from when I was a little kid," Kownacki says, so bringing his two loves together made sense when his wife wanted to move back to Michigan to be close to family and friends.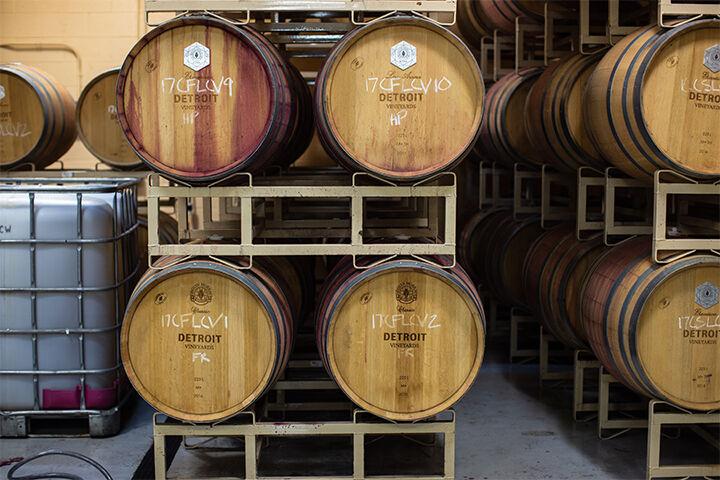 "Now I get to do what I've always wanted to do, which is to take all of this knowledge back home and implement it," Kownacki says.
Detroit Vineyards and its tasting room will fit in well among the foodie hot spots around Detroit. Detroit now has some of the finest wine-based restaurants such as Vertical, tasting rooms where you can sample new wines at The Royce, House of Pure Vin and Brut Detroit as well as experiences such as Painting with a Twist and Wine and Canvas, where you can paint and sip with friends.
Detroit Vineyards will be the first fully operating winery in Detroit in more than half a century, Kownacki says. Yet the city itself has a long history of wine and wine production. Michigan has one of the oldest wine industries in the country. In 1702, Antoine de la Mothe Cadillac wrote to Count Pontchartrain about the vineyard he planted in the Fort de la Detroit along the Detroit River, one of the first in North America, Kownacki says.
Before the Prohibition era, he adds Monroe County was the "grape-growing capital of the state." Several winemakers had facilities in Detroit, such as Mariano Meconi, whose business and name evolved over the years to become St. Julian Wine Company. Detroit also was home to the Bronte Champagne and Wines Company with the capacity to produce up to 800,000 gallons of wine a year, according to Lorri Hathaway, author of "The History of Michigan Wines."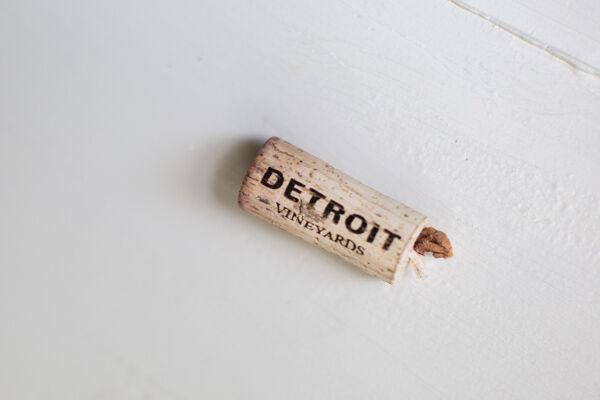 Detroit is the ideal place to develop wine, and Michigan's market is ripe for national and international recognition for its winemaking prowess, Kownacki says. Many people think of Northern and Western Michigan as the winemaking centers of the state, but Kownacki believes Detroit has the same potential to develop multiple vineyards, terrific tasting wines and the kind of agri-tainment that brings tourism to Detroit over the long term.
Jenelle Jagmin agrees. The economic development specialist for the Michigan Department of Agriculture and Rural Development is a wine guru, studying the Michigan wine industry for years.
Like the rest of the state, Southeast Michigan has a number of microclimates that are well suited for growing high-quality wine grapes, Jagmin says. Michigan has earned its reputation for producing top-notch wines across varieties, she adds.
"The definition of 'Michigan wine country' has definitely become broader — and that is a good thing," Jagmin says. "As more and more wineries around the state set up in urban and downtown tasting room locations, it gives more people exposure to the wonderful wines we produce in the state."
Kownacki's work is important because it brings people of all levels of interest in wine to Detroit for a sample, Jagmin says.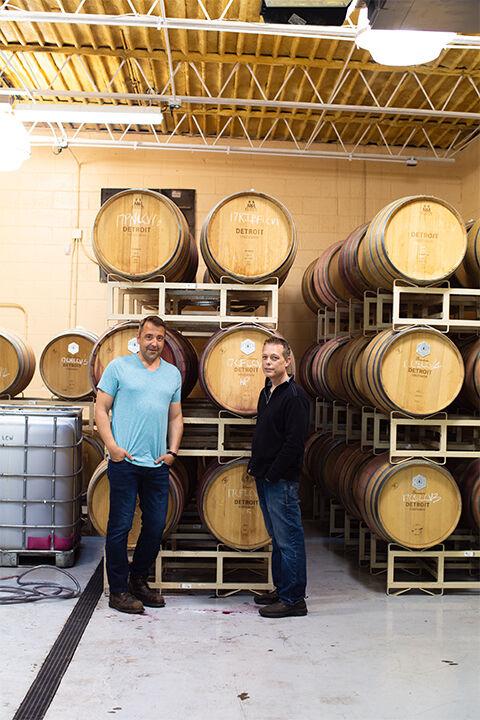 "Detroit Vineyards has a very unique business model that embraces the spirit of Detroit agriculture, and they are making terrific wines," Jagmin says.
Kownacki grew up in Waterford but got his love of Detroit from his parents and grandparents, who lived there for decades. Kownacki has spent the past 20 years in the wine industry, working with top winemakers in California, the Pacific Northwest and Australia. Locally, Kownacki was a winemaker for Michigan's Cherry Creek and Sleeping Bear Wineries. He also has served as winemaker and vineyard manager at Great Lakes Vineyard in Waterford, where he helps homeowners in Metro Detroit make their own wine.
It took a lot of work to establish Detroit Vineyards. Early plans included an idea to plant grapes on Belle Isle, but local and state officials opposed the plan. So he started looking around the city for an ideal spot to grow, literally and figuratively. He researched the soil, climate and conditions for wine, and he liked what he found.
Detroit has a kind of microclimate, Kownacki says, because of its proximity to the Detroit River, Lake St. Clair and the Great Lakes. Detroit is warm, allowing grapes the time to ripen at the right time and in the right way. Kownacki also got to know Detroit residents, the rules of working with City Council and heard concerns locals have with companies coming in and running over the people who have been here for decades.
That is where the program to work with residents to develop side lots into mini vineyards, as well as his goal of making his larger vineyard community-oriented, originated. So far, so good. Filling empty lots and eradicating blight is a project that takes many hands, Kownacki says, and he's in it for the long term.
That energy to build Detroit up became the inspiration for his wine labels on Detroit Vineyard products as well. Kownacki says he took his graphic designer to some of his favorite buildings, like the Fisher Building in New Center. That art deco and Roaring '20s aesthetic have proven the right touch for his first two bottlings.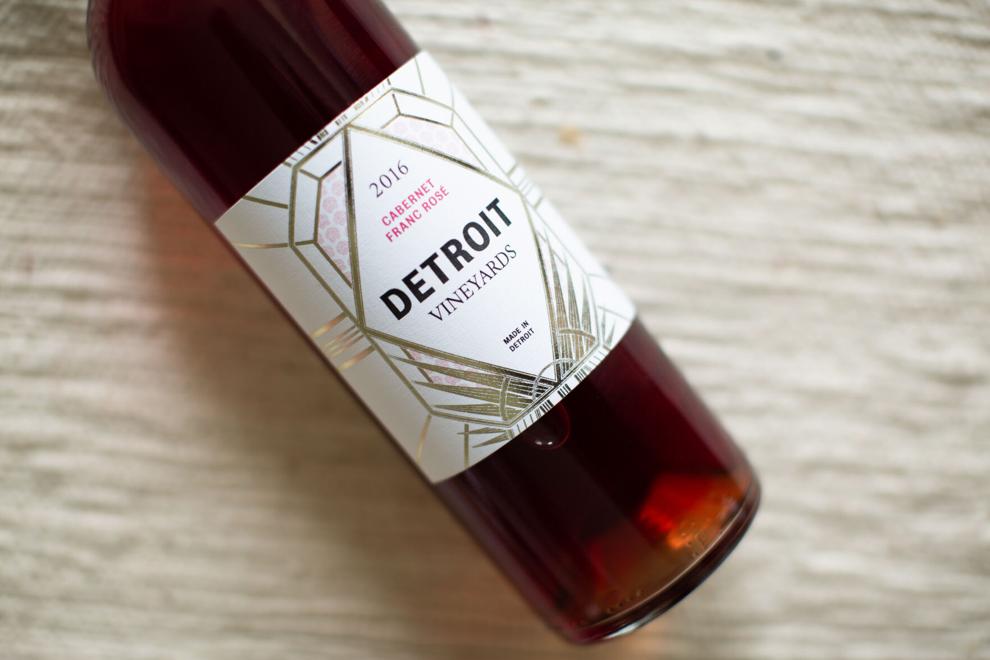 Restaurants such as Gold Cash Gold and Slows Bar BQ are now serving his wine, and grocery stores such as Neiman's Family Market in Clarkston and Plum Market in Ann Arbor are stocking up on his rosé and chardonnay. It's a charmed life, and Kownacki is thankful for all of it.
"We have a very rich agricultural history that people forget," Kownacki says. "I like the juxtaposition of wine country against the best city in the nation. Detroit could be wine country — we have the space for it."