For 10 Points, Name a Winning Quiz Bowl Coach and Teacher. ANSWER : Brad McNellen
BY KIM KISNER / SPONSORED BY DETROIT COUNTRY DAY SCHOOL
Upon meeting and speaking with Brad McNellen, it's instantly clear that there's no shortage of passion, energy and genuine interest when it comes to his students and his job.
McNellen, a 21 year veteran at Detroit Country Day, teaches Latin within the upper school and is also the school's extremely successful Quiz Bowl coach.
And 'successful' is a bit of an understatement.
Of the 26 years he's coached, the school has won 20 state championships, finished within the top 20 teams in the nation multiple times, and in 2020, took third place of 200 teams nationally in Atlanta and 11th of 100 national teams in Chicago.
When asked what he loves about coaching, McNellen says "witnessing the kids at matches displaying this mutual respect they have for one another and enjoying the friendships they've built is incredibly rewarding."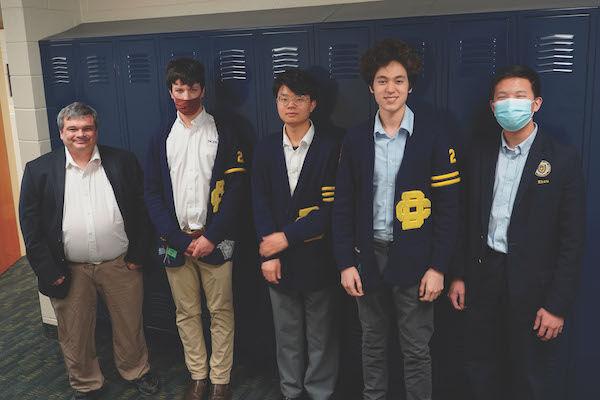 He goes on to say "a real benefit that came recently – from COVID – has been going virtual. Being online drew more teams together quicker and the kids were able to bond and challenge each other across the country, hold scrimmages and more. It's brought these kids closer together."
Regarding the activity Itself, he continues "Quiz Bowl is such a positive competitive endeavor. The kids are working to win, but they are also developing cooperation and communication skills, working together as a team and building their knowledge all at once."
He's certainly dedicated an enormous amount of time to his coaching, running two, one-hour practices a day during school hours and another practice after school two to three times a week.
Of his coaching style he says he's mellowed over the years. "I guess now I'm pretty laid back and I try to encourage the kids to approach things with a calmness as well. I work with them to think on their feet. We focus on improving and learning from mistakes and we practice shaking things off when mistakes are made."
About working as a teacher, McNellen says, "I love being able to show these kids the relevance of studying a language some people consider to be dead. Upon acquainting themselves with Latin comes better vocabulary, writing skills, study tactics and more. And I'll never tire of the "ah ha" moment when a student figures out that the ancient culture and politics and behaviors can be related to what's going on today in the U . S ."
A unique characteristic about his role is that if a student takes Latin all four years of their upper school experience, he'll be their teacher all four years. "I get to see them grow… I recommend them to colleges. It's been the best reward over the years."McNellen's career has taken him to professorships at the University of Michigan, Vanderbilt, Berea College in Kentucky, and more. Of Country Day he says, "I'm so privileged at a school where the kids are eager and passionate … it makes my job pretty easy ."
DETROIT COUNTRY DAY SCHOOL
22305 West Thirteen Mile Rd., Beverly Hills