BasBlue cultivates an inclusive, dynamic community of Detroit-area females and nonbinary individuals
BY LEENA RAO
Image above by EE Berger features (back, left to right) McKenna Dollete, Jennifer Lee, Grace Wojcik, and Miah Davis (front, left to right) Tiara Tinnin and Maria Baker
When Nancy Tellem, who previously served as the entertainment and digital media president for Microsoft as well as a president of CBS Television Studio, moved from Los Angeles to Detroit in 2015, she knew she wanted to have an impact on the community. She just didn't know how. "I wasn't sure what I could do, but I knew I didn't want to just dip my toe into Detroit," says Tellem, who lives in Bloomfield Hills with her husband Arn Tellem, the general manager of the Detroit Pistons.
Six years later, Tellem actualized her uncharted vision by launching BasBlue, a nonprofit membership-based gathering space for women. Located in a historic three-story mansion on Ferry Street in Midtown Detroit, BasBlue opened its doors last October and offers coworking space, mentoring, social and educational events, a cafe, and even a gym for its female and nonbinary members.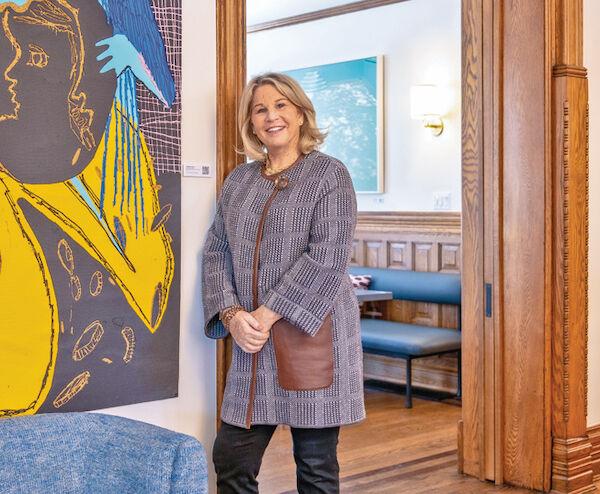 For Tellem, finding a location and a purpose for BasBlue was kismet. Shortly after she moved to metro Detroit, she was intent on purchasing a property to develop and began touring Midtown with Sue Mosey, the executive director of Midtown Downtown. After viewing abandoned schools, churches, and other properties — and not seeing what she envisioned — Tellem put her search on hold. Mosey then called her months later with an opportunity to buy the historic mansion at 110 E. Ferry St.
"I knew I could renovate this; I just had to figure out what it was going to be," says Tellem, who ended up buying the historic mansion for $400,000 in 2019.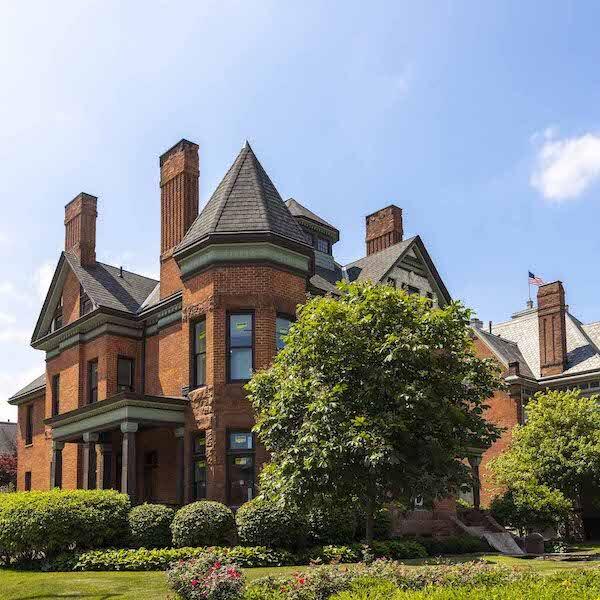 Photo provided by BasBlue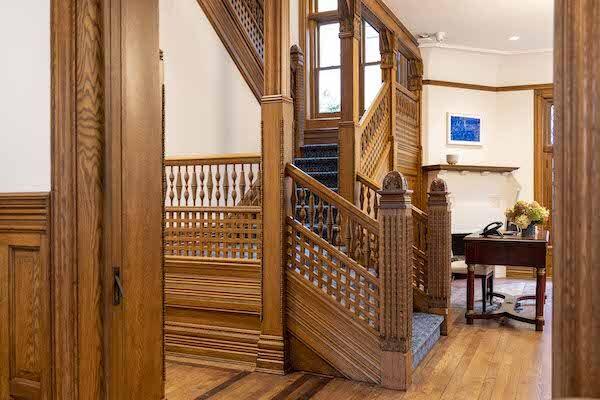 Photo by EE Berger
As Tellem settled in Detroit and began networking, she noticed that there weren't many resources or spaces fostering connections among metro Detroit women. "That was my aha moment," Tellem says. "I thought, we need a space for just women to network and be together." BasBlue's name is derived from the French term "bas bleu," which translates to "bluestocking," a term for an educated, intellectual woman.
Starting in 2019, Tellem and her team of architects and designers started to revamp the dilapidated multi-level house that was formerly Heritage House, a children's art center, until it closed in 2005.
Tellem's aim was to make the space feel like the comfortable and cozy living room of an actual home, with artful wallpaper, sleek coffee tables, plush couches and chairs, colorful art installations, and plenty of greenery. Art is a huge part of the space, says Tellem, and BasBlue regularly features and sells artwork by local Detroit artists, including Martha Mysko, Emmy Bright, and April Anue Shipp.
The house's top two floors are reserved for co-working spaces, meeting rooms, and BasBlue events. Community events are the lynchpin of the space and are a significant part of creating the community, says Jennifer Lee, BasBlue's director of community. For example, Cindy Pasky, the CEO of Strategic Staffing Solutions in Detroit, recently spoke about the importance of networking and mentorship at the house. BasBlue also hosts field trips, wine tastings, and happy hours, Lee says.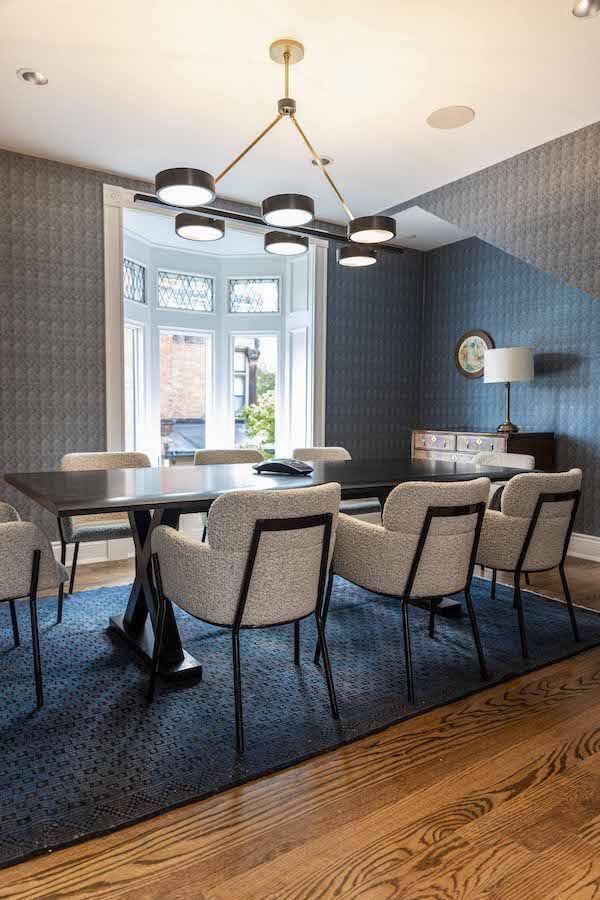 Photo by EE Berger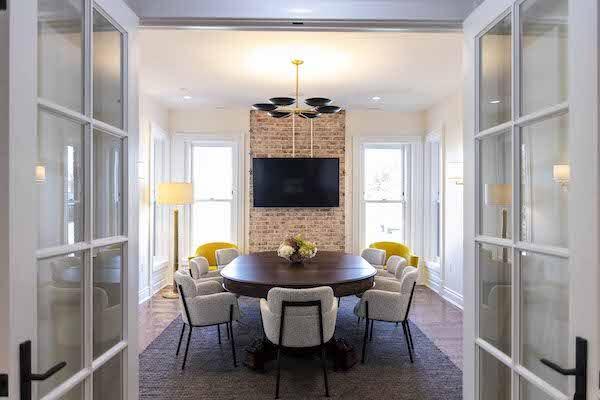 Photo by EE Berger
The BasBlue team hoped to enroll 200 members by this past January, but demand has been overwhelming, and there are now more than 500 members, ranging in age from 23-82. Annual fees are $600 for members under 35 and $1,200 for members over 35. The organization, which is supported by donations from benefactors, also offers membership scholarships to women who can't afford the annual fee.
Marva Goodsen-Miller, a postdoctoral researcher at Vanderbilt University, moved back to the area after the pandemic and felt isolated working from home. She was gifted a membership and uses Bas-Blue multiple times a week to work and socialize with new friends. "It's refreshing for me to be back into a space that energizes me, especially after the pandemic," she says.
While the second and third co-working floors are reserved for members, the first floor and the cafe — featuring a menu curated by Detroit-based James Beard-nominated chef, Sarah Welch — are open to nonmembers as well as to men. "This is not a club, and I believe that clubs can be exclusionary," Tellem says. "This is a space that is much more collaborative and creative, and I believe it will create real opportunities for women and nonbinary individuals."
BasBlue
110 E Ferry St, Detroit